7 Winning Ideas to Boost Your Black Friday Sales in 2023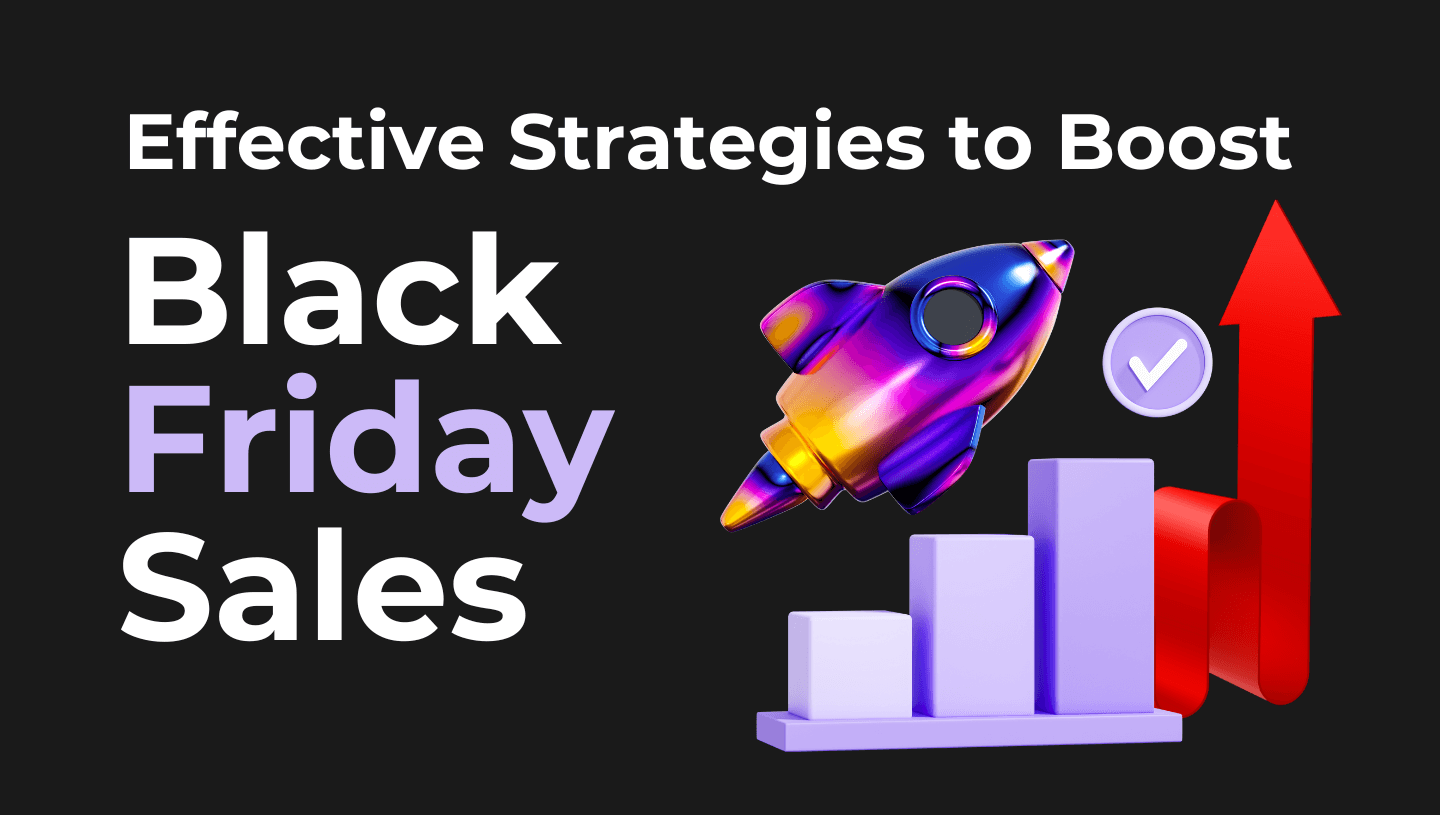 Ever feel like you've missed the streaming bandwagon? Don't worry, there's still time to hop on. Streaming live video is one of the hottest ways to boost sales, especially around big shopping holidays like Black Friday. You're about to discover seven streaming tactics that will take your Black Friday to the next level. Whether you're streaming for the first time or looking to up your game, these proven social media tactics will help you connect with your customers in real time and drive more sales. We're talking live countdowns, giveaways, product reviews, BOGOs, closest guess game, and a trivia game. Yes, a trivia game. Streaming isn't just for the tech-savvy anymore. With a few tips, you'll be engaging your viewers and boosting those Black Friday sales in no time. So take a look at the ideas we collected, get some inspiration, and let's do this. Your customers will love it ❤️
The Power of Live Streaming for Black Friday
Live streaming is one of the most engaging ways to boost your Black Friday sales. By going live, you can create hype, build excitement and connect with customers in real time.
Countdown streams are a great way to build anticipation in the days leading up to your sale. Go live each day to reveal special deals, product previews and flash sales. This gives customers an incentive to tune in each day and creates FOMO so they buy as soon as items are revealed.
Trivia, giveaways and games are an interactive way to engage viewers. Ask product questions, and give discount codes or free items to the winners who answer most questions correctly. This makes the experience fun while also encouraging purchases.
By streaming in the week or two leading up to and on Black Friday itself, you can boost excitement, build personal connections and drive real-time sales. The engaging, interactive nature of live video is the perfect way to spread some Black Friday joy and encourage more customers to click "buy" on your site. You just go live and watch those sales start rolling in!
Host a Black Friday Countdown for Urgency
Hosting an exciting Black Friday countdown on Facebook, Youtube or other social media channels is a great way to build hype and boost your sales. A few days before Black Friday, kick off the a teaser about your biggest doorbusters or hottest new products. Build suspense by dropping hints or partial reveals of the deals each day. On Thanksgiving, share a sneak peek of all the promotions so people can start planning their shopping strategy.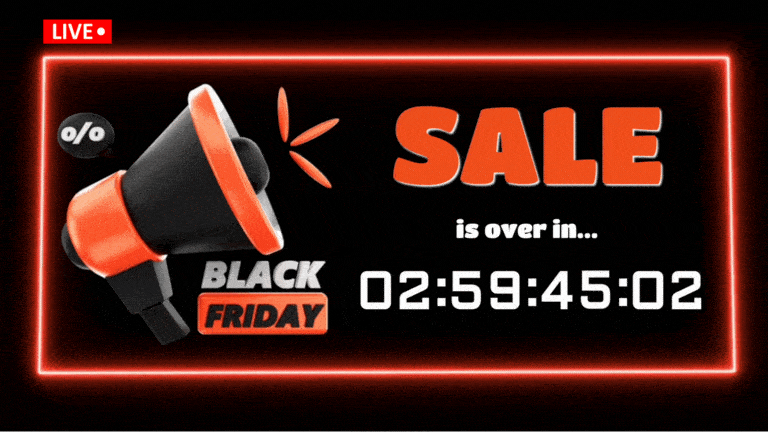 When the clock strikes midnight on Black Friday, launch your sale with a bang turn on your live stream. Send an email, post on social media - get the word out that your epic Black Friday deals are now live and they'll end soon!
You can either launch a live countdown with a plain background, or add a pre-recorded video with an inside look at the deals, some shopping tips, and give away promotional codes or free products to the first people who make a purchase. Keeping the energy and excitement going throughout your Black Friday promotion is key. A fun countdown paired with an engaging live stream is the perfect way to spread hype, reward your loyal customers, and motivate new buyers. Your followers will love the thrill of the experience and will keep coming back for more.
This last-chance Sale countdown from Amazon India adds extra urgency with a countdown timer:
Entertain with a Closest Guess Game
Closest guess game is an engaging way to entertain your audience during your Black Friday stream. Set up the game and have viewers guess the number of something related to your products, like:
The number of orders placed so far
The retail value of products in your warehouse
Whoever guesses closest to the actual number scores the most. The one who scores the most in every round wins a prize. The game is fully automated, which means that all scores are calculated and displayed automatically in real time. You can stream the game while having a camera connected, while presenting your Black Friday deals.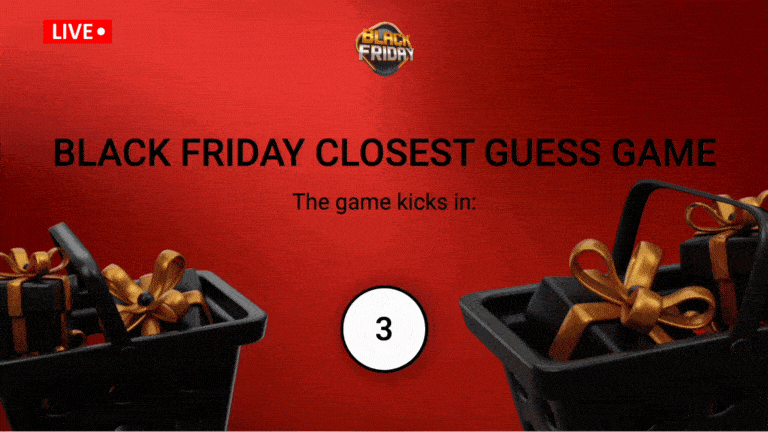 This tactic can help to boosts Black Friday sales because:
It's interactive. Viewers have to actively participate by submitting their guess in the comments. This gives them a stake in the outcome and keeps them watching to see if they won. And a bunch of comments gives your page more exposure.
It builds suspense. As the timer in every round counts down, the anticipation builds to see the actual number revealed and who guessed closest. This feeling of suspense and excitement keeps people tuned in.
It rewards loyal fans. Offering a prize, even a small one like a discount code, makes viewers feel appreciated for their participation and support. They'll associate your brand with positive feelings, making them more likely to make a purchase.
A simple Closest Guess Game is an easy way to make your Black Friday live stream more engaging and boost sales. Time it around a key point in your broadcast, like right before a new deal or product drop is announced. Keep the prize small but meaningful, and be sure to announce and congratulate the winner live on stream. With a little creativity, you can find many ways to adapt this tactic to your particular products and audience.
For inspiration, this Closest Guess Game from BOTB is a perfect example:
Create a Feeling for Exclusivity
The concept of exclusivity is the notion that customers are more likely to want something if it is exclusive, or not available to everyone. People tend to put greater value on things that other people want but can't have, therefore, by releasing your Black Friday content with exclusive deals you can create anticipation.
If you have a private Facebook group or a community, you can share with your audience a sneak peek of what they can get on your website during Black Friday promotion, share special discounts, etc. You can share the deals as simple posts, videos, or stream a live video. If you have a list of emails, you can reach out to certain members with a newsletter that includes some interesting and exclusive deals.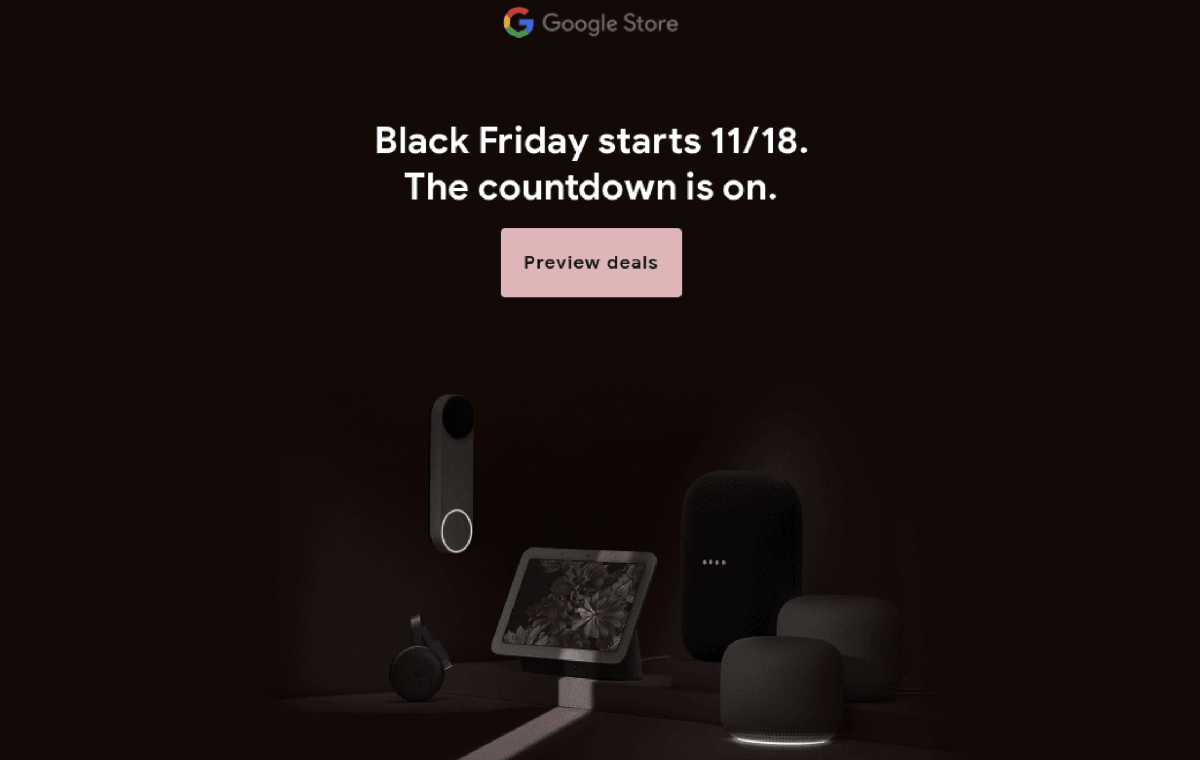 Make Your Customers Feel Lucky a Black Friday Giveaway
Offering exclusive deals and discounts is a great way to boost your Black Friday sales, but sweetening the pot with a live giveaway can take it to the next level. Running a Giveaway on Youtube, Facebook or Instagram during the week leading up to Black Friday is an easy way to build hype and increase traffic to your social media channels and a website, as users write comments to join the live giveaway.
To participate in such Black Friday Giveaway, viewers comment the Entry Word. On the example below, the Entry Word is #FridayWin. When a users leaves a comment saying #FridayWin, they automatically join the giveaway and their profile photo is displayed in the stream. If you set a timer to the giveaway, the winner of the giveaway will selected randomly, as soon as the timer stops. If you don't set a timer, you can draw a winner manually at any time.
While users join the live giveaway, you can talk about your exclusive deals or discounts, do unboxing and review some products to let your audience know that you have a lot to offer this Black Friday season.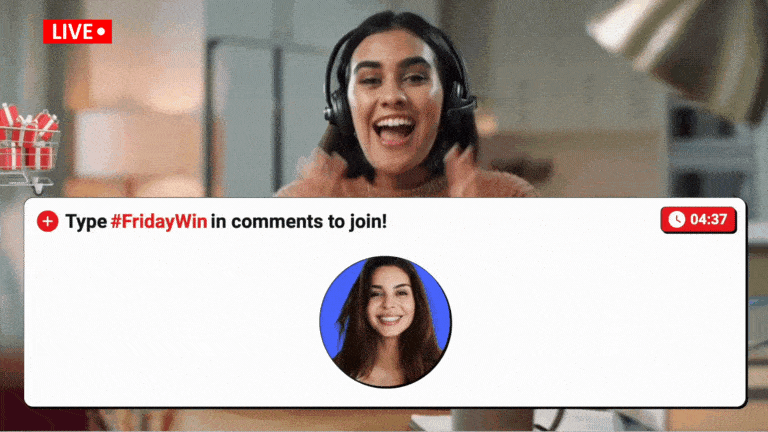 A live giveaway, contest or flash freebie creates a sense of urgency and excitement on an already pumped-up shopping day. Do a giveaway on Black Friday by offering a free gift or discount code to the first X number of winners. Use it to bring traffic to your site, capture new leads and boost your Black Friday sales.
This Live Giveaway from OG Vault is a great example:
Engage With a Black Friday Trivia Game
Engaging your customers and keeping them on your social media longer is key to boosting your Black Friday sales. Another fun way to do this is by hosting an interactive trivia game. Ask product-related or Black Friday-related questions, and offer site credit or discount codes as prizes to keep people playing.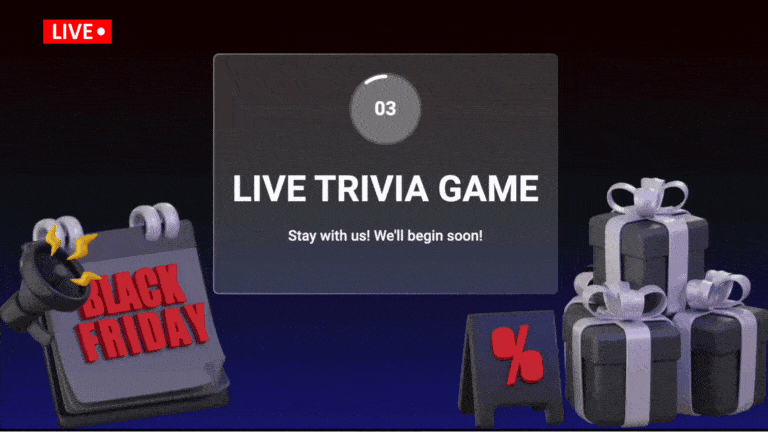 How to Set Up the Trivia Game
Set up the trivia game ahead of time with 10-15 questions related to your products, brand, and deals. Keep the questions on an easy to medium difficulty so more people can participate. A fun trivia game is an easy way to boost engagement and sales on your site this Black Friday. Keep customers guessing, commenting, and having fun.
The principle of the Black Friday Trivia is simple: you launch a trivia on Instagram, Facebook or other channels; you audience sees questions with four answers. To score, they need to respond in a comment section with a number or a word. The system calculates users' answers in real time, displays them after each round, and defines a winner at the end of the game automatically. Your Black Friday Trivia has all chances to get viral as viewers use comments to answer questions. And as you may know - more comments are equal to more exposure!
Some tips for streaming a Black Friday Trivia:
Offer the trivia game for a set time period, like 30 minutes to an hour. This creates a sense of urgency to join in and play.
Promote the trivia game on your website, email, and social media leading up to and on Black Friday. Mention the prizes and time period to generate excitement.
Consider offering a small site-wide discount code as a consolation prize for all
participants. This still rewards them for playing and keeps them shopping your site.
Black Friday is your chance to sell more to customers by rewarding them. Take a look at this live Trivia Game campaign by Grace (Malaysia). The Trivia Game is created in Malaysian Mandarin, and on the background the host shows different products for sale.
Launch a BOGO Stream
A Buy One Get One Free (BOGO) is a great strategy for Black Friday. You can launch a stream showing different products, and explain how they go together. Statistically, around 68% of customers prefer BOGO out of all promotions and 95% have went for BOGO deals at least one time. This method is good way to get rid of your inventory and yet drive sales. You don't have to lower your price even, just offer an item for free along with the one at the original price.
This BOGO offer from Creamistry is a good example. You can run your BOGO offers in a live stream with a countdown.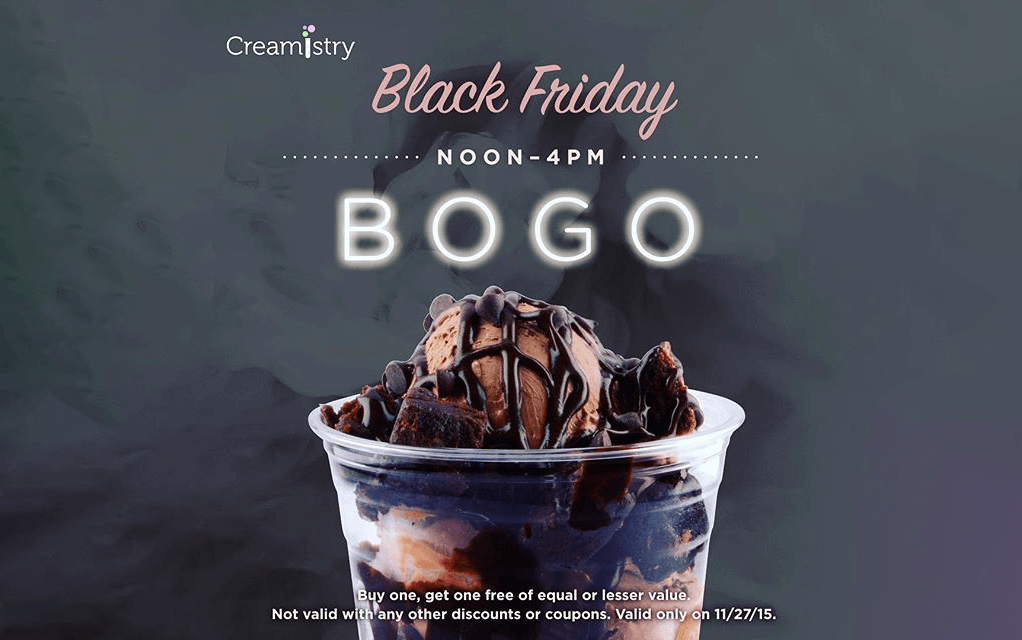 Engage followers with a Last Comment Wins game
Engage your followers and boost excitement for your Black Friday sales by hosting a Last Comment Wins game. This highly interactive tactic will keep viewers tuned in and boost your views, comments, and shares.
How It Works?
Announce the game in the days leading up to your live stream. Let viewers know that the last person to comment before the timer runs out will win a prize. You can offer store credit, a gift card or one of your products as the prize. In your live stream, drop a question about your brand, product or industry. For example, if you sell skincare products you might ask:
What skin care scents do you love the most?
What do you love the most about our products?

Viewers must comment with the answer to be the last comment before the 2-minute timer runs out. Every time someone leaves a new comment, the timer resets to the original position. If there are no new comments for the last 2 mins, the last comment wins, the game stops, and the system draws the winner.

This interactive game is an easy way to boost excitement and gain new followers.
Viewers will be quick to comment to win, and stick around to see if they take the prize. The Last Comment game is an innovative way to boost engagement and sales for your Black Friday live stream. Keep the questions and timer short to maximize participation and excitement. Your followers will love the thrill of the competition and chance to win a prize on the biggest shopping day of the year.
Check out this Last Comment Game ran on Facebook by MotoMundo:
Optimize Your Stream for Black Friday Success
To get the most out of your Black Friday live stream, optimize it for success. Focus on the following aspects while using the above strategies on social media:
Promotion
Promote your stream everywhere - email, social media, paid ads. Build hype leading up to the big day. Let people know what deals or giveaways they can expect. This will drive more people to view the stream.
Engagement
Engage your viewers! Do a countdown to your best deals, run a trivia contest with prizes, feature viewer comments on-screen. The more you engage people, the longer they'l watch. Have your team actively respond to viewers in the chat.
High Energy
Bring the excitement! Have an enthusiastic host or team on camera. Play upbeat music. Move quickly between segments to keep things fast-paced. Your energy and passion will come through to viewers.
Be Helpful
Explain your best deals and products in detail. Show how they work or share customer stories. Educate people on the benefits and value. The more helpful information you provide, the more likely viewers will make a purchase.
Make it Easy to Buy
Feature a prominent "Buy Now" button and links in a description so people can easily purchase while watching. Have a mobile-friendly website and stream orientation, so viewers can buy right from their phones. Remove any friction in the buying process.
Conclusion
So there you have it, seven proven tactics to boost your Black Friday sales through streaming on social media. Engage your audience, build hype, and incentivize them to buy from you. Whether you stream a countdown, run an interactive giveaway or trivia game, or offer exclusive deals and promo codes, streaming is a powerful way to drive sales on the biggest shopping day of the year. Get your streaming strategy in place, test your tech, build your audiences, and get ready to crush your Black Friday goals. The holiday shopping season waits for no one, so make sure you have everything in place to make the most of it. Happy streaming and good luck boosting those sales!
In case you have any questions or need help to find the best streaming strategy to boost your Black Friday sales, don't hesitate contacting us in the live chat on our website, and we'll assist you as soon as possible!
LiveReacting is a streaming platform for Content Creators, Digital agencies, brands, and influencers that helps to make any live stream interactive and get more engagement and views.
[email protected]