How to add a Poll on Instagram Live?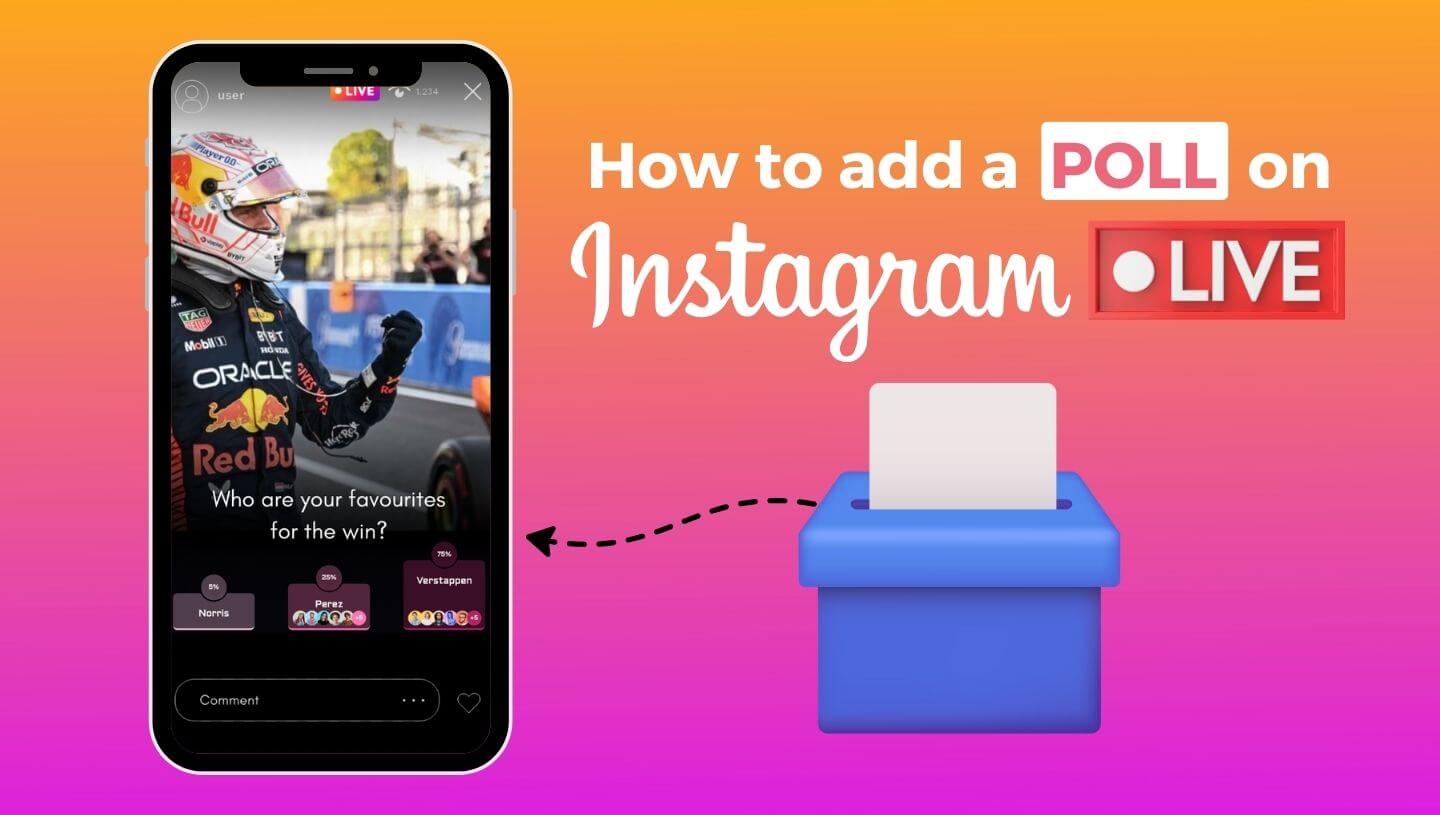 Instagram Live is a powerful tool that allows users to connect with their followers in real-time. With the addition of interactive features like polls, you can milk your content for more engagement and gather valuable insights. As of November 2023, Instagram is planning to roll out a new feature allowing users to create polls in the comments on their posts, however, there's no plans announced on allowing users to add polls on Instagram live streams. Luckily, you can use an additional software to add a poll to an Instagram live stream with ease, and stand out from the crowd. In this blog post, we will guide you step by step on how you can do it..
How does Poll on Instagram Live work?
👉 Users see a Poll with answer options inside the Instagram Live.
👉 Users type their preferred answer in a comment section to vote.
👉 All votes are calculated in real-time and constantly get updated.
👉 The results are displayed in the stream with their profile photo.
👉 To avoid cheating, only the first vote for each user gets considered.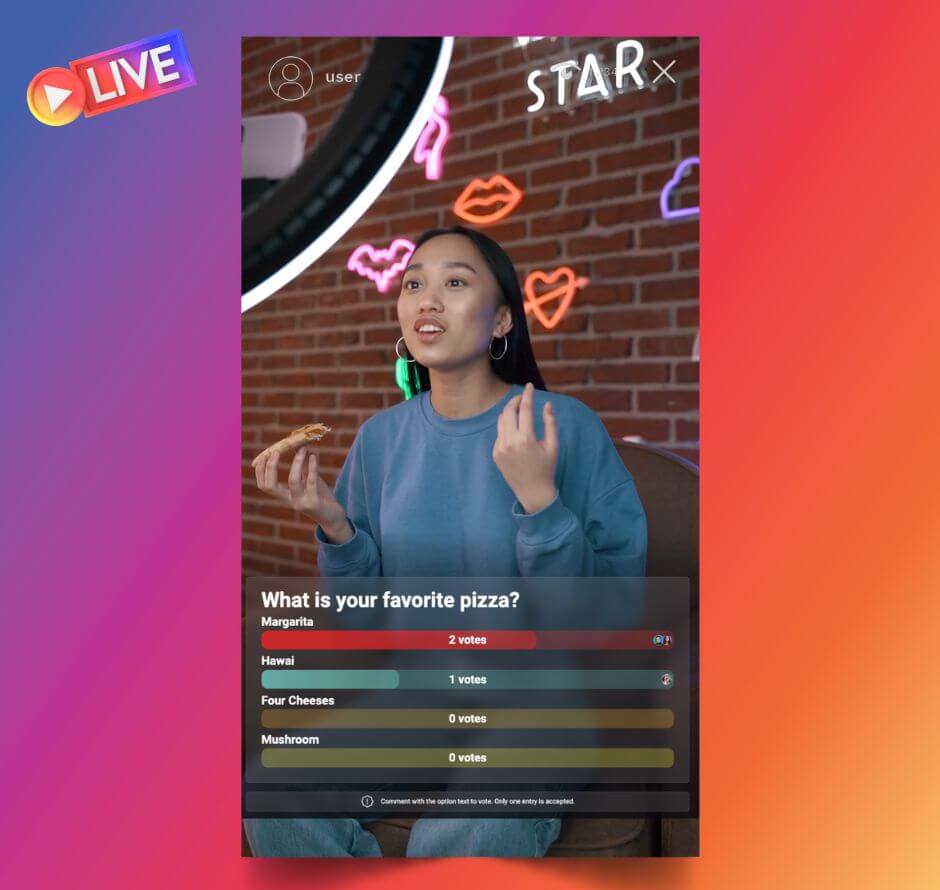 Poll on Instagram Live and its Benefits
Increased Engagement: Offering to vote on Instagram live makes live streaming experience more interactive and engaging for your viewers. It encourages them to actively participate and share their thoughts on the given topic. This increased engagement can result in a livelier and more dynamic live stream results.
Enhanced Research Potential: Polls with multiple answer options on Instagram Live enable you to conduct more robust research. You can use the data collected from the Instagram Live poll to analyze trends, conduct market research, or make informed decisions based on a more comprehensive understanding of your audience's preferences.
Improved Content Personalization: Understanding your audience's preferences and opinions can help you tailor your content to their interests. By utilizing multiple answer options in your live stream polls, you can gather valuable insights that allow for more personalized content creation in the future.
How to do a Poll on Instagram Live
Step-by-step tutorial on running a Poll on Instagram Live.
Step 1: Open LiveReacting Studio and create a New Project.

Step 2: Choose Portrait Orientation.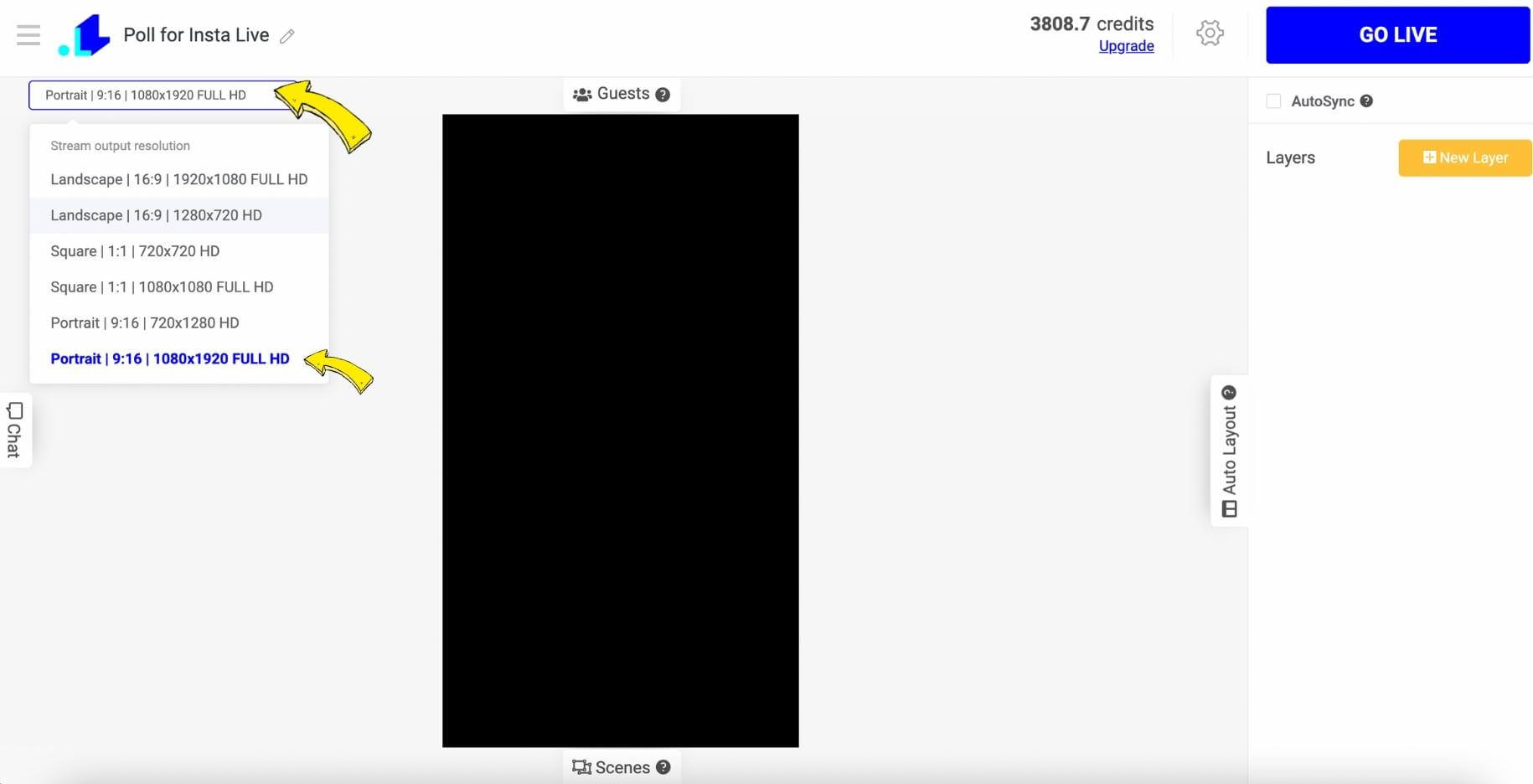 Step 3: We want to connect our camera to host the stream. To connect one, click New Layer, choose Video and Web Camera (you can connect your phone or camera as a video source).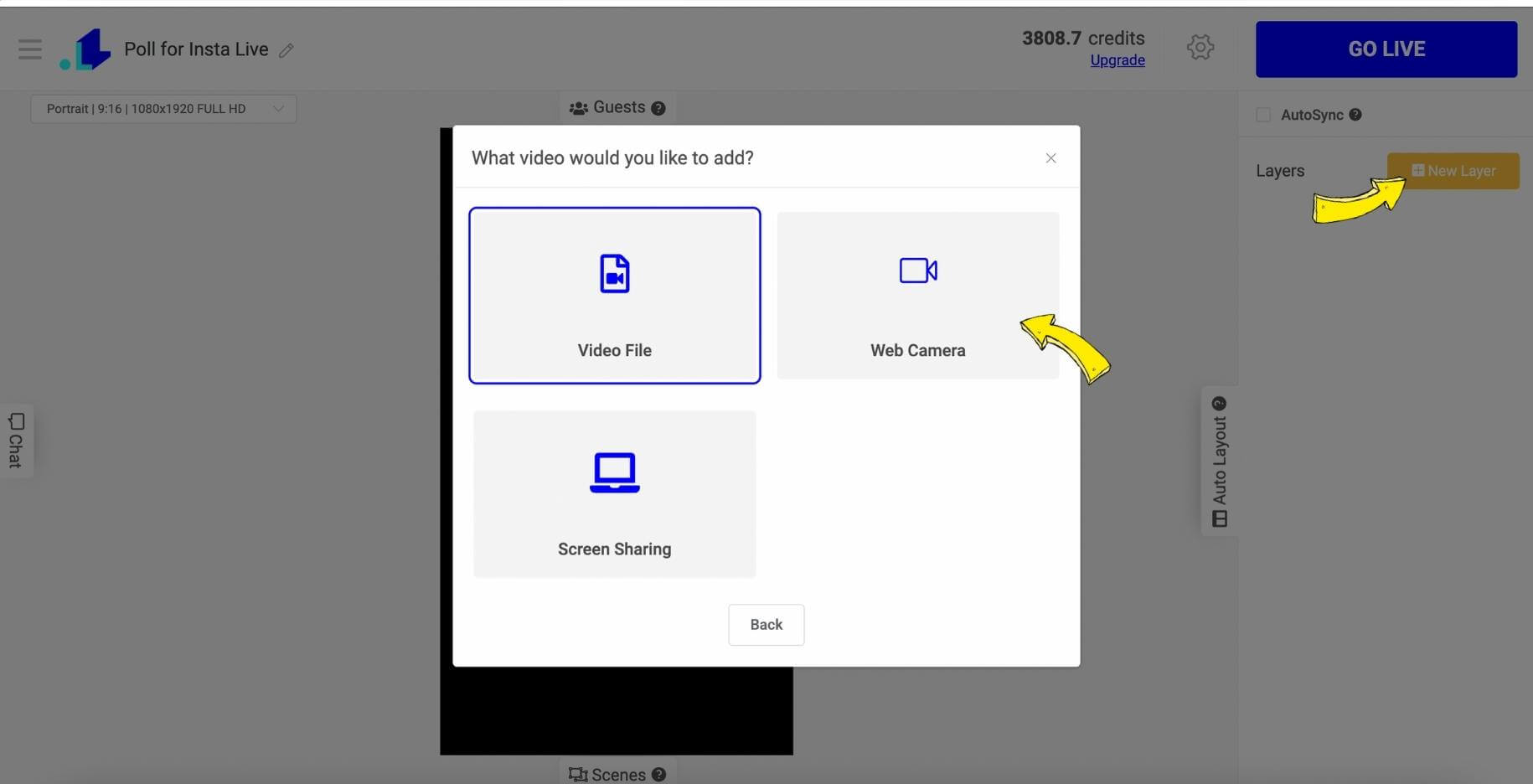 Now our video source is connected: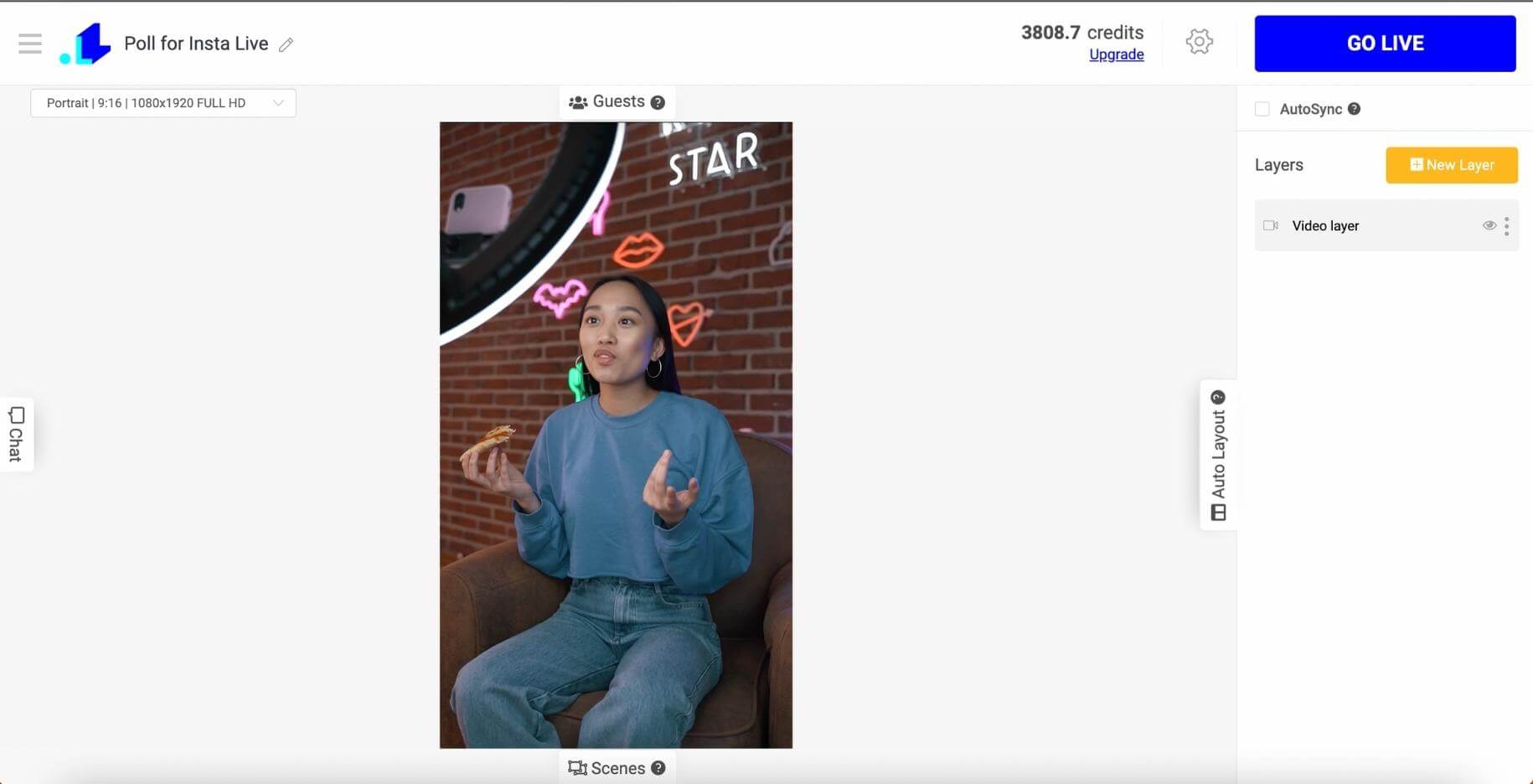 Step 4: Now, when our web camera is connected, click New Layer, Poll > select Comments Poll.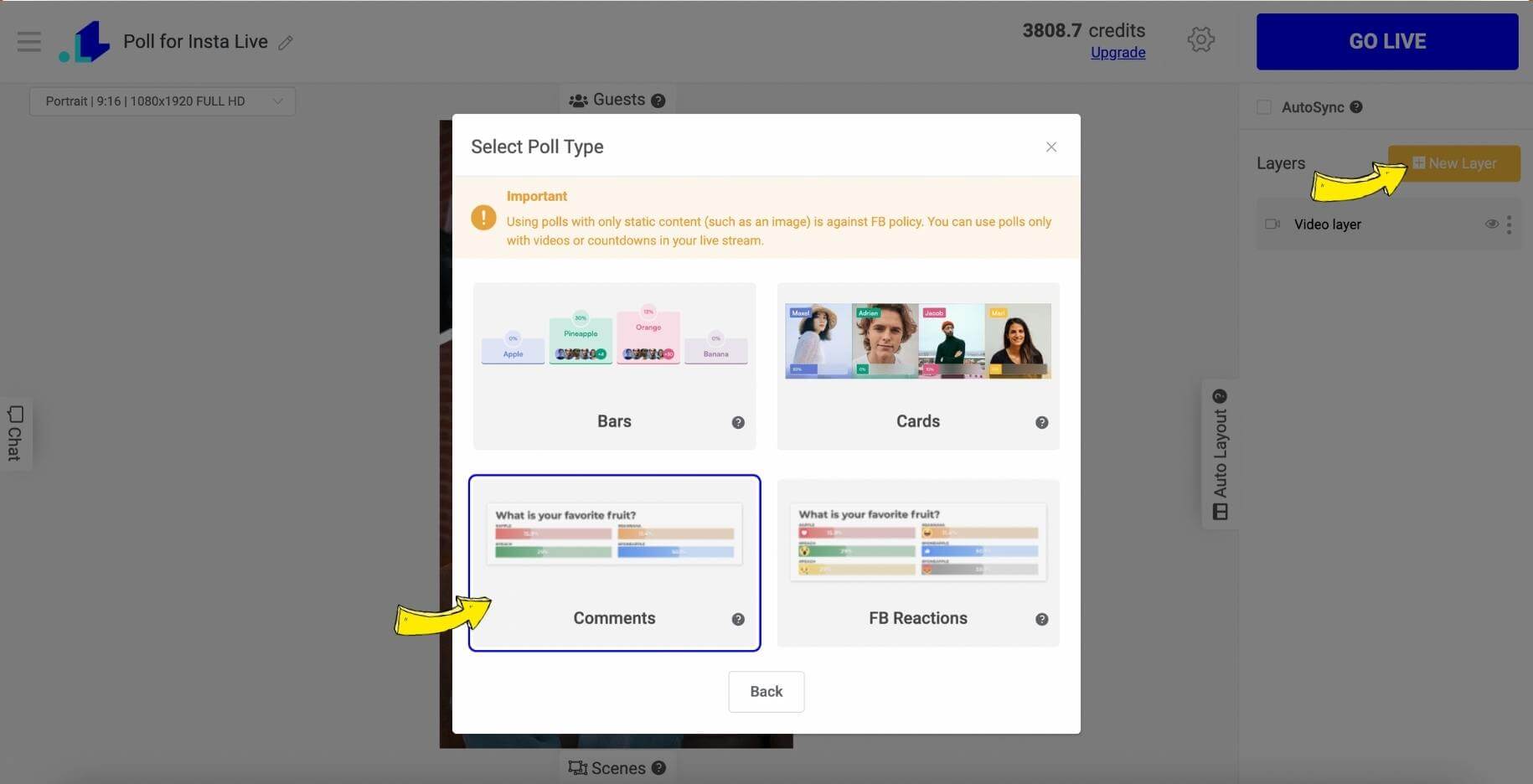 Step 5: Edit poll by typing your question & answer option on the right bar, and add more options if needed. You can edit column layout and edit colors for each option. You can also edit background of the poll, font, shadows, and more. In this tutorial we're going to keep the poll transparent with some gradient.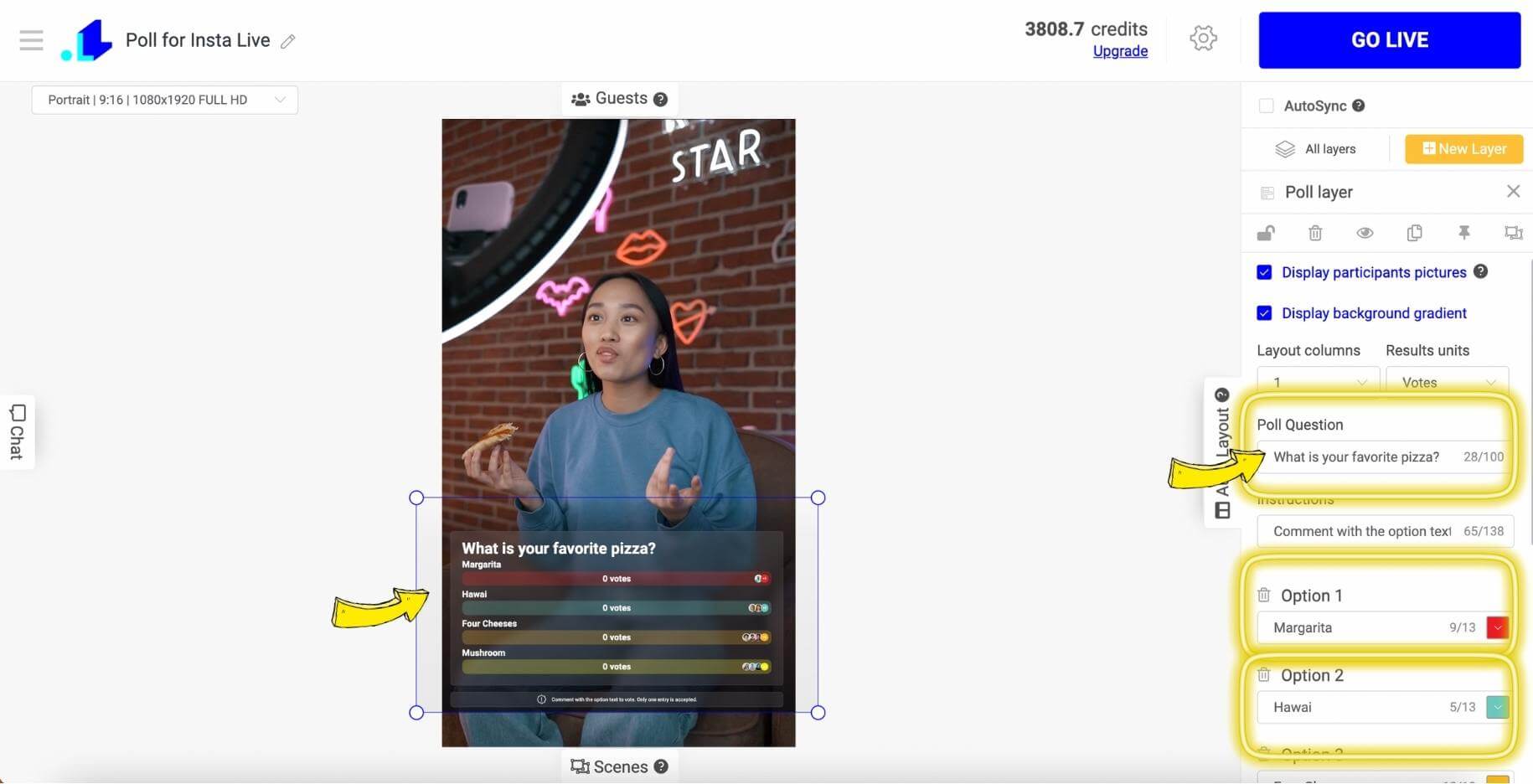 Step 6: When you're ready to launch your poll, click Settings (Gear Icon at the top of the screen).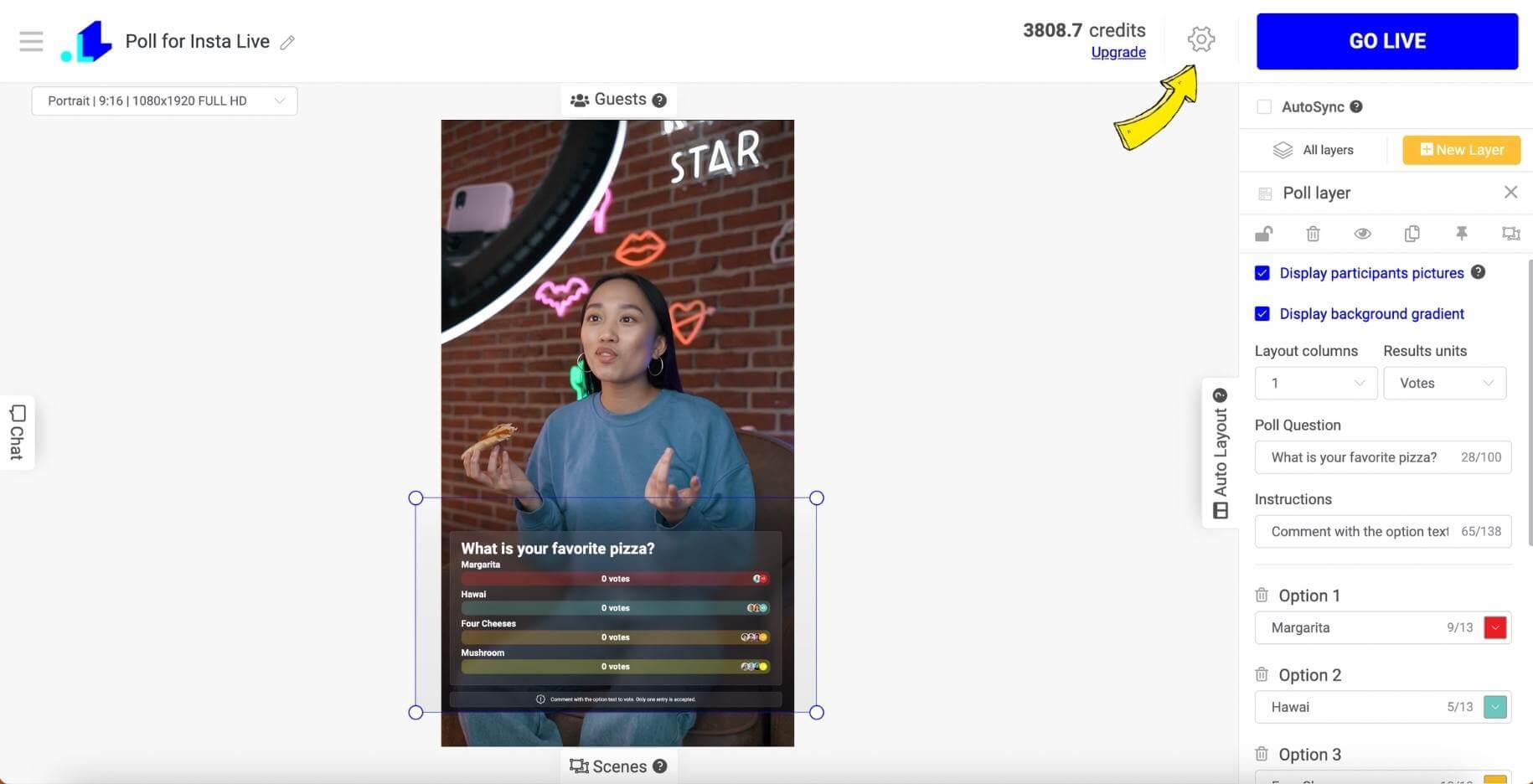 Step 7: Click + Icon, choose Instagram, and then InstaFeed.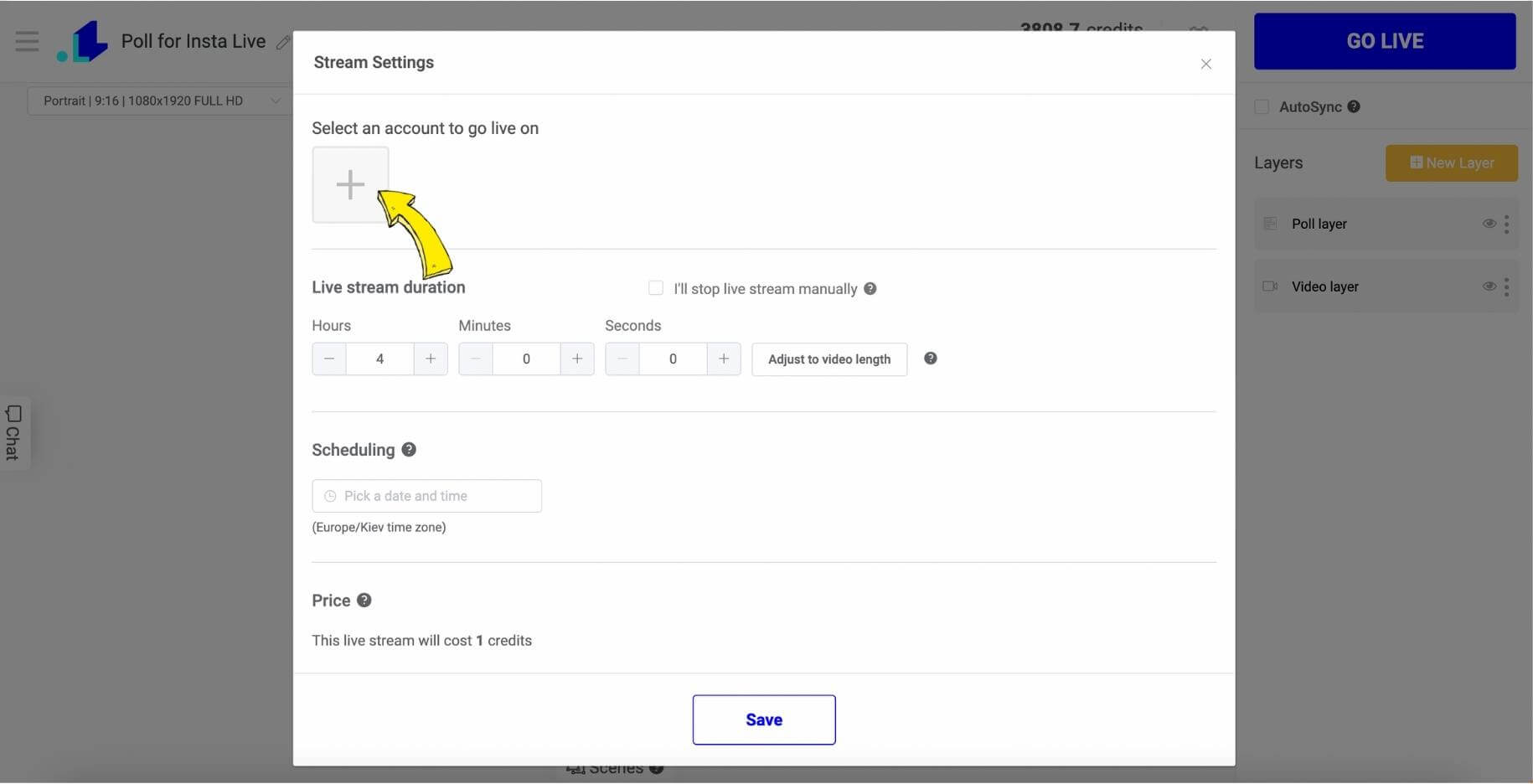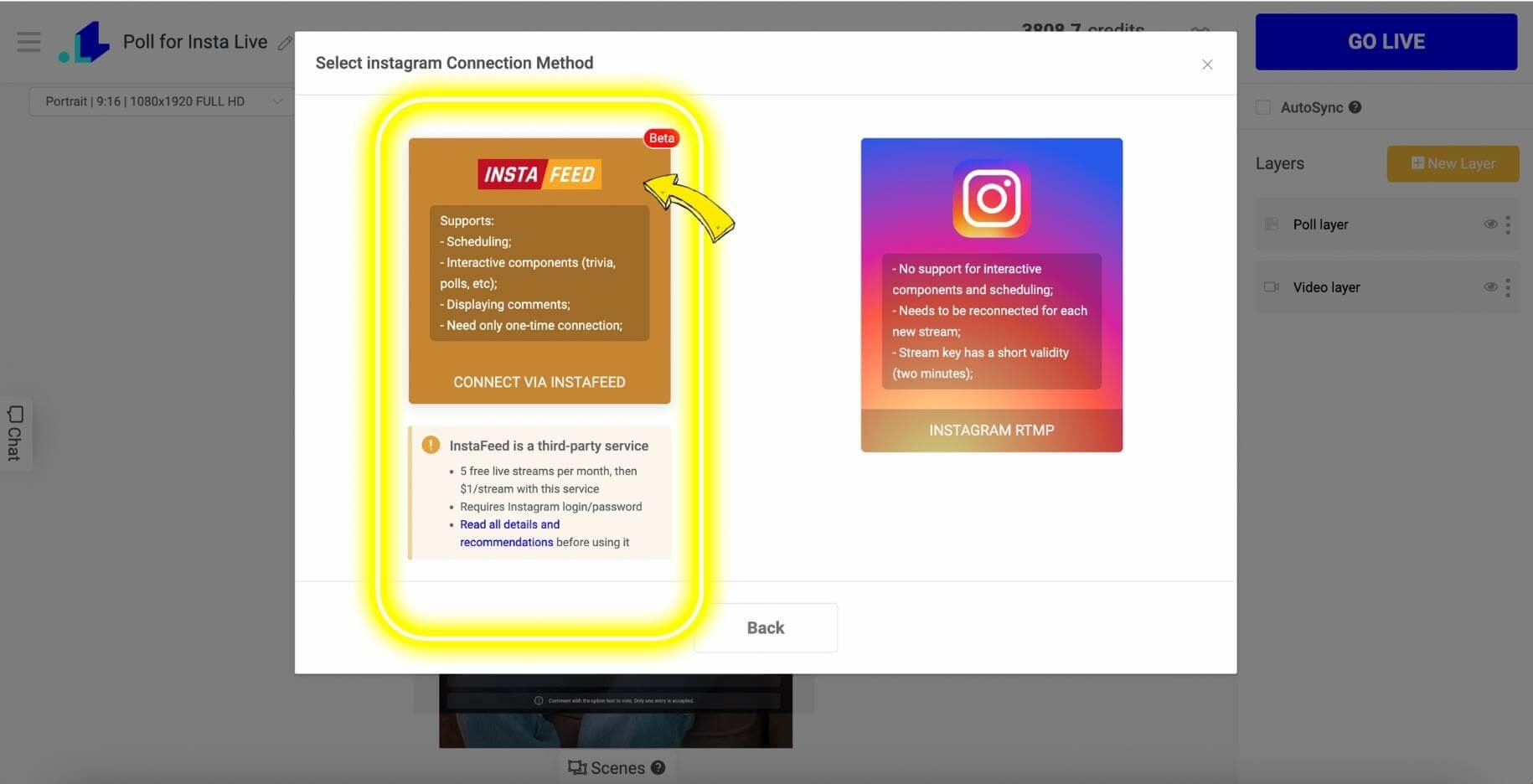 Step 8: Once you're landed on a Login Page, enter your Login and Password.
Step 9: When your Instagram is connected, set up stream title, duration, and click Save.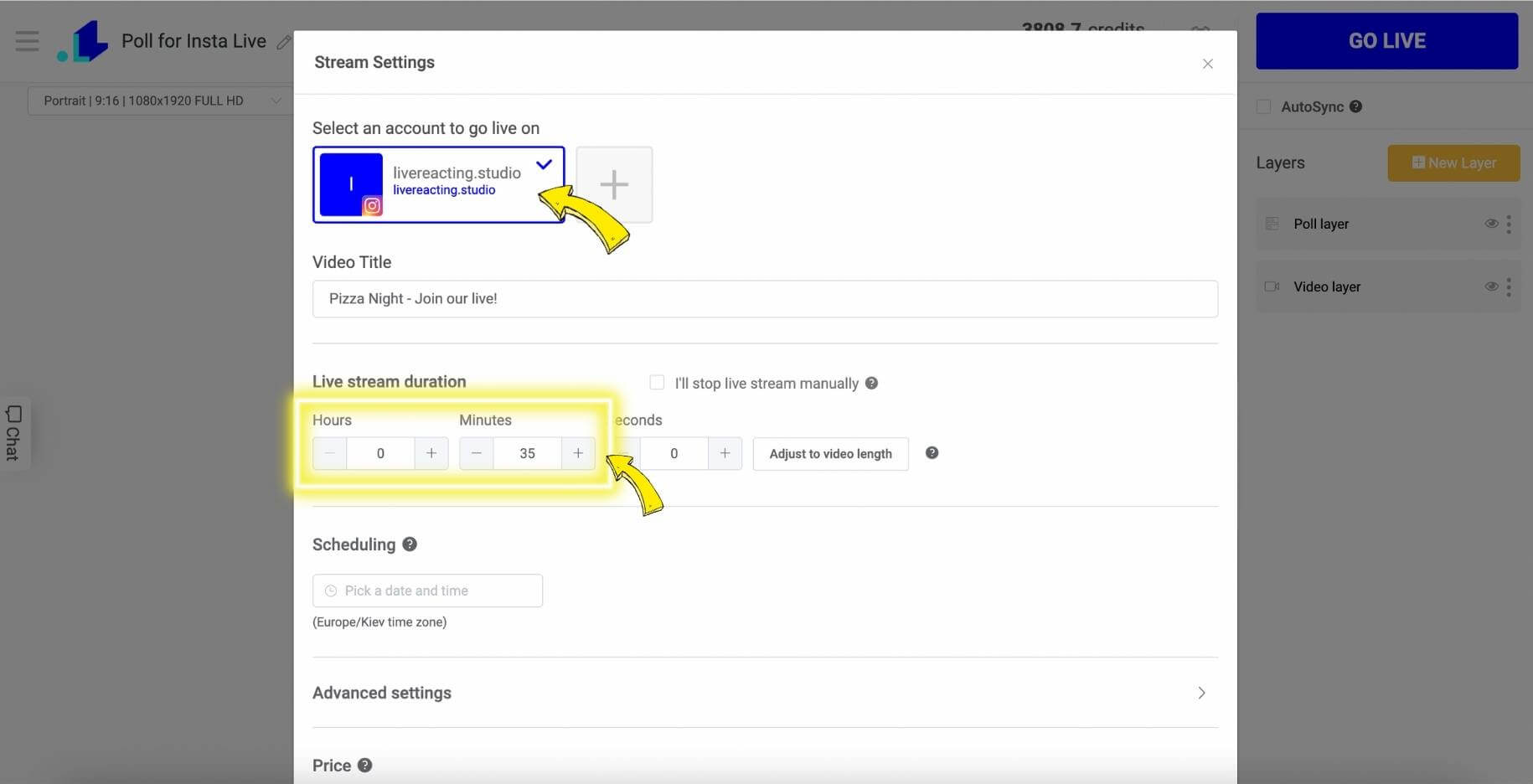 Step 10: Press Go Live button.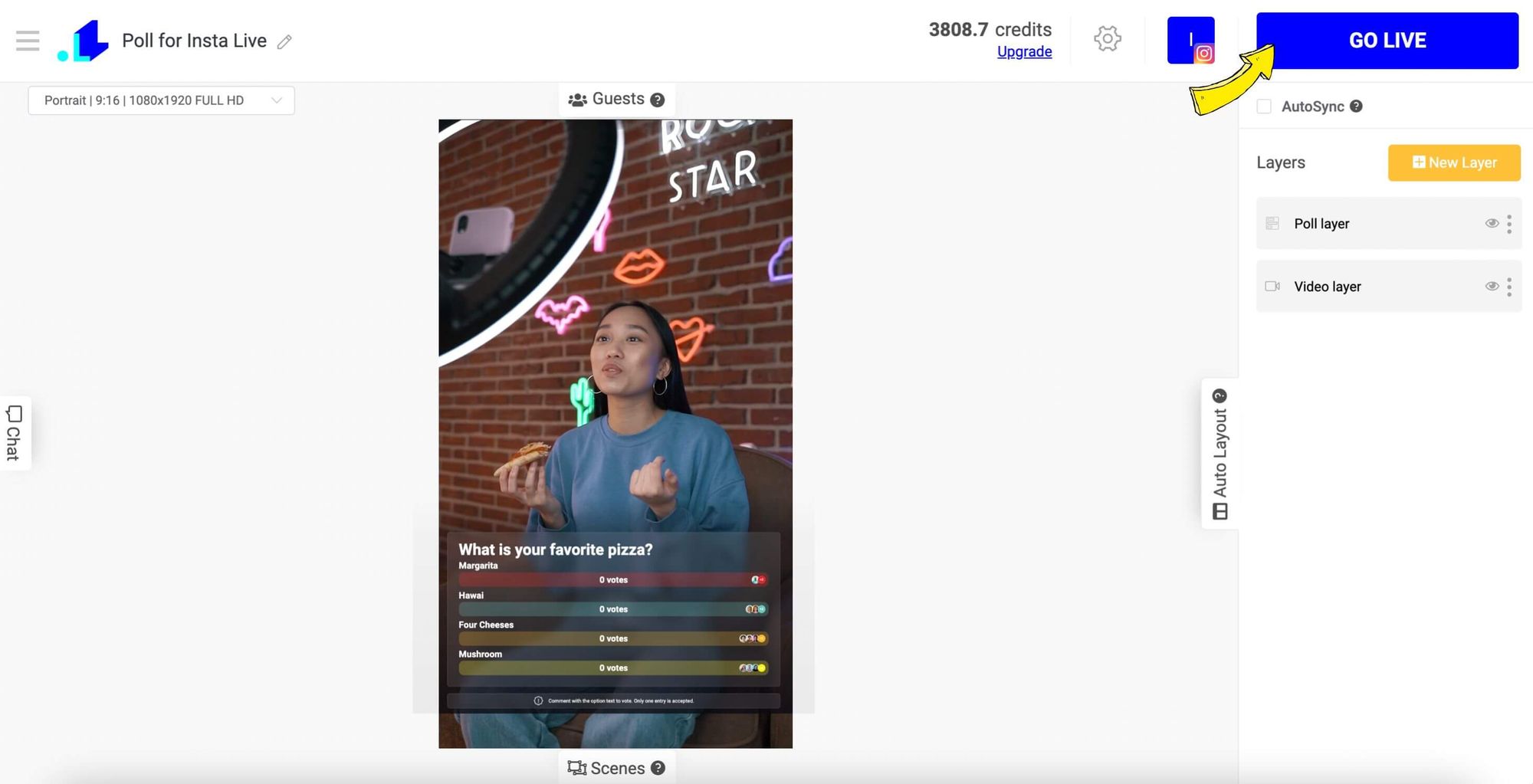 💡
Remember, when conducting polls on Instagram Live, it's essential to clearly explain the answer options, provide context, and engage with your audience during the stream to keep the conversation interactive and impactful.
Extra Tip on running a poll on Instagram Live
Once the poll is live on Instagram, your viewers will be able to participate by typing in comments their preferred answer. Encourage your audience to interact with the poll by announcing it during your live stream and explaining how they can participate. Monitor the results of your poll in real-time, and discuss them with your audience to create an engaging and interactive experience.
Conclusion
Instagram Live is a valuable tool for connecting with your audience on a more personal level. By adding a poll to your live stream, you can actively involve your viewers and gain insights into their preferences and opinions. By follow the simple steps outlined in this blog post, you can add a poll to your Instagram Live stream in minutes, and make your broadcasts more interactive and exciting!
So... dear Insta Streamer! In case you have any questions or need help streaming a Poll on Instagram live, don't hesitate contacting us in the live chat on our website, and we'll assist you as soon as possible!
LiveReacting is a streaming platform for Content Creators, Digital agencies, brands, and influencers that helps to make any live stream interactive and get more engagement and views.
[email protected]