How to contact the winner of a Giveaway on YouTube?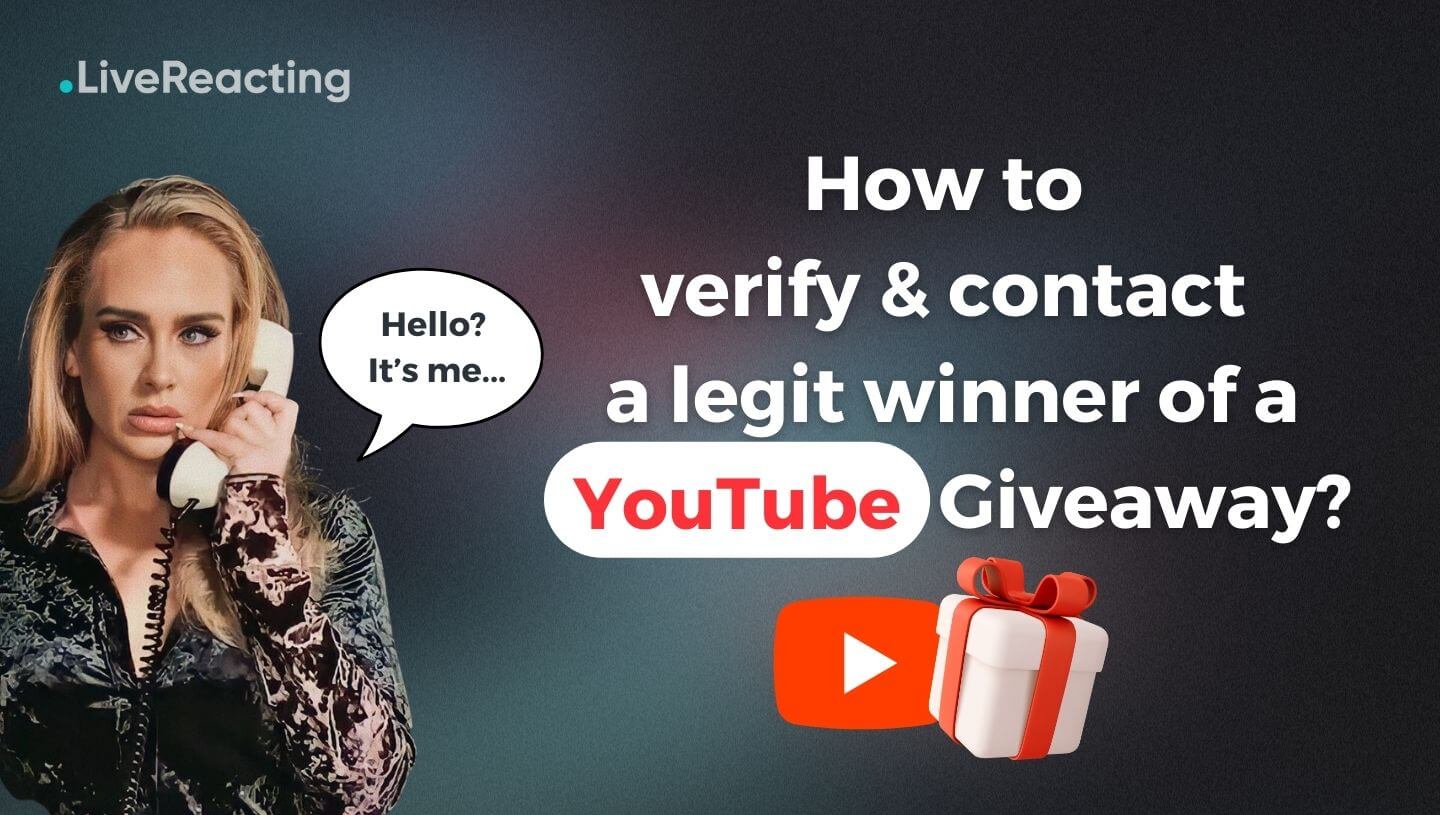 When it comes to verifying and contacting the winner of a YouTube giveaway, creators face a big challange. YouTube does not have a feature to contact users via direct message, so often, creators respond to the winning comment and tell them to get them by email or social media DM.
Does this method help to verify a YouTube winner? Certainly not, as you can get a bunch of fraudulent messages where each sender would claim a prize. Besides that, some users would create fake social media accounts with the name and profile photo of the YouTube winner, so it's easy to get into this trap. For this reason, I'm sharing a tutorial that 100% helps verify a YouTube giveaway winner and contact them directly.
Winner Selection Process
Decide on the criteria for picking the winner of a giveaway, such as random selection or based on a specific task or challenge. You can use tools like random number generators or stream a giveaway via LiveReacting to ensure a fair winner selection. If you decide to go with the last option, you can follow this tutorial to set up a live giveaway on YouTube.
The software helps to ensure that the winner has followed all the giveaway rules and requirements. It displays a profile photo of every giveaway participant right inside of the live stream and allows to automatically draw and announce a winner at any point of the live stream. This is the simplest and easiest way to do a giveaway on YouTube.
Youtube Winner Verification
First, make a public announcement of the results. In a YouTube description or through a dedicated comment, share the name or username of the winner, and congratulations. This informs your audience and adds transparency to the giveaway process.
Before sending a prize to the winner, verifying their eligibility and legitimacy is essential. Simply head to the menu on the right side, and copy the link for the winner to claim a prize. You can share this link either in the description of the YouTube live stream or in the comments. I recommend sharing a link with a short instruction so winners know they must take an extra step to claim a prize.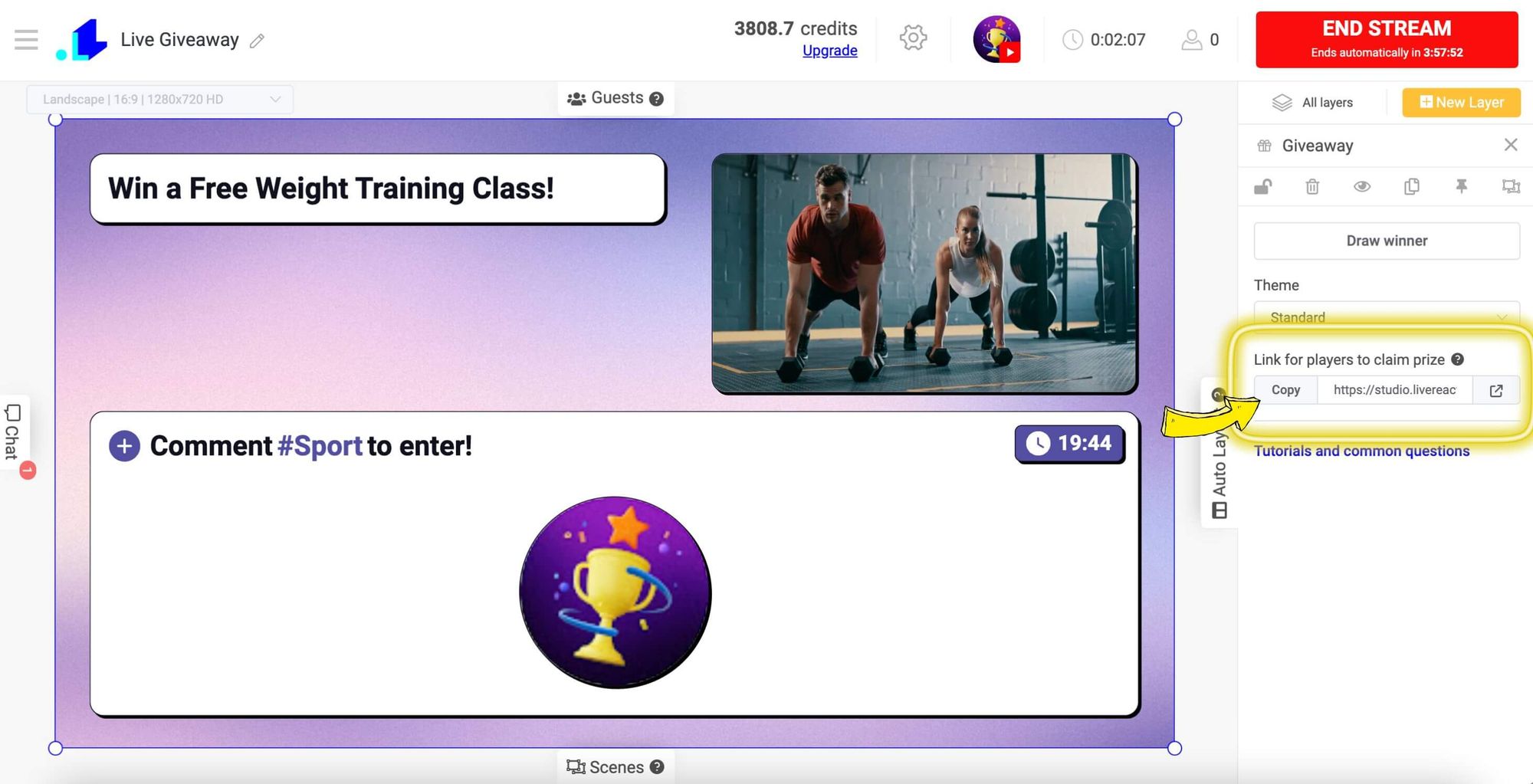 Contacting the Giveaway Winner on YouTube
The most common way to request the winner to contact you by sending you an email or reaching out to you through social media platforms. But...how do you really know that it's a legit winner of the giveaway? What if someone else with a similar name or profile photo contacts you, and claims a prize instead of the real winner?
To avoid fraud or unfair winner selection, this is where the link you shared earlier comes in handy:
When the winner clicks on the link, they'll get redirected to a page where they have to log into their YouTube account. It's completely secure and necessary to get through a verification process.

If the logged account matches with the winner's account, user will see the following field, where they can enter their contact details (email):

After they submit their contact email, they will see a confirmation.

How do I contact a Youtube Giveaway Winner?
As soon as the winner submits their contact details, they'll be visible in your Broadcasts section. Hover over the stream with your Giveaway, click Winners and you'll see their contact details.
Easy Peasy Lemon Squeezy! 🍋🍋🍋 Now you can send a message to Youtube giveaway winner to an email they shared with you.

---
If you have any questions or need help with your Youtube live giveaway or winner verification process, don't hesitate contacting us in the live chat on our website, and we'll assist you as soon as possible!
LiveReacting is a streaming platform for Content Creators, Digital agencies, brands, and influencers that helps to make any live stream interactive and get more engagement and views.
[email protected]