2 Effective Ways to Boost your Online Ministry in 2023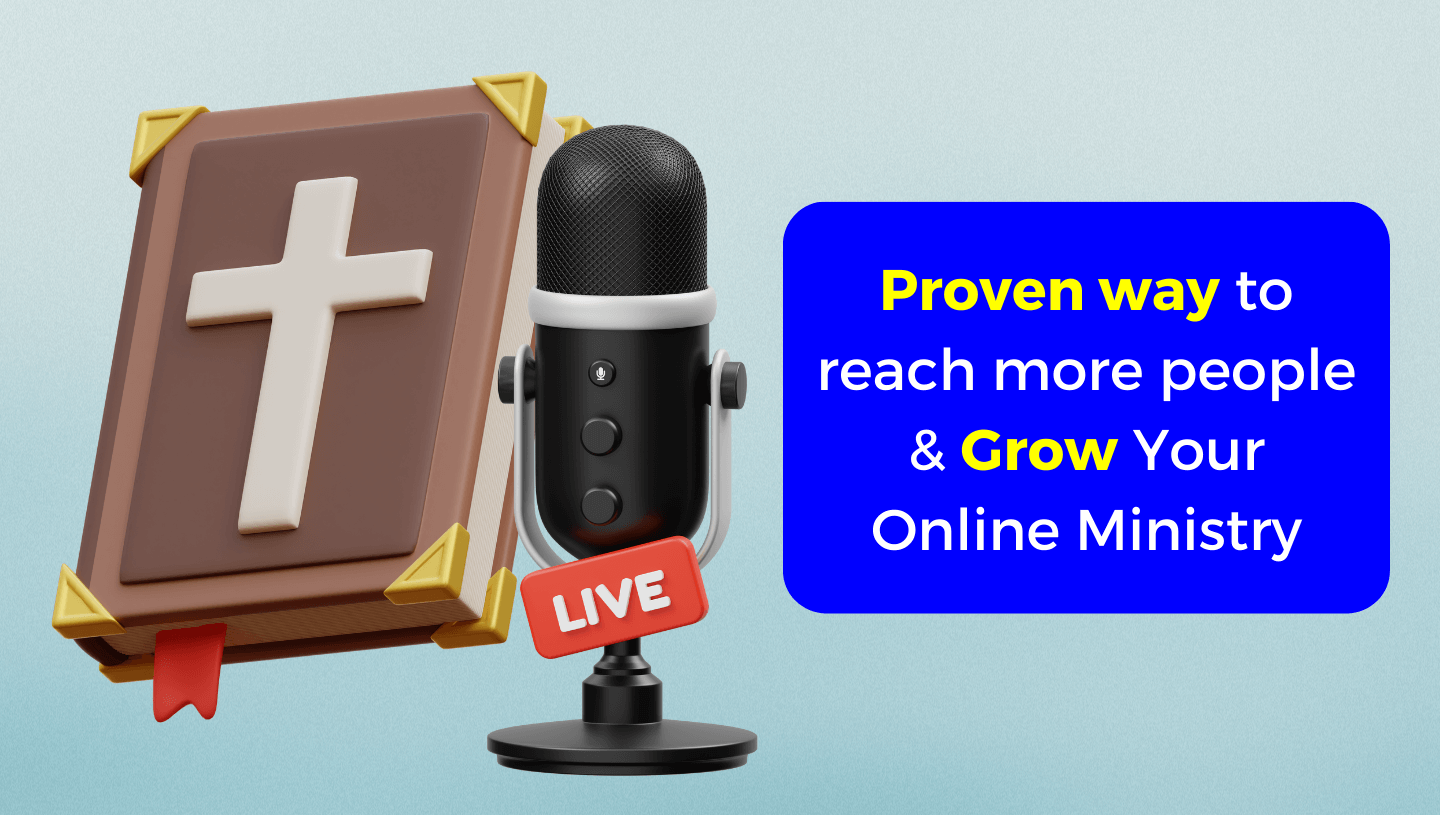 Sometimes an Online Ministry establishes a great online presence, creates a website and social media channels, but lacks a strategy to build engagement and authentic connection with its congregation.
Whether you are a church looking to do online services or a ministry seeking to do online seminars or events, establishing your streaming platform is essential. Live streaming helps churches and ministries to connect with their congregation in modern and innovative ways. Live streaming in 2023 is a powerful, cost-effective way to enhance your Online Ministry, connect with new people, and mafinitain connecting with your existing audience.
If you already have an established streaming platform and have tried to stream but brought you little engagement, these two solutions are definitely for you. Before we begin, there are 2 rules that go along with the offered solutions.
Online Ministry Live Streaming has to be:
Consistent. Consistency is key when it comes to live streaming. If you need more ideas and technical/physical resources, we will describe the solution for you.
Engaging. Engaging live streams help to strengthen relationships with your followers and acquire new ones. Our solution will help you reach the desired engagement, bring more people to the Ministry and stay more consistent with your streams, as it doesn't require you to dig for new ideas and prepare new content every time. The solution lies in using LiveReacting interactive elements for your Ministry streams that you can easily add to your live stream for free.
Solution 1# Bible Trivia
Your audience sees questions with multiple options to answer. They respond by commenting with a number and score for quick and correct answers in real-time. The results are displayed after each question AUTOMATICALLY, and the final leaderboard is displayed at the end of the game.
It's a great way to teach your audience and build a relationship with their connection. Besides that, your Ministry's live stream can go viral because viewers use comments to answer questions.
Real Use Cases
How to set up a Bible Trivia?
Log into LiveReacting and select one of the trivia game templates in the templates list in the Studio.

2. Let's start with Trivia questions & answers. To start editing them, click on the Questions Configuration on the right sidebar. A window with questions will pop on the screen. Here you can adjust the number of questions, automatically generate them, or add yours manually. When done, scroll down and click Save.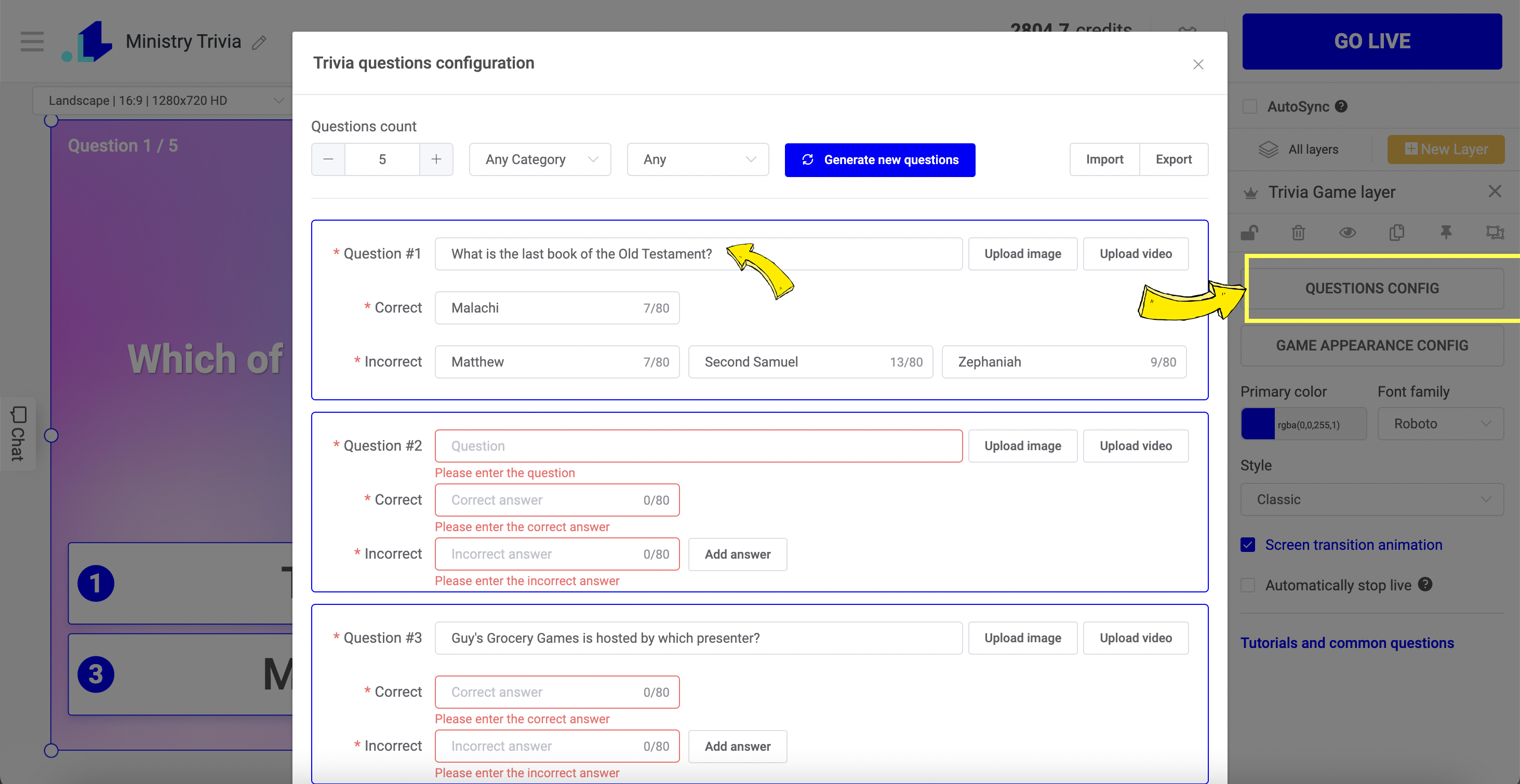 3. To edit the style of your Bible Trivia, click Game Appearance Configuration. This is where you set screen backgrounds, titles, subtitles, ministry logos, timing per round, and other settings. Once all is set, click Save.
4. To preview all the Bible Trivia settings for each screen, you can click on the "Start screen," "Round screen," "Round results," and "Game result." in the top right corner.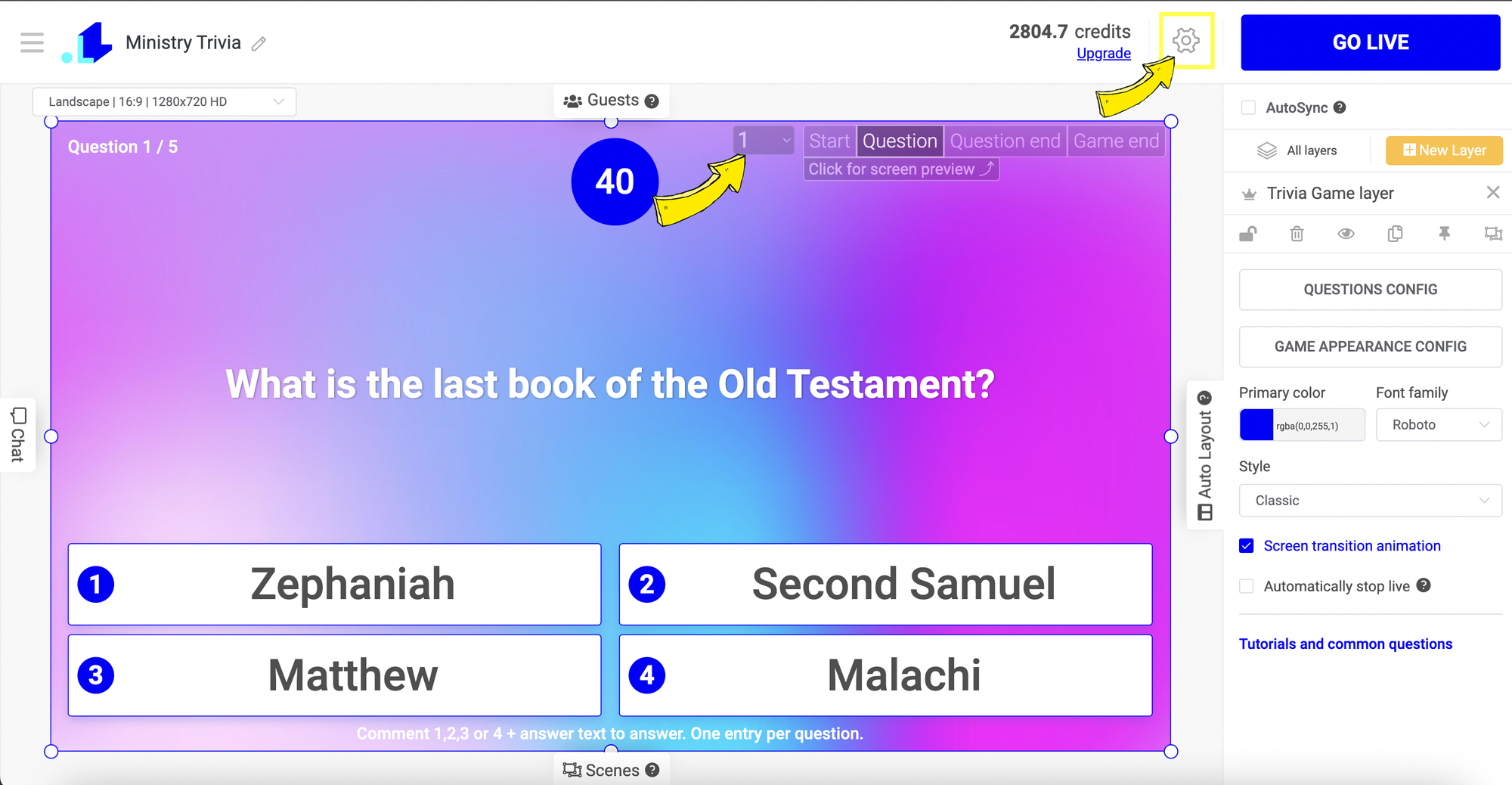 5. This step is not necessary, but if you want to host your Bible trivia personally, you can click New Layer, and choose Camera Layer. Your camera will be connected and you can drag its layer to place it anywhere in the stream.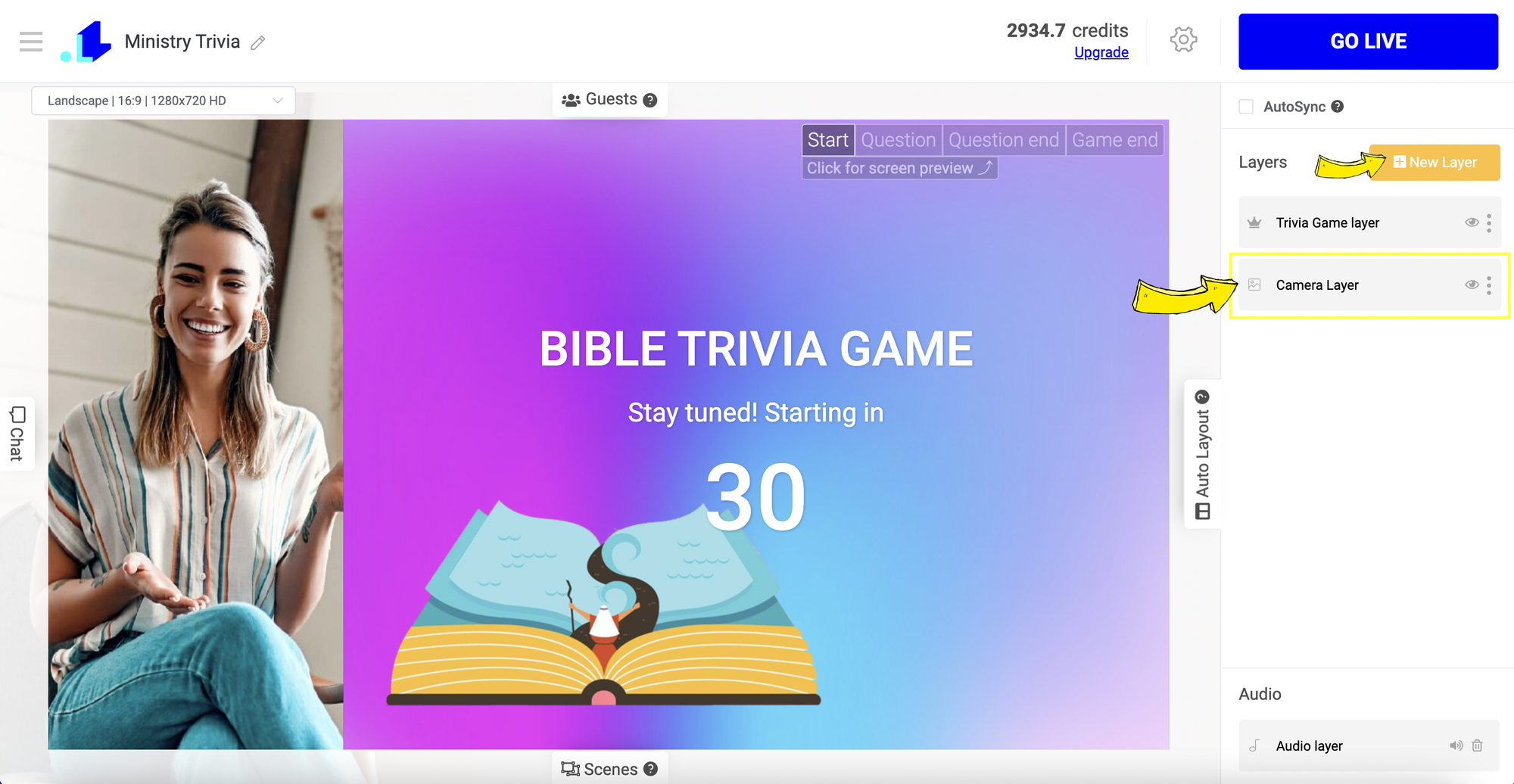 6. You can either schedule your stream (if you don't host it) or go live immediately. To do so, click Settings (Gear Icon), and click + to add your Youtube channel or Facebook group, page, or event. Then add a title with a description, set duration, and click Save at the bottom of the page. Once ready, click the big GO LIVE button at the top right corner of the screen.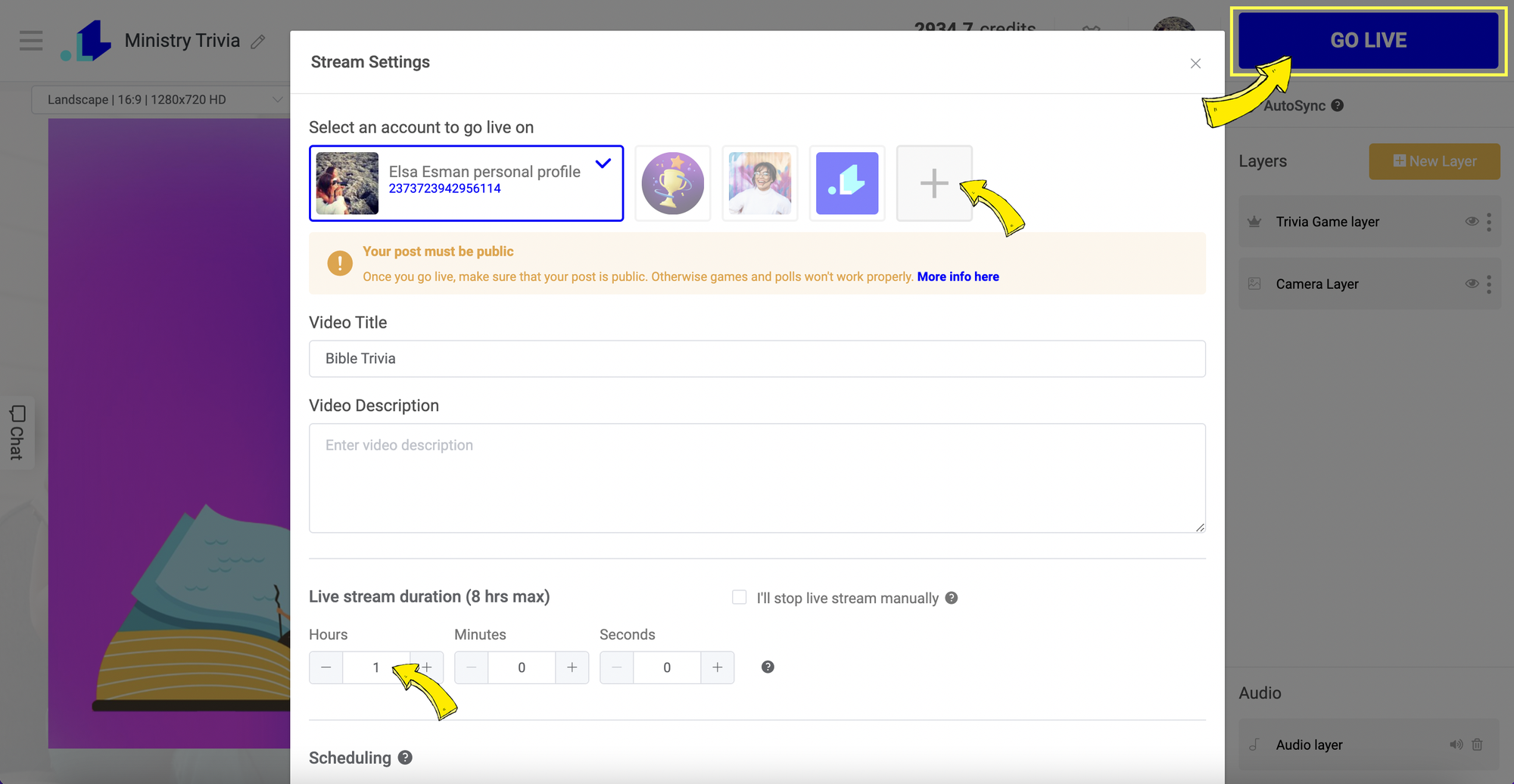 This is not the case when 'easier said than done' because even amateur streamers manage to set up their first Bible Trivia relatively quickly. To remind you, you don't need to calculate anything. All results are calculated automatically and displayed in real-time with Bible Trivia participants' names and profile photos. Ultimately, there is always a leaderboard with all participants' scores.
---
Solution #2 Bible Crossword.
The Crossword is a fully automated game you can stream on Facebook or the Youtube channel of your online Ministry. Your viewers must investigate a list of words supplied within the grid and find all the hidden ones.
When viewers find words, they must type them in a comment section. Meanwhile, LiveReacting software calculates and displays all the scores in real time. You can customize a Crossword with your words to make them relatable to your viewers.
Why stream a Crossword?
When your existing followers comment words, the stream is more likely to pop up on their friends' timelines and help your Online Ministry get more exposure. Also, it can help you be more consistent with your streams because you can schedule Crossword to be streamed automatically.
Real Use Cases
How to set up a Word Search?
The quickest way to set up a Bible Crossword is to choose a pre-made template in the Studio.  

2. To enter your Bible-related questions with answers, click on Words Config. Here you can also set up the number of rounds for your game.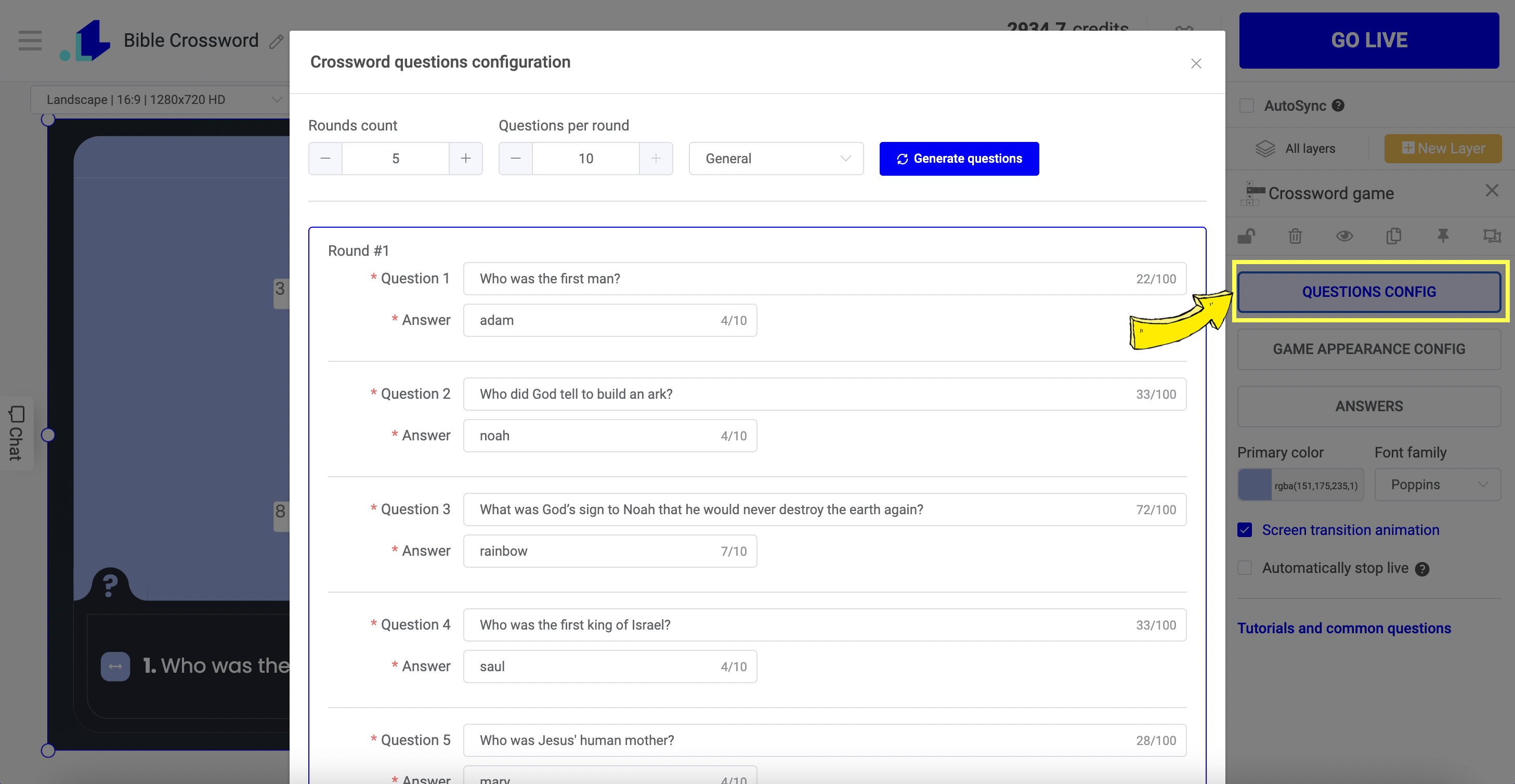 3. Click Game Appearance Configuration to edit screen backgrounds, titles, subtitles, timing per round, or add your Ministry logo. Click Save once done.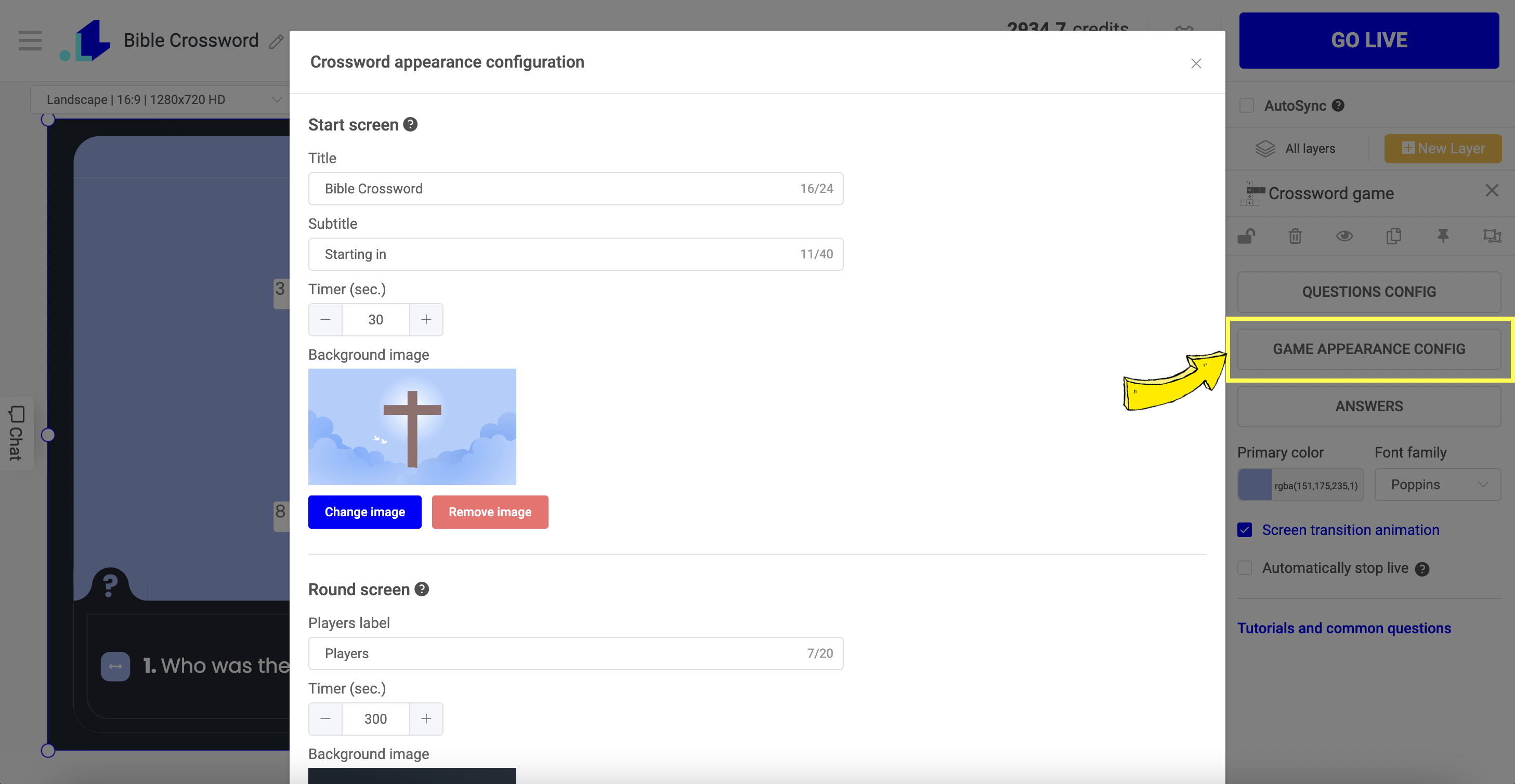 4. By the way, you can always press Answers button when your game is live and some participants struggle with finding a correct answer. You can always check it here and give them a hint or type the answer yourself.

5. Now, you can preview your Crossword by clicking through Start/Round/Round End and Game End. If you're happy with the way your game looks, connect your Youtube or Facebook page in Settings and click Save. When you're ready to stream, press GO LIVE or Schedule button.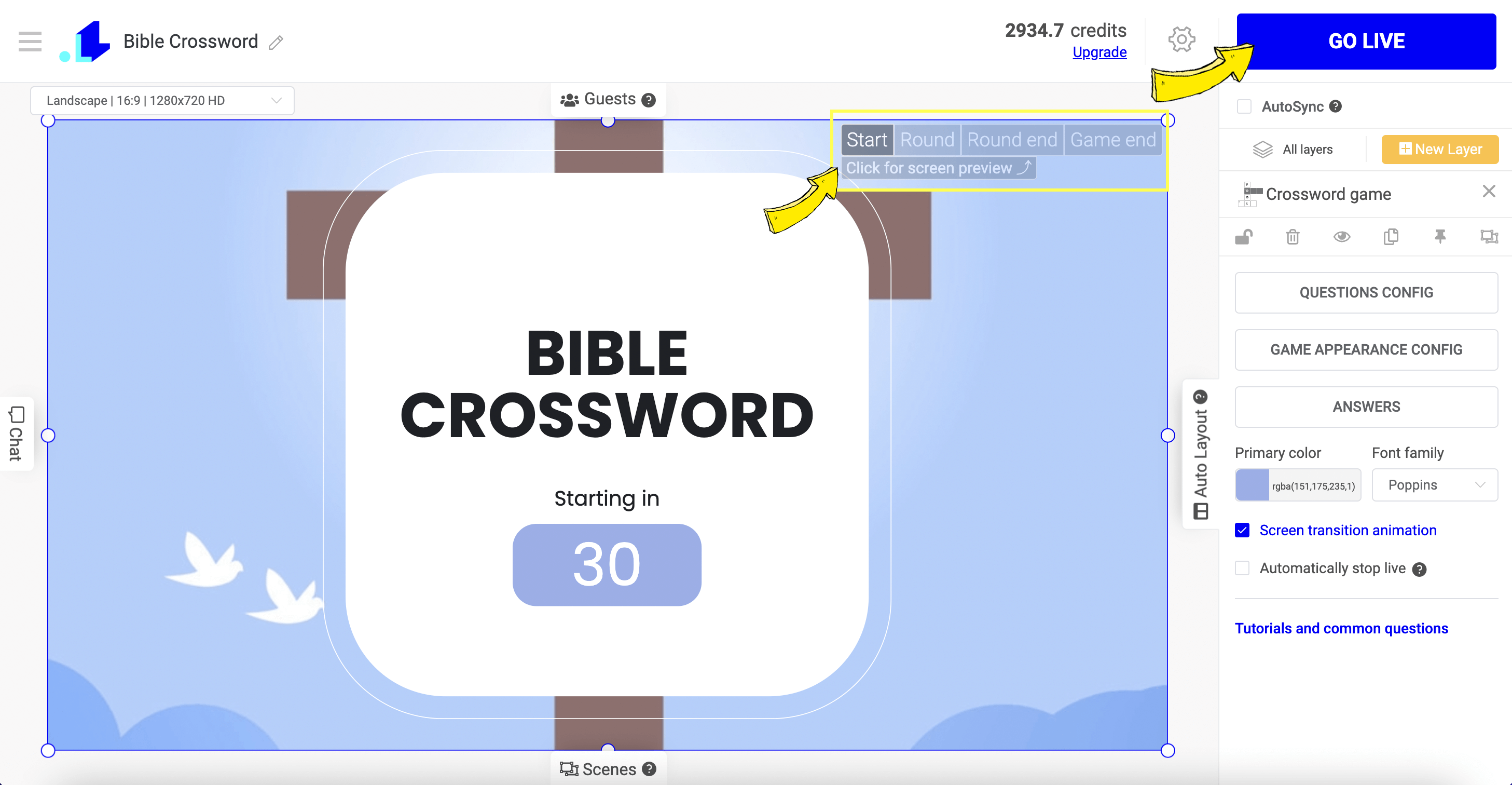 This is a quick tutorial on how to set up Bible Crossword and stream it to your channel.
To sum up, streaming Bible Trivia and Bible Crossword is a great way to increase engagement on social media channels of your Online Ministry and let more people notice you. This type of engagement will help you to get more exposure and build stronger relationships with your congregation.
If you need more ideas for growing your Ministry or need assistance setting up a stream, contact us in the live chat on our website, and we'll be glad to help you.
LiveReacting is a streaming platform for Social Media Managers, Digital agencies, brands and influencers that helps to enrich any live video with interactive elements and graphics in order to get more engagement and views.
[email protected]