How to Live Stream a Pre-Recorded Video on Twitch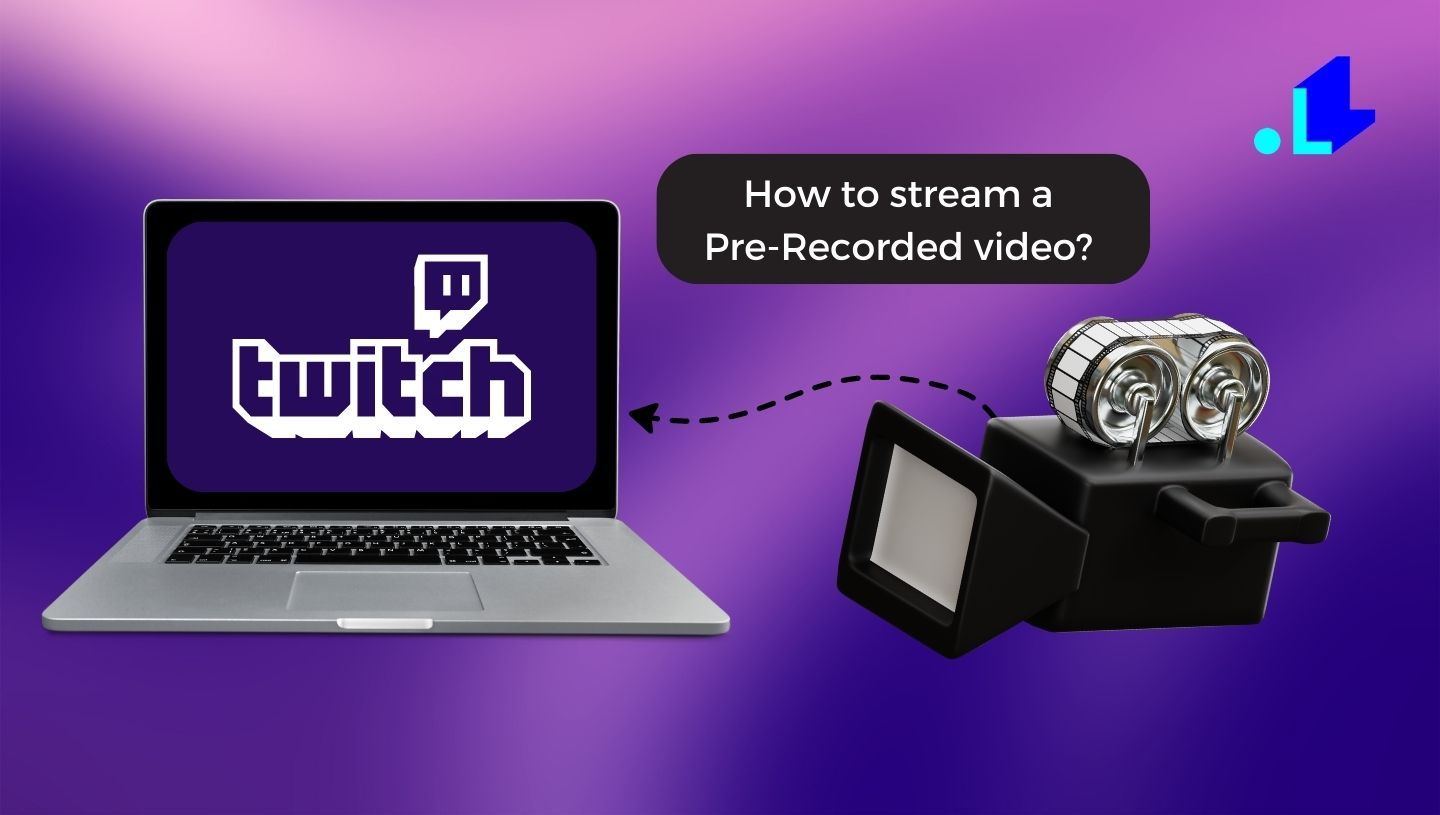 You've been streaming your gaming sessions on Twitch for a while now and have built up a dedicated audience. They love watching you play live, but you're going on vacation for a week and won't be able to stream. You don't want to disappear for that long and risk losing viewers or momentum. The solution? Stream pre-recorded videos on Twitch to keep your channel active while you're away. It's actually pretty easy to set up and your viewers will appreciate you not going dark for an extended time.
How to Set Up Your Twitch Channel for Pre-Recorded Streams
To stream pre-recorded videos on Twitch, you'll first need to set up your channel. Here are the steps:
Create a Twitch account and channel. Sign up for a free Twitch account, then create your channel by clicking the "Create Channel" button. Choose a unique name and profile image to represent your brand.
Enable the "Store Past Broadcasts" option. This allows you to save your streams as VODs (video on demand) that viewers can watch anytime. Go to your channel's Settings, click "Channel & Videos," then turn on "Store Past Broadcasts."
Make sure to be active in the chat during your "live" stream. Respond to viewers, post updates, and keep the conversation going to make your pre-recorded stream feel as live and engaging as possible.
With a little setup, you'll be streaming your pre-recorded videos on Twitch in no time and engaging with your viewers just like a real live stream! Let the games begin!
Tips for Editing and Optimizing Your Pre-Recorded Content
To make your pre-recorded Twitch streams as engaging as possible, keep these tips in mind during the editing process:
Choose an attention-grabbing preview image. The preview image is the first thing viewers will see, so make sure it's eye-catching and appealing. Have it feature an interesting shot from your video, especially if it shows you prominently. You can also add text or graphics to help describe what viewers can expect from the stream.
Cut out any dull or irrelevant parts. Viewers have short attention spans, so trim your video down to only the most interesting, important and entertaining parts. Remove any sections where nothing is really happening or that don't contribute to the overall content. Keep things concise and fast-paced.
Enhance the audio. Make sure both your voice and any background music are crisp and clear. Address any issues with echoing or muffled sounds. You may need to adjust microphone levels or swap out your mic if the quality is poor. Adding subtle background music can also help set the right mood and make transitions smoother.
Add overlays and effects. Take advantage of the options for enhancing your stream like Twitch extensions, alerts, webcam overlays, and video effects. Things like on-screen notifications, animated transitions, picture-in-picture mode, and green screen effects can make your stream more professional and dynamic. But don't overdo it, you still want the focus to be on your content.
Promote audience interaction. Even though your stream is pre-recorded, you still want viewers to engage with you and each other. Mention your channel's hashtag so people can live tweet, and encourage viewers to chat with you and others in the comments. Respond to viewers during the premiere to make it feel more live and boost the social experience.
Following these tips will ensure your pre-recorded Twitch stream is optimized, engaging, and interactive for your viewers. Take the time to edit thoroughly and add enhancements that complement your content and brand. With some polish, your viewers will feel like they're watching a live stream!
How to Go Live With Your Pre-Recorded Video on Twitch
Once you have your pre-recorded video ready to go, it's time to stream it live on Twitch. Here are the steps to broadcast your pre-recorded content:
Log in to your Twitch account.
Log into the LiveReacting account, choose a pre-recorded video template and upload your video. Your video should be 1080p for the best quality.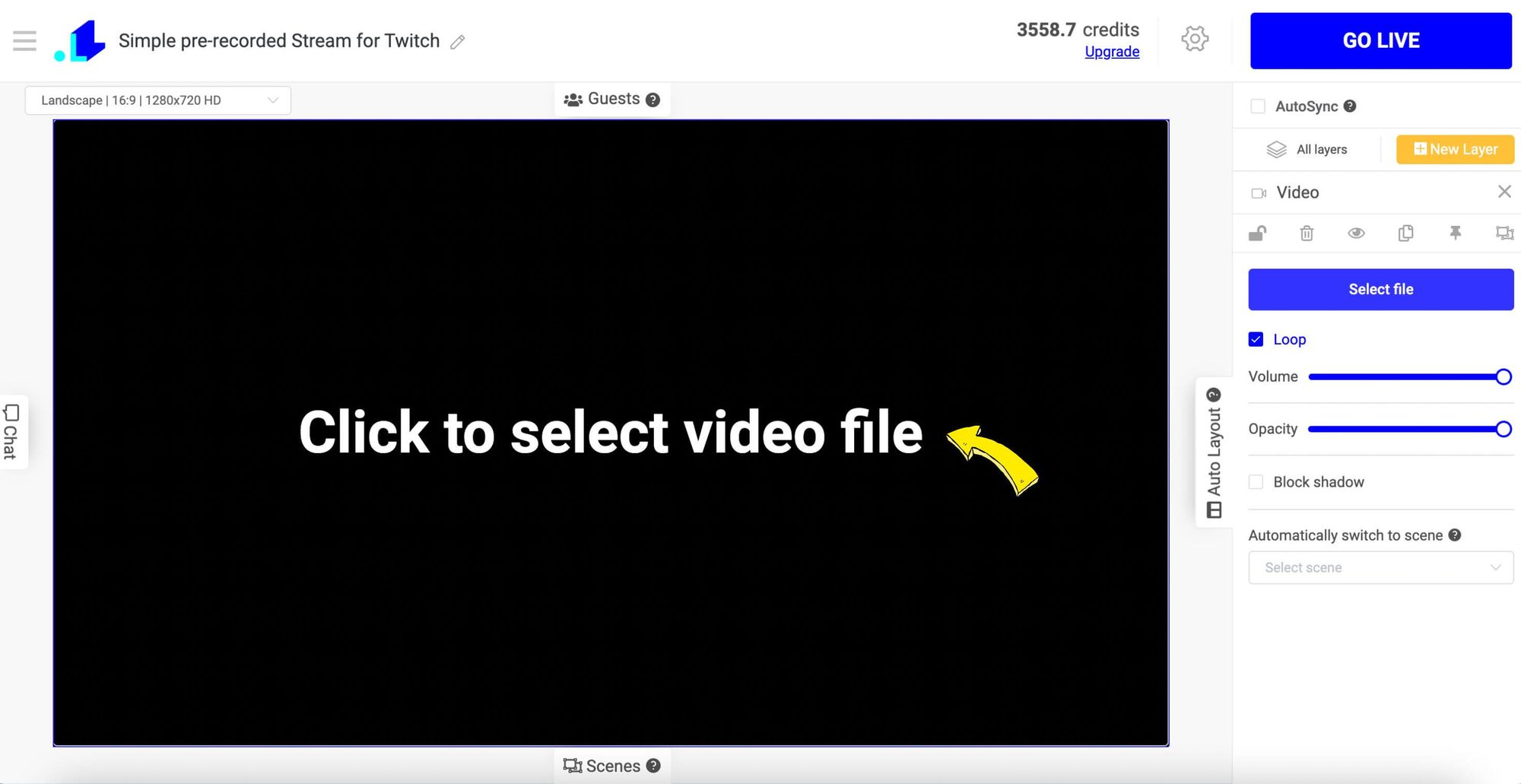 3. Once your video is uploaded, go to Settings of your project.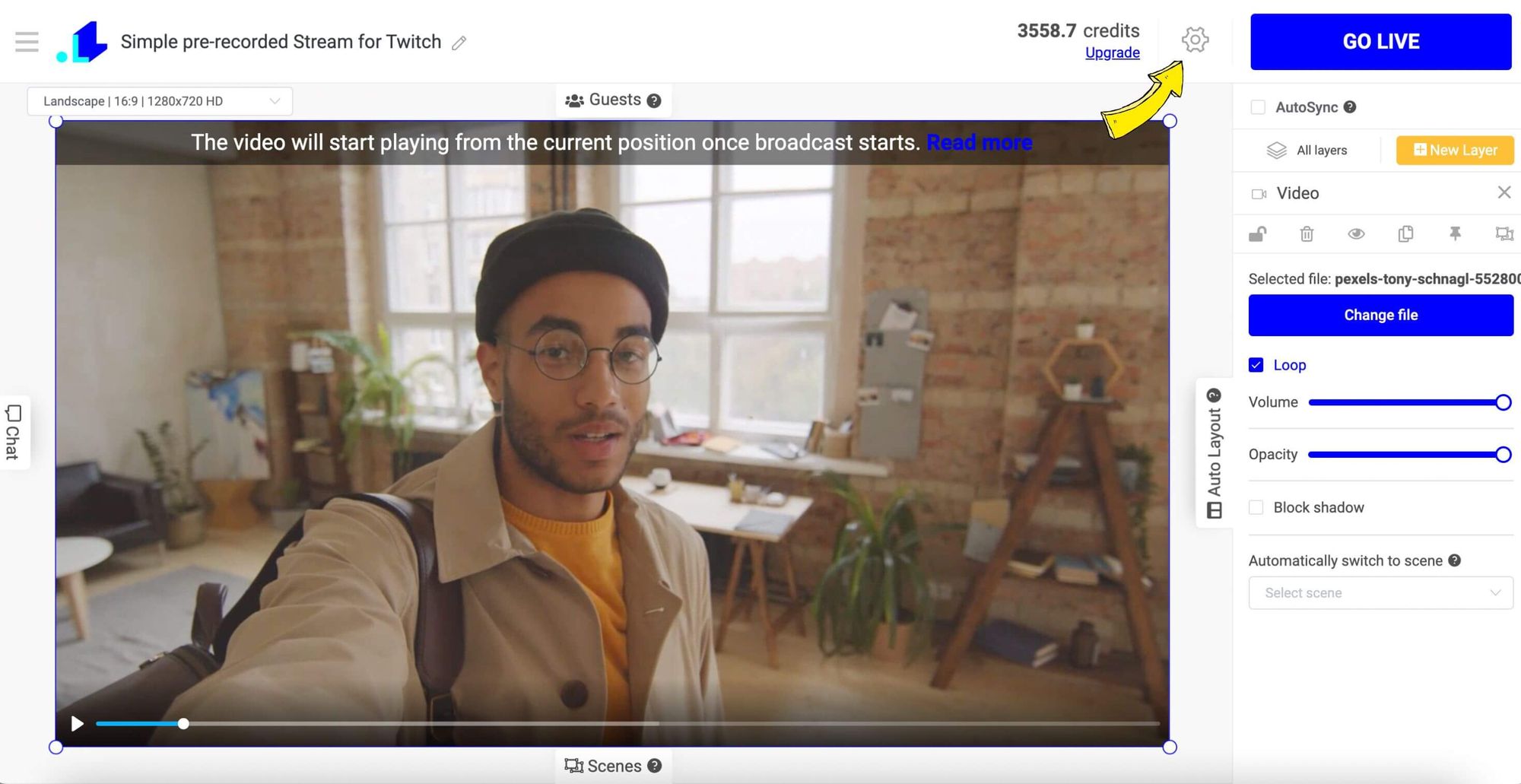 4. Click + Icon and connect your Twitch account.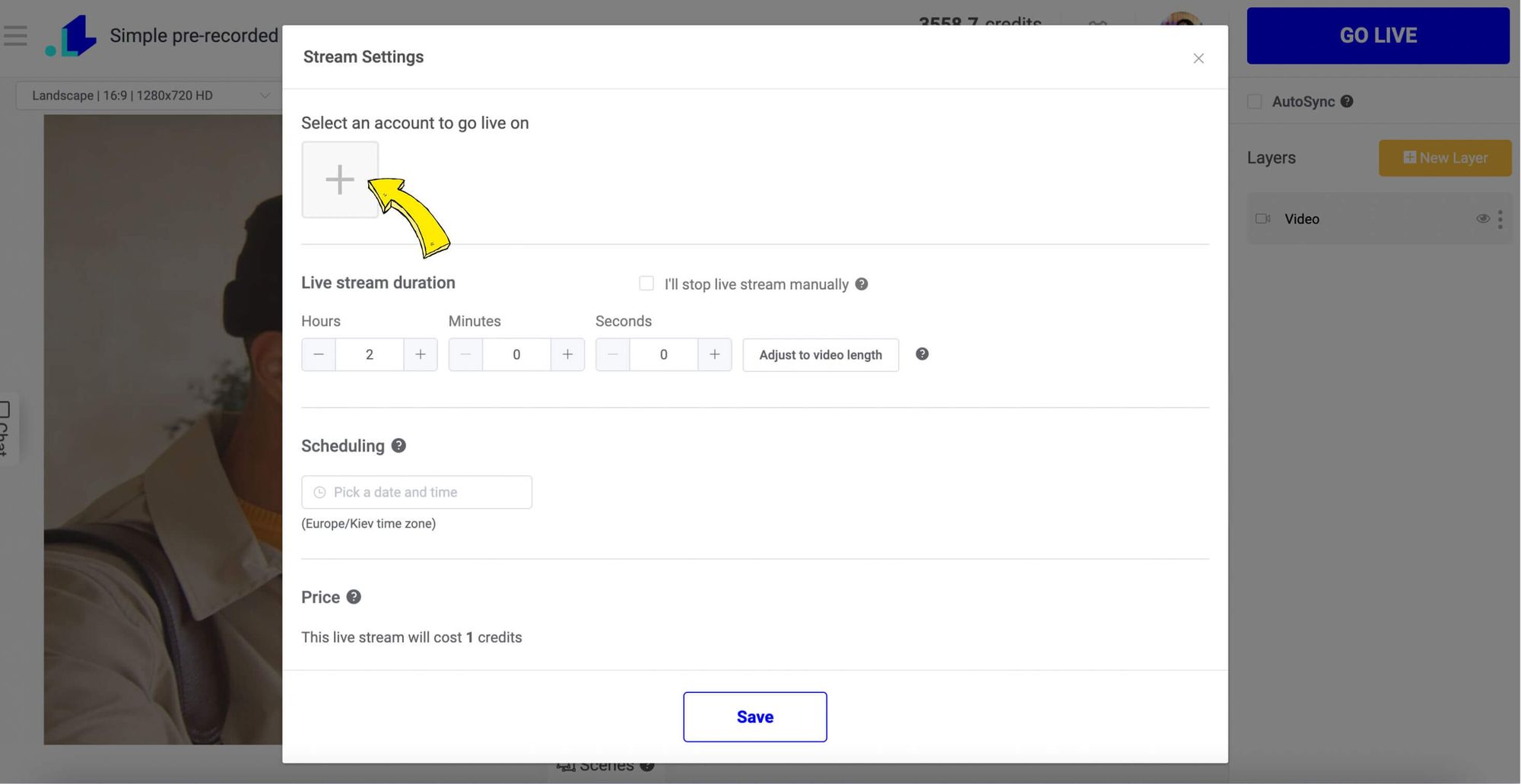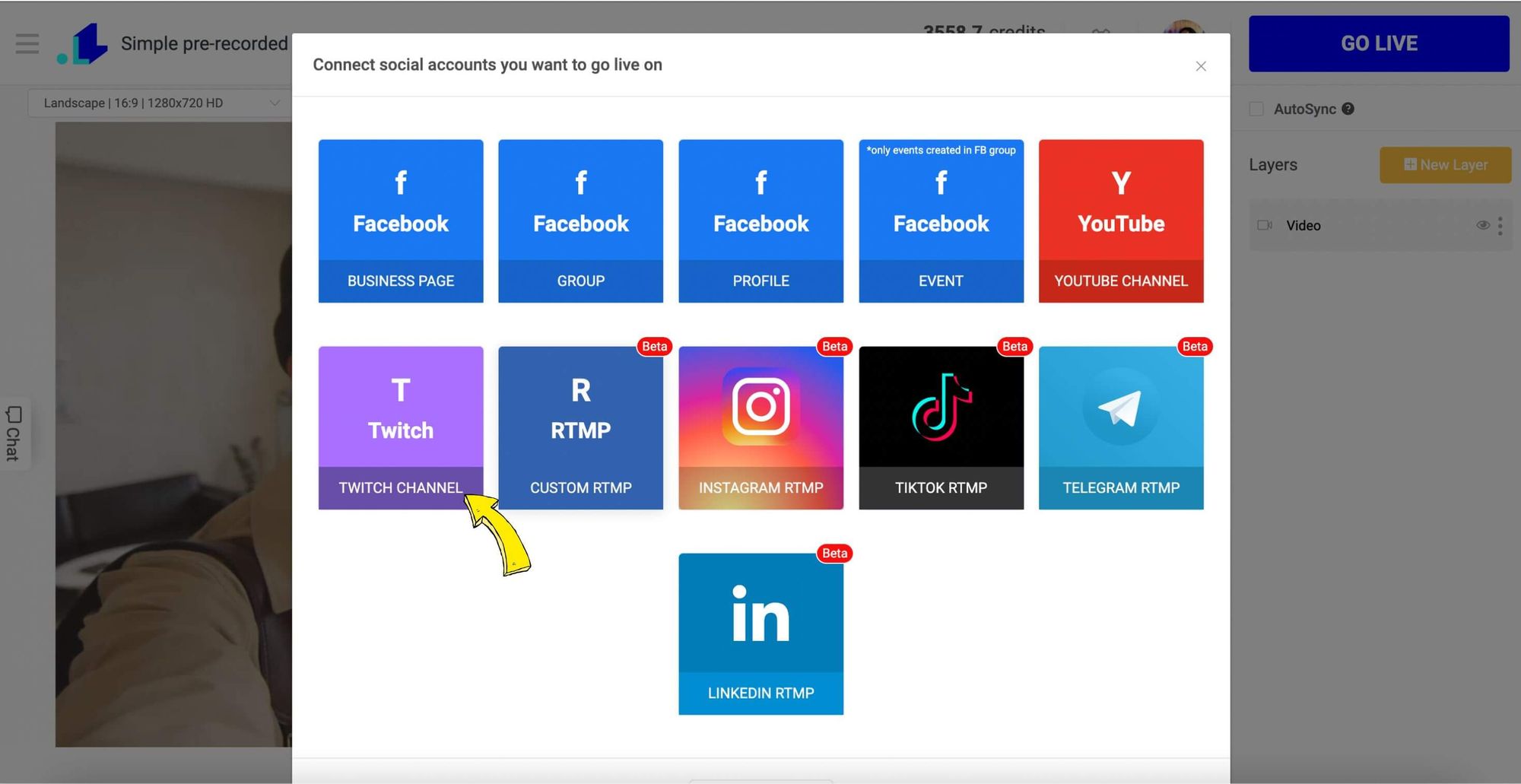 5. Give your stream a title that fits your content. Also set the duration of the stream and click Save. You can also schedule your stream instead of going live right away. To schedule your stream, pick a date and time under Scheduling option.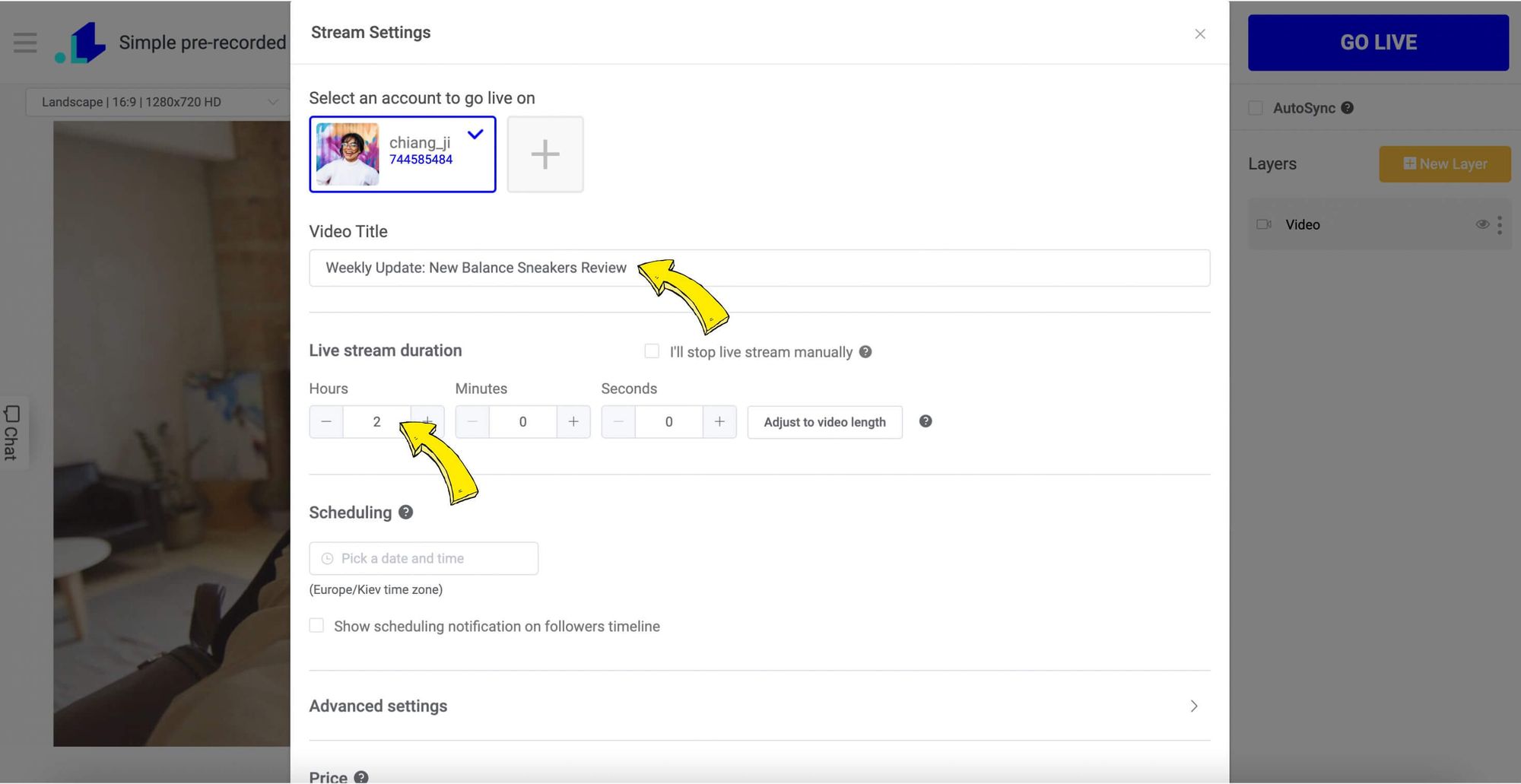 6. Press "Go Live" to go live! Your pre-recorded video will play as long as you set it for.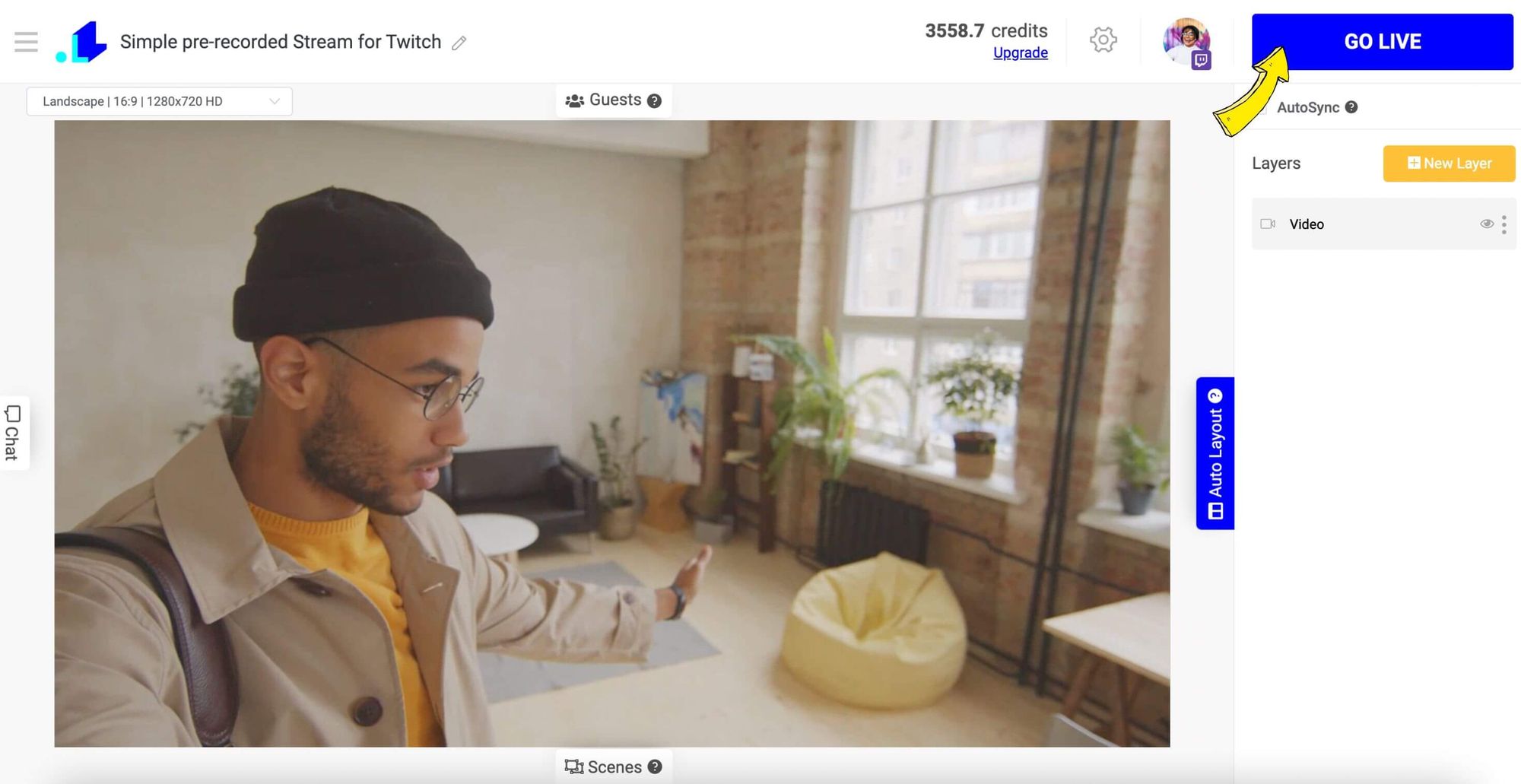 💡
Interact with your viewers in the chat to keep them engaged. Answer questions and chat with your community. Even though the video is pre-recorded, you can still stream live reactions and discussions.
In general, streaming pre-recorded videos on Twitch is a great way to repurpose content and maximize your time. You can engage with viewers live while still broadcasting high-quality, edited footage. Let your followers know when you plan to stream so they can tune in for the live chat and discussion.
Streaming Pre-Recorded Video FAQs: Answering Common Questions
Streaming pre-recorded videos on Twitch is a great way to engage with your viewers even when you're not live. Many streamers have questions about the process, so here are some of the most common FAQs answered.
Can I get in trouble for streaming pre-recorded content?
As long as you follow Twitch's Terms of Service, you'll be fine. The most important things are:
Don't stream copyrighted content you don't have the rights to. Only stream your own videos or videos you have explicit permission to share.
Be transparent that the content is pre-recorded. Add text like "Pre-Recorded Video" to your stream title and mention it at the start of your stream.
Follow all other Twitch rules like no hateful conduct, nudity, dangerous acts, spam, scams, etc.
Will my viewers know the video isn't live?
No, unless you want to let them know.
Can I still interact with my viewers?
Absolutely! Even though the video itself isn't live, you can still actively monitor the chat and engage with your viewers in real time. Respond to their comments and questions, start discussions, post emotes - interact with your viewers just like a regular live stream.
Will pre-recorded streams affect my metrics?
Pre-recorded streams will count toward your total stream uptime and views, but they do not count as "live airtime" in your stats. Only actual live streams add to your hours streamed live metric. However, an active chat during a pre-recorded stream can still help boost your average viewers and peak viewers stats.
By keeping your content within the Twitch TOS, properly disclosing your pre-recorded streams, and engaging actively with your viewers, streaming pre-recorded videos can be an effective way to stay connected with your community when you're unable to go live.
Conclusion
So now you're all set to stream your pre-recorded content on Twitch. You've got your video file ready to go, you scheduled the stream in advance, you've promoted it on your social channels, and you know how to make the most of Twitch's tools to engage your viewers. When the scheduled start time arrives, just start your stream and let the video play. Sit back, relax, and chat with your viewers as they start tuning in. Answer their questions, respond to their comments, and keep the conversation going throughout the stream. Before you know it, your stream will be over and you'll have successfully premiered your video to an excited audience. With some practice, streaming pre-recorded video on Twitch can become second nature and help boost your viewership in no time.
If you have any questions or need help to stream a pre-recorded video on Twitch, don't hesitate to drop a message in the live chat on our website, and we'll assist you as soon as possible!
LiveReacting is a streaming platform for Content Creators, Digital agencies, brands, and influencers that helps to make any live stream interactive and get more engagement and views.
[email protected]