How to post a Live Countdown on Facebook in 2023?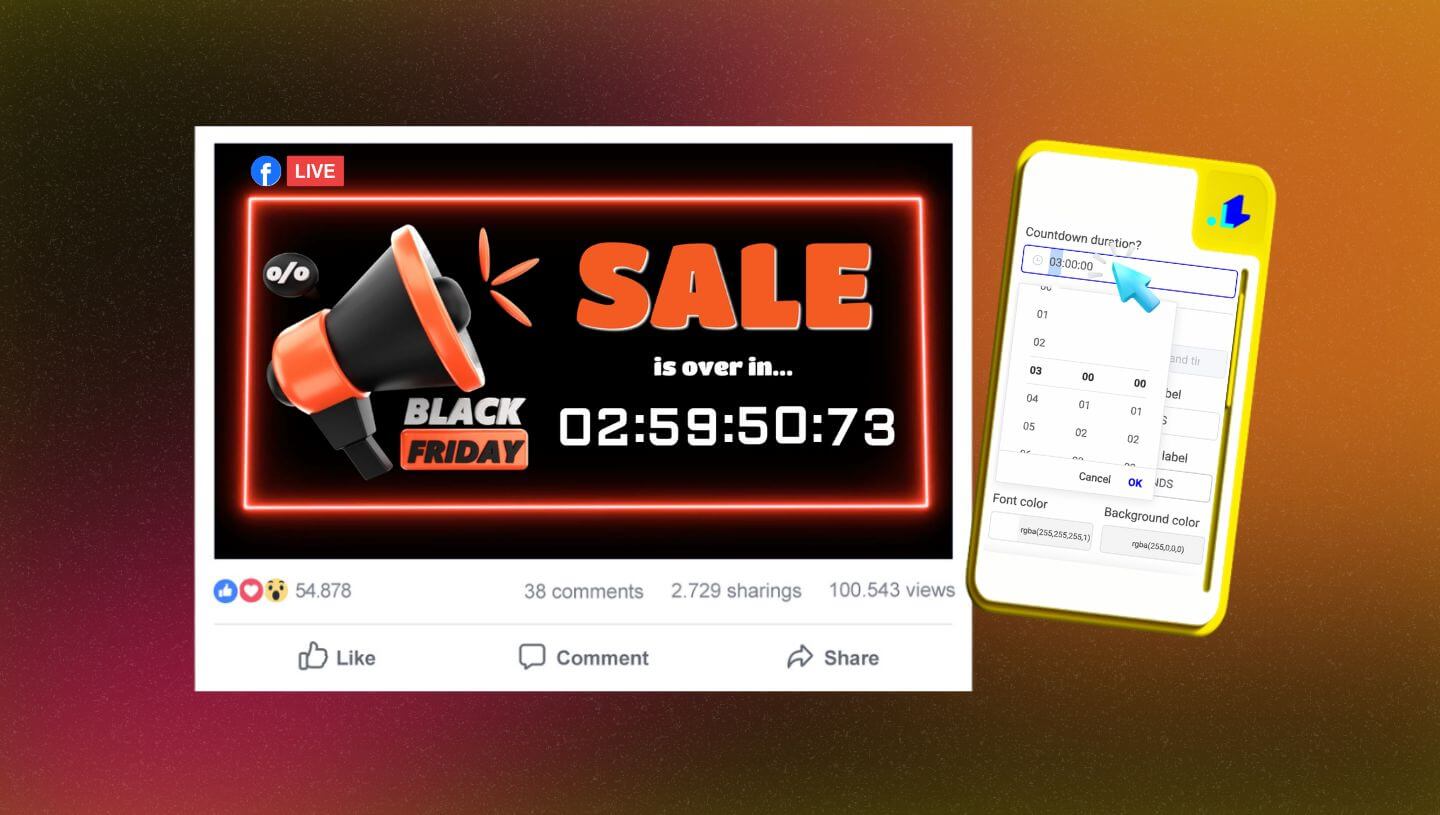 Have you ever wanted to create buzz and excitement for an upcoming event on Facebook Live? A countdown timer is one of the best ways to build anticipation and keep people engaged. The good news is, you don't need any technical skills or have to direct people to another website. You can easily add an interactive countdown timer directly within Your Facebook Live video using a simple tool. In just a few minutes, you'll have an eye-сatching countdown clock to share with your viewers. In this article, you'll learn how to set up your own countdown timer for Facebook Live and start building hype for your next big announcement, product launch, or event.
How to add a Countdown to Facebook as a Live Stream?
Typically, all available tutorials in 2023 suggest adding a previously recorded video countdown to a stream or sharing with viewers a link to an external platform or a website where they can watch a countdown. This is inconvenient for viewers and is less likely to create excitement.

I want to share the simplest and smartest way to add a countdown timer to Facebook in 2023. LiveReacting makes it incredibly easy to create an animated countdown timer and publish it on Facebook. You can choose your own colors, add your logo or graphics and music, select your preferred countdown duration, and display additional text like a stream title or start time. A polished countdown timer gives your live streams a professional broadcast feel and shows you put time and effort into engaging your audience. Your countdown timer will display appropriately for viewers on computers, tablets, and smartphones so no one misses out.

Starting a Facebook Live countdown timer with LiveReacting takes just a couple of minutes. Simply sign in, pick a pre-made template, slightly tweak it, and you're ready to build buzz for your next live stream like a pro. Engage your viewers, increase shares, and take your broadcasts to the next level with an animated countdown timer on Facebook Live.
Step-by-Step Guide to Post a Countdown on Facebook Live in 2023
Once you've signed up for a free LiveReacting account, creating a countdown timer for Your Facebook Live video is a breeze. If you want to go live with a countdown on Facebook immediately, a free plan is a good pick. Though, if you want to schedule your Facebook countdown in advance, you can always upgrade. So, let's get started:
Step 1: To get started, log in to your LiveReacting dashboard and in Templates section click Countdowns. Here's where you can choose a design you like, and edit it later.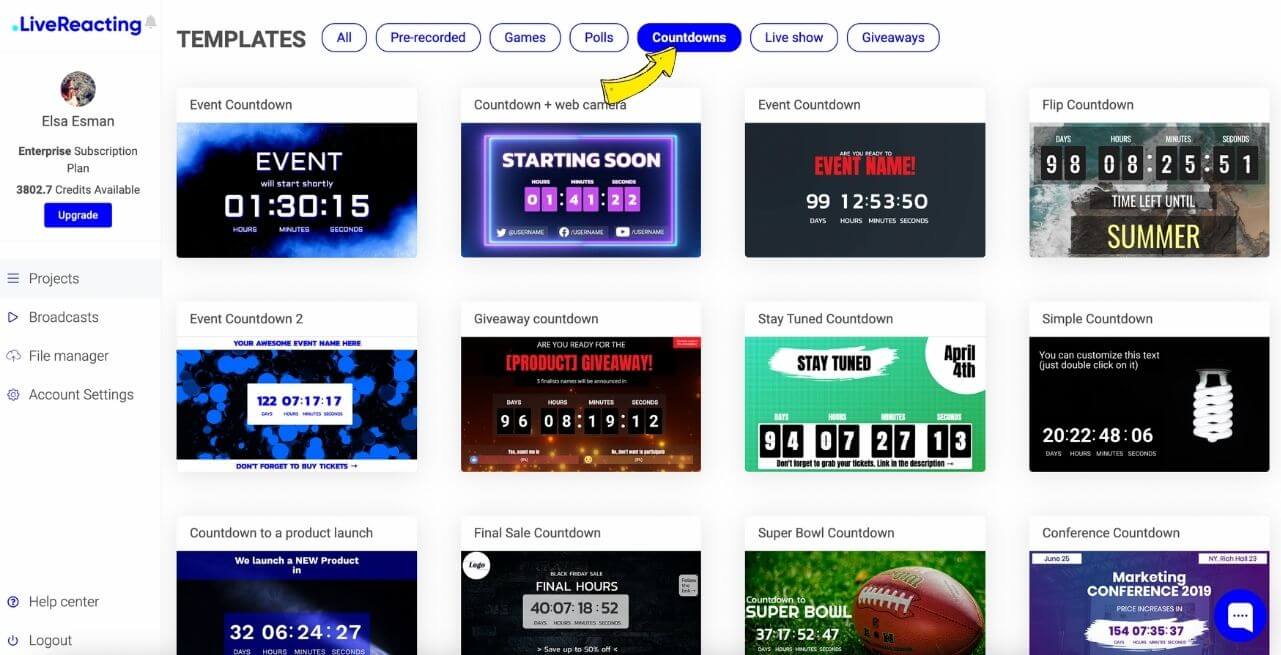 Step 2: Editing a pre-made template is super easy. If I show you how to create a countdown template for Facebook from scratch, you'll also learn how to edit a pre-made one in seconds. So, let's head to the top of the page and hit New Project.

Step 3: Give your countdown a name that's easy to remember, like "Black Friday Countdown" or "Countdown to Christmas 2024".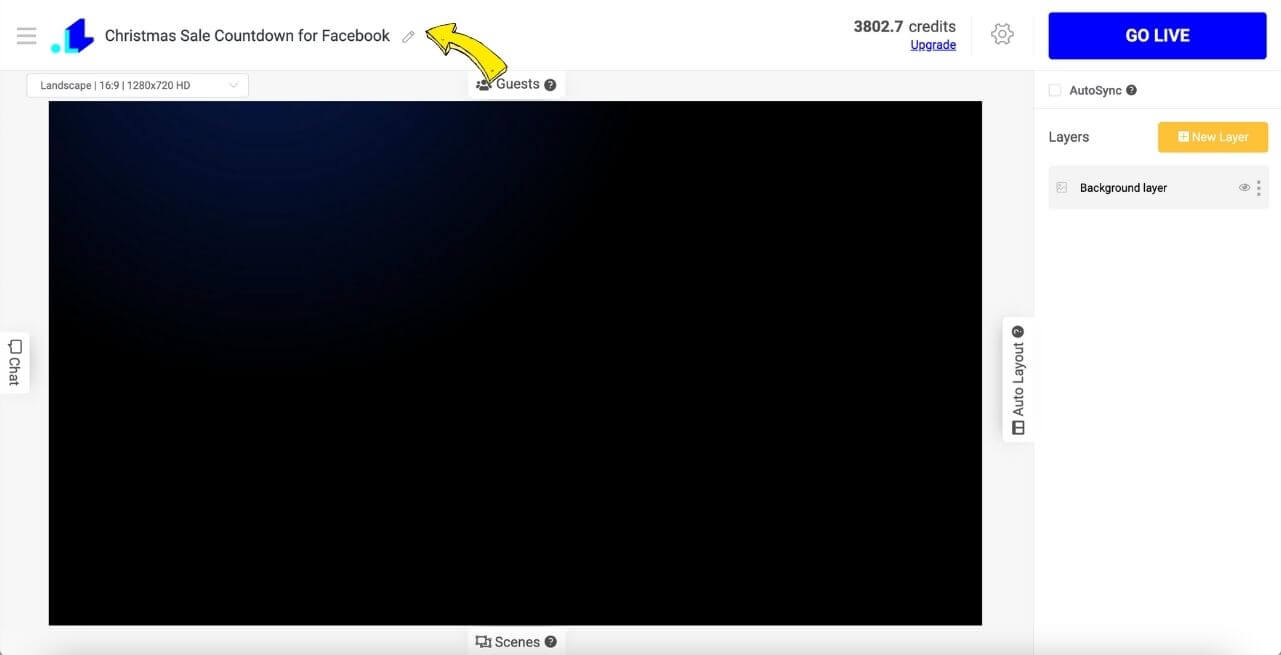 Step 4: Tap on Background. Choose whether you want an image or video background for your countdown. If you have an eye-catching photo or promotional video, upload that. Otherwise, LiveReacting offers some simple background options to choose from. I'm about to uploaded a Christmas-themed background.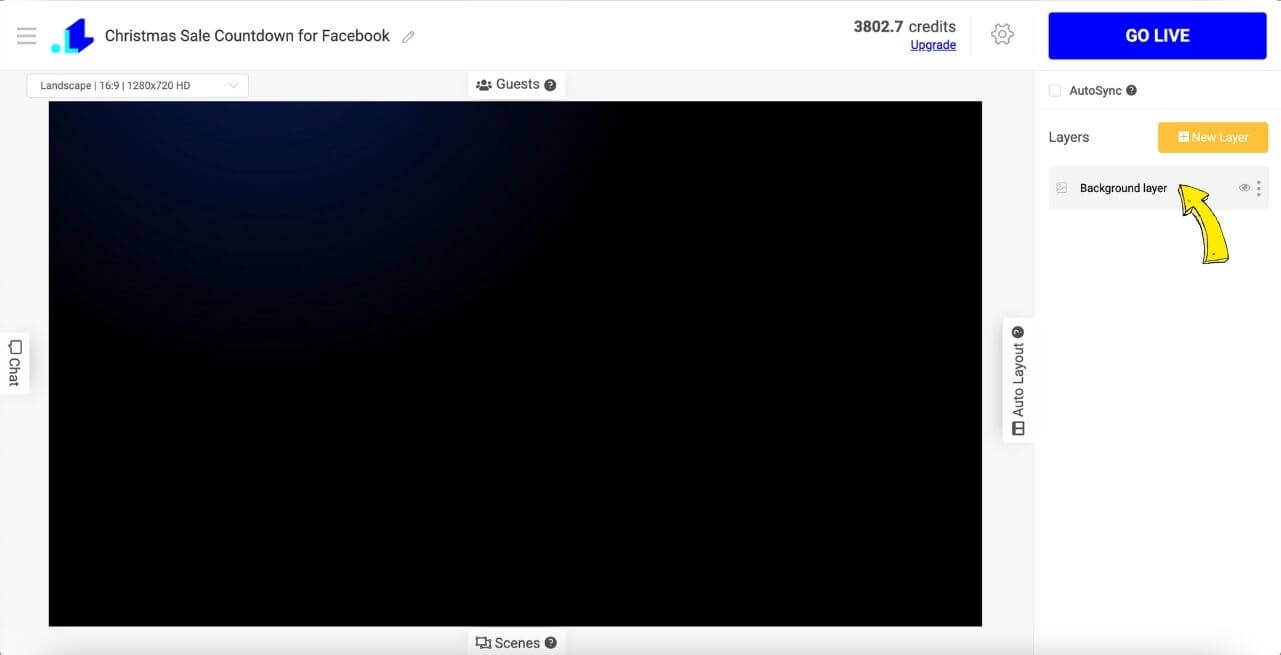 Step 5: When the background is uploaded, tap on New Layer and choose Countdown.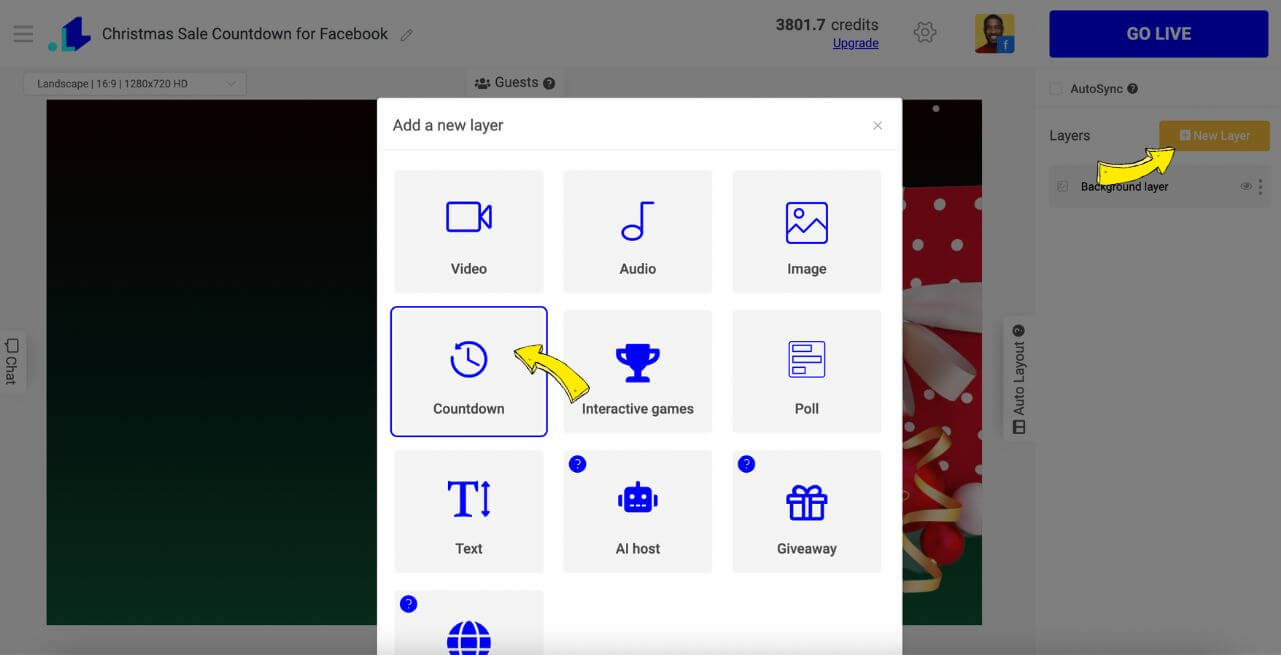 Step 6: Click on a Countdown and enter the date and time you want the countdown to end. LiveReacting will automatically calculate the start time.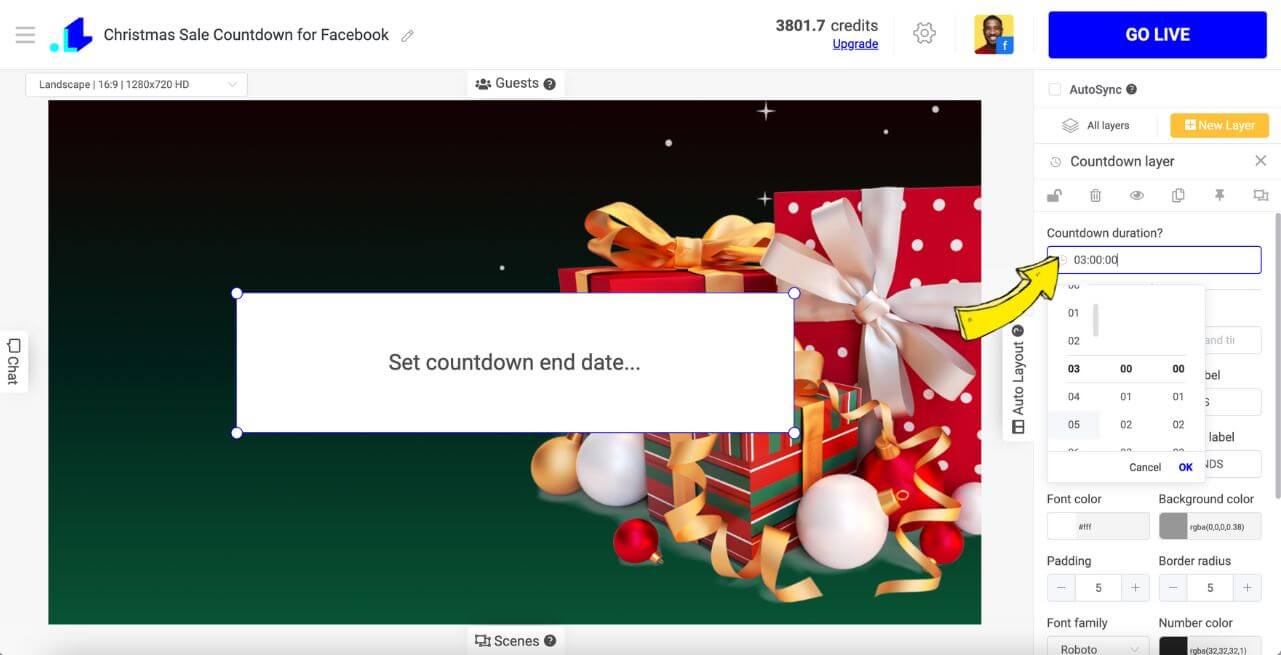 Step 7: Drag the countdown wherever it fits the best. Adjust the font, number and font colors, background color, etc.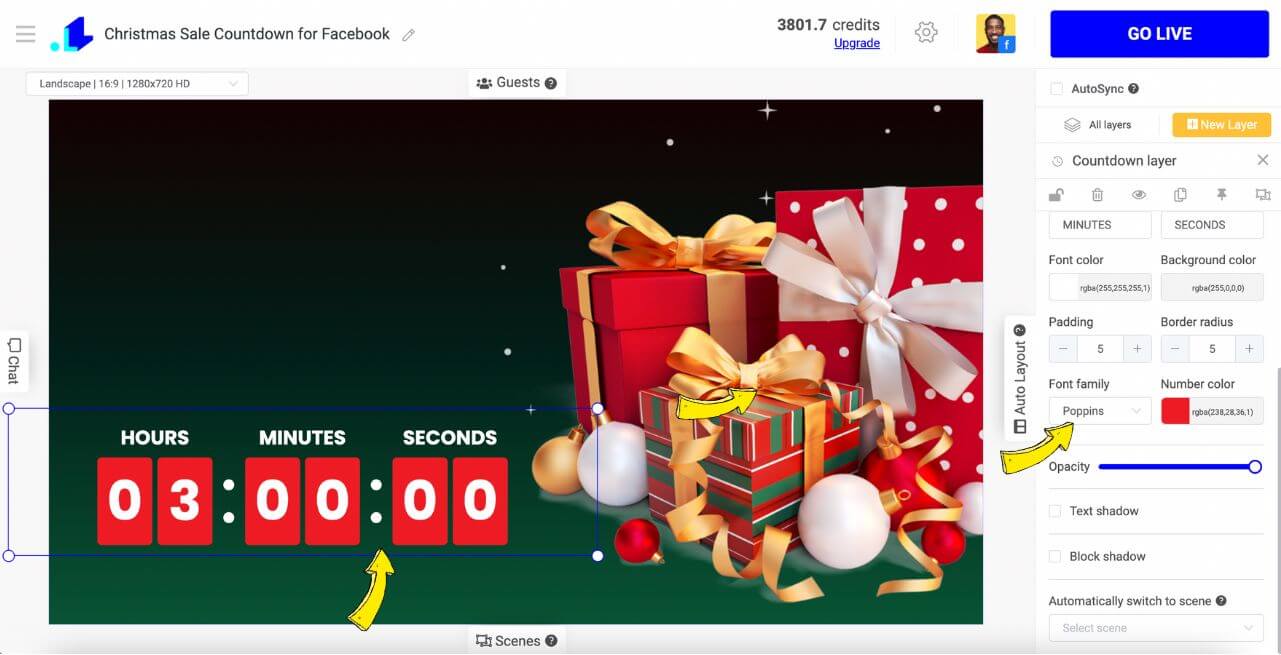 Step 8: Next, hit New Layer and Text to enter the text message you want to display, like "Christmas Sale is over in...".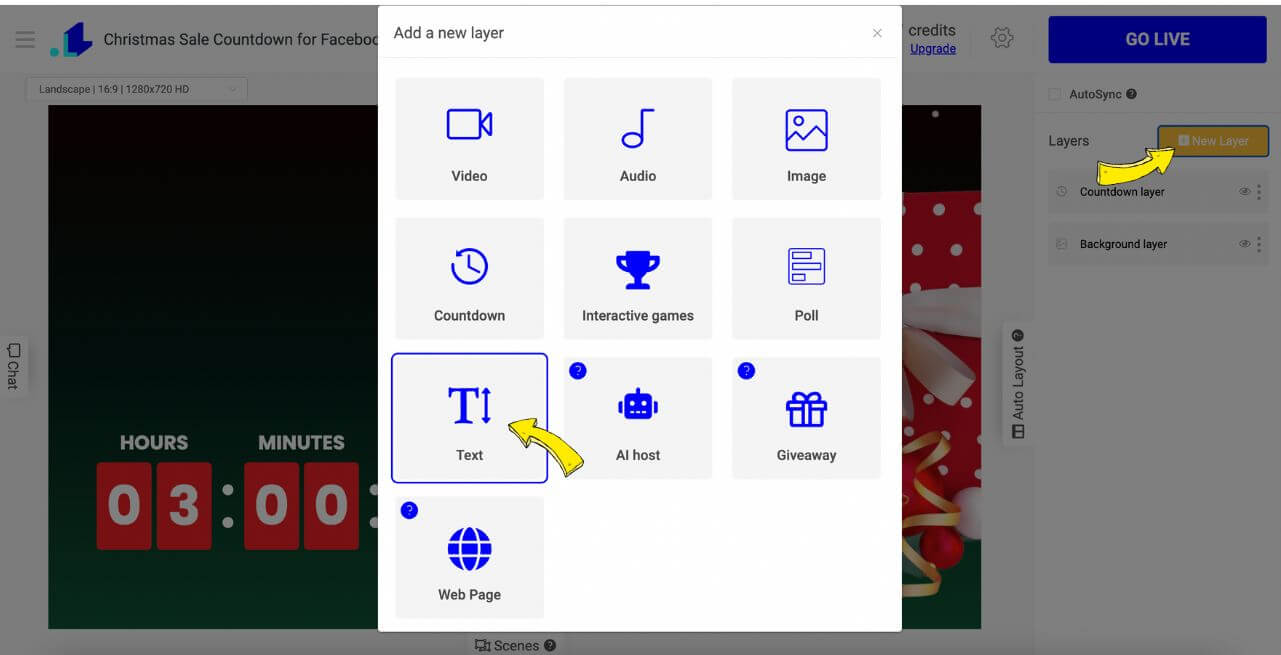 Step 9: Enter the text you want to display. If needed, edit font family, size, color and background.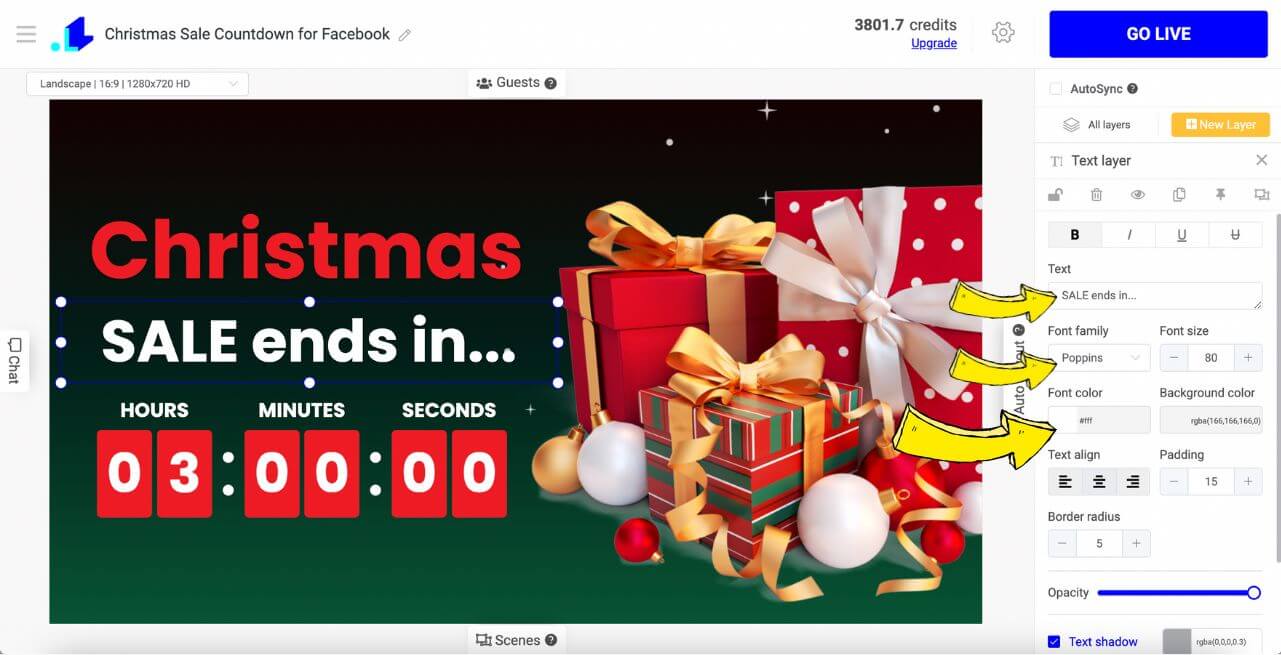 Step 10: Click on a Gear Icon to access the Settings of your stream.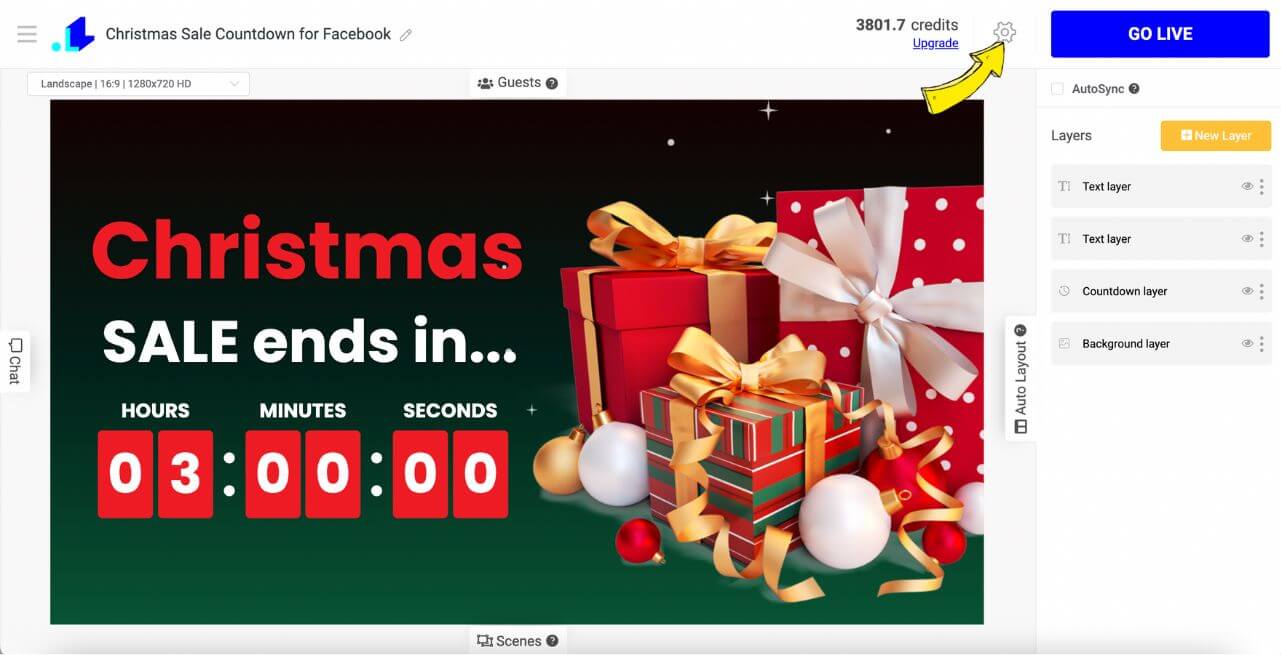 Step 11: Tap + Icon to connect your Facebook page.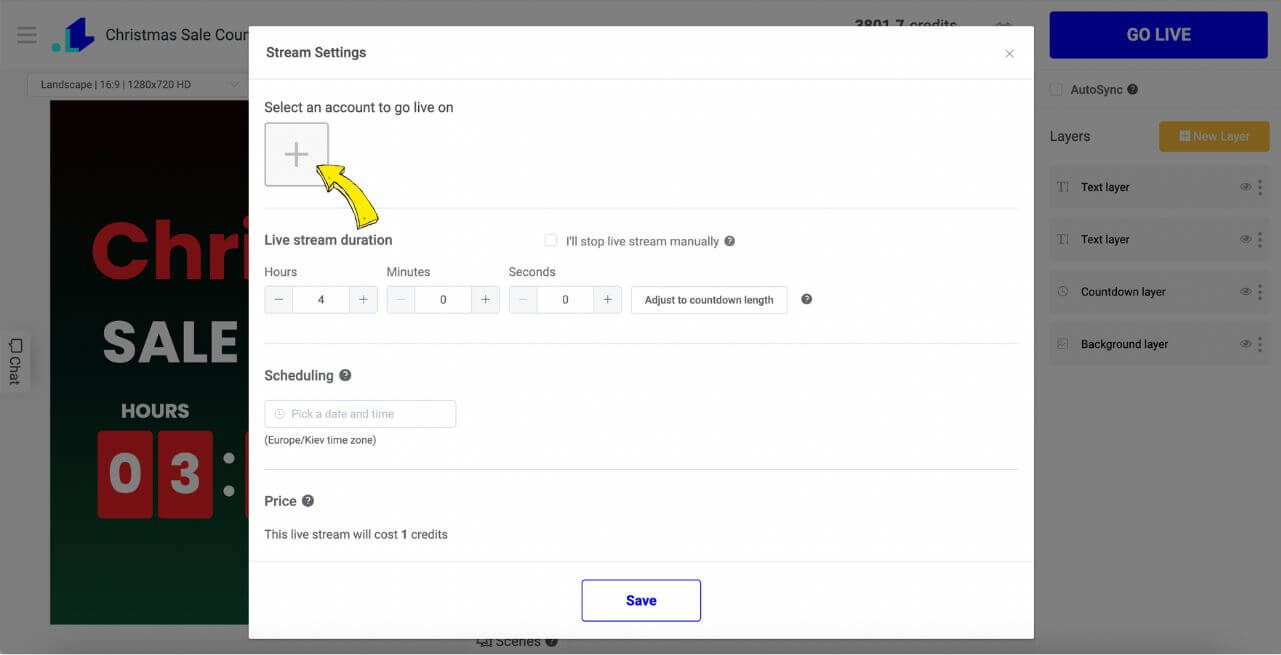 Step 12: Click Facebook Page (or Group/Profile/Event).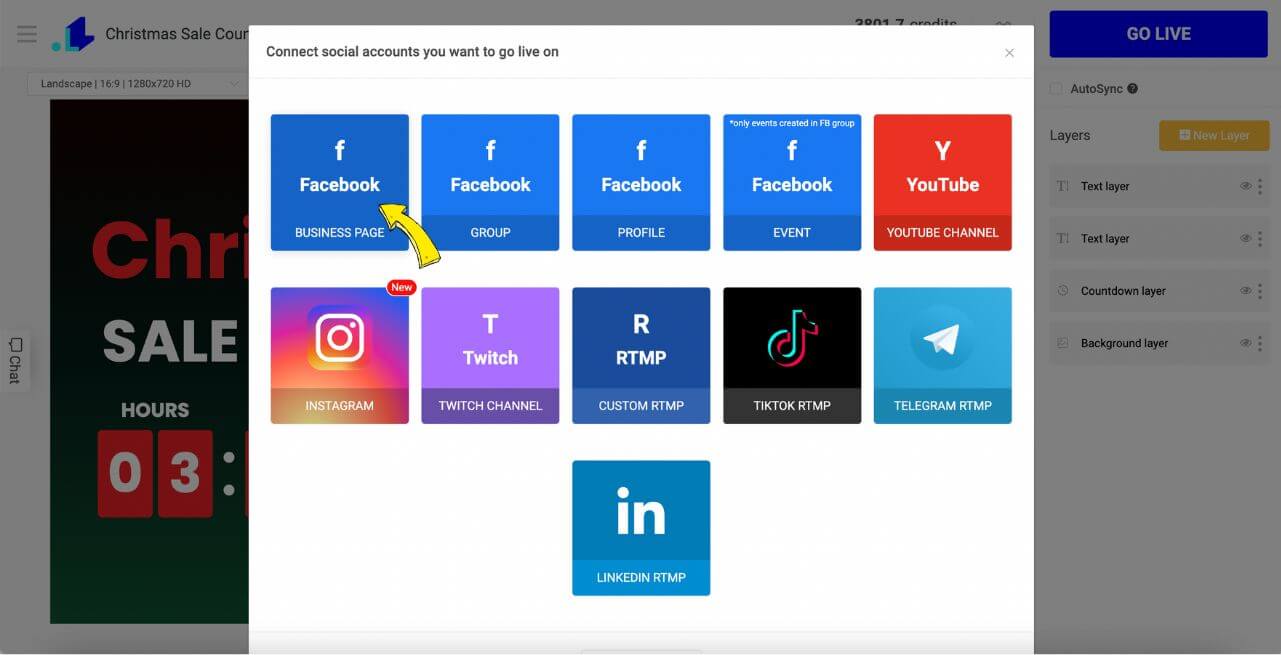 Step 13: Enter your stream Title, Description, review all the details and click Save at the bottom. (Optional: pick a desired date/time for scheduling a countdown.)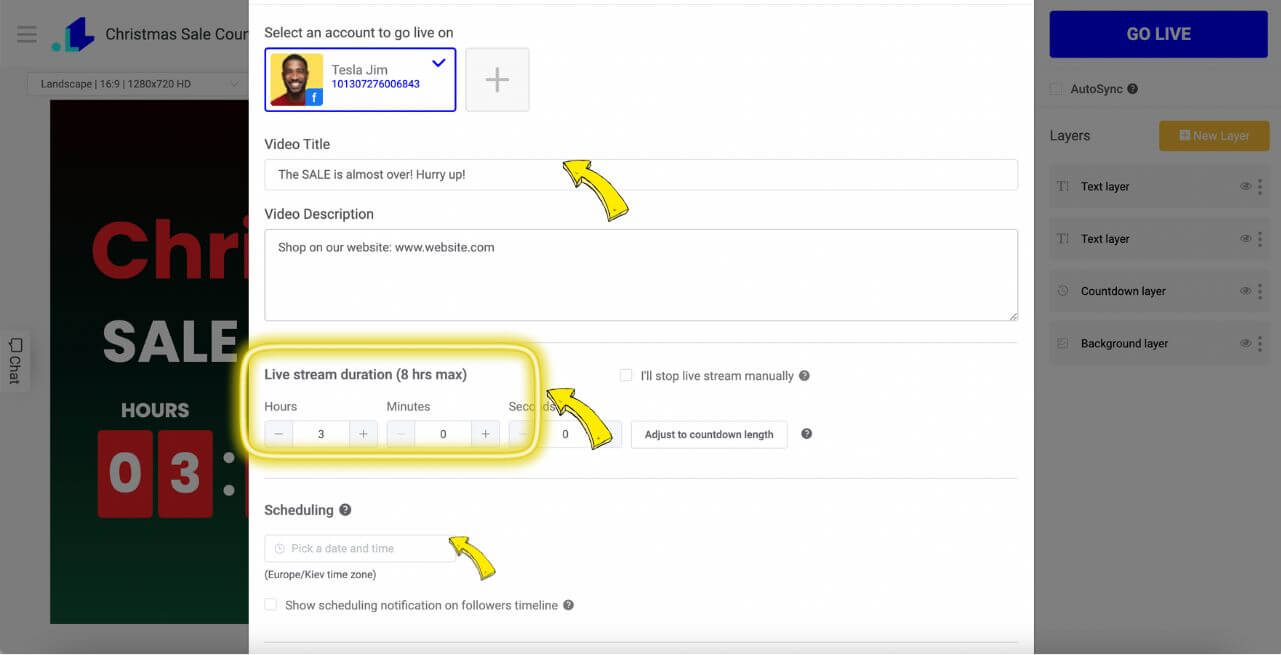 Step 14: Press GO LIVE when you're ready to start broadcasting. Your viewers will see the countdown clock on their newsfeed and on your page.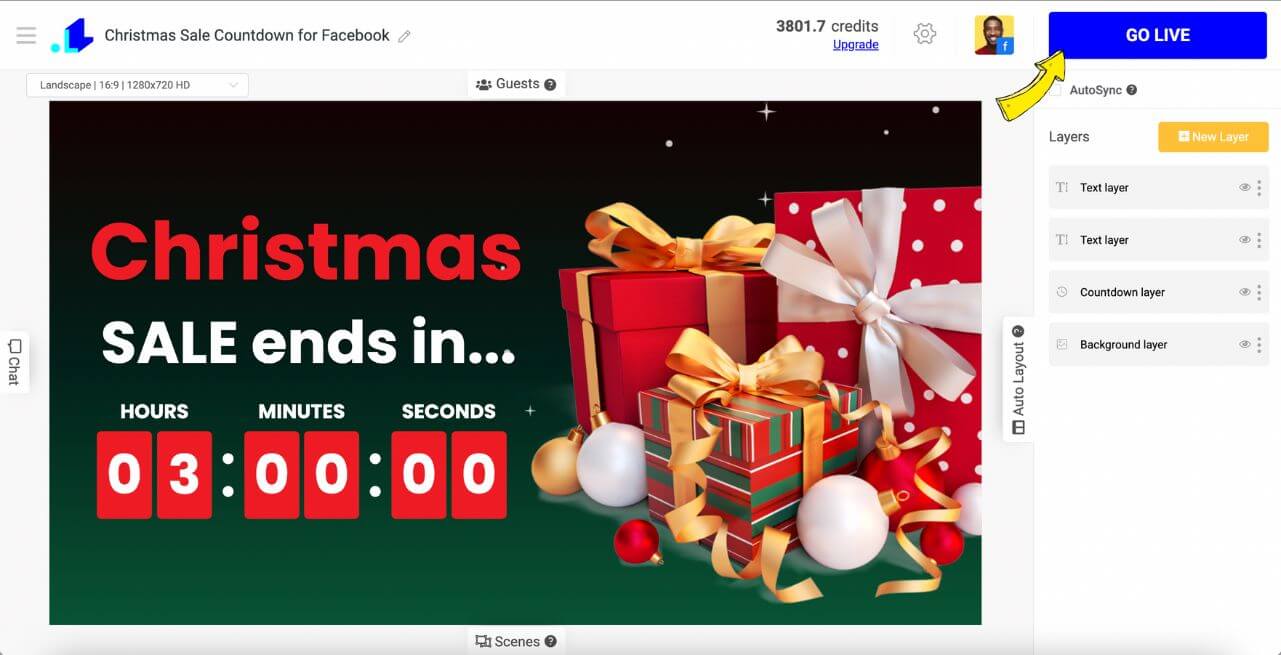 Our countdown timer is live on Facebook: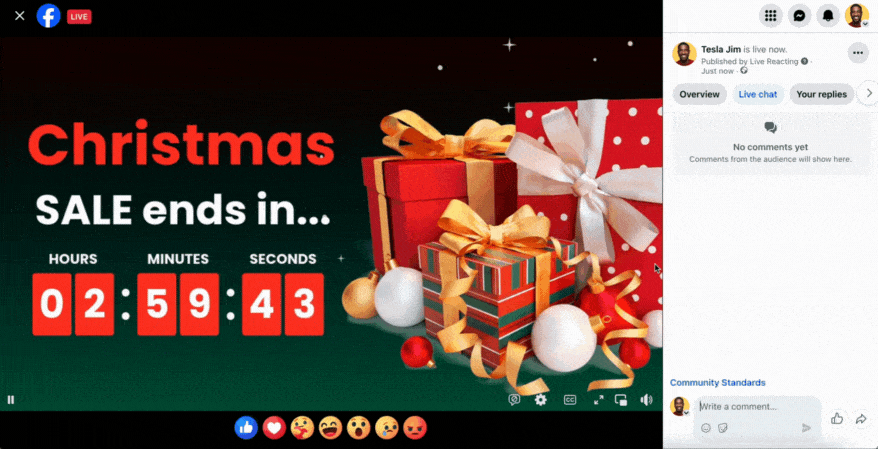 Tips for Engaging Your Audience With a Facebook Live Countdown in 2023
✅ Tease and Build Suspense. Give some hints about what's coming but don't give it all away. Share a few teasers or clues to create excitement and suspense. For example. "You're not going to believe who our special guest is! He'll join in..." or "Get ready for the most epic product demo yet! We'll begin in..." Drop these teasers a few minutes apart to keep people watching and guessing.
✅ Engage With Viewers. Interact with people who comment and post questions. Respond to viewers by name, answer their questions, and ask some of your own. Make it a two-way conversation. Also, ask an icebreaker question like "What are you most looking forward to?" Check how to feature some of the audience responses on the livestream.
✅ Share The Action Live. Give viewers a sneak peek behind the scenes. Share live footage of your team making final preparations, guests arriving, or products getting into place. These real-time glimpses make viewers feel like insiders and part of the action. But be careful not to give too much away!
✅ Countdown Creatively. A basic countdown clock is boring. Get creative with your countdown graphics, sounds and effects to build drama. For example, show a series of videos on the background, use an animation, or have visuals that change with each passing minute. Play suspenseful music that intensifies as you get closer to zero. Your viewers will be on the edge of their seats in no time.
How to add a Countdown to Facebook as a single post that re-updates?
There's an app called Countdown Timer that allows users to create and publish a countdown on Facebook, which re-updates with the new numbers every now and then until their event starts. This way users don't need to publish several countdown posts on their Facebook page, as a single post will always show the actual time left. So, if you wish to publish a countdown on Facebook as a post, follow these simple steps:
Step 1: Open Editor and select any template you love (you can tweak the design).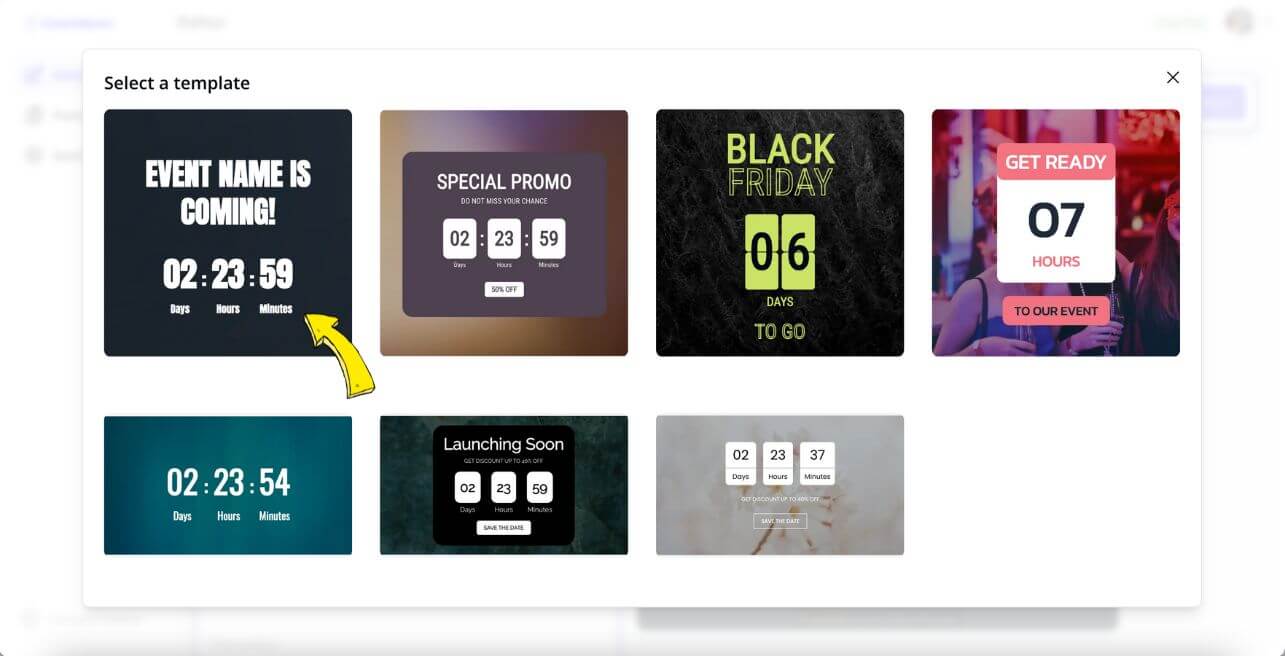 Step 2: Enter the end date of your timer.
Step 3: Set the Interval. It is a frequency of how often your countdown updates. In case you set the Interval to 30 minutes, you countdown will re-update every half an hour.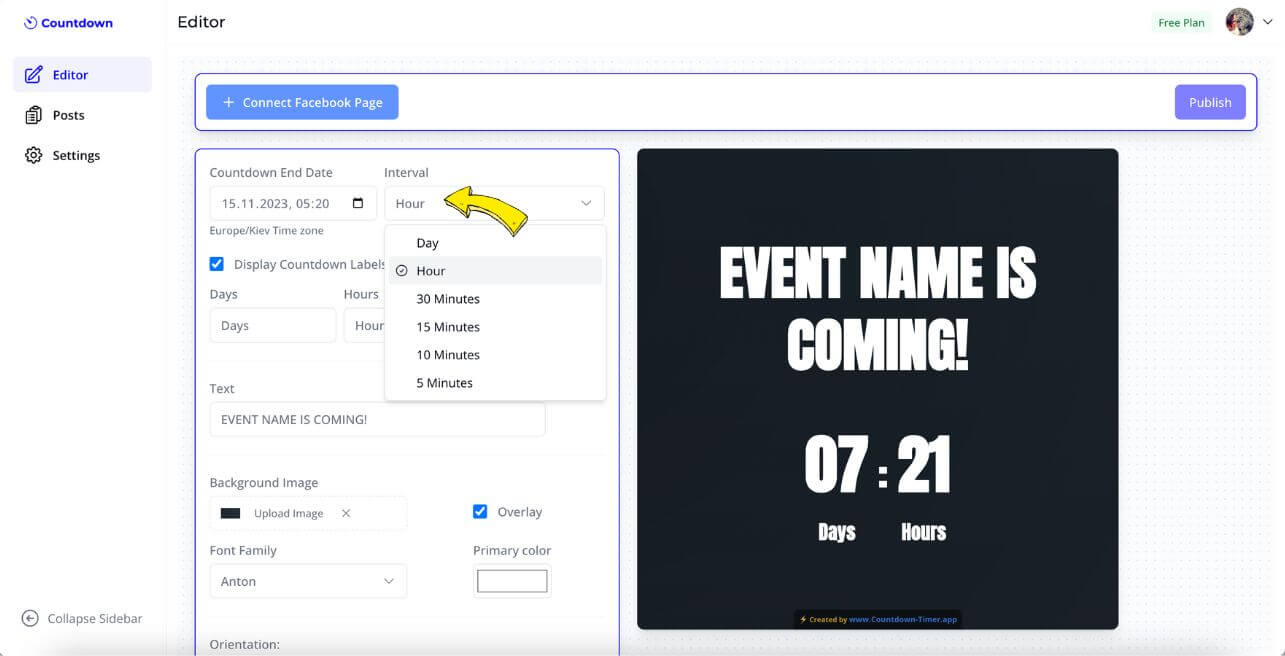 Step 4: Add your text and select the font, colors and background.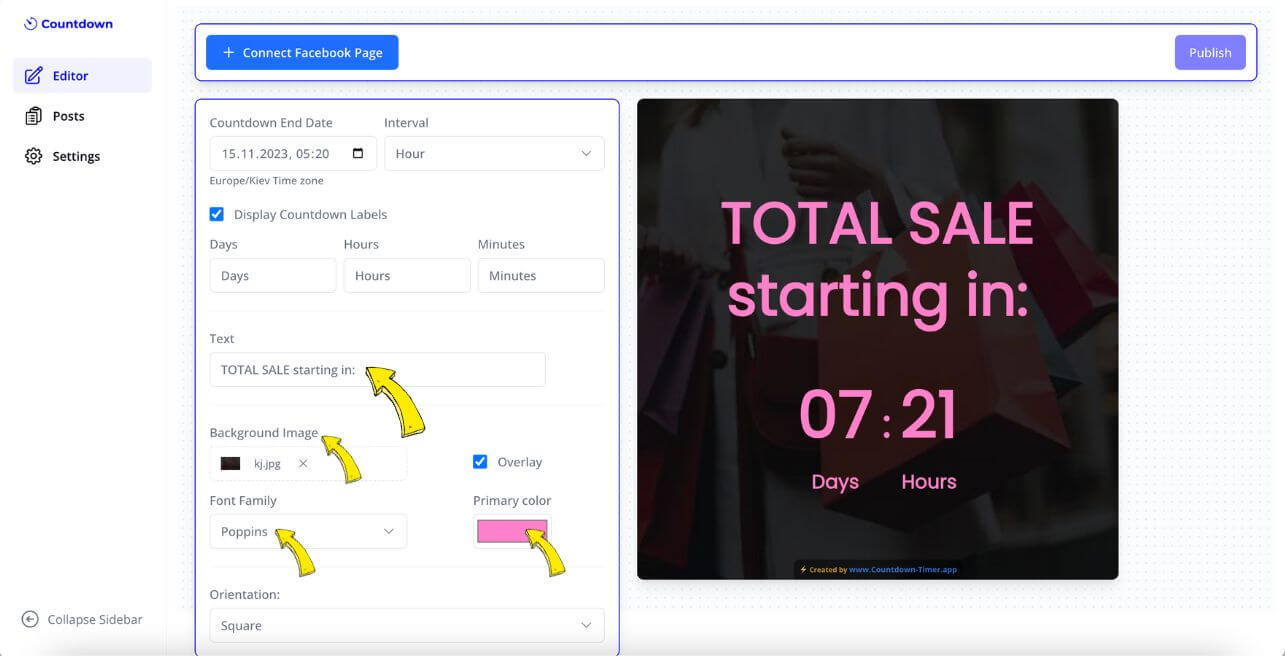 Step 5: Click at Connect Facebook Page and connect one. Please note, it's possible to publish a countdown only to a Facebook Business Pages.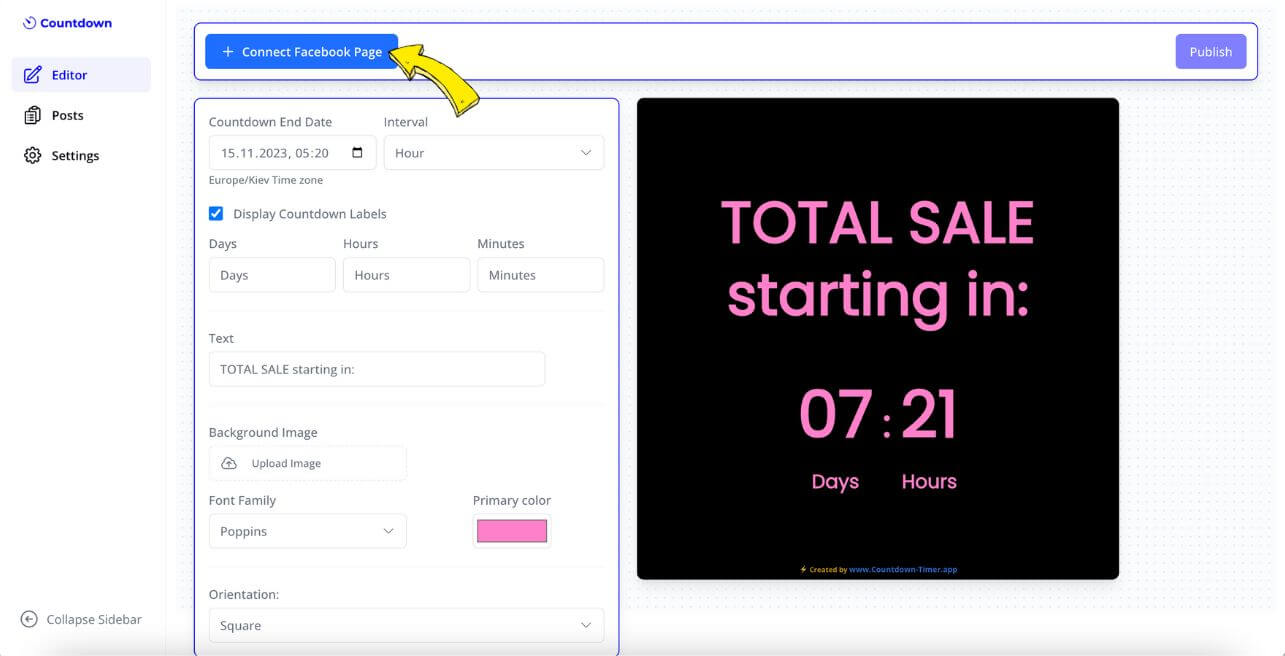 Step 6: Write a caption for your Facebook countdown post and press Publish when you're ready.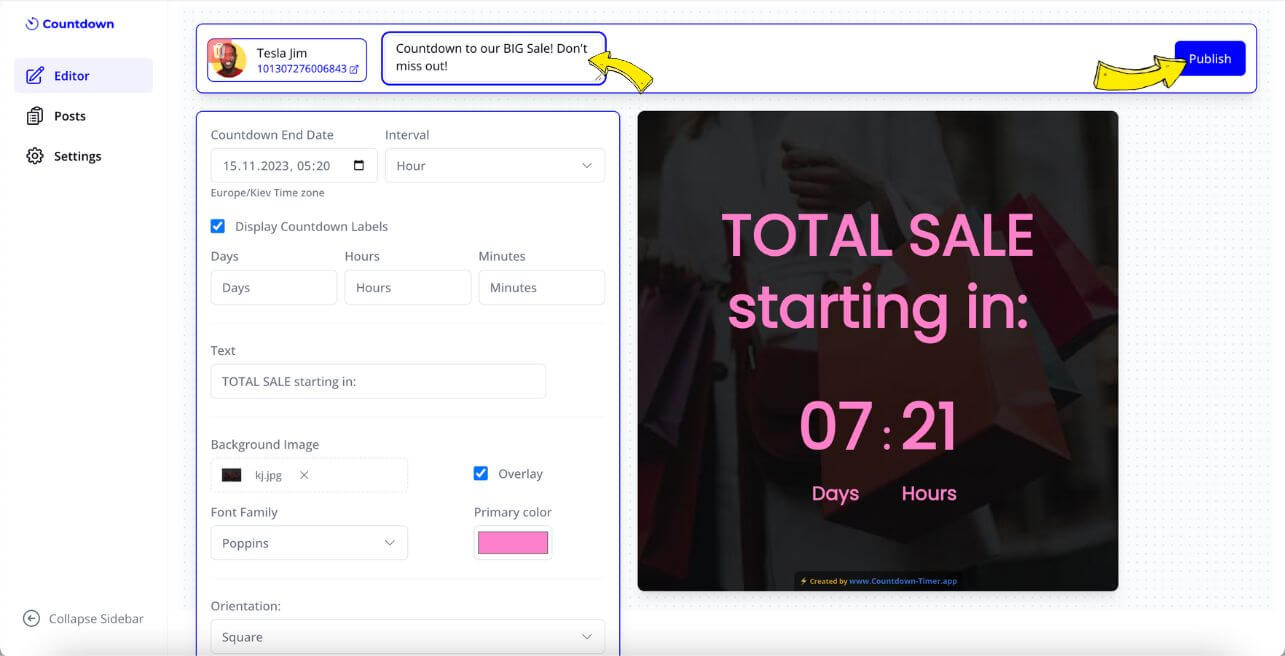 This is how the countdown looks like when it's published on FB: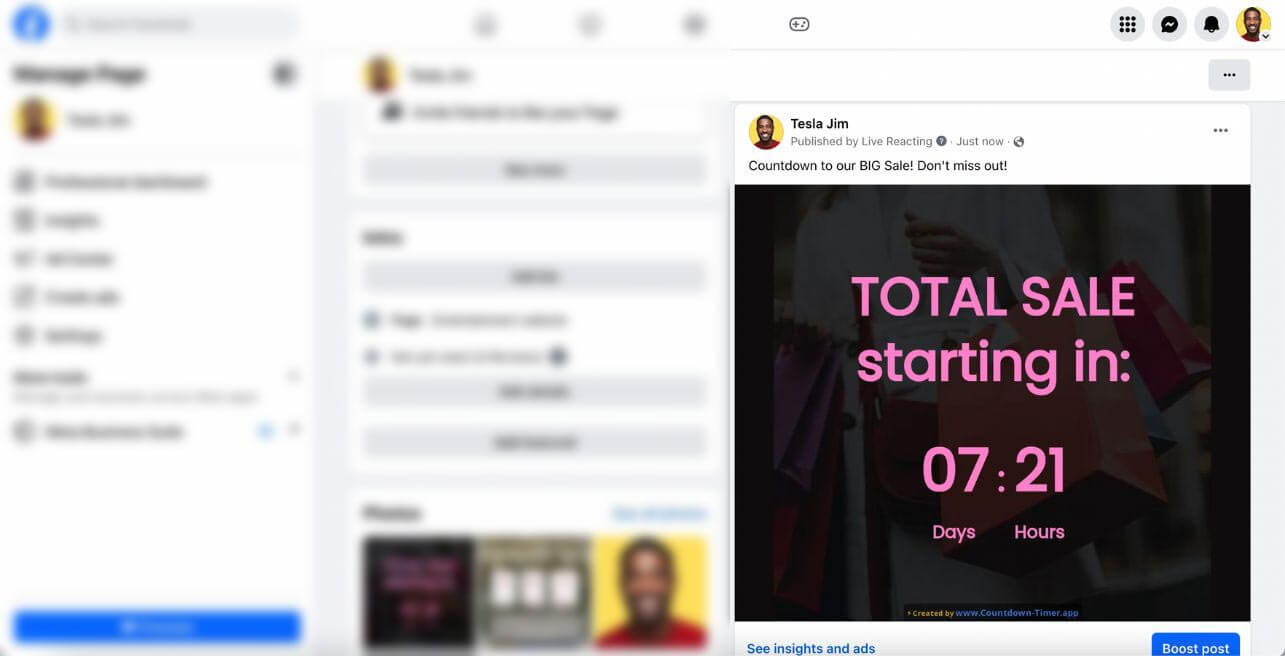 If you need to disable the updates earlier, head to the Editor, open your post and click on Stop Updating button.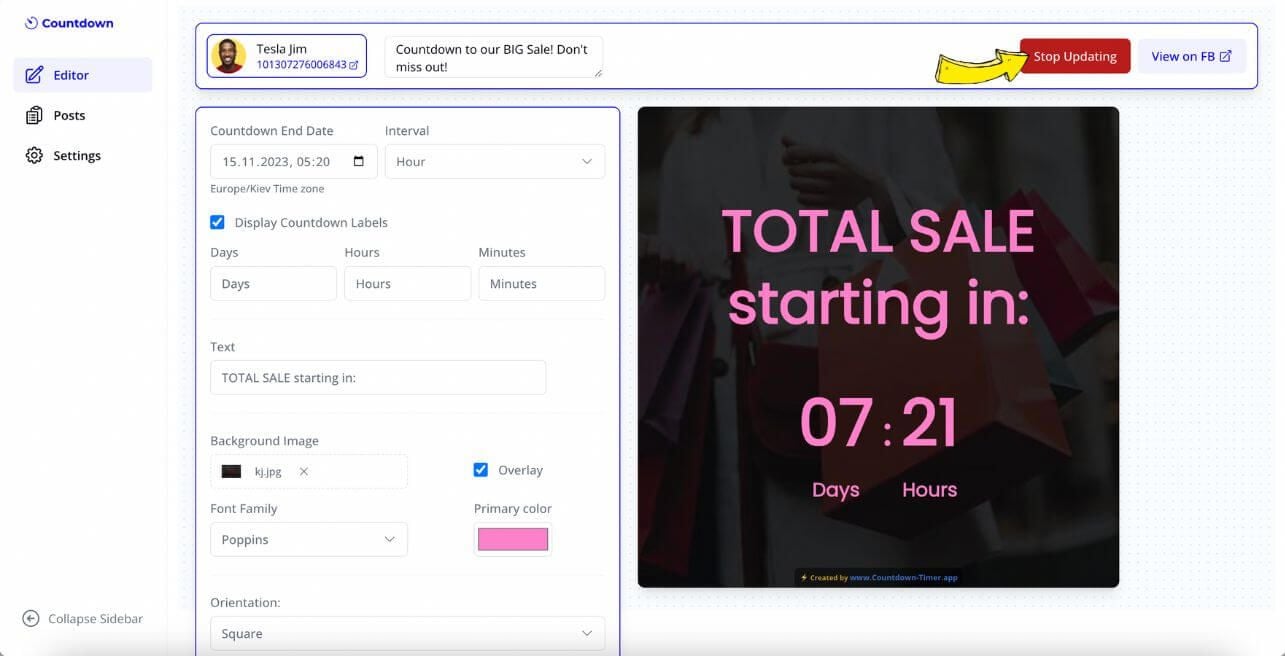 Conclusion
And there you have it, two simplest ways to add a real-time countdown timer to your Facebook page. No need to direct your viewers off Facebook or make them open some external links. You've got an easy to use, customizable timer tool made for Facebook. Set up your countdown, build the anticipation, and engage with your viewers as the clock ticks down to your big reveal, announcement, or livestream kickoff. Live streaming just got even more interactive and exciting for you and your audience. The countdown is on - time to start planning your next Facebook Live Broadcast!
In case you have any questions or need help to post a countdown timer on Facebook, don't hesitate contacting us in the live chat on our website, and we'll assist you as soon as possible!
LiveReacting is a streaming platform for Content Creators, Digital agencies, brands, and influencers that helps to make any live stream interactive and get more engagement and views.
[email protected]