How to stream a Trivia Game to Instagram?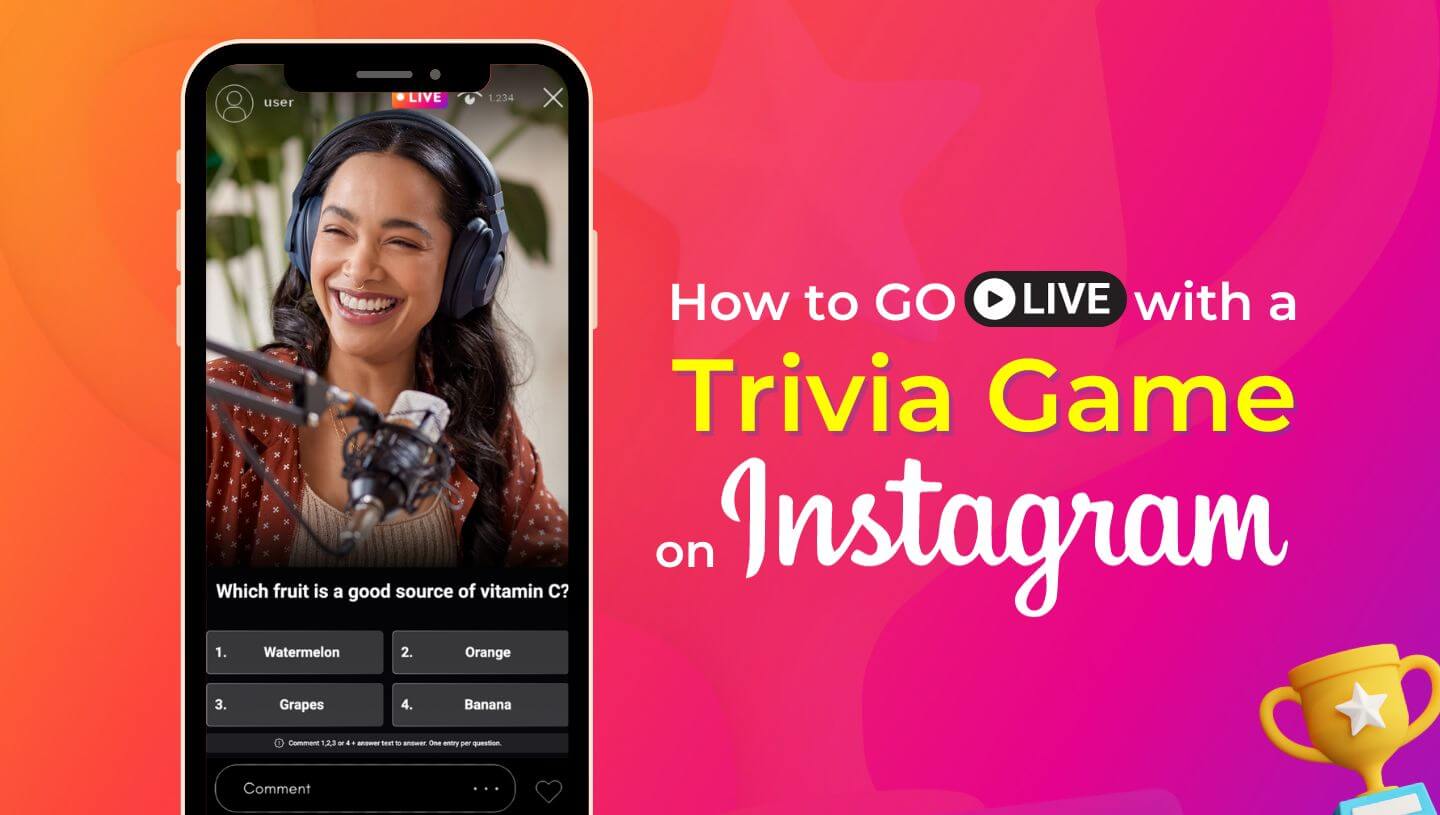 Instagram Live has become an increasingly popular platform for connecting with your audience in real-time. One exciting way to engage with your followers is by hosting a trivia game. In this blog post, we will walk you through the process of streaming a trivia game on Instagram Live, making it an interactive and entertaining experience for everyone involved.
Plan your Trivia Game on Instagram ahead
Step 1: Think about Questions & Answers and Theme
Before going live, take time to plan your trivia game. Decide on the theme, questions, and format. Consider incorporating visual elements like images or videos to make it more engaging. Prepare a list of questions and answers, ensuring that they are interesting and challenging enough to spark interest.
Step 2: Set up your equipment
To stream a trivia game on Instagram Live, you will need to use an additional software like LiveReacting, so before you go live, test everything beforehand to ensure the game will flow as you planned. If you plan to host the trivia game on Instagram Live, consider using a tripod or phone stand to keep your device steady during the live stream.
A few notes about streaming a Trivia Game to Instagram via LiveReacting:
🚀 The tool calculates users' answers and defines a winner automatically. To avoid a tie, the tool takes into account how much time each user takes to provide a correct answer.
🚀 You can enter your questions, answers and adjust branding (backgrounds, text, colors, music, etc) in pre-made templates, what makes it easy to set up a trivia game on Instagram within minutes.
🚀 You can schedule a stream on Instagram with a trivia game that will automatically start and end. You don't necessarily have have to connect a camera and host the game on Instgaram.
Step 3: Promote your trivia game
Create buzz around your trivia game by promoting it ahead of time. Post announcements on your Instagram feed, stories, and other social media platforms to generate excitement and attract participants. Encourage your audience to share the event with their friends to maximize reach.
Let's Go Live on Instagram with a Trivia Game!
Login into your LiveReacting account and open Studio. If you don't have an account, you can create a new free one on the signup page.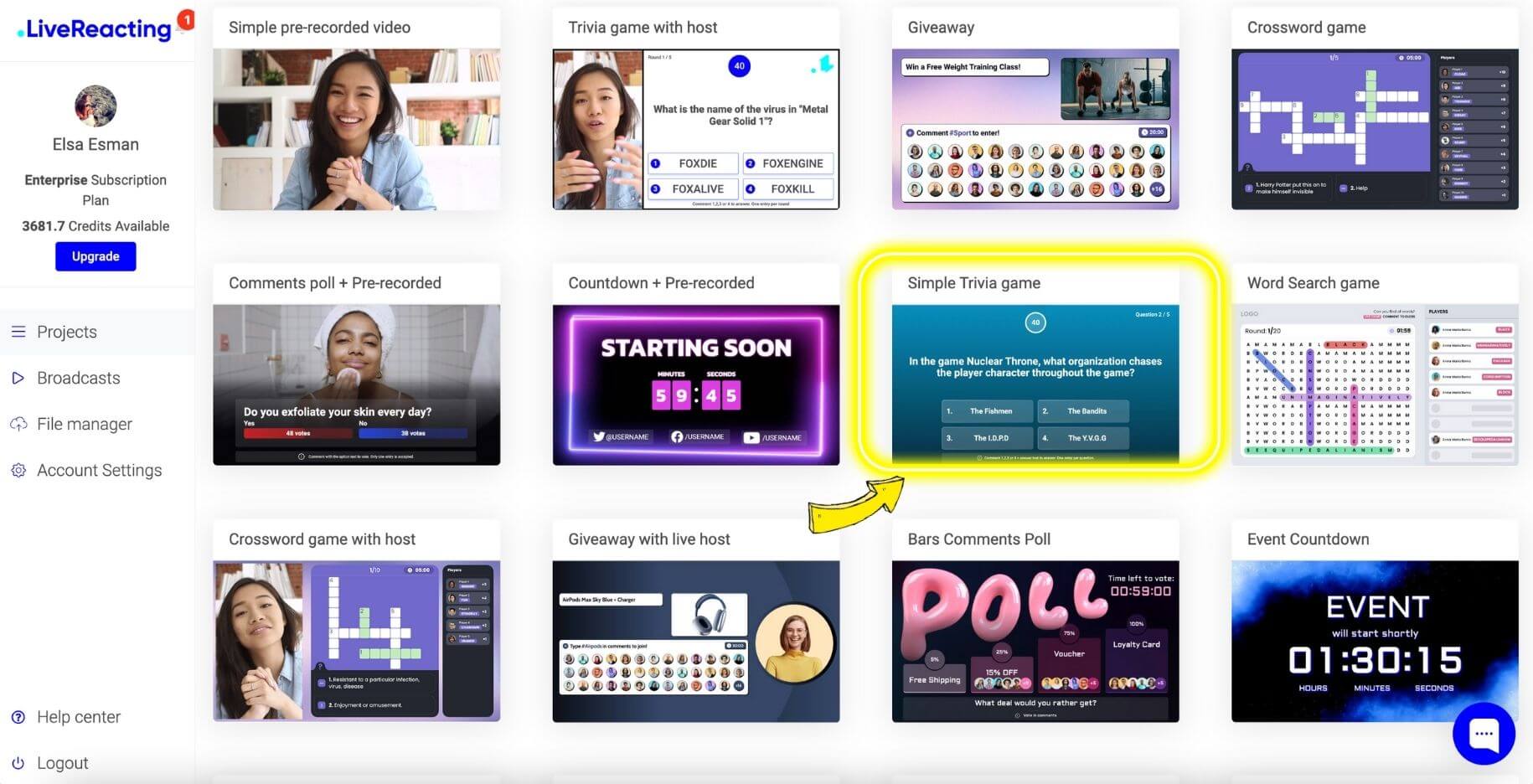 This is how the pre-made template looks like. On the right left menu, you will see the block resolutions. Choose Portrait resolution for Instagram.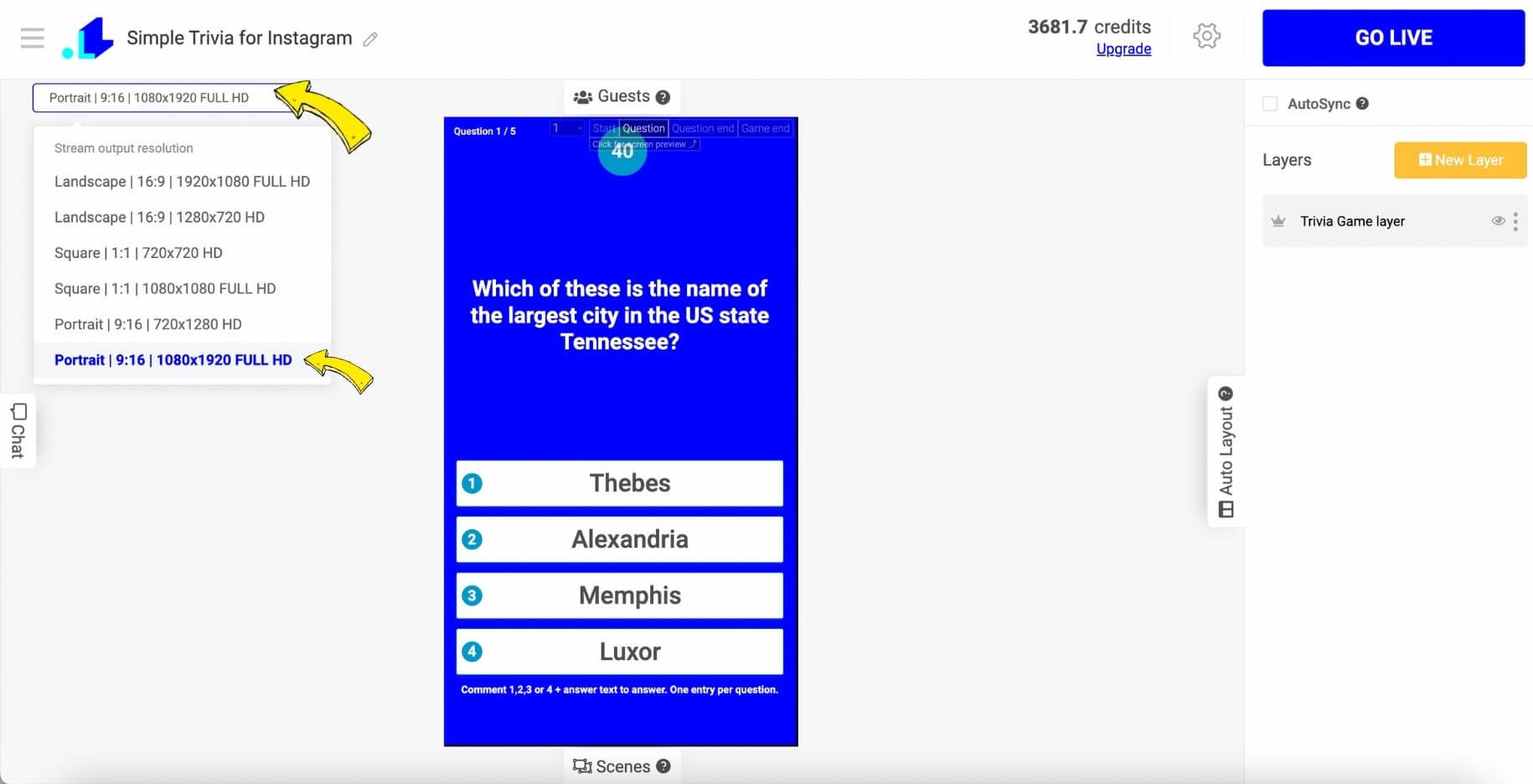 Let's start with the Trivia Game style. On the right side menu, we chose Modern style, so our game has a transparent background. We want to add a camera source or a video in the future, so it's the best to have a transparent background in this case. Next, we head to Questions Config editing.
Here you can add your questions with answers, or use a library with pre-made questions. You can stream up to 50 questions per game. If you want to re-generate pre-filled questions, you can click the "Generate new questions" button to get a new set of questions.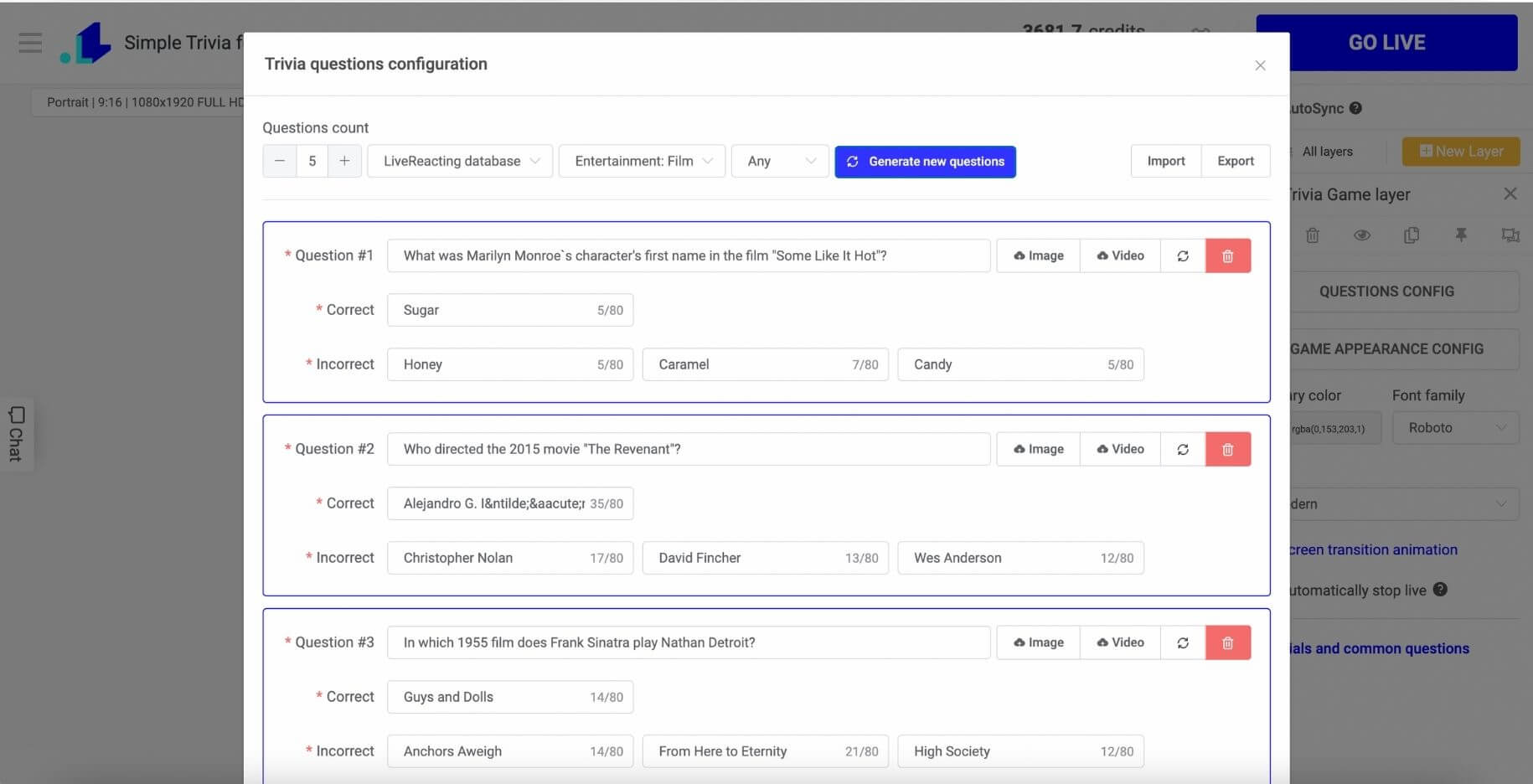 After you save all the questions, go to the Game Appearance Config to set titles, subtitles, logos, colors, backgrounds, timing per round, and other settings. You can set up a different configuration for every game screen.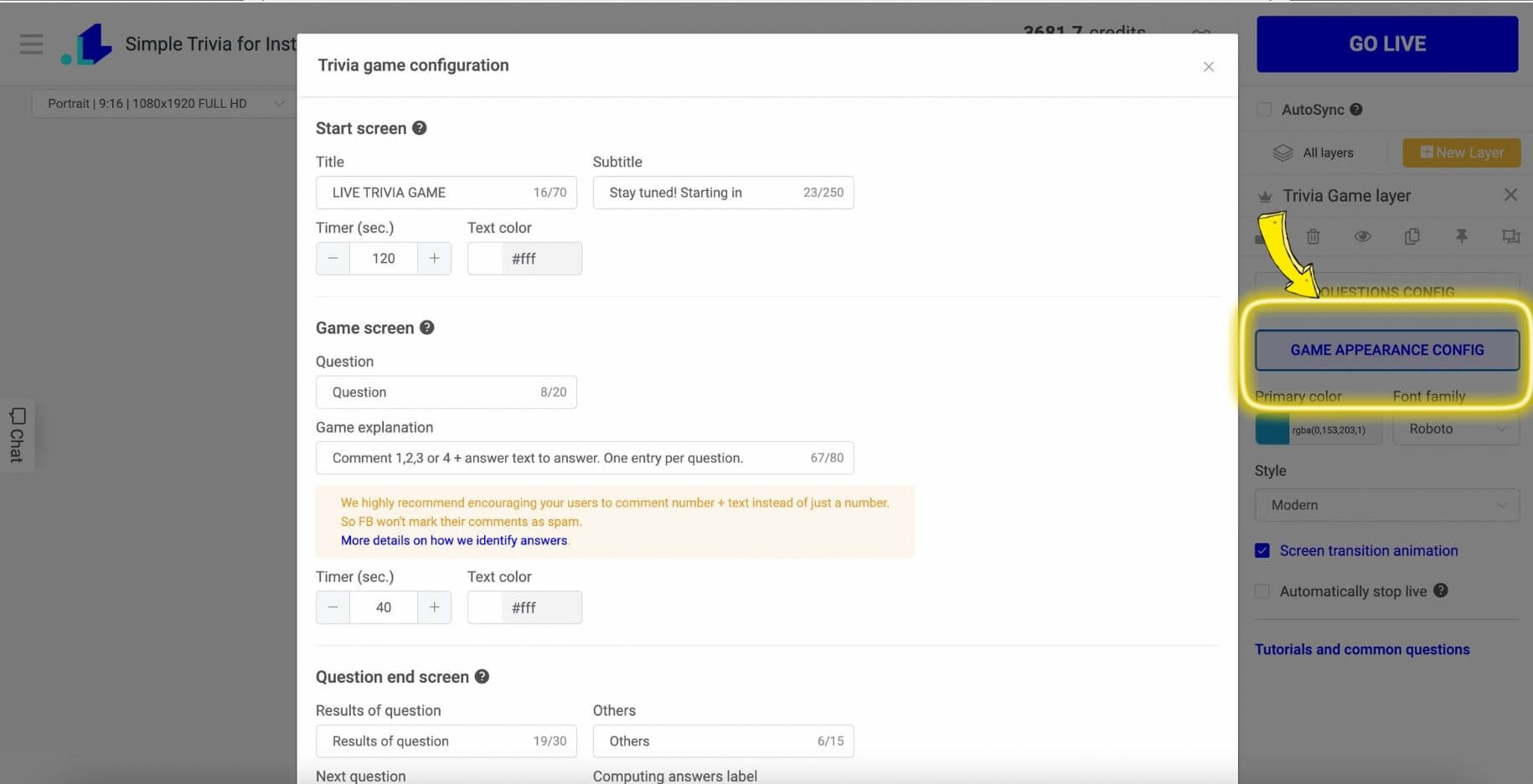 We want to connect our camera to host the stream. Click New Layer, choose Video and Web Camera (you can connect your phone or camera as a video source).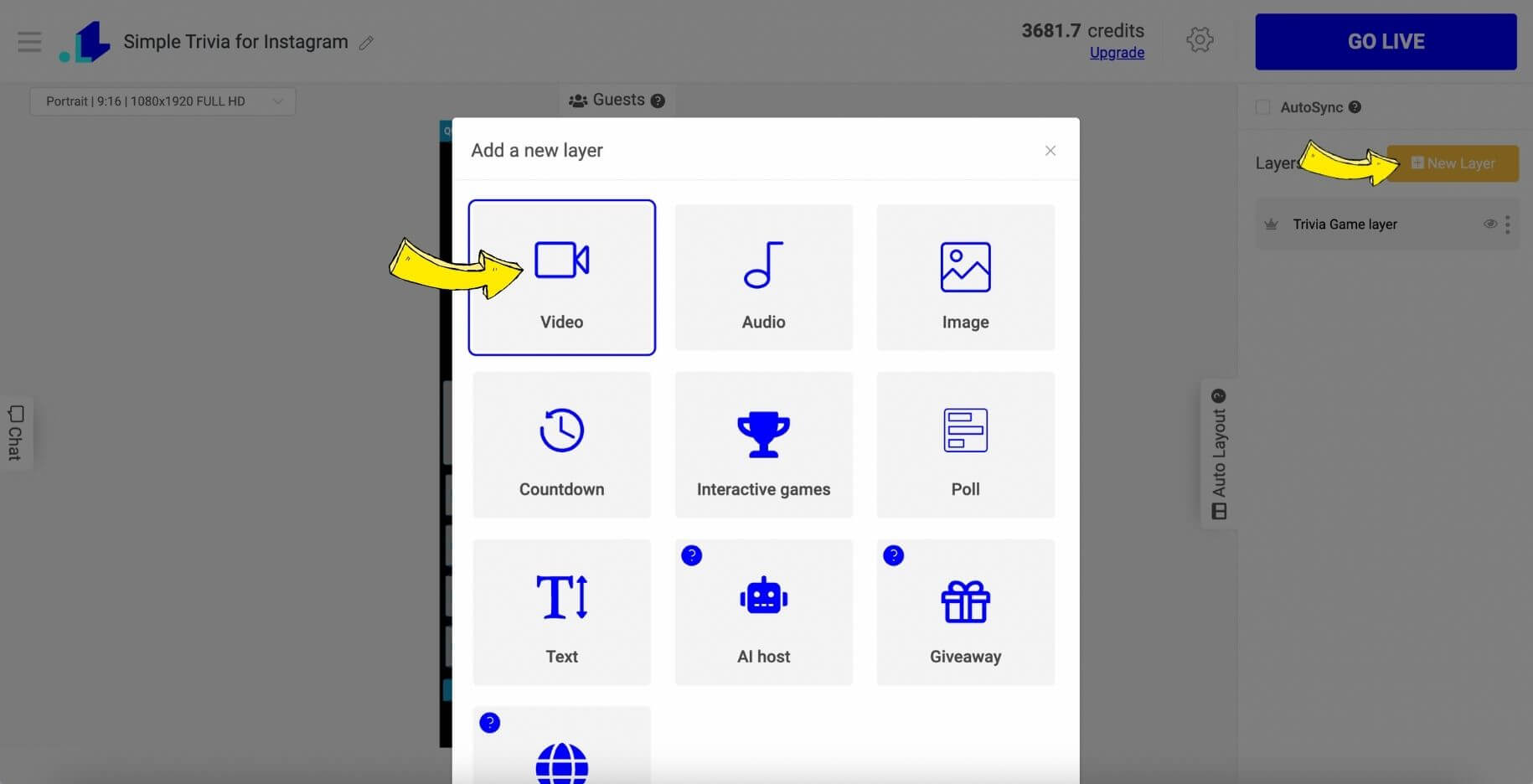 Now, when our web camera is connected, we head to preview all our visual settings for each screen. To do that, click on the top right corner of the trivia game element in the editor. You can see the "Start screen," "Round screen," "Round results," and "Game result."
8. When you have finished all your settings, click on a Gear Icon to select an account to go live on.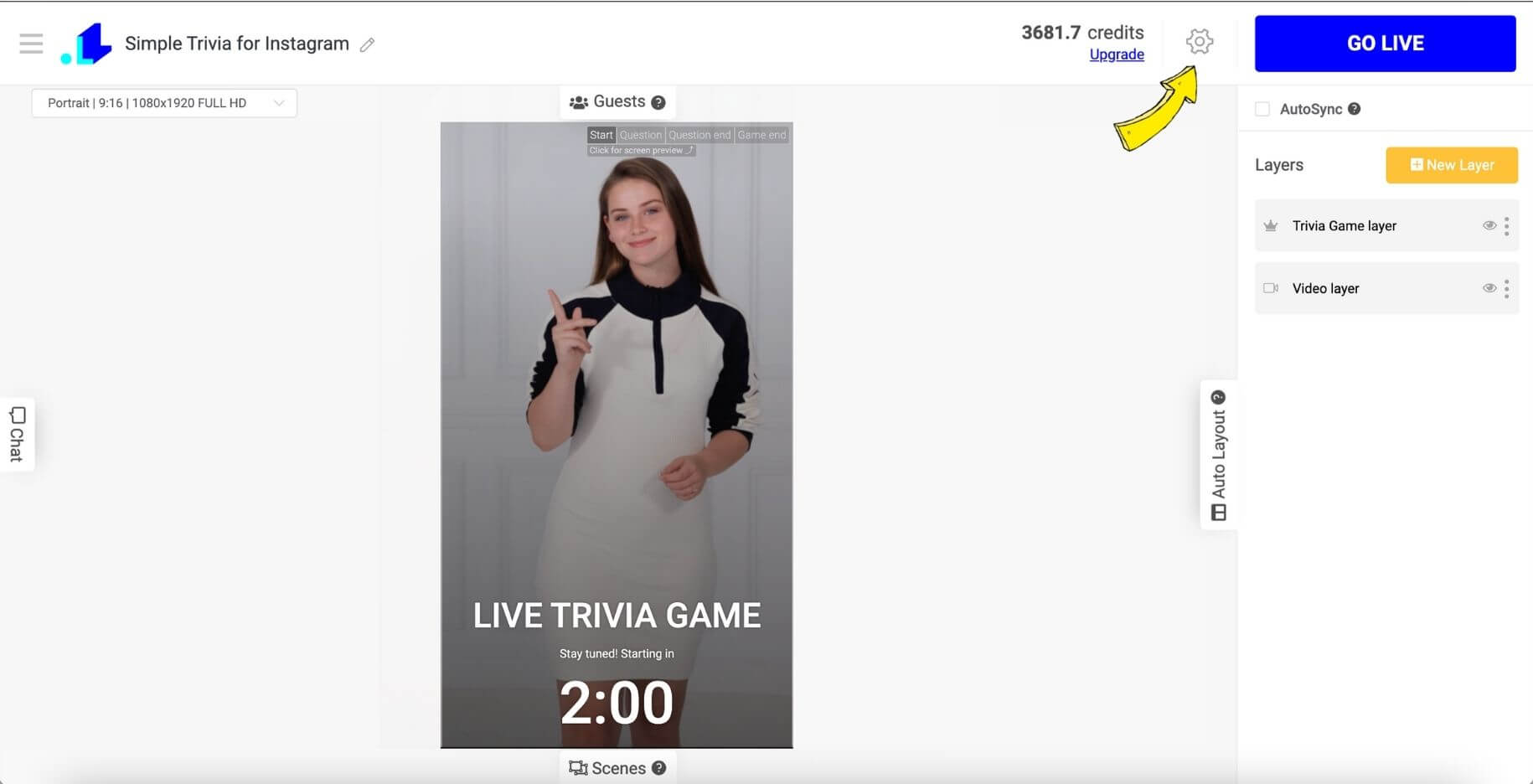 Click Instagram.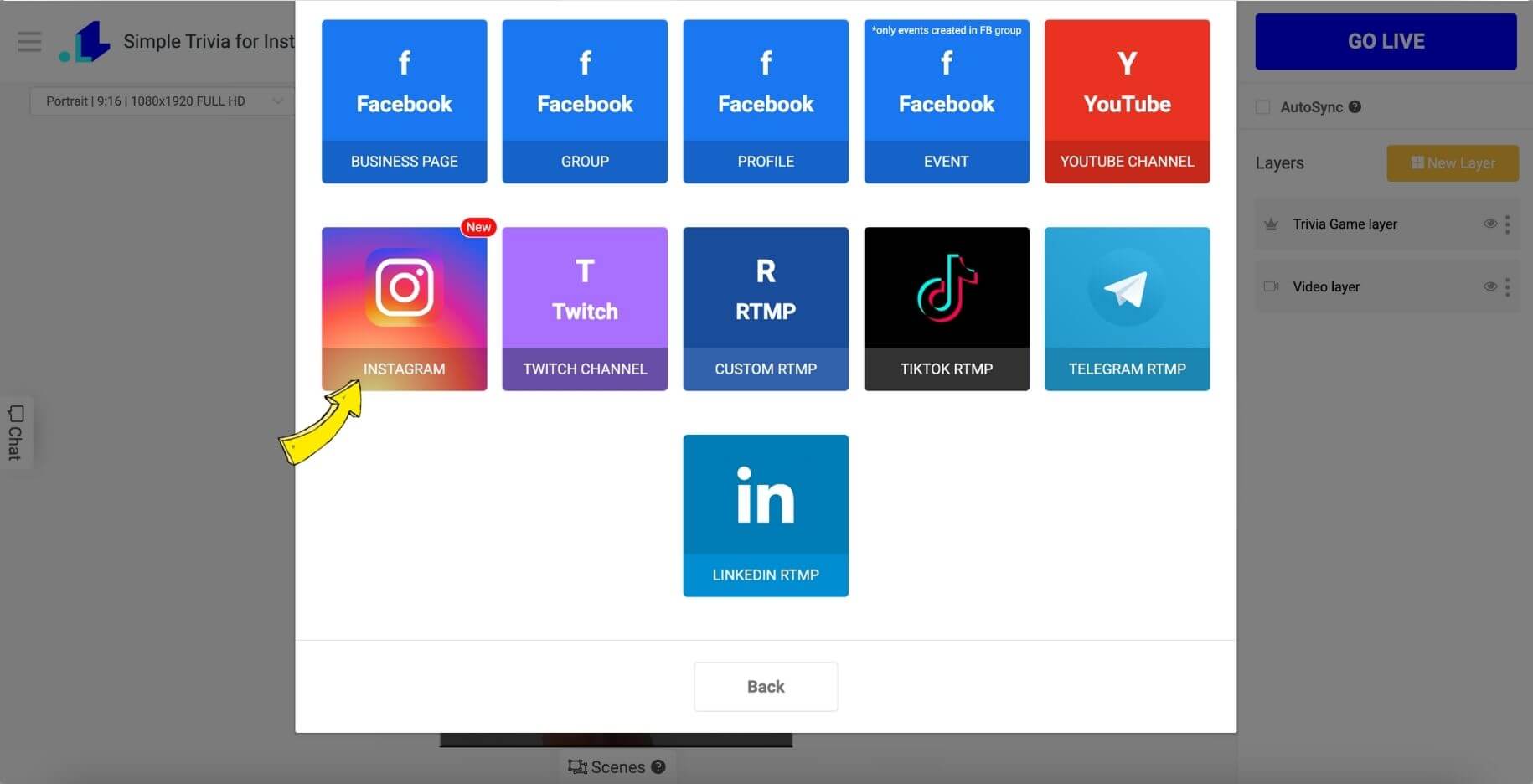 Choose Instafeed. When you get forwarded to a Login Page, enter your Login and Password.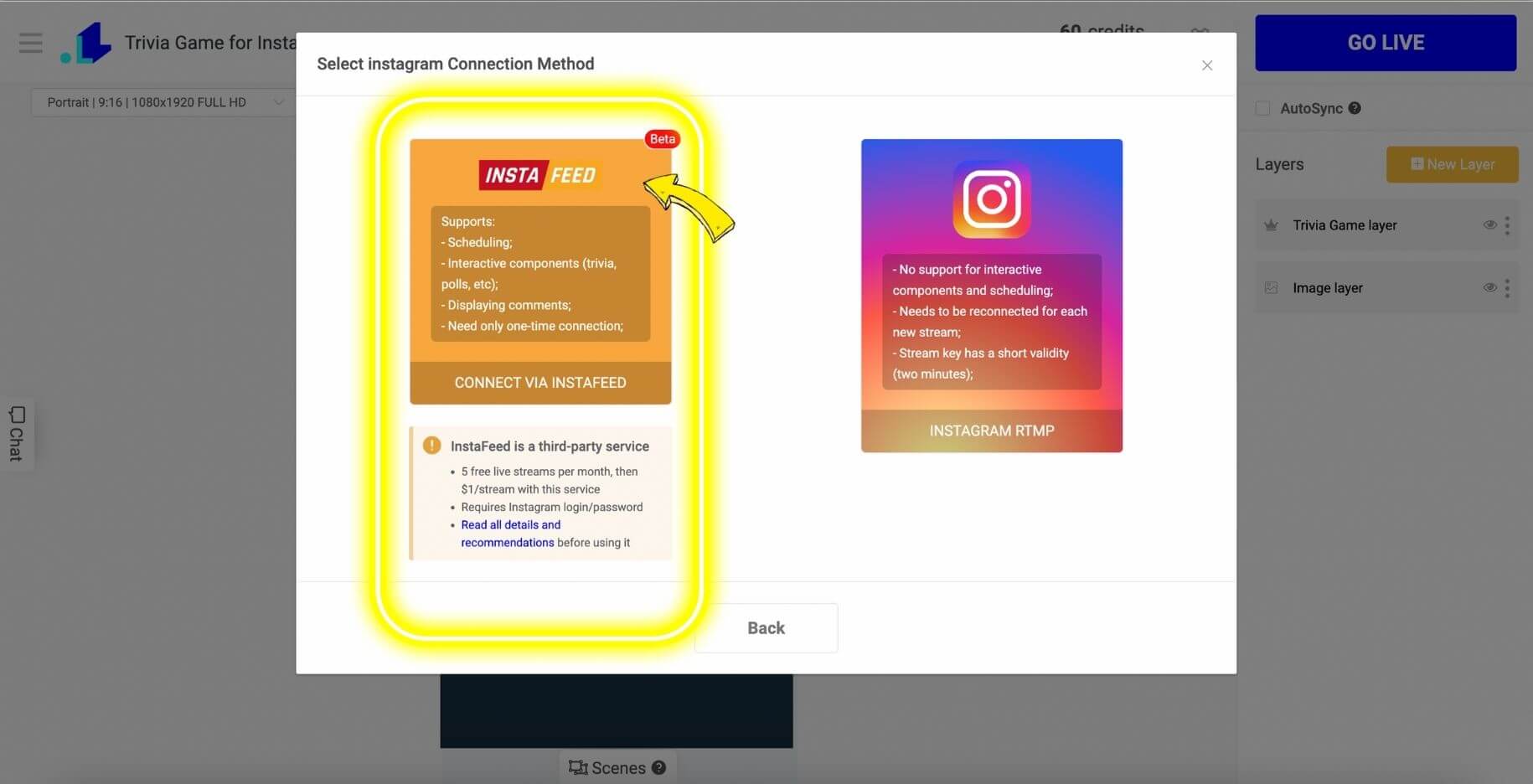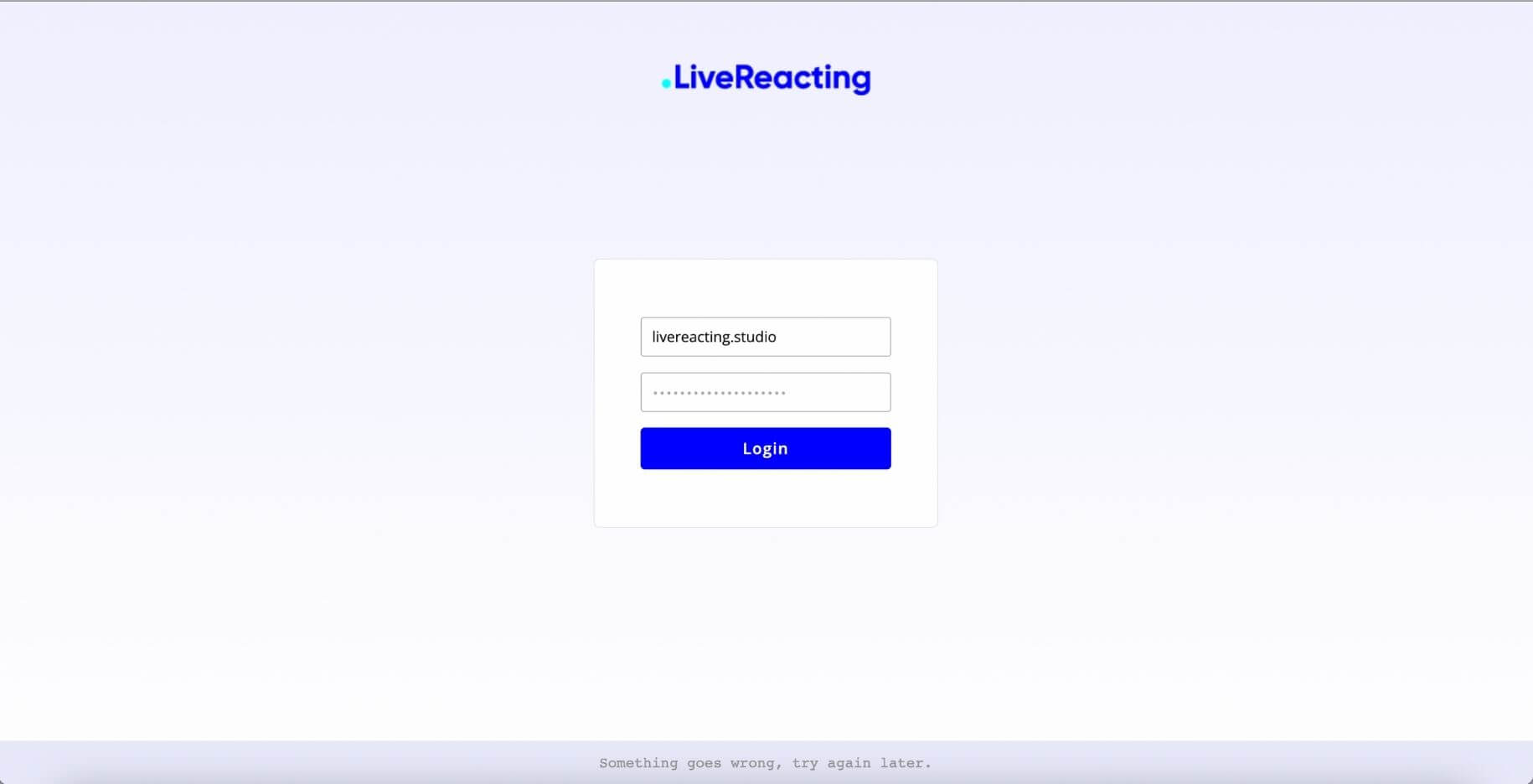 11. When your account is connected, set up stream duration, title and Save.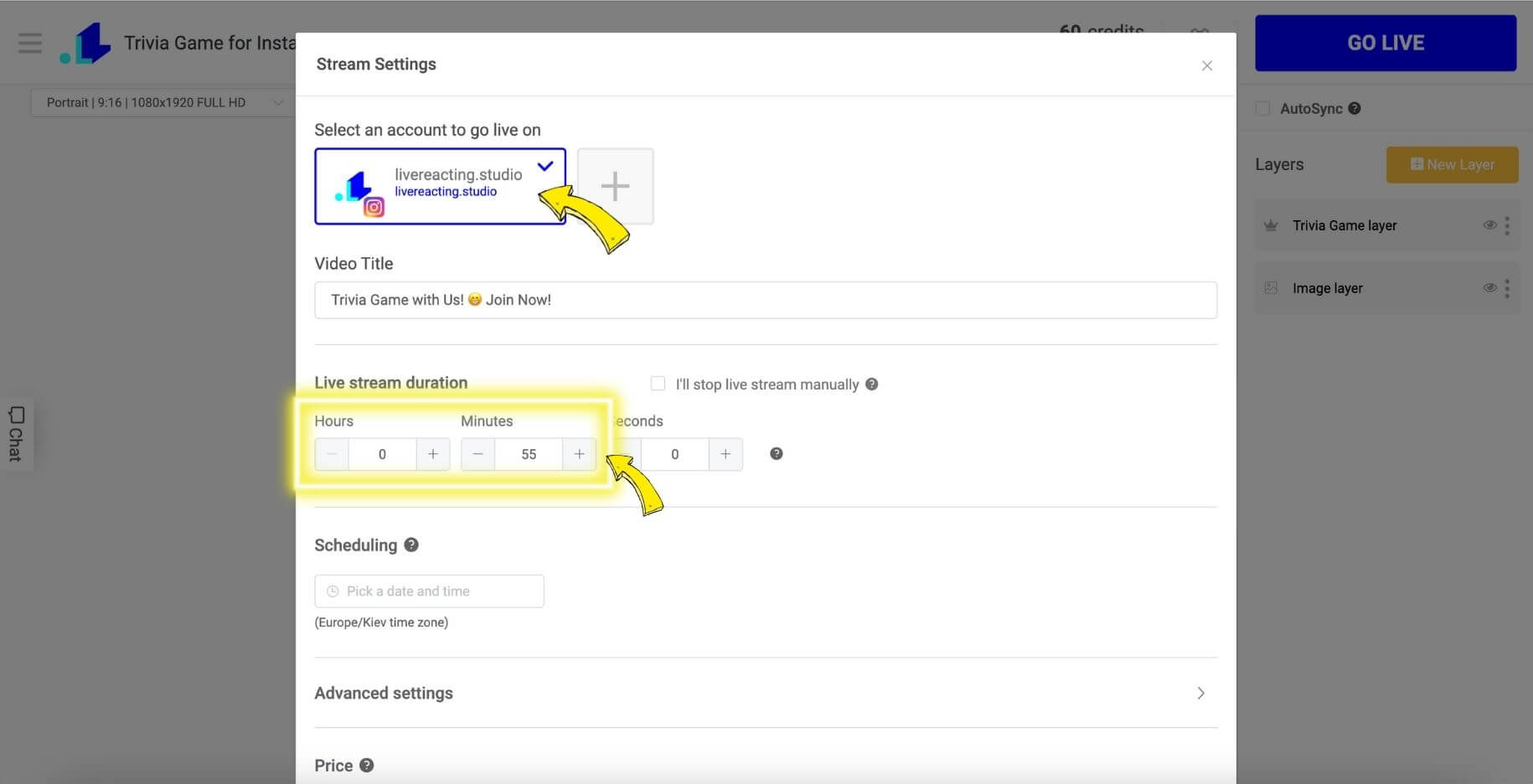 Now press Go Live button and wait for participants to join. Interact with your viewers by welcoming them, answering their questions, and encouraging them to participate actively. Keep the atmosphere lively and engaging throughout the stream.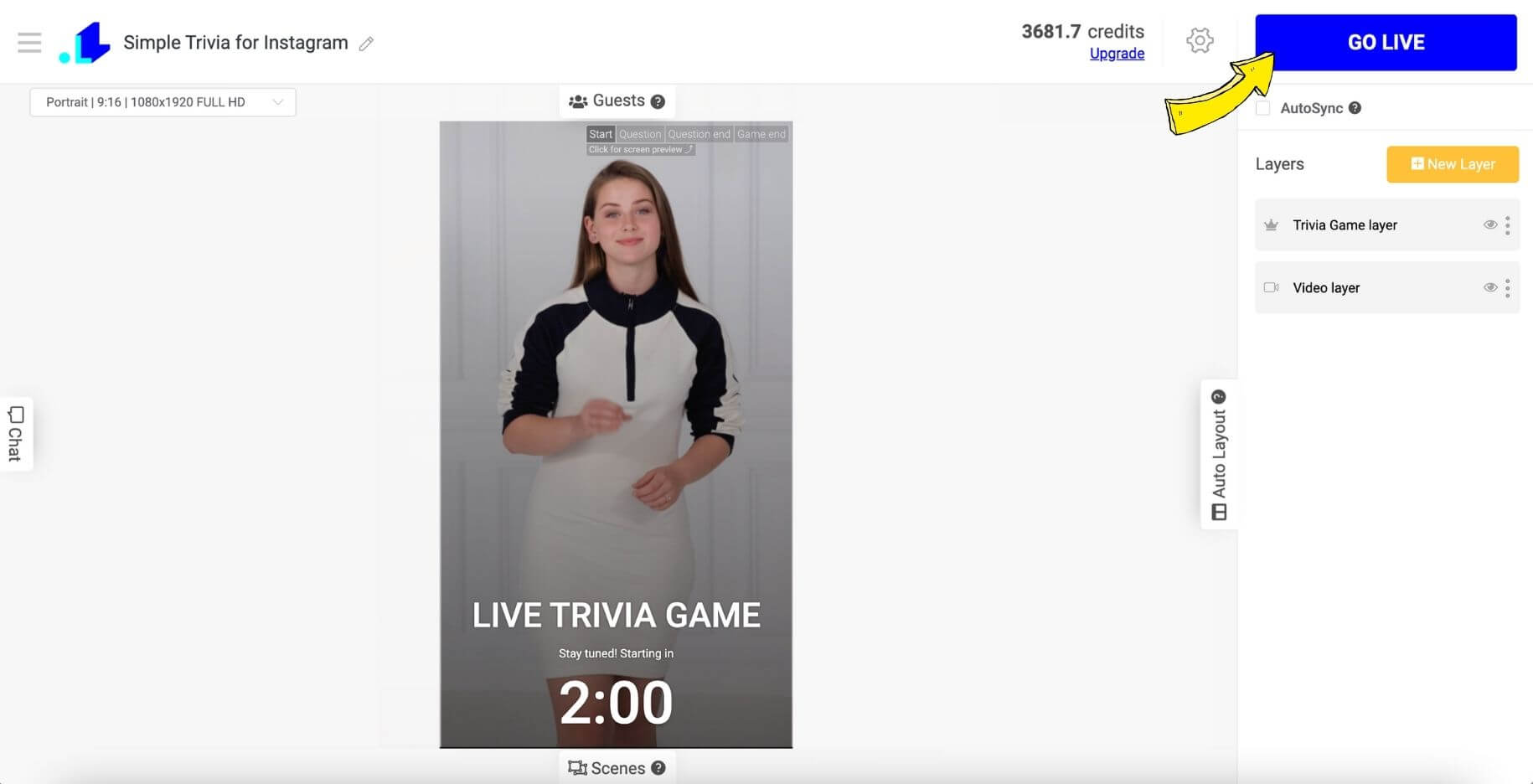 That's all! You can stop the stream directly in the Studio.
Some hacks for Instagram Live Trivia Game
✅ Keep the game interactive. Engage with your audience by reading their comments, celebrating correct answers, and providing hints if necessary.
✅ Engage with your audience by reading their comments, celebrating correct answers, and providing hints if necessary.
✅ To maintain excitement and engagement, consider featuring guest participants or invite viewers to join you on the live stream.
✅ Announce the winners and congratulate them. Use this moment to thank your audience for participating and invite them to join future trivia games or other interactive events. Remind them to follow your account for updates on upcoming live streams.

Streaming a trivia game on Instagram Live can be a fantastic way to connect with your audience while bringing entertainment to their screens. By following these steps and incorporating your own creativity, you can host a memorable and engaging trivia experience that will leave your followers eagerly awaiting your next live stream.
So, get ready to challenge your audience's knowledge, foster engagement, and have a blast hosting your very own Instagram Live trivia game!
If you have any questions or need help streaming a Trivia on Instagram live, don't hesitate contacting us in the live chat on our website, and we'll assist you as soon as possible!
LiveReacting is a streaming platform for Content Creators, Digital agencies, brands, and influencers that helps to make any live stream interactive and get more engagement and views.
[email protected]