How to add a guest to your Live Stream?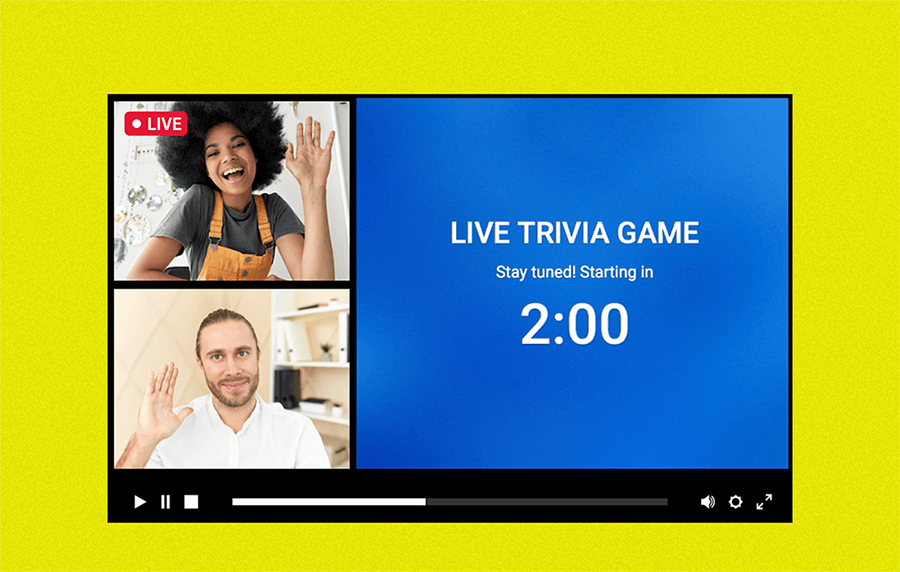 LiveReacting offers many interactive & entertaining elements for live streaming that are so popular among social media managers, influencers, marketing managers, and just streamers. We understand that streaming with a co-host or a friend is way more fun than alone, so we want to share a tutorial on how to invite guests into a stream easily.
You can stream with guests on Youtube, Facebook, and Twitch. If you don't plan on adding interactive elements, you can stream with multiple people on Instagram, TikTok, Twitter, LinkedIn, and more.
Before you hop into this tutorial, we want to give you a short overview of how it works, so you decide whether this method is for you. To invite a guest to a stream, you need to:
👉 Use LiveReacting to generate an invite link.
👉 Send generated link to your guest to join the stream.
LiveReacting is a streaming software. It is an alternative to OBS, vMix, StreamYard, and others, with unique features like Trivia Game, Word Search Game, Live Poll, and other elements that organically engage viewers.
Why streaming with a guest via LiveReacting is a good idea?
✅ You can stream interactive quiz with your friend, who'd help you to entertain your audience.
✅ You can stream a presentation and invite your colleagues to join you.
✅ You can stream a pre-recorded videos and invite your friends to join and start discussion in real-time.
✅ You invite guests to hold cool interviews.
How to invite guests to your stream?
Log into LiveReacting a create a new stream (click New Project).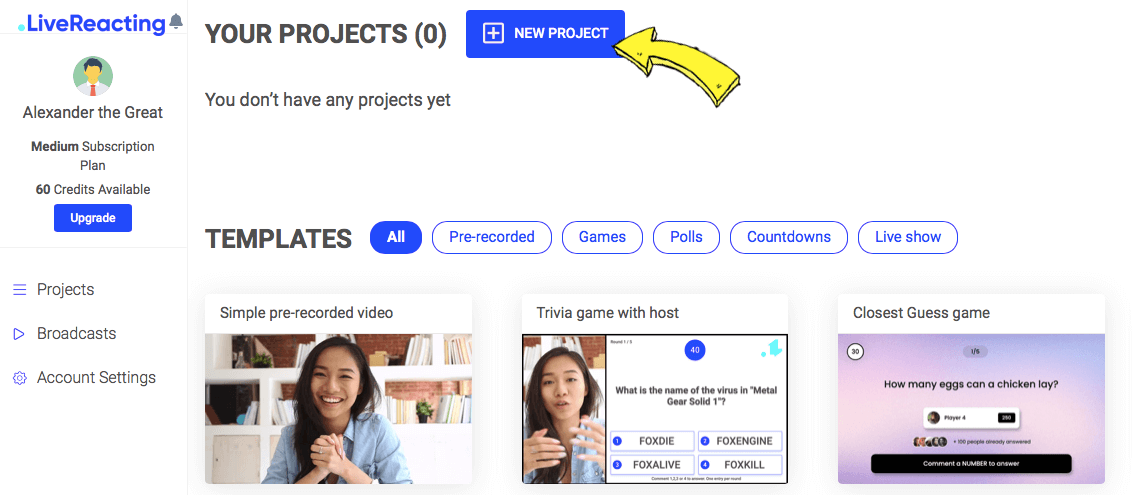 2. In your project, click Guests above the screen.

3. Click Invite Guest and copy generated link. Send the link to your guest (via any messenger). You can invite up to 8 guests at the same time.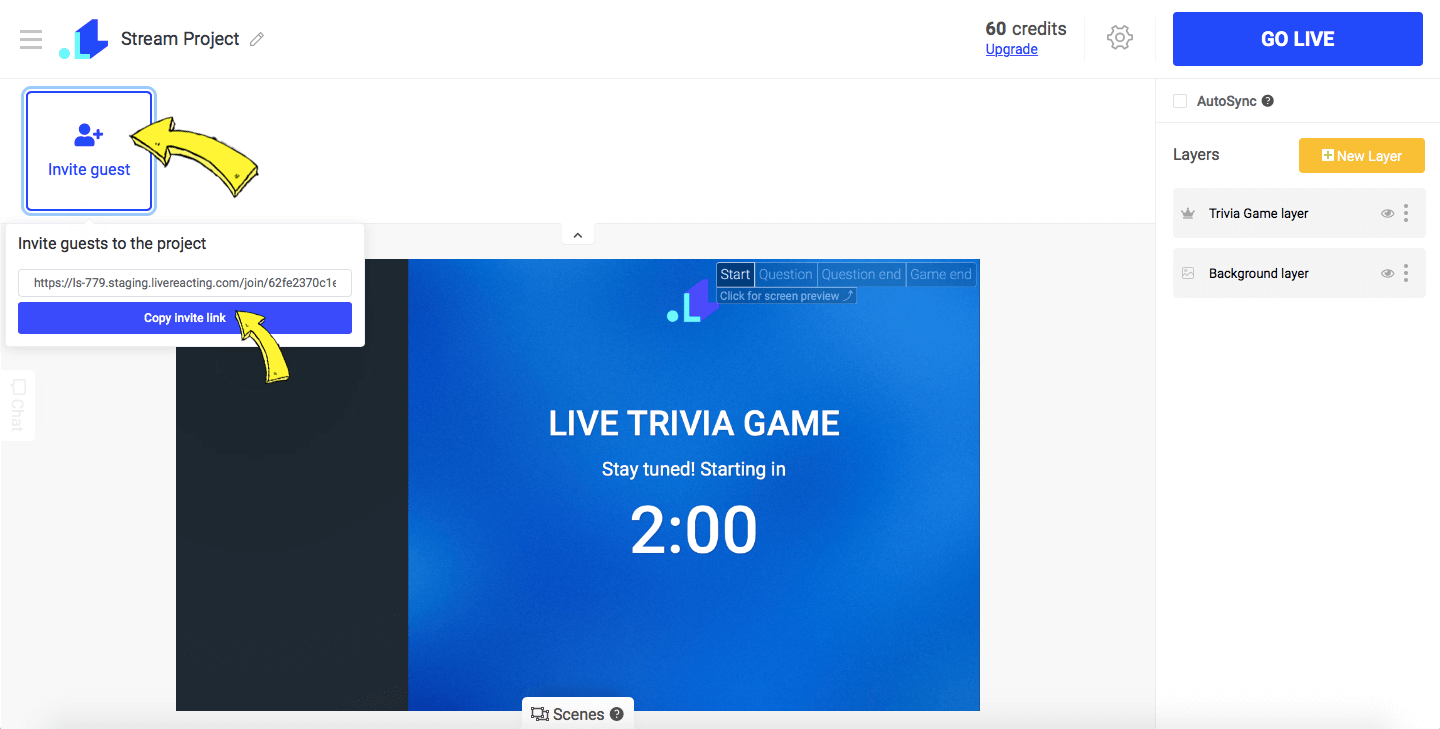 4. Once your guest accepts your invitation and grants camera and microphone permissions, you'll see them hanging in your guest list above. To add them to your stream, click Add, and they'll appear in your stream.

5. Adjust the camera layer size by dragging the corners so your guest fits well in the stream.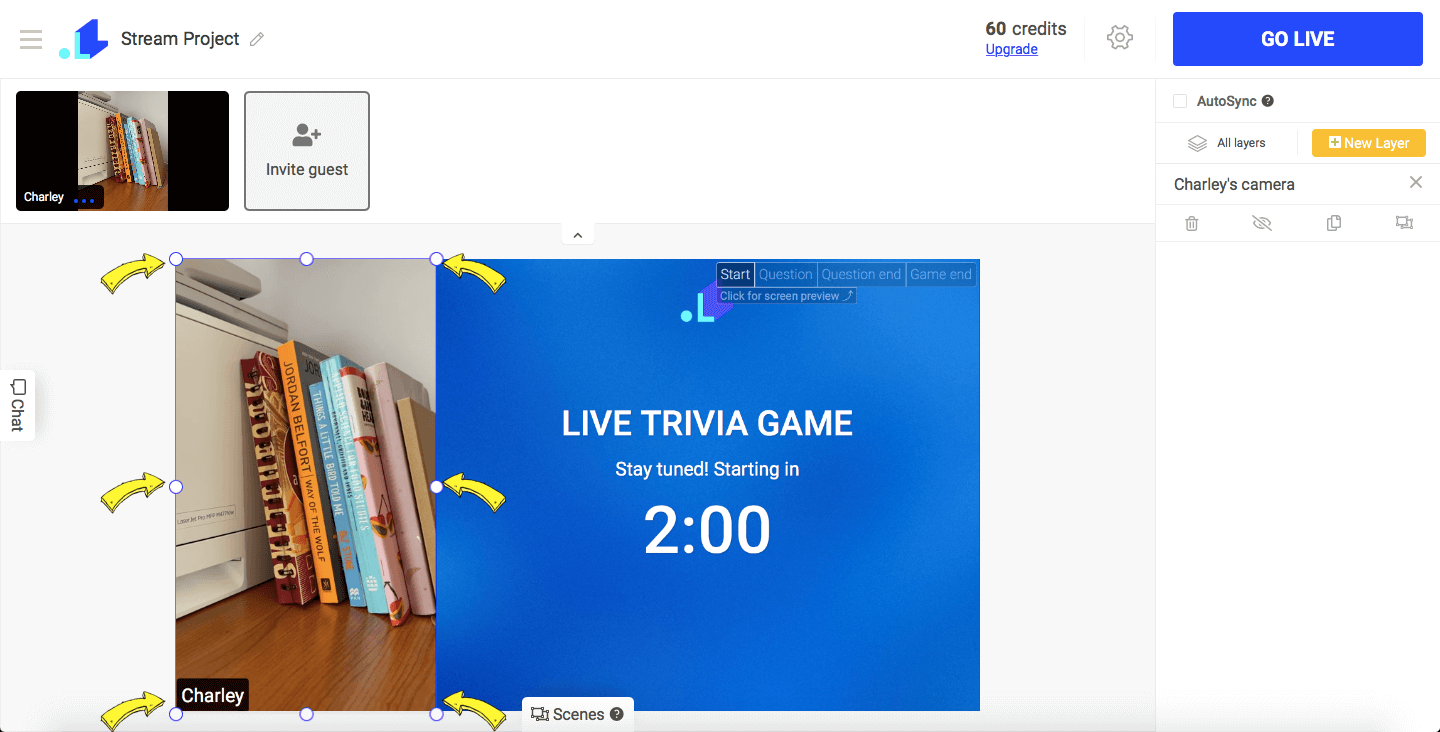 6. To launch your stream, click Settings (Gear Icon), connect your Facebook page (or other streaming destination), enter a name and description, save and click Go Live button.

💡
You can also invite and add a guest in the middle of your stream.
---
How to join a live stream as a Guest?
In this example, we show how to request to join a Facebook Live. You can follow the same procedure to join live stream on other platforms.
Step 1. Open the invite link and click Allow.
Step 2. Select a Camera (Back/Front), Microphone and type in your Name (this name will be displayed in the stream) and click Join.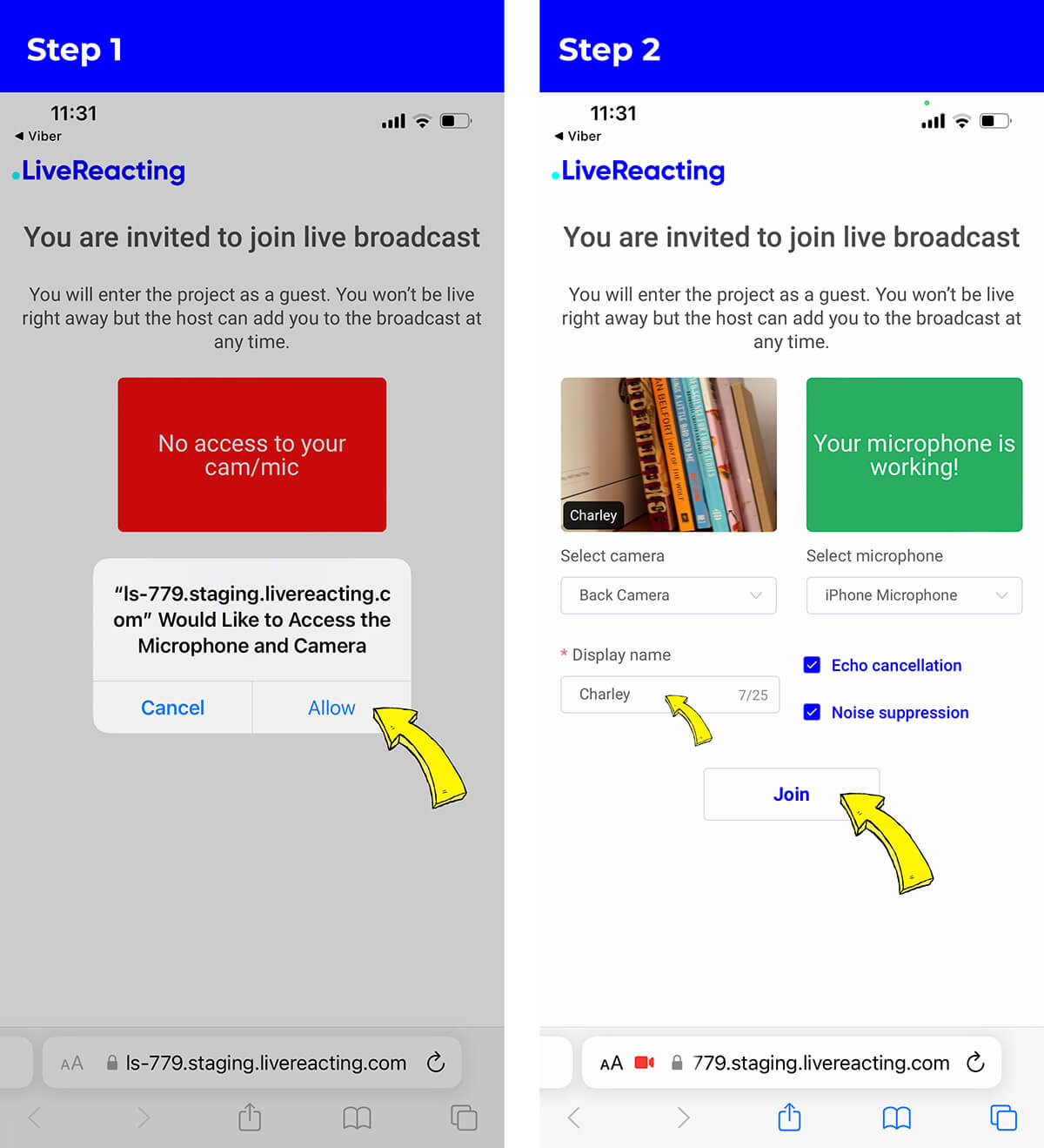 Step. 3 This is how your screen will look if the Host hasn't added you to the stream yet.
Step 4. Once the Host adds you to the stream, you will see 'You are in broadcast now' notification.
Step 5. To mute your microphone or camera, click on the Mute Cam & Mute Mic buttons. Only your Name will be displayed in the stream when you mute them.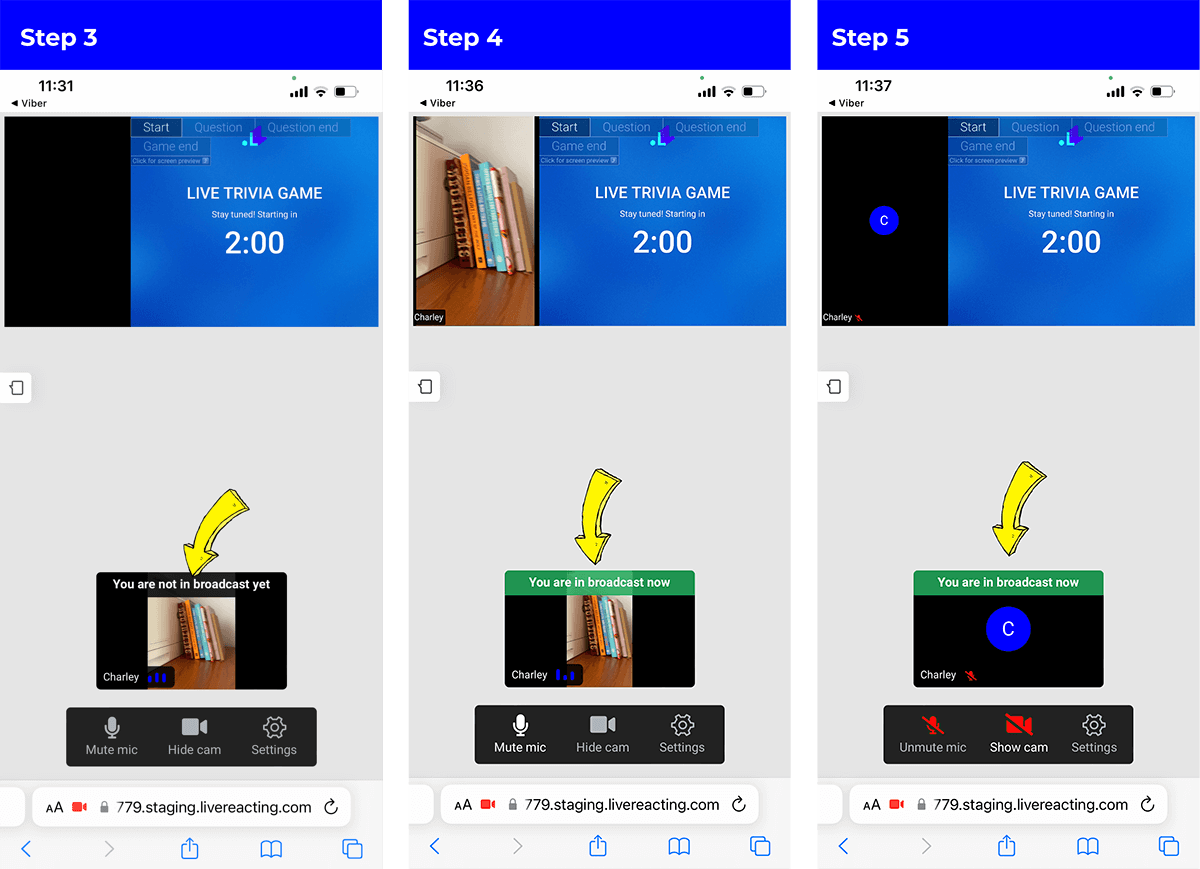 ---
To conclude, this is a quick and easy way to add guest in a stream. If you're not LiveReacting user yet, you may need to activate one of the monthly plans to stream with guests. You can cancel your plan anytime, so there's no commitment.
Send us a message in the live chat on our website and we'll be glad to assist and answer ALL your questions 😌
LiveReacting is a streaming platform for Social Media Managers, Digital agencies, brands and influencers that helps to enrich any live video with interactive elements and graphics in order to get more engagement and views.
For queries and feedback, send our team a message in a Live Chat on our website or write to us at

[email protected]