Boost Viewer Engagement: Poll for Youtube Live Streams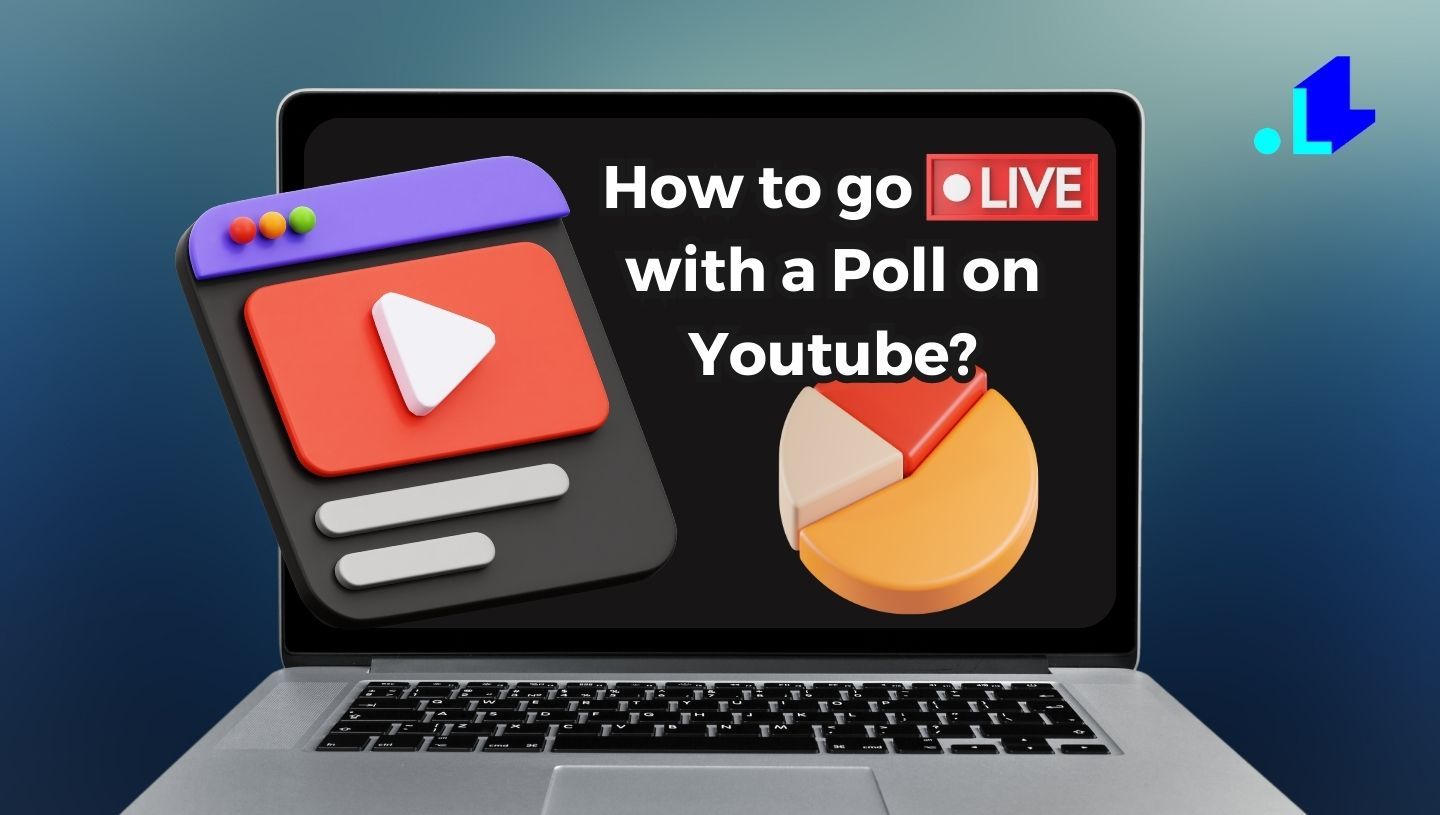 Are you looking for a tutorial on how to connect with your live stream viewers on YouTube and boost that all-important engagement? Adding an interactive poll in Youtube live stream is one of the best ways to make your viewers feel like they're really part of the action. When you ask a question and provide a few options for your viewers to choose from, it gives them a voice and a chance to shape the direction of the stream. The best part is, setting up polls on YouTube is super simple. In just a few clicks, you can create a poll, launch it live on stream, and instantly see the results roll in as your viewers vote. The real-time results will show you exactly what your viewers care about so you can adjust on the fly. If you're ready to take your YouTube live streams to the next level, follow this article to learn how to create custom polls and get your viewers engaged like never before.
Why Adding Polls Boosts Engagement on YouTube Live
Adding interactive polls to your YouTube live streams is a great way to boost viewer engagement and keep people tuned in. Here are a few reasons why:
Increases Interaction
Polls give your viewers a chance to actively participate in the live stream. People love to make their voices heard and share their opinions. Live polls make them feel like they're really part of the conversation. Viewers who interact with your poll are more likely to stick around for the full live stream.
Provides Valuable Insights
The results of your live polls provide insights into your audience and what they care about. You'll get a glimpse into what topics or questions really resonate with your viewers. Use this information to guide the direction of your future live streams and video content.
Keeps Viewers Guessing
Live polls add an element of surprise and suspense to your stream. Viewers will be curious to see the poll results and how their choice stacks up. This little bit of intrigue, especially if you're polling on a controversial or hot topic, gives people incentive to stay tuned in to the end.
Easy to Set Up
The good news is that live polling on YouTube is really simple to set up. You can add poll questions on the fly and viewers will see the questions pop up inside of the stream, together with some options to answer. Tallying the results only takes a second. It's a quick way to make any live stream more fun and interactive with minimal effort on your part.
Give live polls a try on your next YouTube live stream. Your viewers will appreciate the chance to engage more deeply and share their thoughts. And you'll gain valuable insights to improve your future live streams. It's a win-win!
Step-by-Step Guide to Creating a Poll on YouTube Live Stream
For adding a poll to Youtube Live, we use LiveReacting streaming studio. With LiveReacting you can create visually engaging polls, limit polling options, set timers, and customize the look to match your stream's brand. LiveReacting also provides overlay options to display the poll results right in your stream. Though LiveReacting does have a bit of a learning curve, it is a very powerful and simple tool for creating interactive YouTube live streams.
💡
If you already have a favourite streaming software like OBS, StreamYard etc., you can integrate this poll into it by using the
Poll Plugin
.
Once you're ready to go live with a poll on YouTube, here are the steps to take:
Step 1: Open LiveReacting Studio and create a New Project.

Step 2: Click New Layer and choose what you want to play in your live stream. You can choose a Web Camera to stream an actual live show, or you can go for a Video File and stream it as live. We choose a Web Camera layer to stream our cooking show.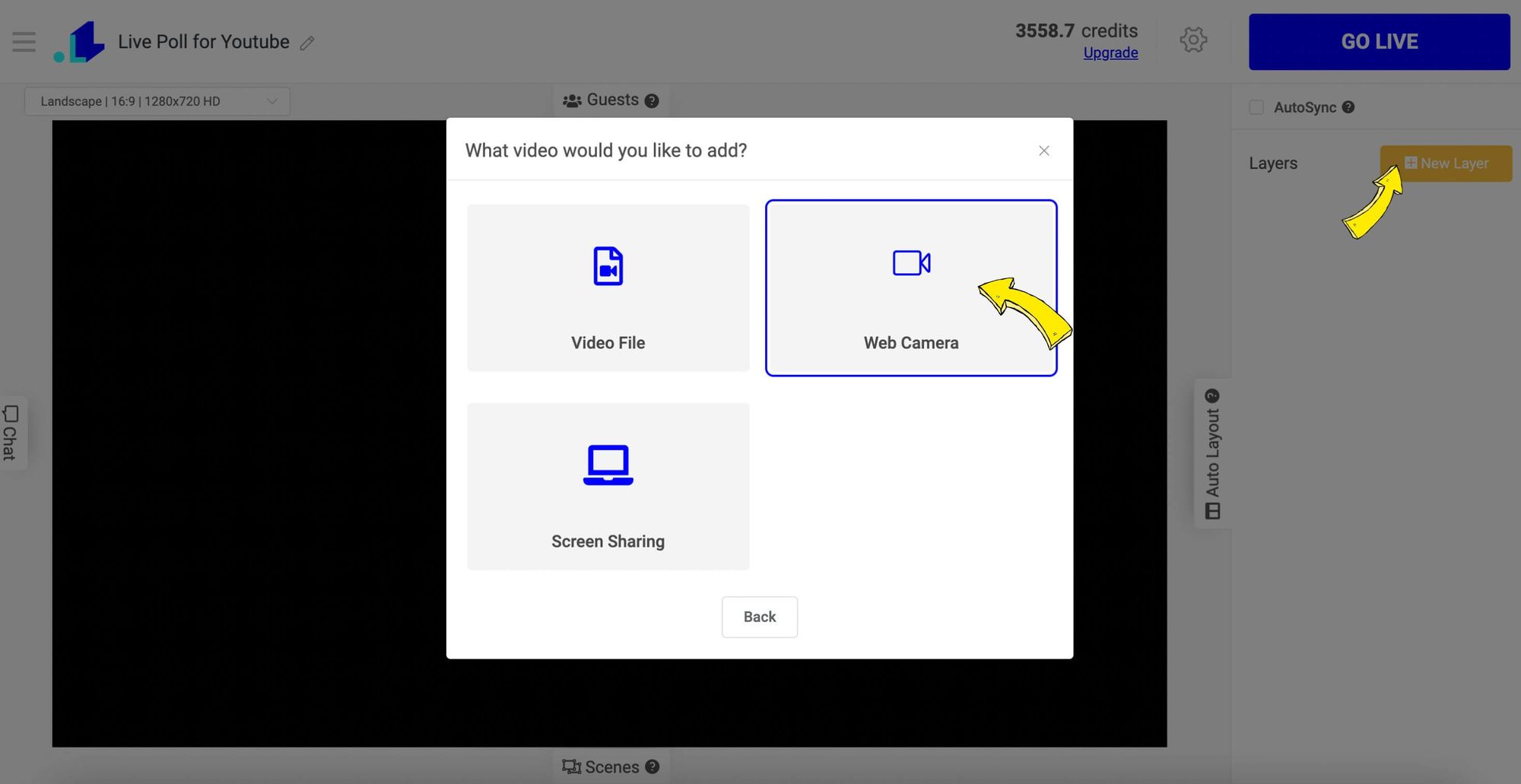 Here's our camera connected: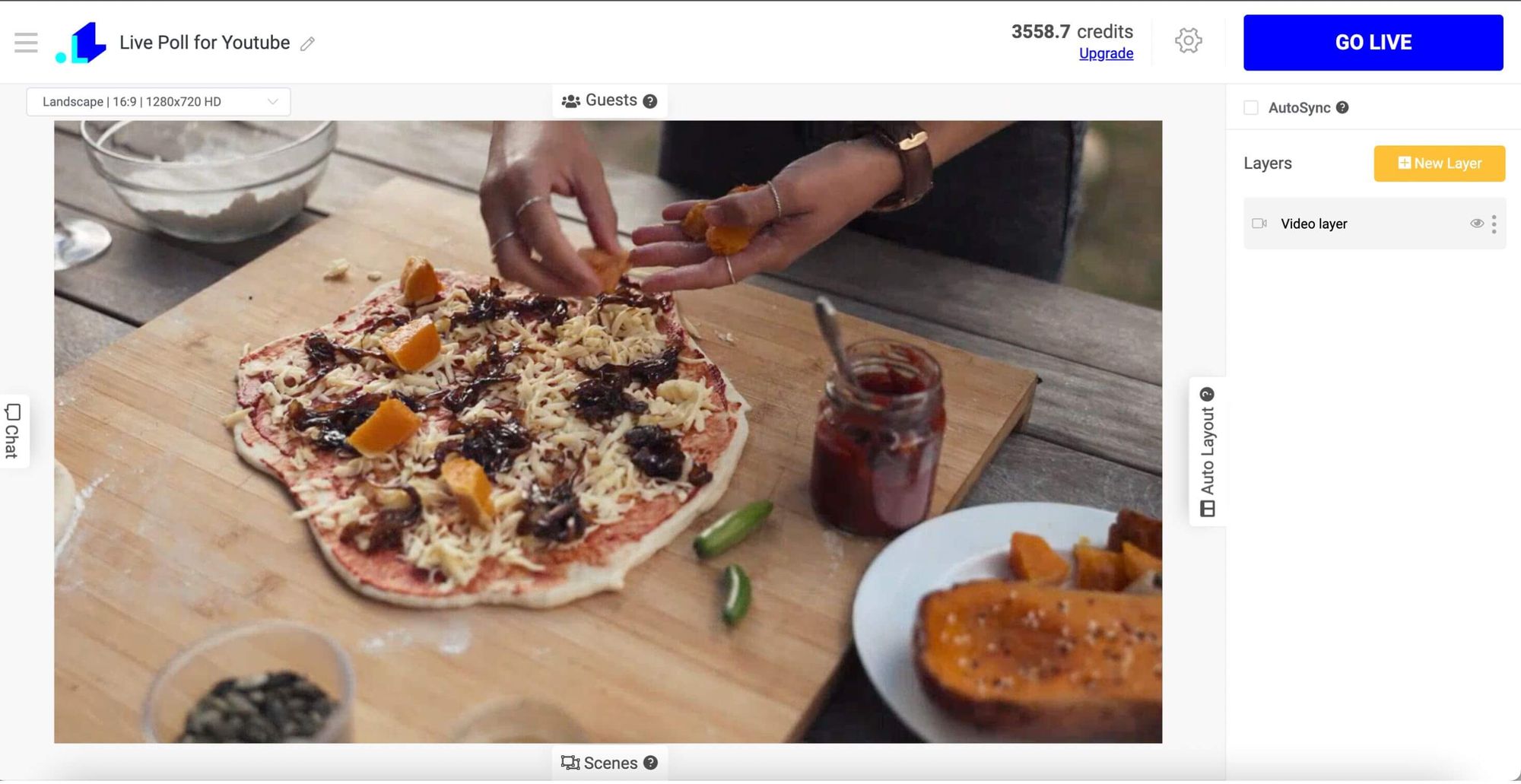 Step 3: Click New Layer and select a Poll box. We sele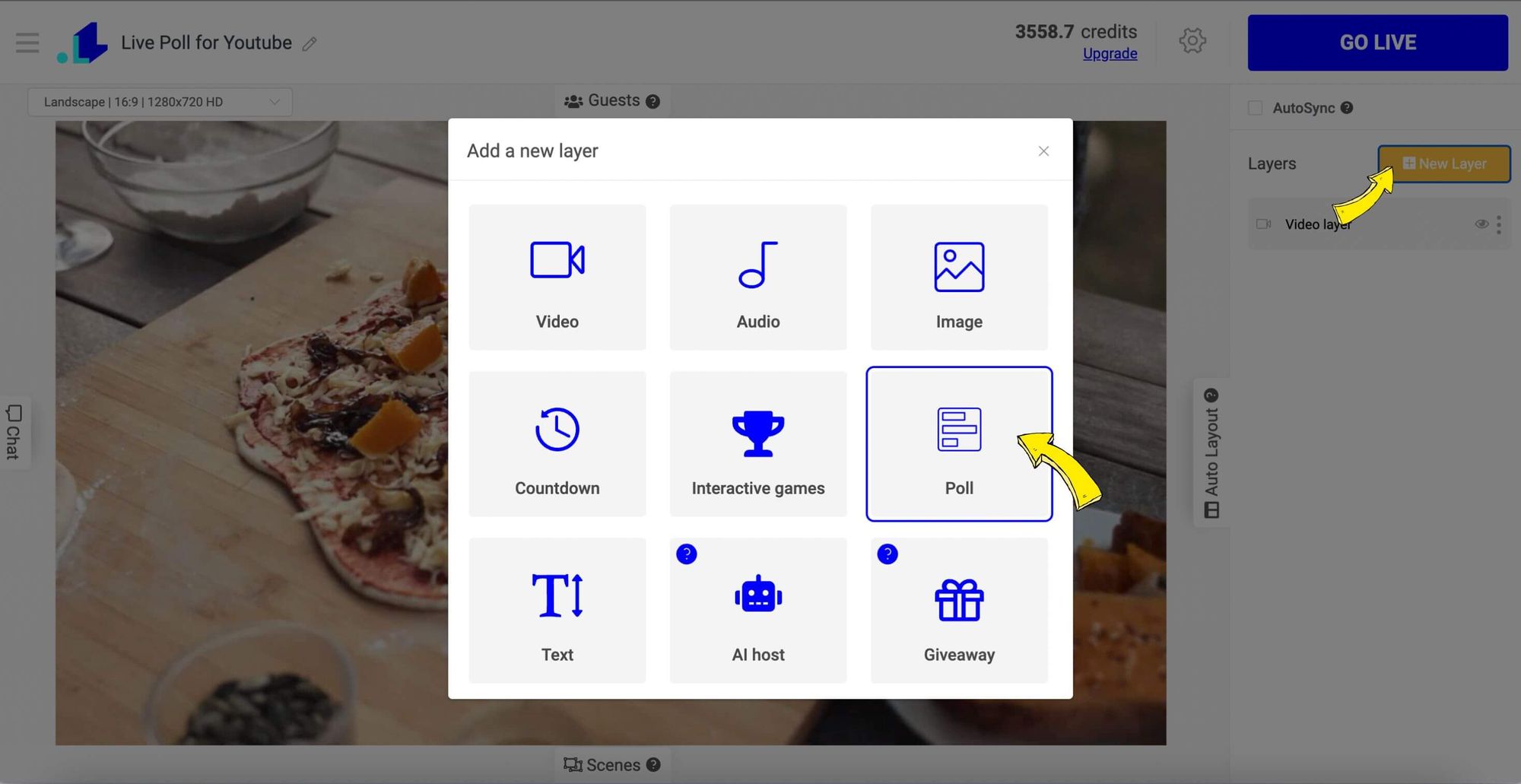 Step 4: Click New Layer and select a Poll box. We chose a Comment Poll. This is the type of poll where viewers see a question with voting options, and comment in a chat to answer. The results are updated in a live stream in real-time automatically.
Edit poll by typing your questions & options on the right sidebar, and add more options if needed. You can also edit background of the poll, font, shadows, column layout, and more.
Come up with a question that will spark discussion and debate in the comments. Keep it open-ended and avoid yes/no questions. For example, ask viewers to choose between two options like "Which do you prefer - sunsets or sunrises?" or have them rank multiple options.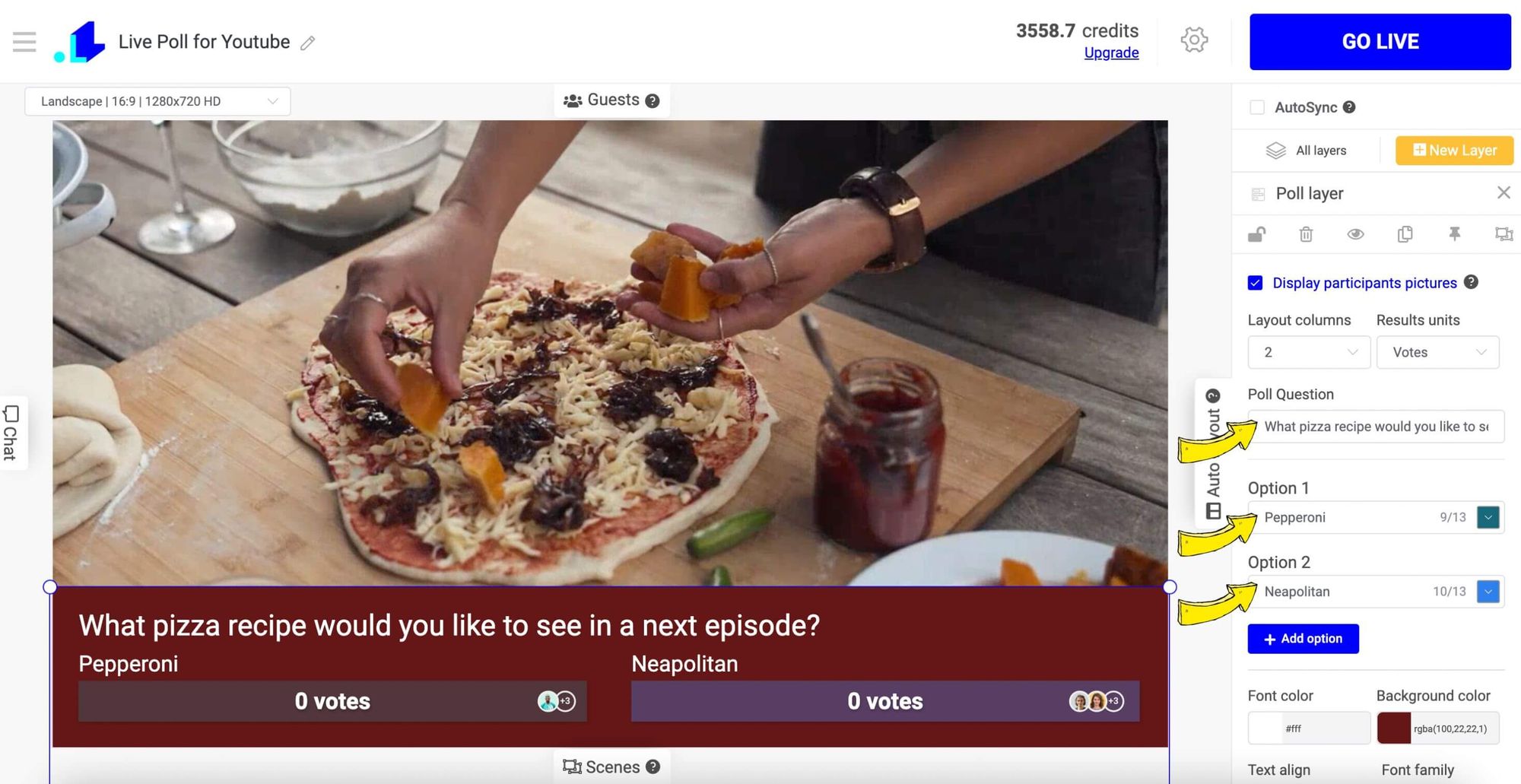 OPTIONAL: You can go for an Image Poll instad. In this type of Poll, besides voting options, you can add images. Viewers still need to use comments to vote.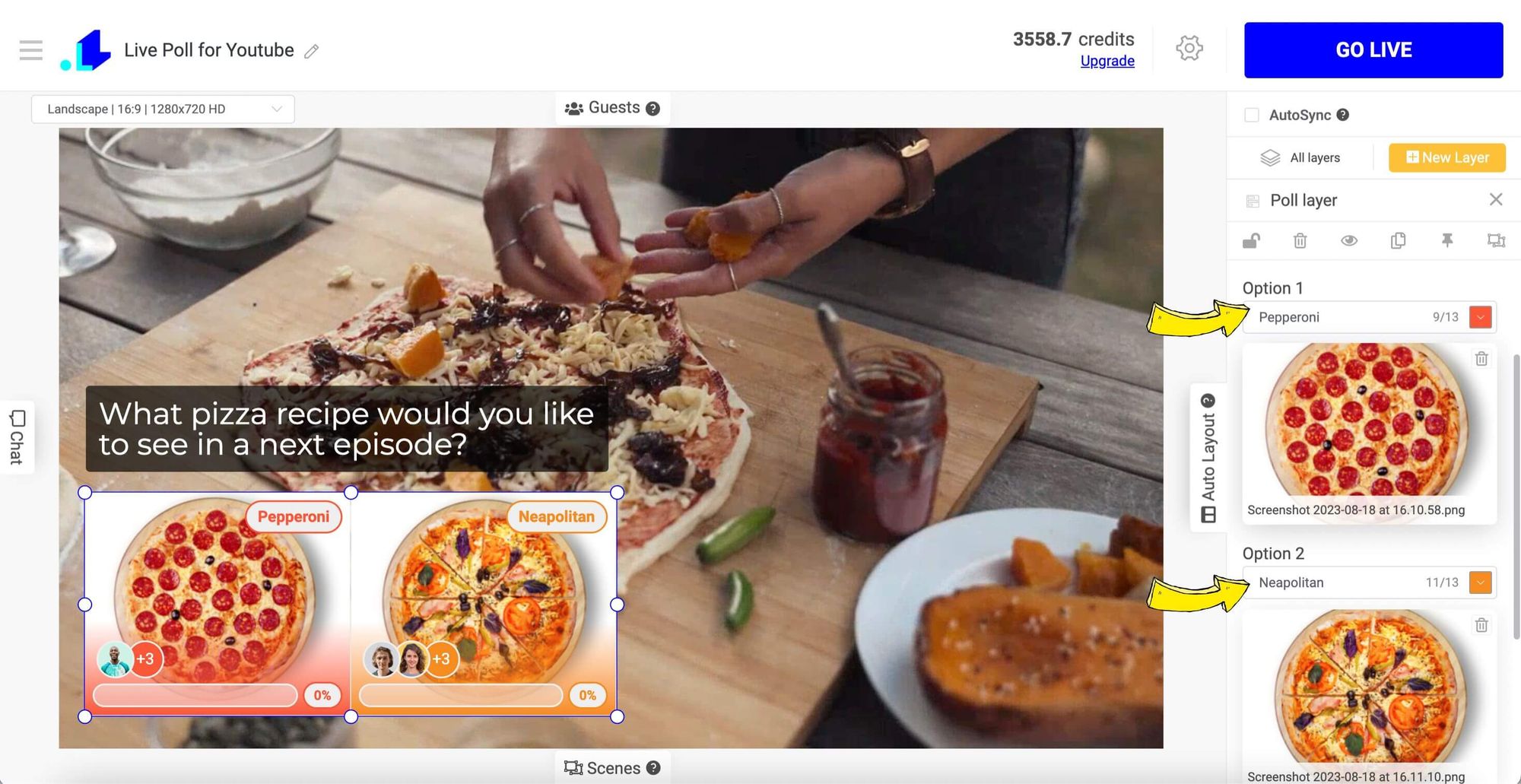 Step 5: Now go to Settings (Gear Icon) and click on a + Icon to add your channel.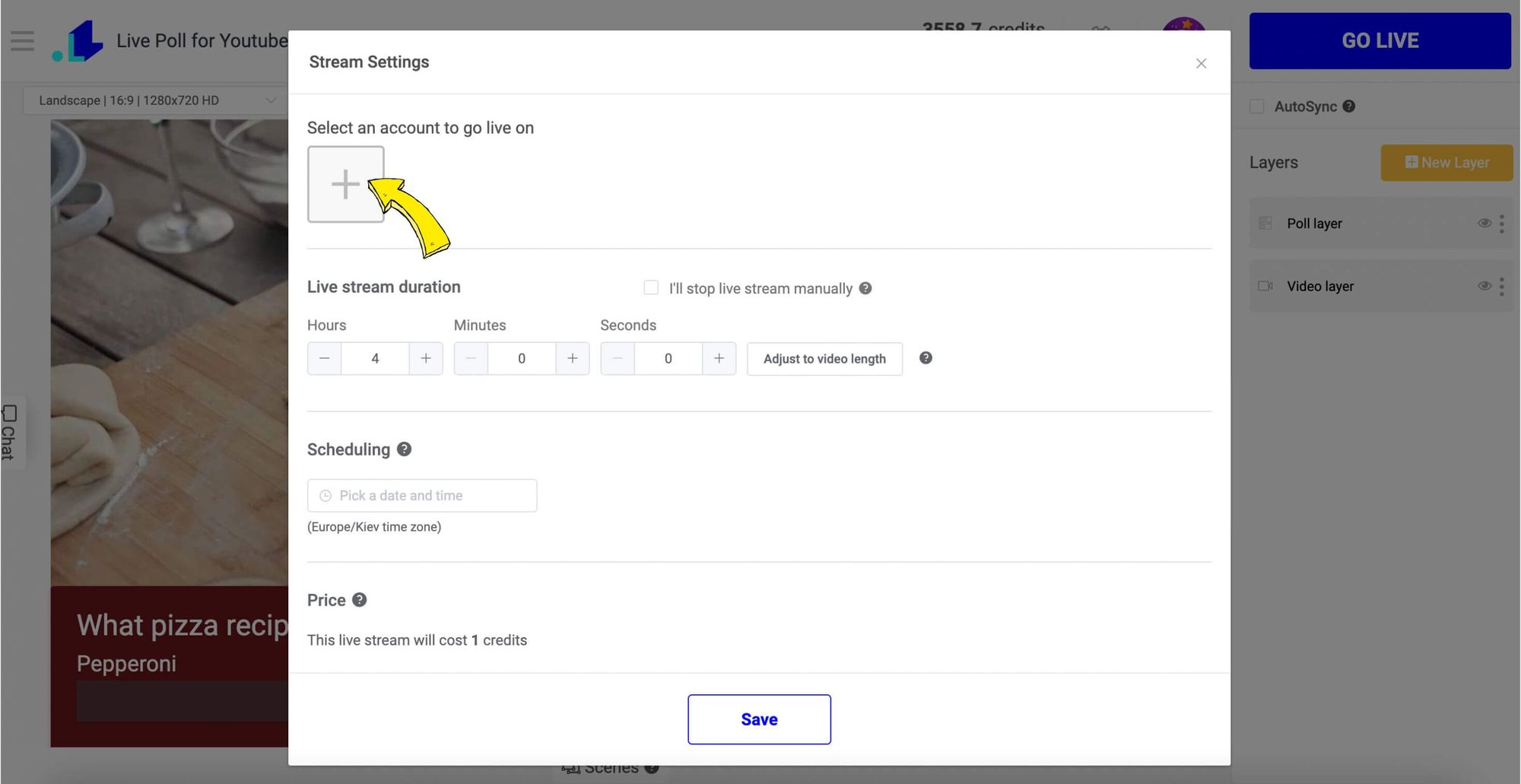 Step 6: Select Youtube channel and connect.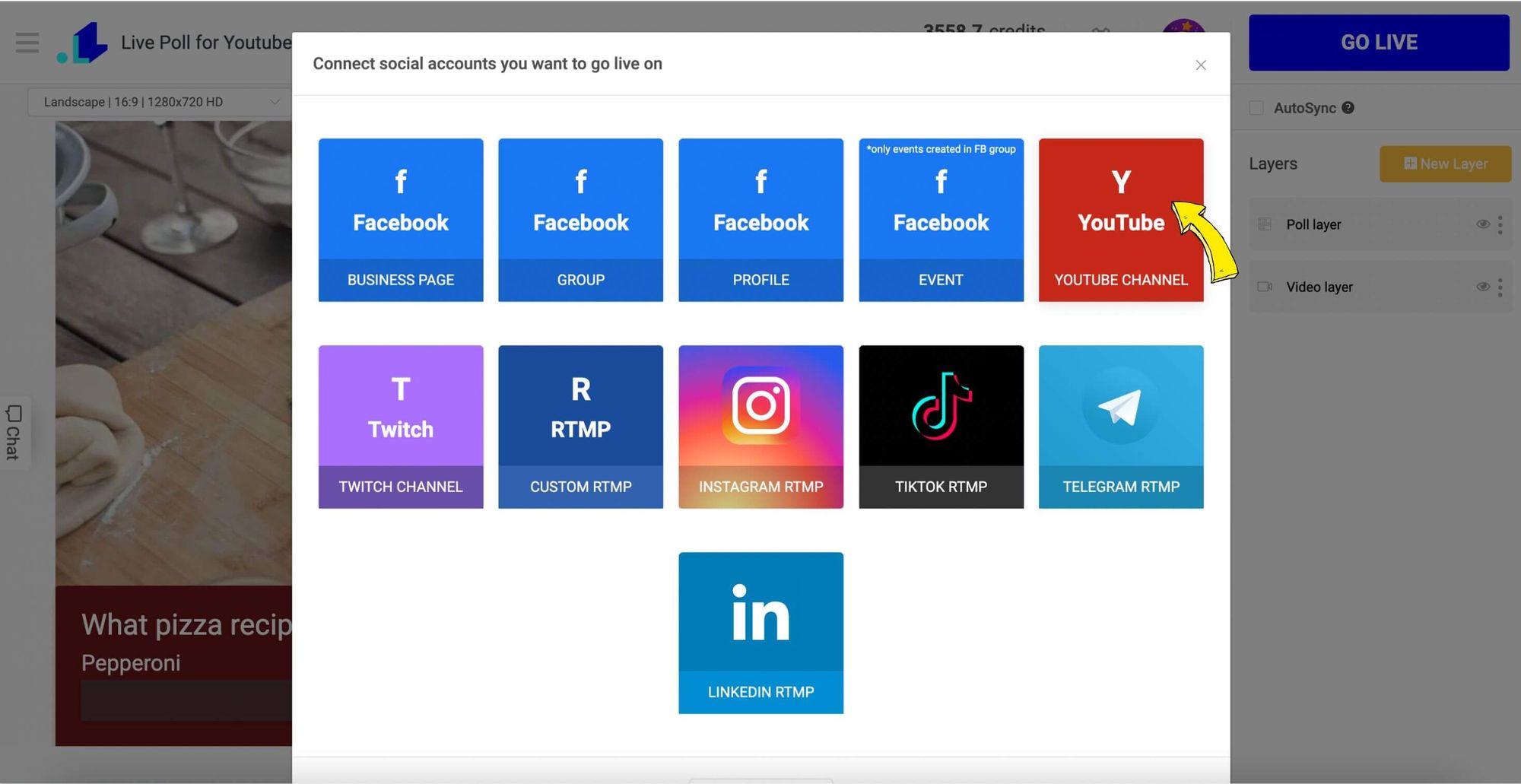 Step 7: Enter Title and Description that matches your content, select the duration of the stream and click Save.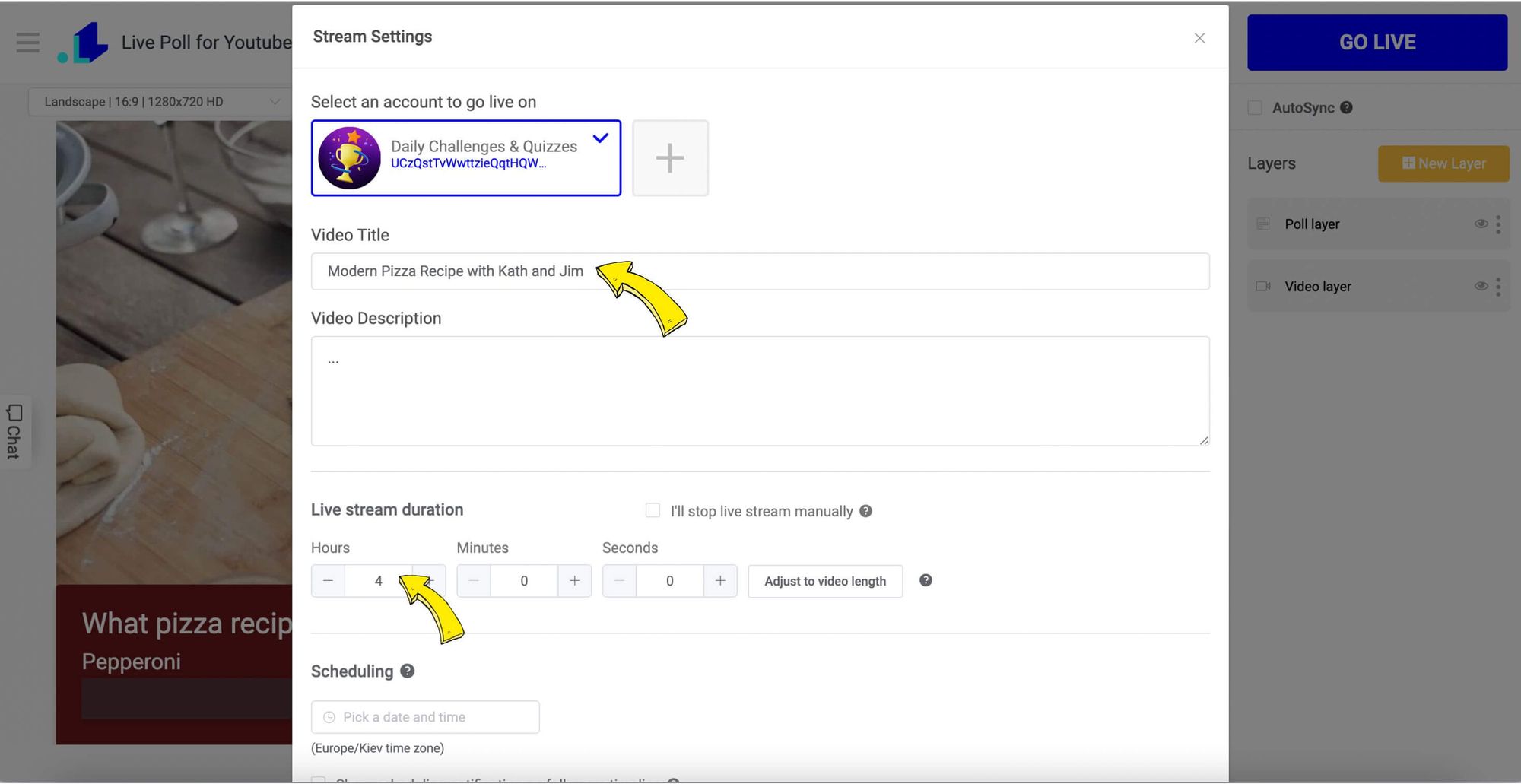 Step 8: Press Go Live button.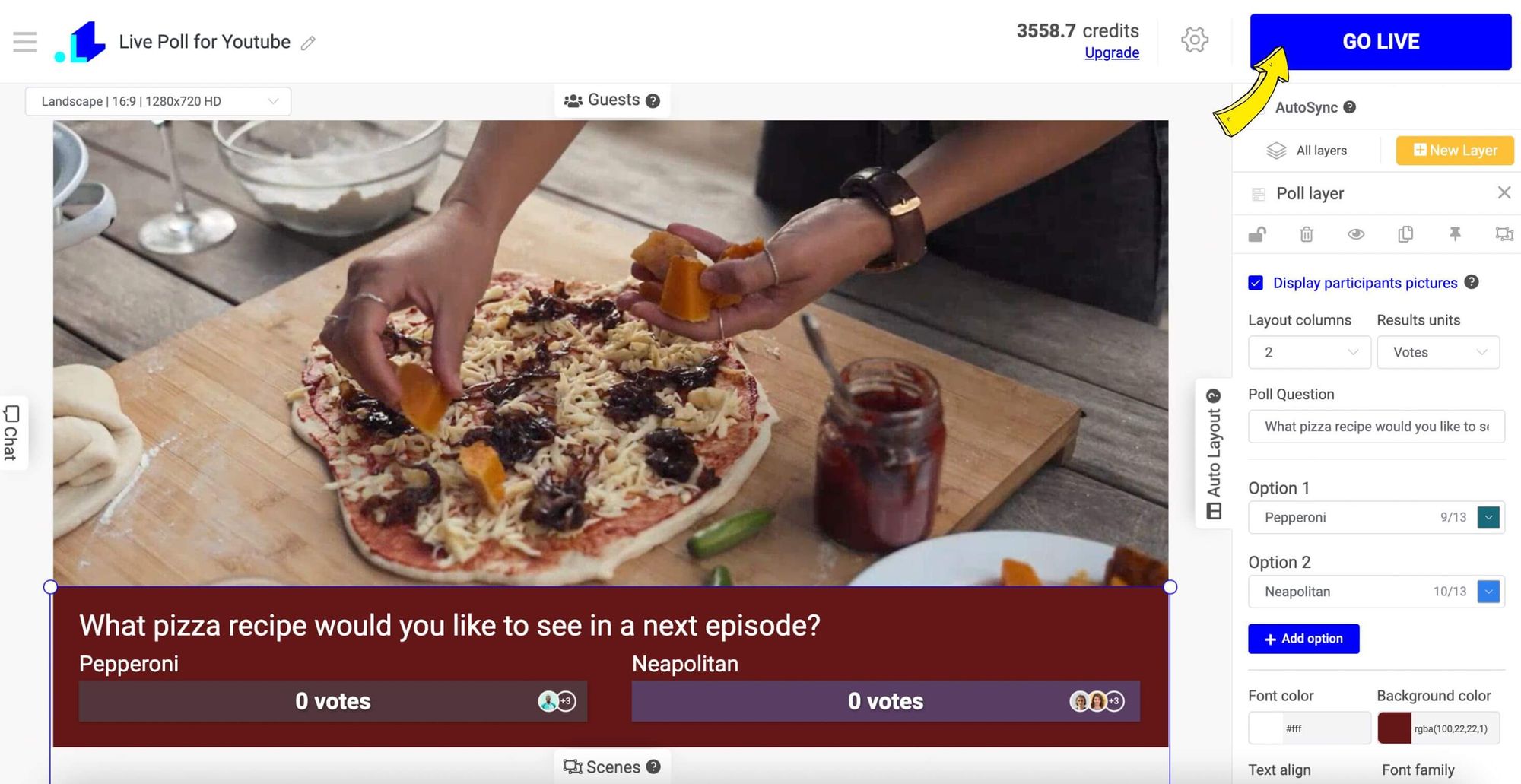 Your poll will now be live for viewers to vote. They'll see the question and options at the top of the live chat. Remind viewers to vote in the poll and discuss the results in the chat.
Review Poll Results
Highlight the final results with your viewers to keep the conversation going. Rinse and repeat by launching a new poll!
Using interactive polls is a great way to boost viewer participation and make your YouTube live streams more engaging. Follow these steps and have fun with it - your viewers will love joining in!
Best Practices for Polling Your YouTube Live Audience
To keep your viewers engaged during a YouTube live stream, polling is a great tool to use. Here are some best practices for creating and using polls effectively:
Choose Engaging Questions
Pose questions that will spark discussion or reveal interesting insights about your audience. For example, ask about their favorite features of your product or most anticipated topics for future videos. Avoid yes/no questions and instead offer multiple choice options.
Keep Polls Brief
Limit each poll to 2 to 3 questions at most. Your viewers have a short attention span during live streams, so keep things moving and avoid long, complex polls.
Poll Regularly
Run a new poll every 10 to 15 minutes to keep viewers engaged and give them a reason to stick around. Have a list of possible questions prepared ahead of time. Repeat questions from previous streams to check if opinions have changed.
Poll for suggestions or next steps
If you're not sure which direction to take your content or coverage next, put it to a vote! Create a poll with 3-4 options for what to cover in your next video or live stream. Let your viewers choose and go with the most popular choice. They'll appreciate you valuing their input.
Conclusion
So there you have it - a quick overview of how to add engaging polls to your YouTube live streams. Polls are an easy way to increase viewer participation and make your live audience feel like they're really part of the action. They only take a few seconds to set up but can lead to minutes of extra interaction and discussion. Give polls a try on your next live stream and see how they boost engagement and make your viewers excited to tune in. The more you use them, the more you'll get a feel for which types of questions and formats resonate most with your audience. Keep experimenting and have fun with it! Polls are a great tool to have in your live streaming toolkit.
If you have any questions or need help to go live with a poll on Youtube, don't hesitate to drop a message in the live chat on our website, and we'll assist you as soon as possible!
LiveReacting is a streaming platform for Content Creators, Digital agencies, brands, and influencers that helps to make any live stream interactive and get more engagement and views.
[email protected]