How to GO LIVE with a pre-recorded video on Instagram?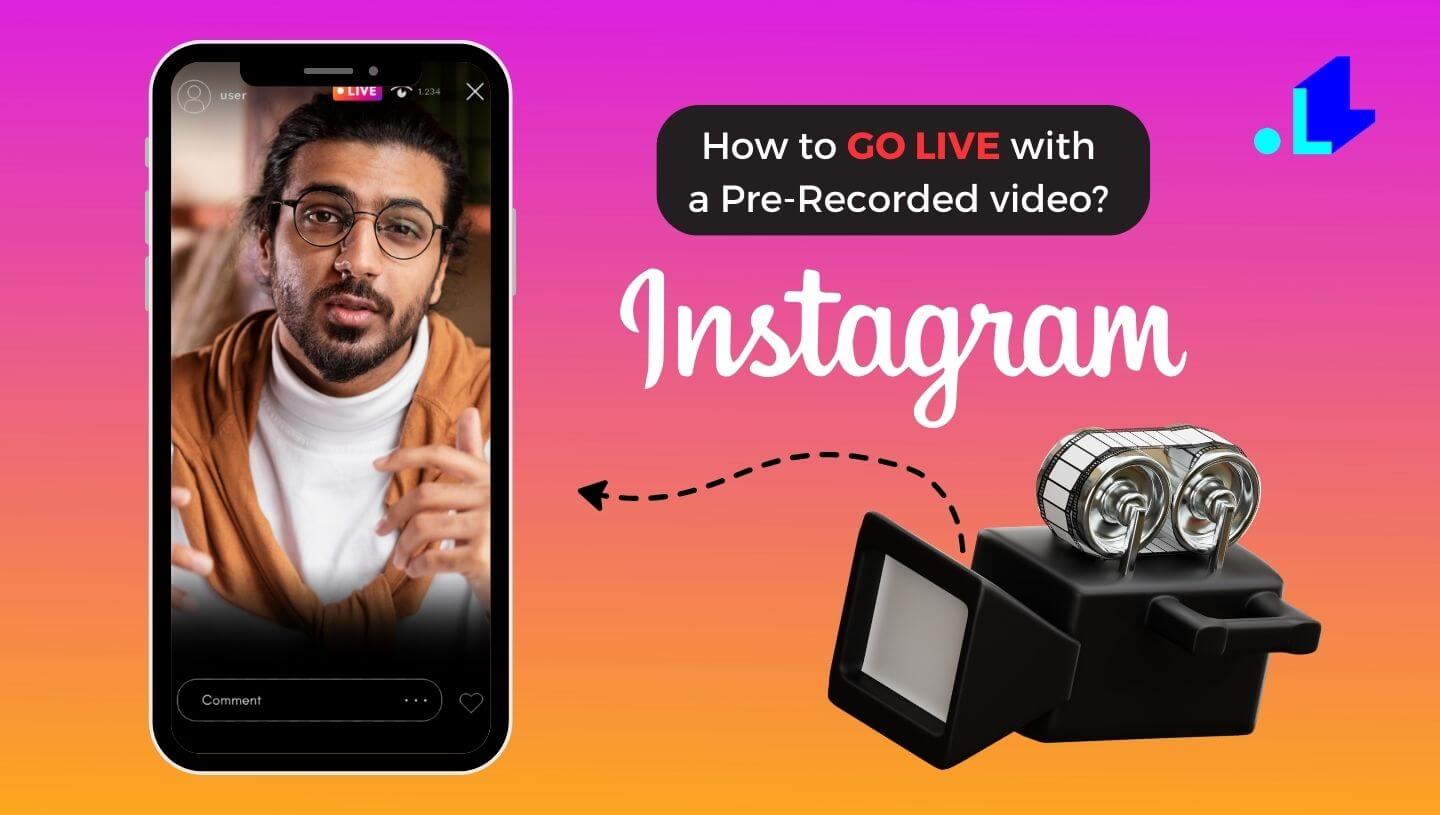 Instagram Live has become a popular platform for connecting with your audience in real-time. While it is primarily used for live streaming, there are significant benefits to streaming pre-recorded videos on Instagram Live. In this blog post, we will explore the advantages of this approach, how it can enhance your content and engagement with your followers and share a detailed, step-by-step tutorial on how to go live on Instagram with a pre-recorded video.
The Benefits of Streaming a Pre-Recorded Video on Instagram Live
Increased production quality 🌟
One of the key benefits of streaming pre-recorded videos on Instagram Live is the ability to offer a higher production quality. Since pre-recorded videos can be edited and polished before going live, you can present your content in a more professional and visually appealing manner. The ability to incorporate graphics, transitions, and effects enhances the overall viewing experience.
More control over content 🕹️
Streaming pre-recorded videos allows you to have complete control over your content. You can carefully craft the video, ensuring that it aligns with your brand messaging and meets your viewers' expectations. It also gives you the opportunity to include additional information, behind-the-scenes footage, or promotional material that enhances the overall value of the video.
Flexibility in timing ⌛
With pre-recorded videos, you have the flexibility to stream at a time that works best for you and your audience. This allows you to optimize your content based on your followers' preferences and schedule. You can choose to stream during peak times when most of your audience is online, maximizing the potential reach and engagement of your video content.
Interactivity with viewers 🏓
Streaming pre-recorded videos on Instagram Live doesn't mean sacrificing interactivity. While the video is playing, you can actively engage with your viewers through comments, questions, and polls. This allows you to answer queries, respond to comments, and foster a real-time connection with your audience. By keeping the engagement level high, you can effectively build a sense of community and strengthen your relationship with followers.
Broader audience reach 👨‍👩‍👧‍👦
By utilising pre-recorded videos, you can expand your audience by reaching individuals who might have missed the original broadcast. Unlike live streams, pre-recorded videos can be accessed and viewed at any time after the initial broadcast. This gives your content a longer lifespan and allows new viewers to discover your content even after the live stream has ended.
Improved content planning 🗓️
Streaming pre-recorded videos on Instagram Live can also offer benefits in terms of content planning. Since the videos are pre-recorded, you have the opportunity to carefully plan and create a series of related videos that can be released sequentially. This provides a more cohesive and structured content strategy, enticing viewers to come back for more and increasing their engagement with your brand.
How to GO LIVE with a pre-recorded video on Instagram Live?
Step 1: Navigate to the LiveReacting Studio and click on a Simple Pre-recorded live stream template.

Step 2: Choose Portrait Orientation.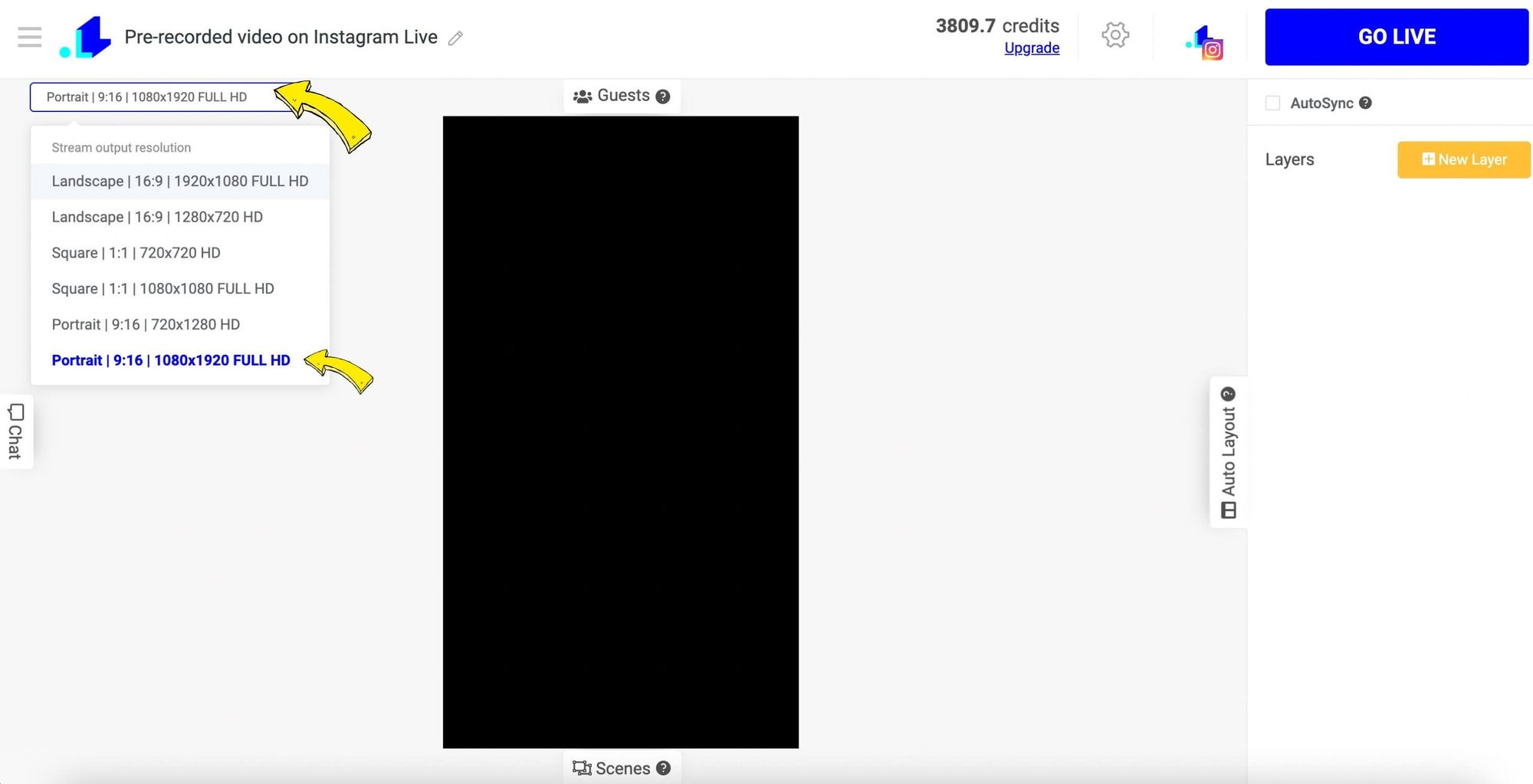 Step 3: Now click New Layer, Video > Video File and upload your pre-recorded video file into the Media Library.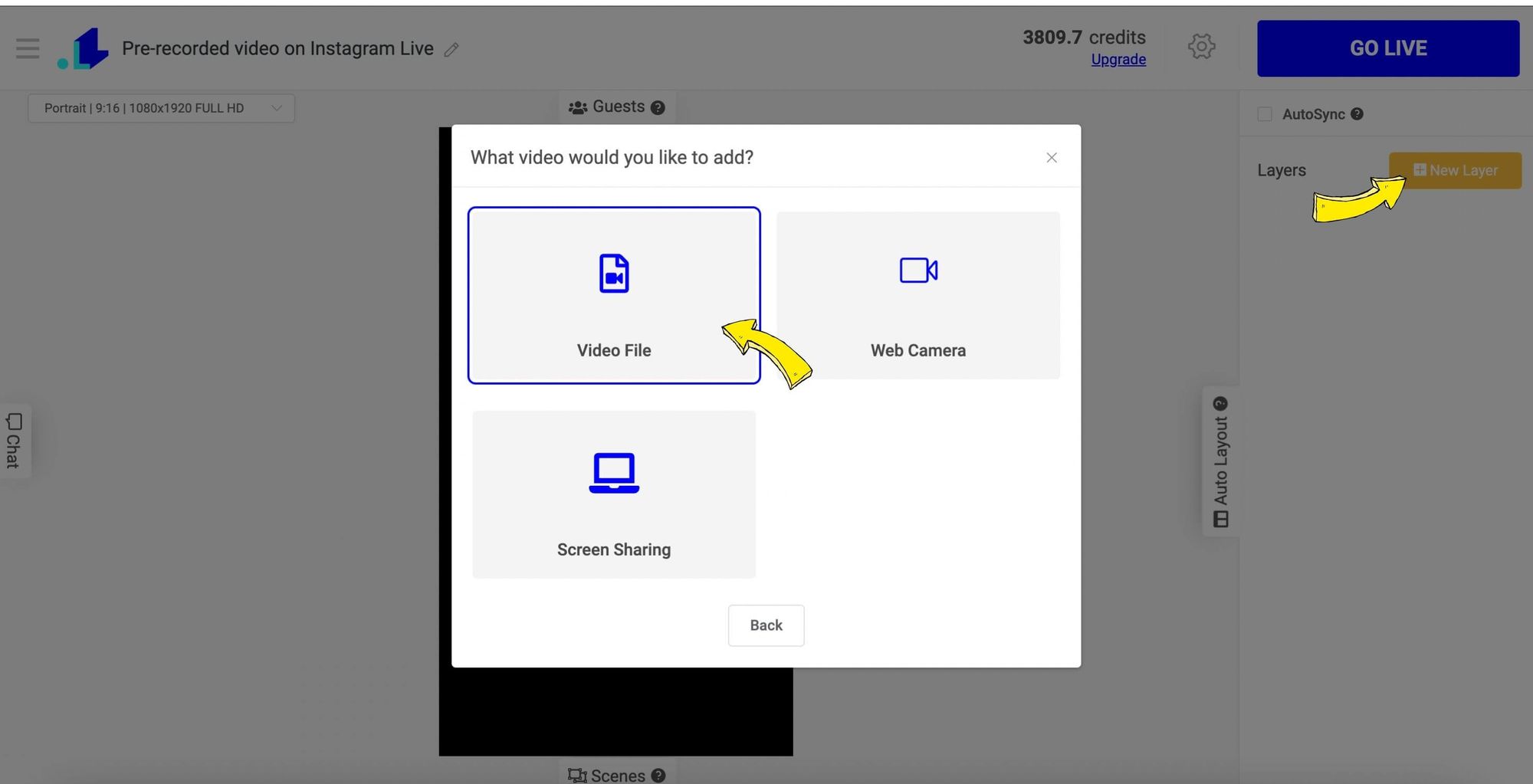 Step 4: Now when your pre-recorded video is uploaded, you can preview it by clicking on a Play icon at the bottom. On the right side bar, you can regulate its volume, opacity, and enable 'looping'. You can also add more scenes by clicking on Scenes at the bottom (under the video), so you stream multiple videos that play one after another.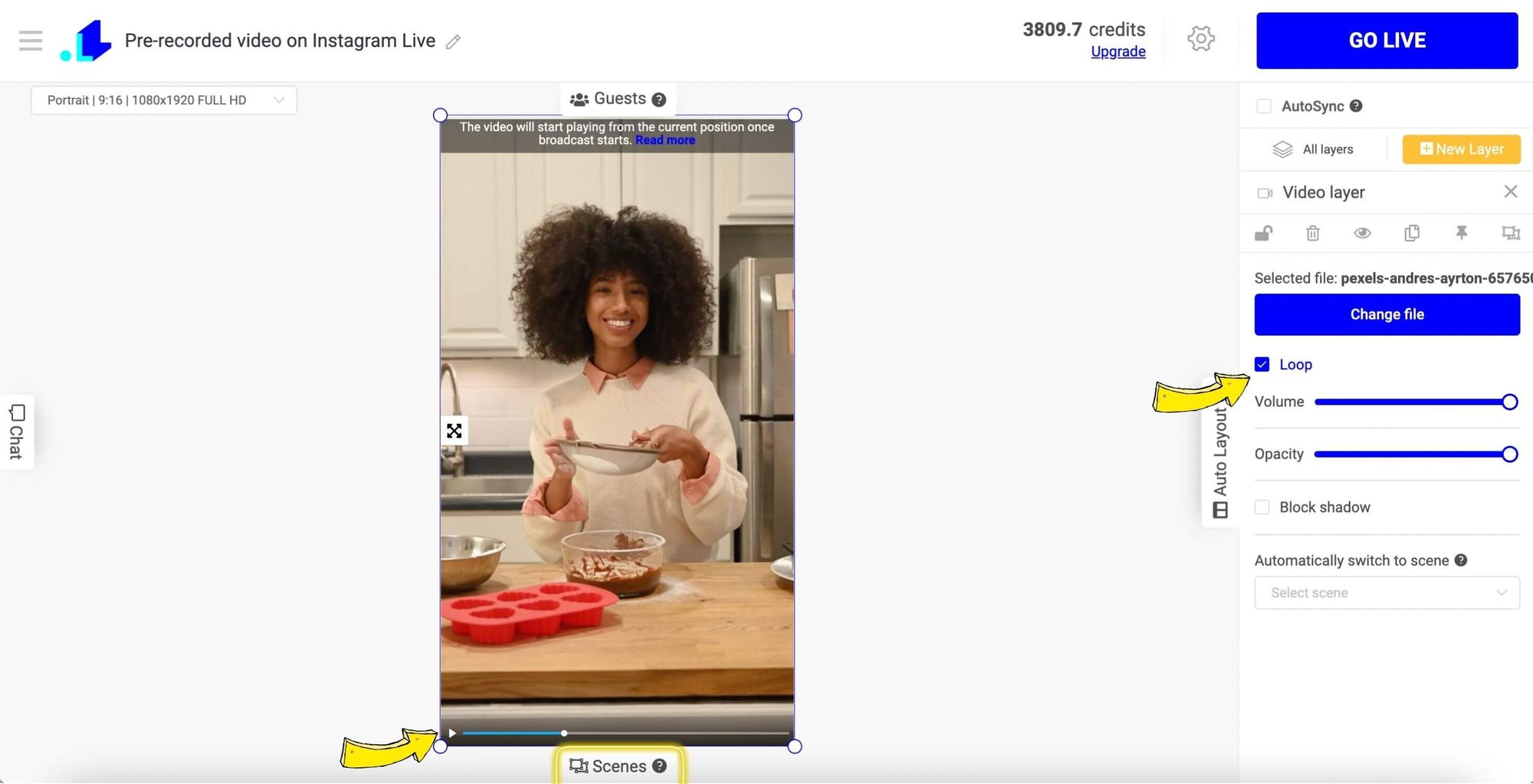 Step 5: Now when you're all set, click on a Gear Icon.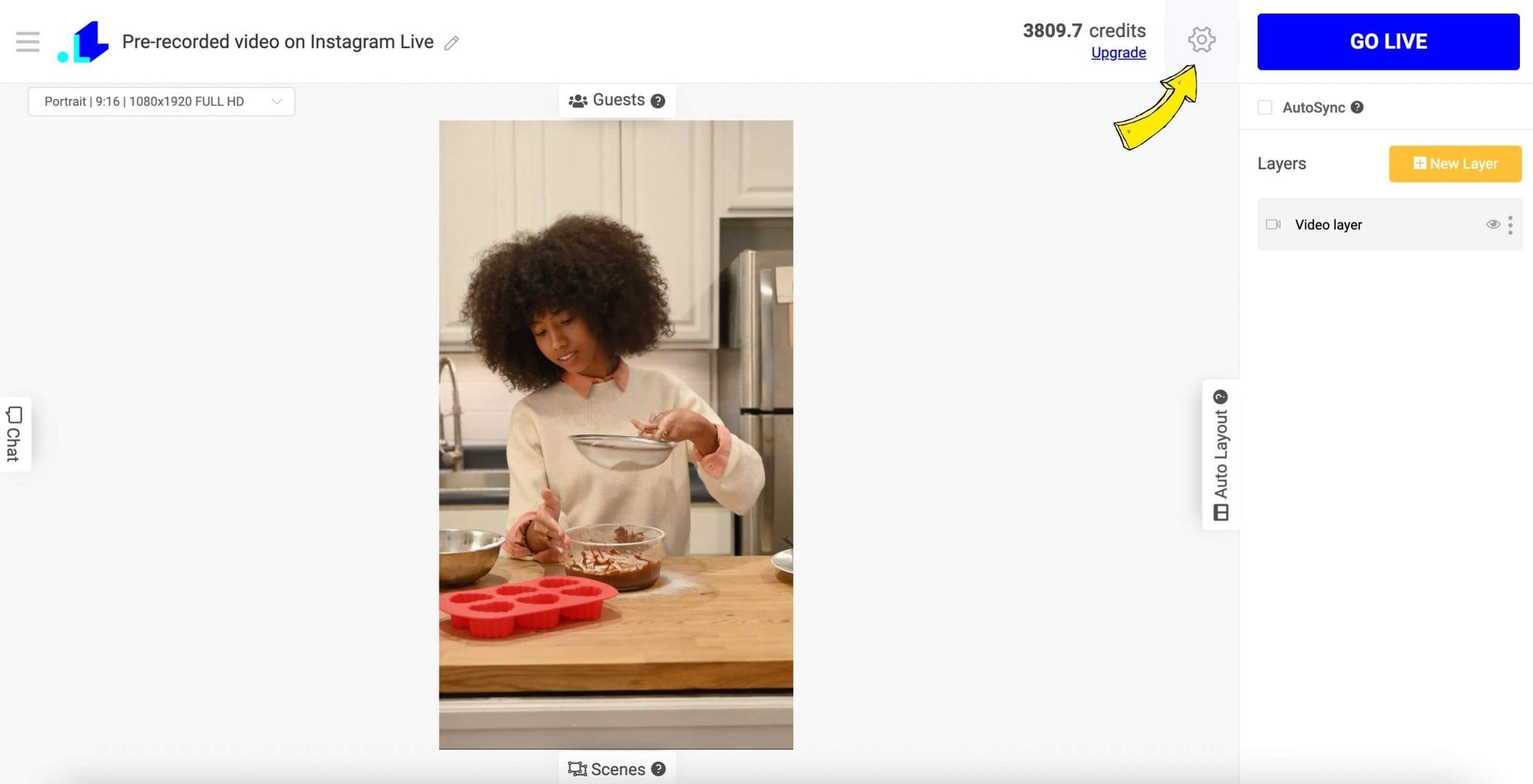 Step 6: Click + to add your social media account.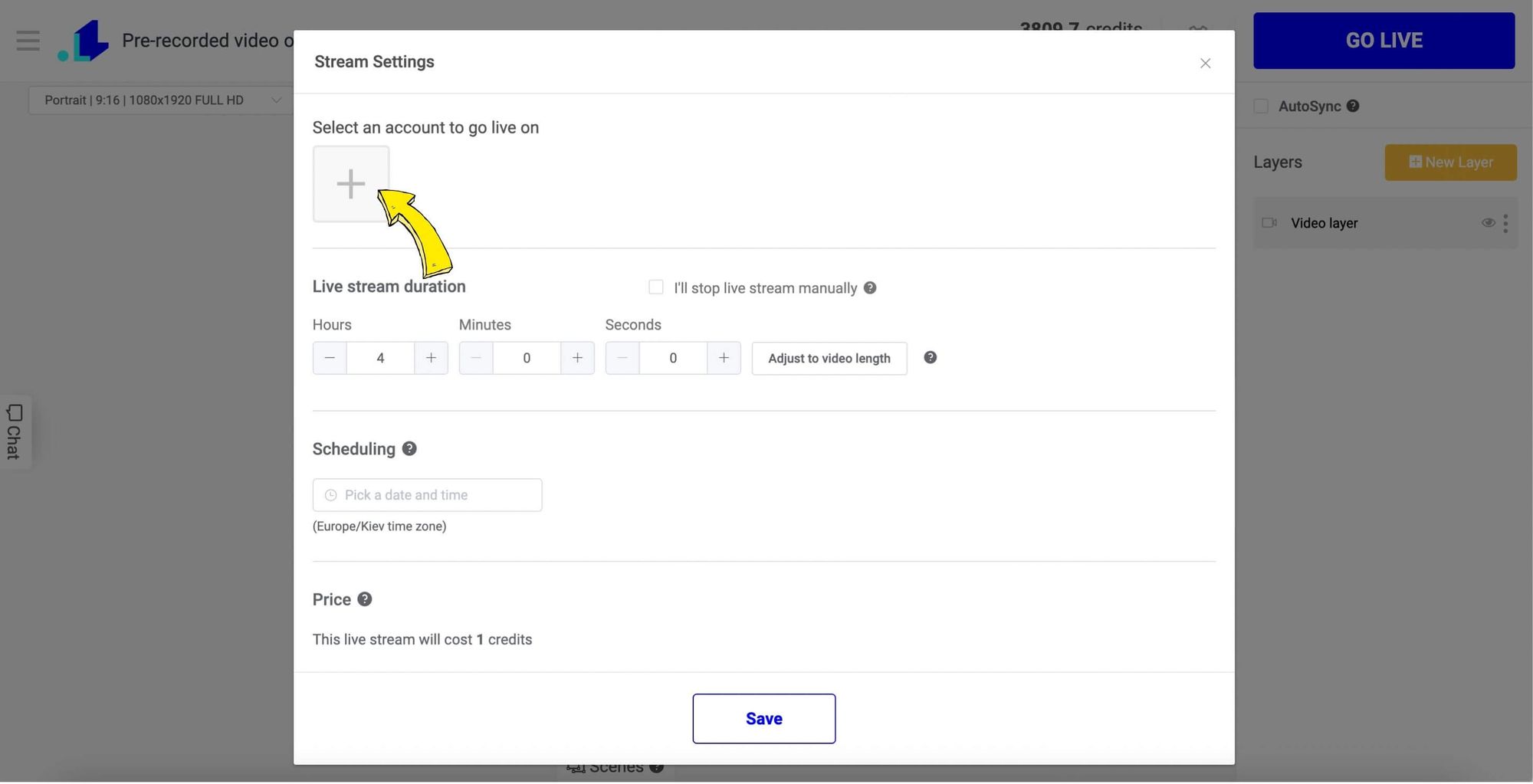 Step 7: Choose Instagram.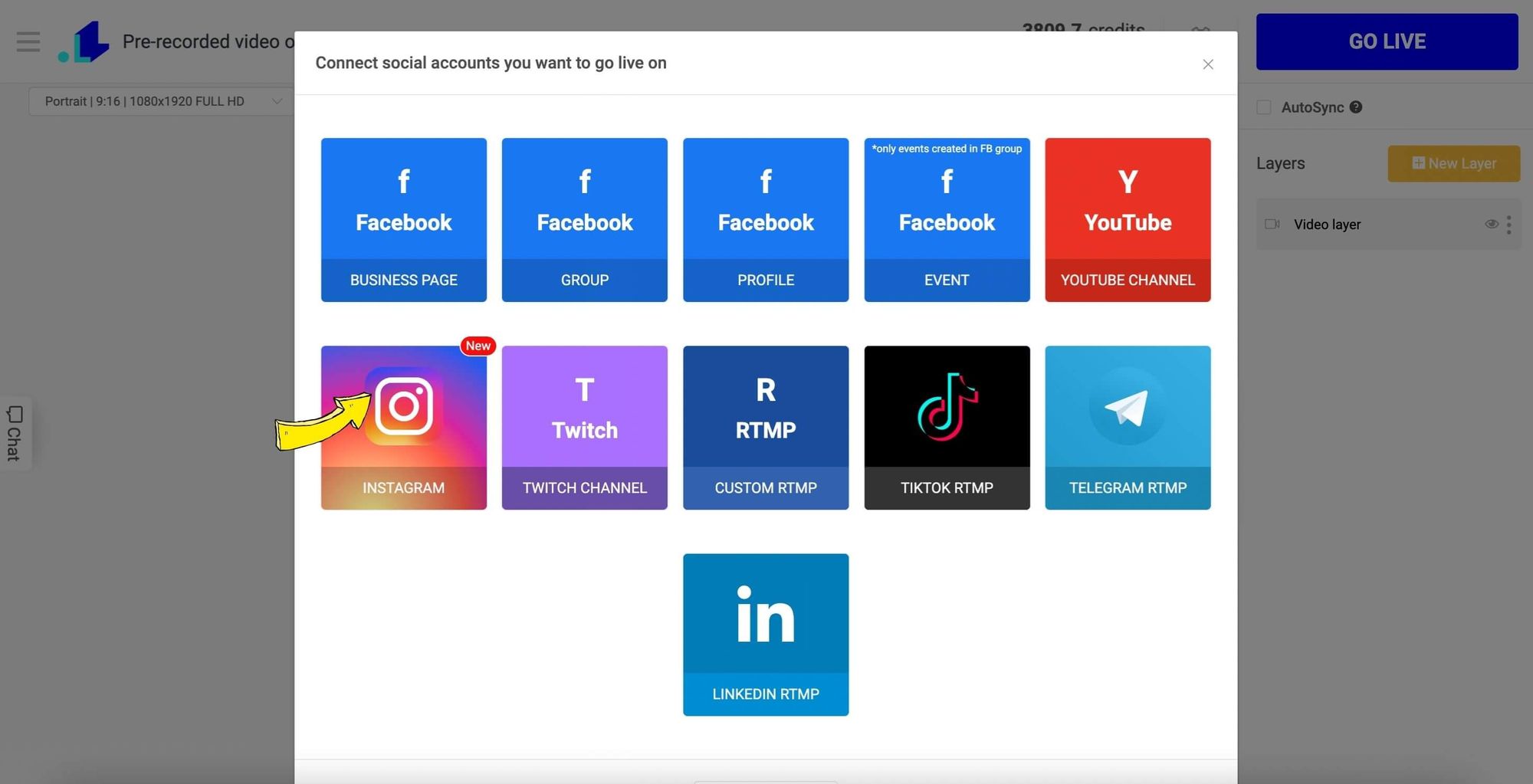 Step 8: Choose Instafeed.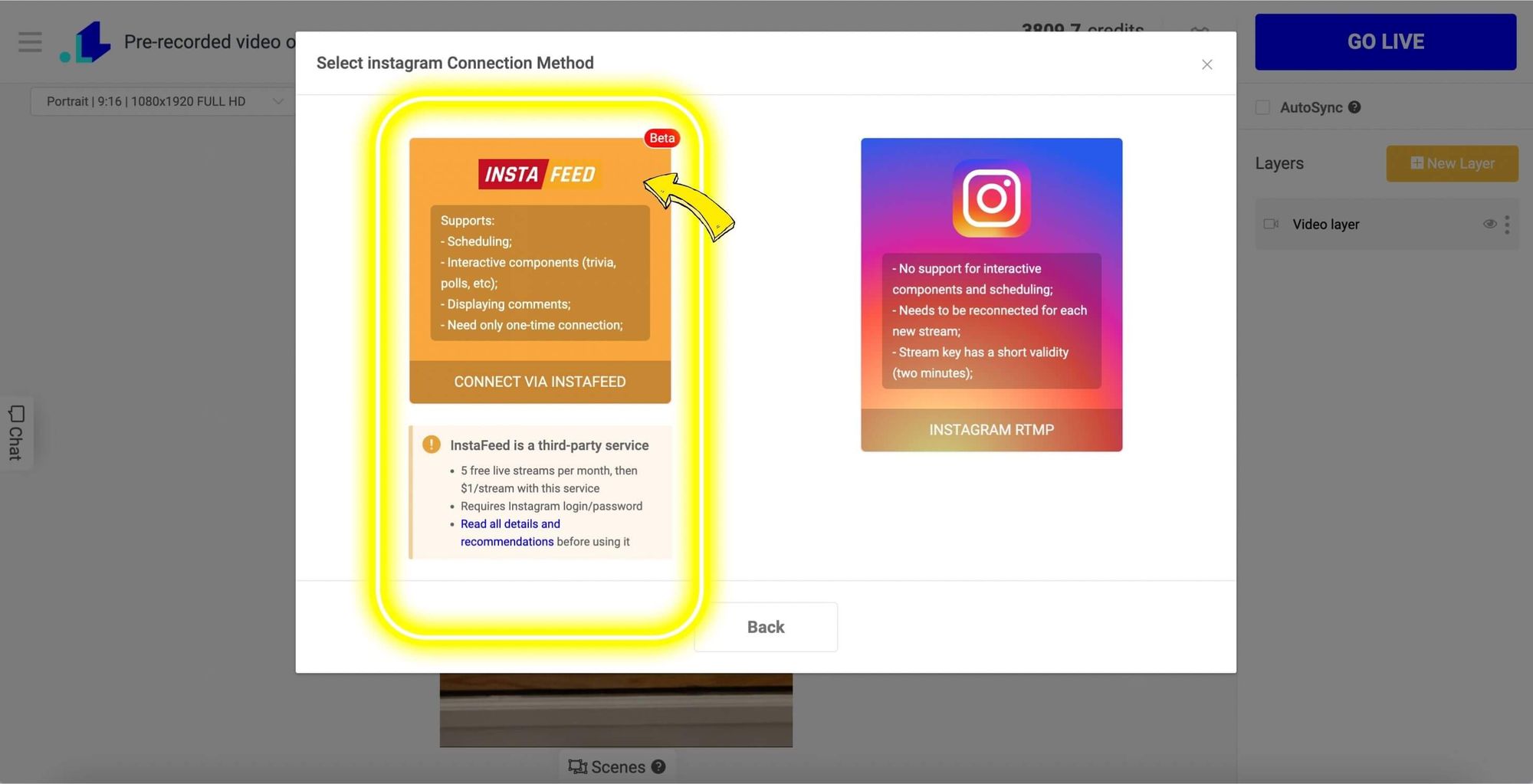 Step 9: Enter your Instagram login and password.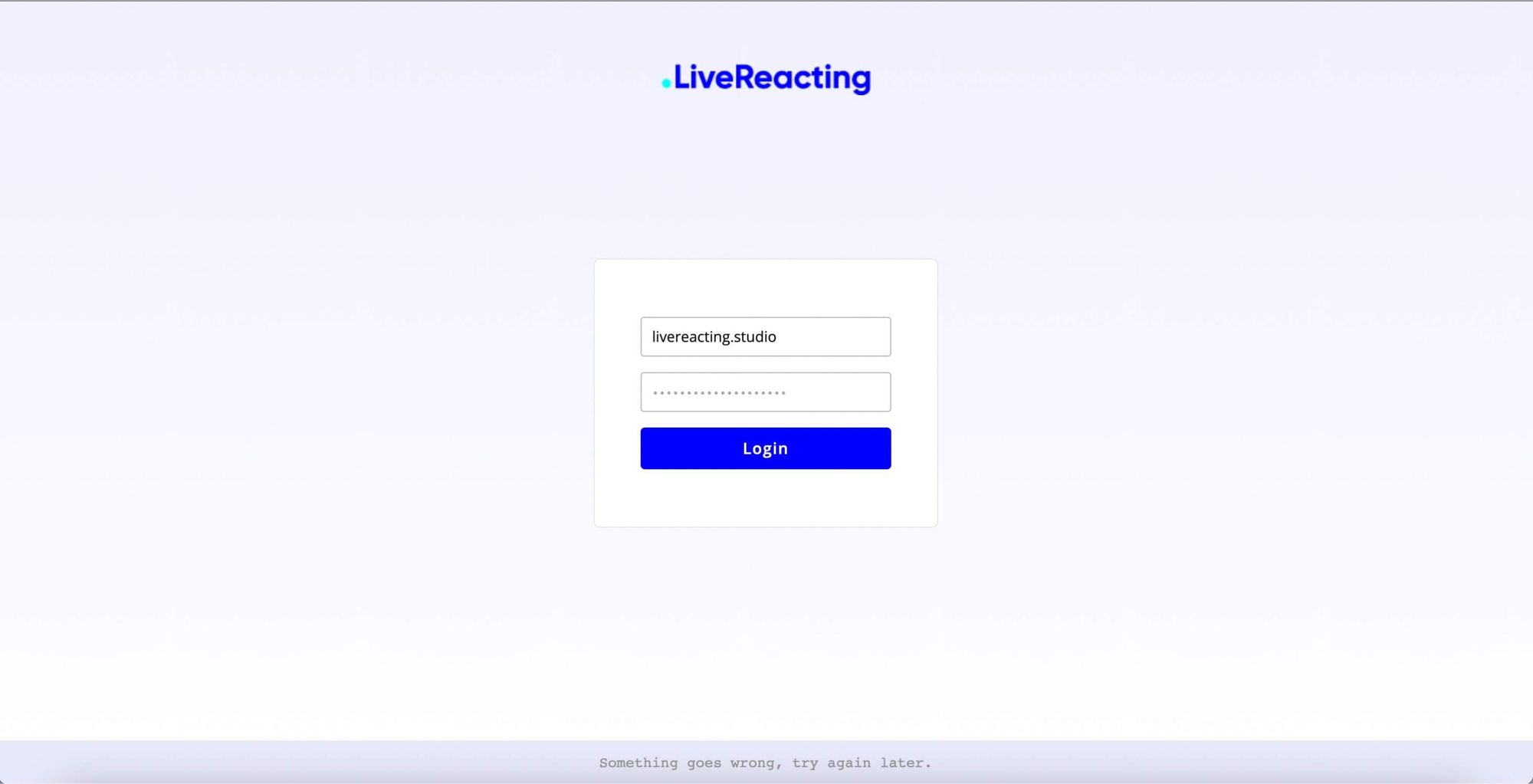 Step 10: Add Title and set the duration of your Instagram broadcast. 4h per stream — this is Instagram limitation for live broadcasting at this moment. Not all accounts have this feature enabled. If your account still not updated - host few 1h streams to speedup this update.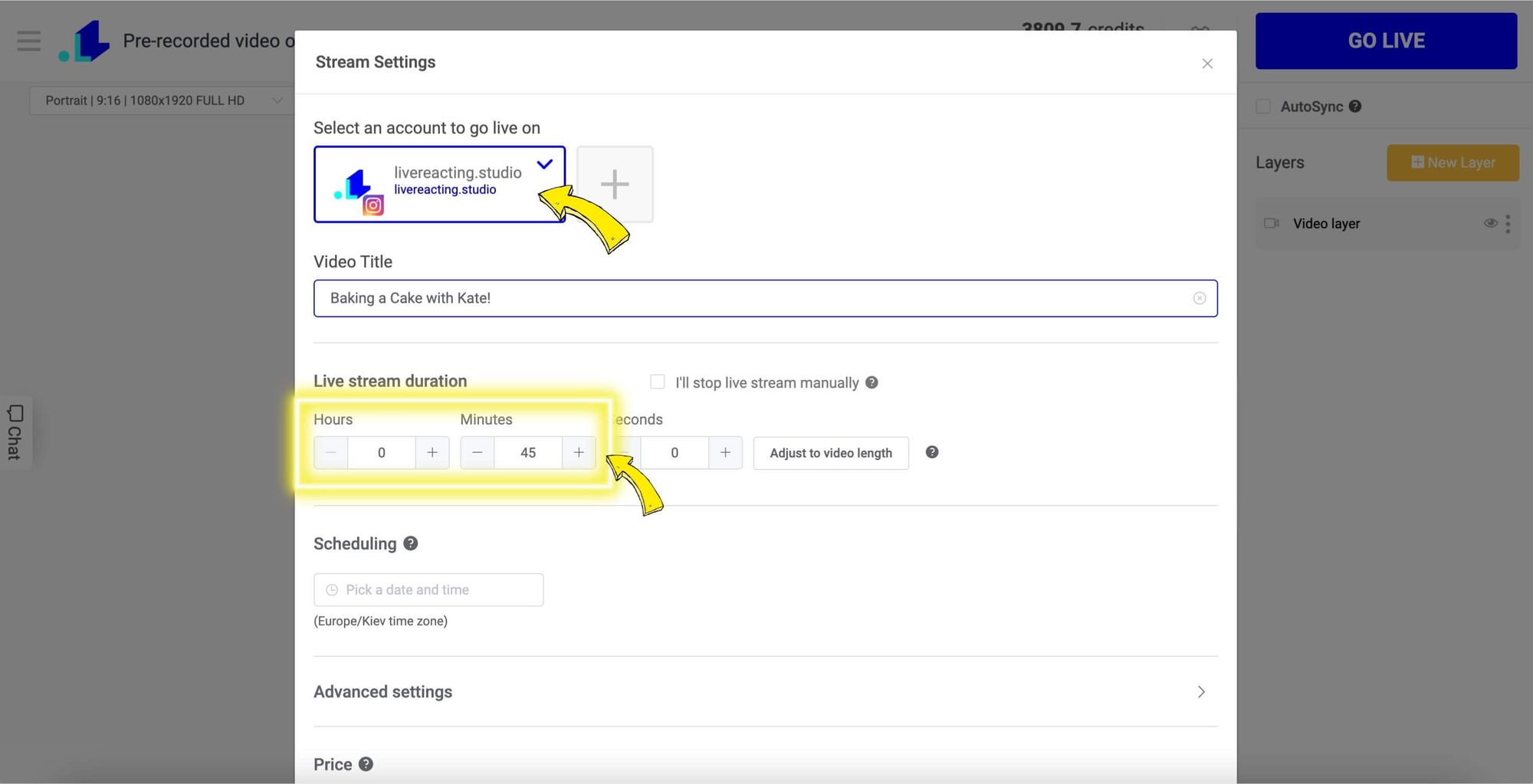 Go Live on Instagram right away or Schedule for later ⬇️
You're now ready to start streaming your pre-recorded video on Instagram! Click "Go Live" button at the top of the page to start streaming. Your stream will start playing on Instagram and your audience will see it right away.

⚠️ When your stream is live on Instagram, DO NOT use your Instagram account, as it may cause interruption.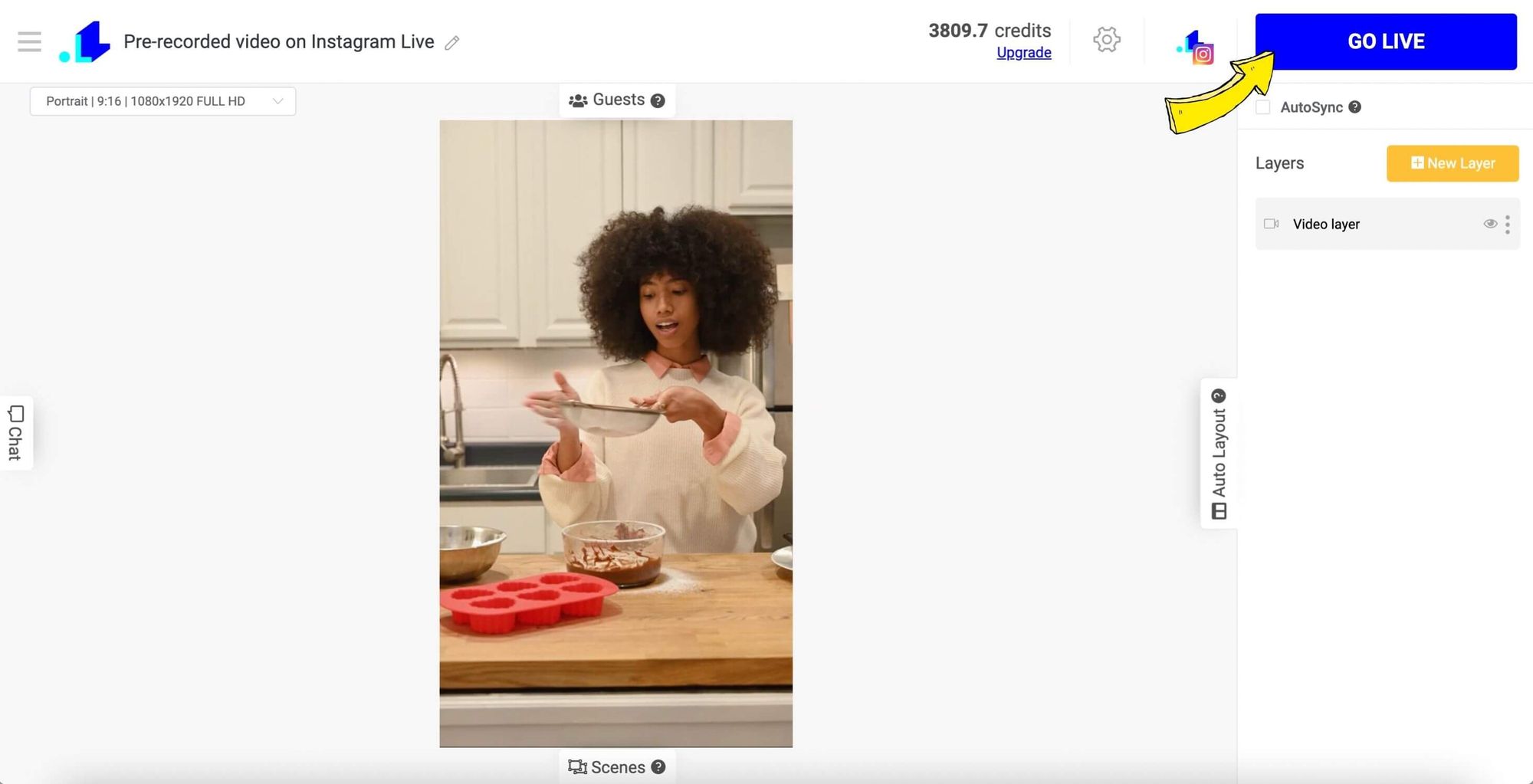 How to Schedule Pre-Recorded Live Stream on Instagram?
Go back to the Settings to choose a date and time of your planned stream. Consider the times when your audience is the most active. You can schedule Instgram Live for up to 2 weeks in advance. When day & time are selected, click Save button at the bottom, and then a big blue Schedule button.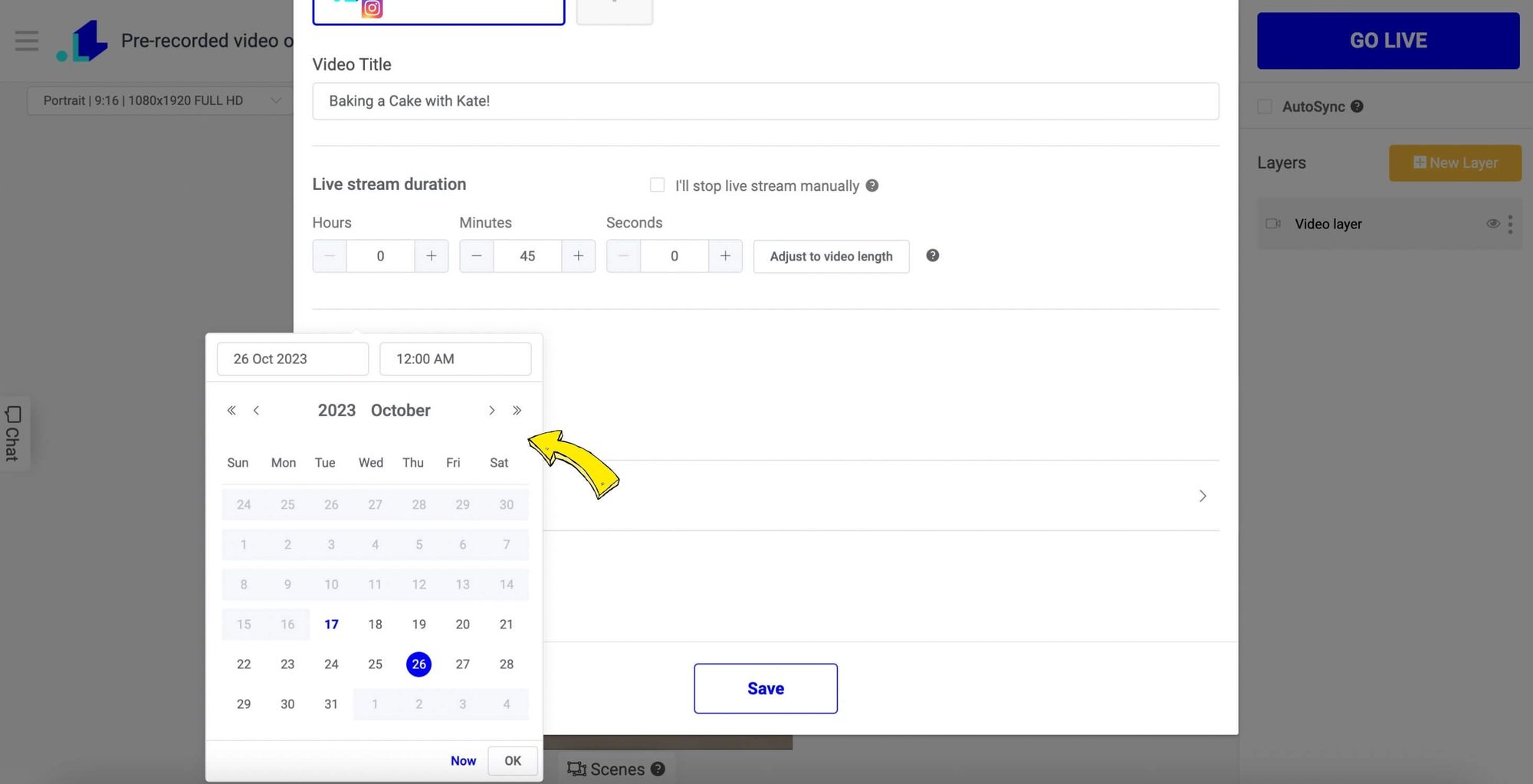 Conclusion about streaming a Pre-recorded video on Instagram Live
To sum up, streaming pre-recorded videos on Instagram Live provides several advantages, including increased production quality, content control, flexibility in timing, interactivity with viewers, broader audience reach, and improved content planning. By utilizing these benefits effectively, you can enhance your content strategy, engage with your audience, and build a loyal following on Instagram.
Additionally, it's really easy to go Live on Instagram with a pre-recorded video following the steps above. Even unexperienced Instagram users are capable of setting up a pre-recorded live stream on Instagram in just about 10-15 minutes.
So, consider leveraging pre-recorded videos on Instagram Live to showcase your brand, deliver high-quality content, and connect with your followers in a more interactive and engaging way.
If you have any questions or need help going live on Instagram with a pre-recorded video, don't hesitate contacting us in the live chat on our website, and we'll assist you as soon as possible!
LiveReacting is a streaming platform for Content Creators, Digital agencies, brands, and influencers that helps to make any live stream interactive and get more engagement and views.
[email protected]