How to Embed a Widget into Your Live Stream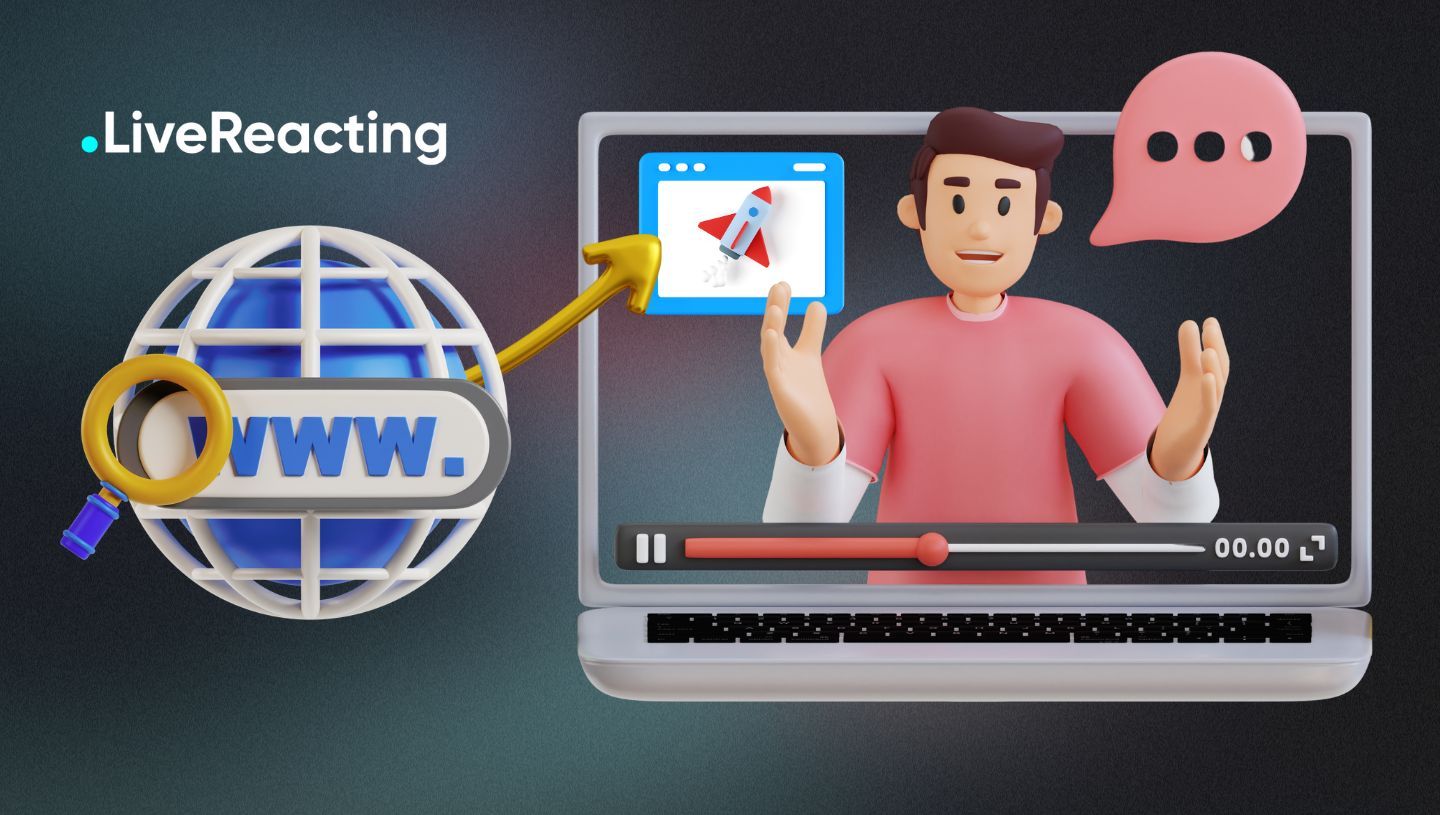 Embedding a widget is an easy way to display useful information, share related media, or just give your viewers another visual element to engage with. The good news is adding an embedded webpage to your live stream is super simple. In just a few clicks you'll have a web page popping up right on your stream for all your viewers to see.
Whether you use a streaming software like OBS, LiveReacting, or vMix, the process is pretty straightforward. And the results can be really impactful. Embed a donations widget or an alert box to build community, share a blog post to drive traffic, display an interactive map to give context, or pull up anything else on the web that enhances your stream.
In this quick tutorial, we'll walk you through how to seamlessly embed any widget in your live stream in a few simple steps. Your viewers will be impressed with your tech savviness and you'll open up a whole new way to engage with your audience. No sense in explaining more - let's get that widget embedded!
Embedding a Widget in a Live Stream With LiveReacting
To embed a widget into your live stream, follow these simple steps:
Go to LiveReacting, and create a New Project.

2. Add your video source (web camera) and click New Layer ➡️ Web Page.
3. Go to a website that offers different stream widgets (like Stream Elements) and choose a widget that you'd like to display in your stream. We'll embed an alert box into the live stream.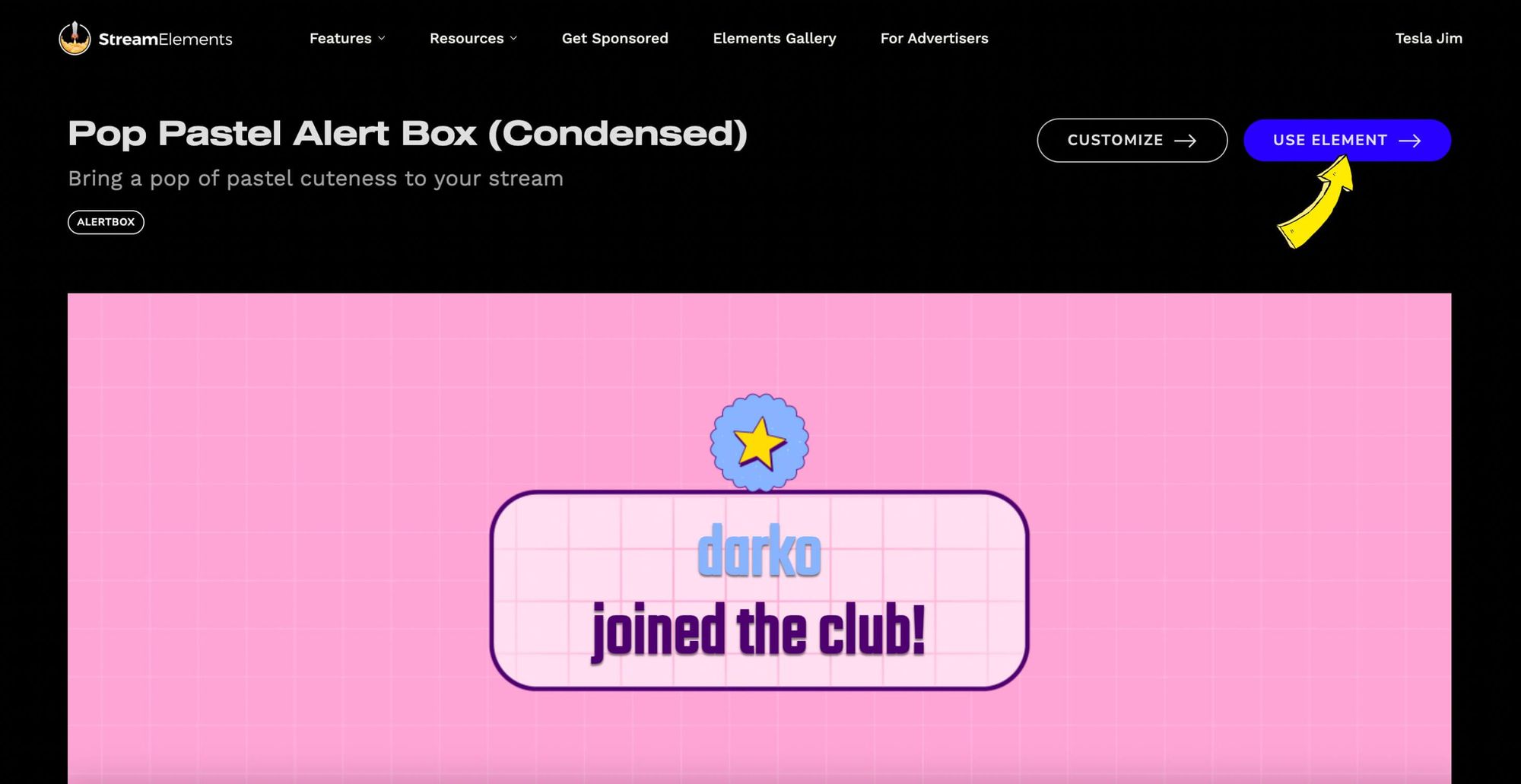 4. Copy the URL of the alert box widget.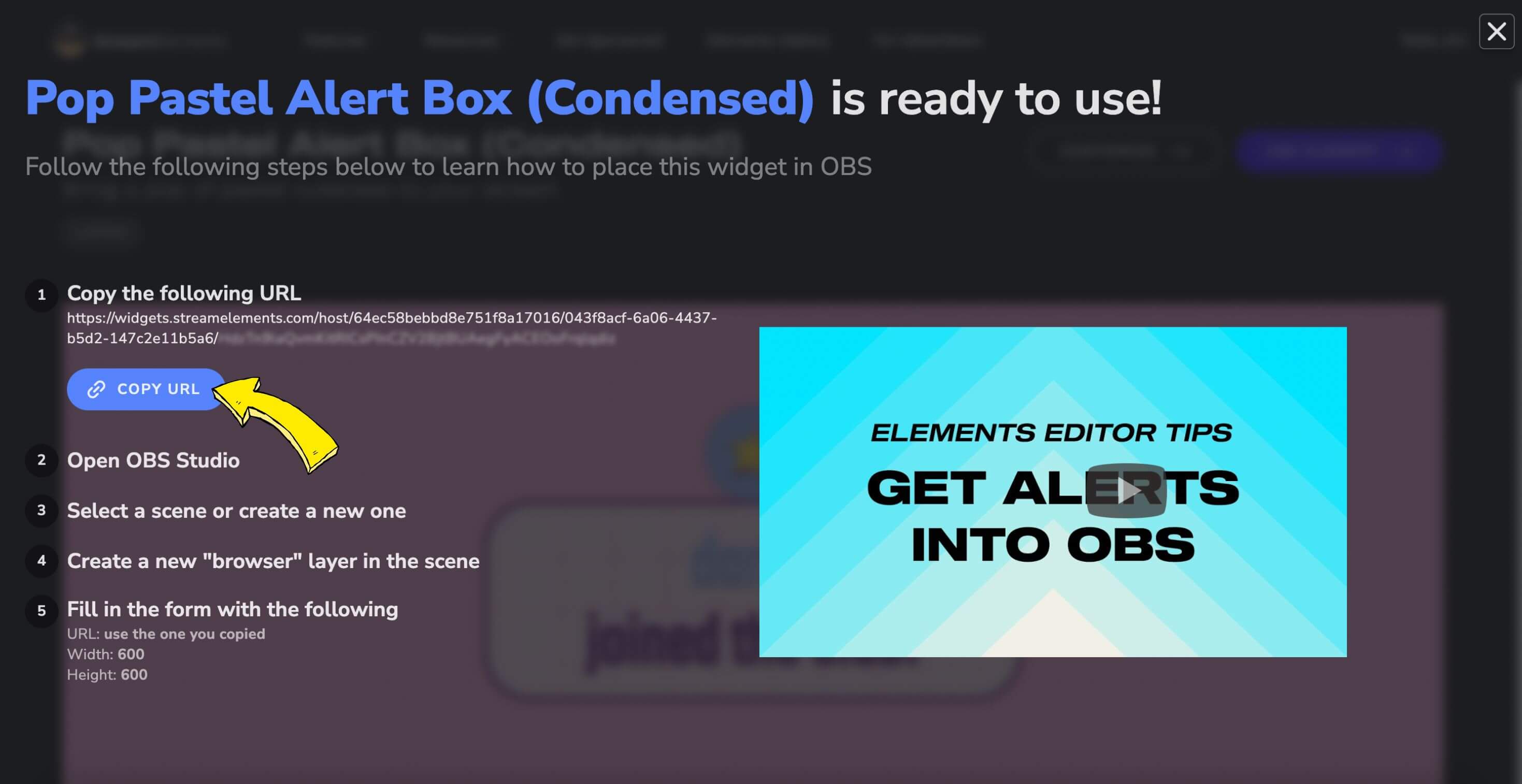 5. Paste it into the URL field. Make sure to enable 'Transparent background'.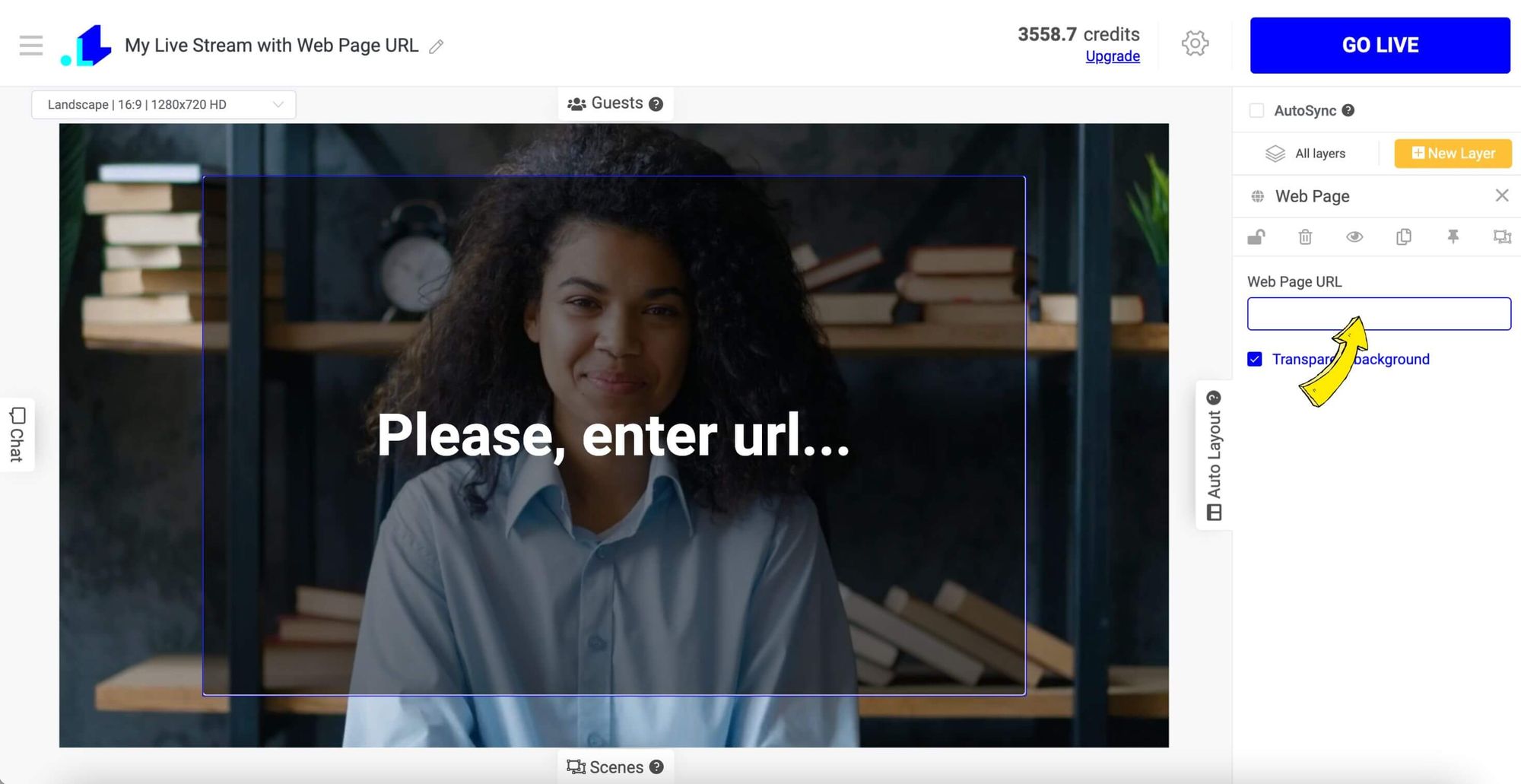 Now the widget is embedded into your live stream: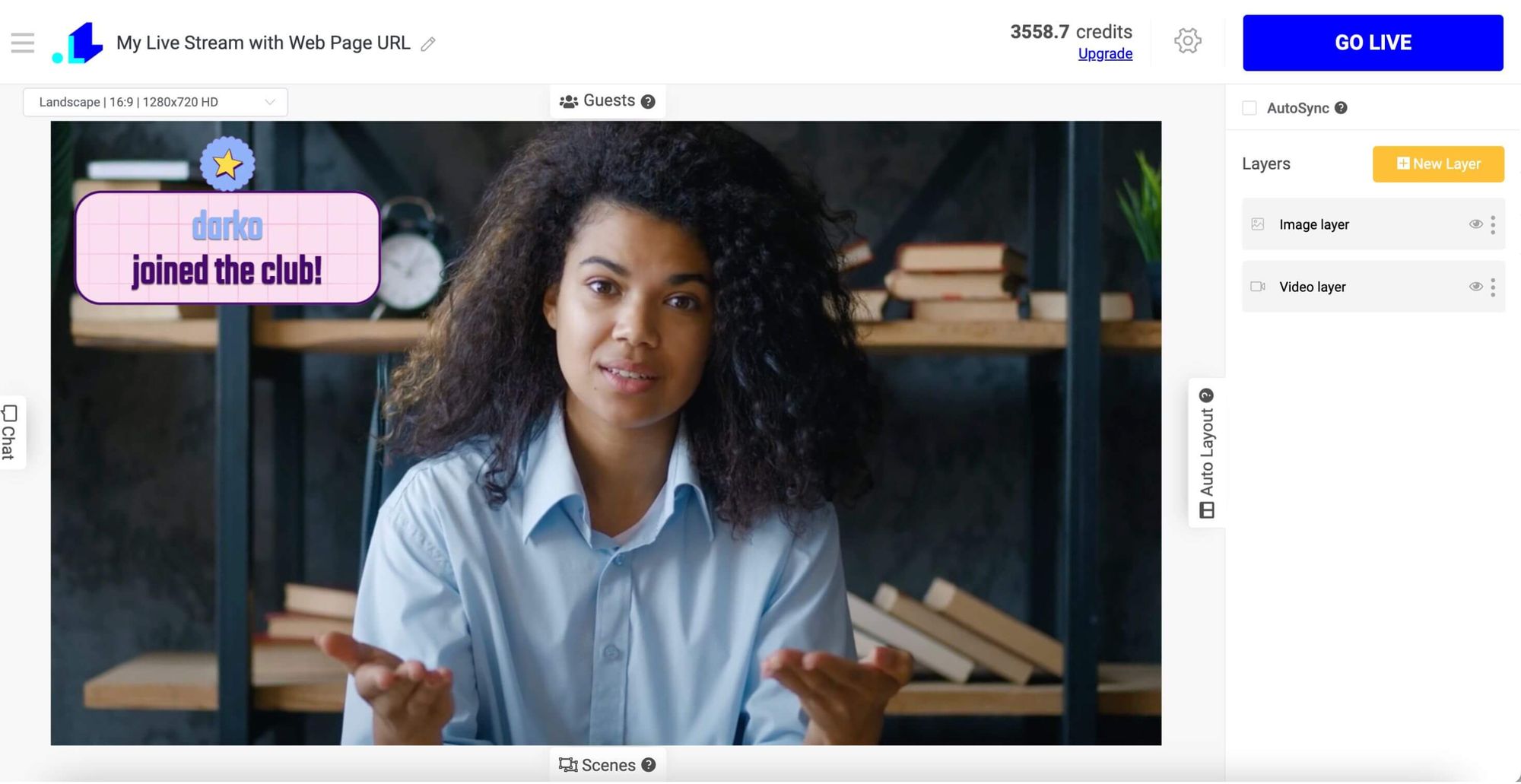 ---
Using LiveReacting to Embed a Webpage in a Live Stream
To embed a webpage into your live stream, follow these simple steps:
Go to LiveReacting, and create a New Project.

2. Add your video source (web camera) and click New Layer ➡️ Web Page.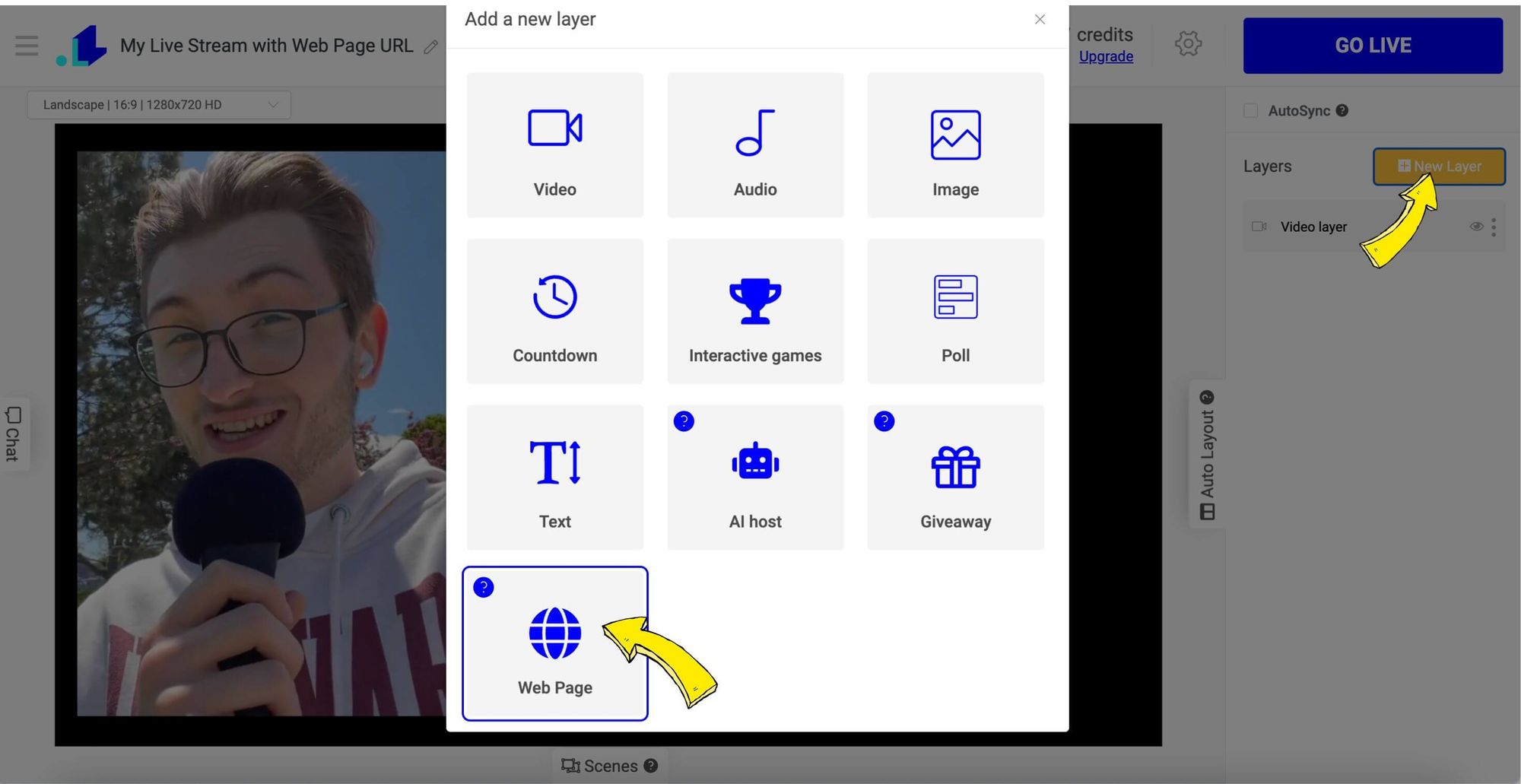 3. In the URL field, enter the webpage address you want to display. For example, to show your YouTube channel page, enter youtube.com/yourchannelname.
We use a Space Hub website to display in this tutorial. Resize and reposition the source as needed in your layout.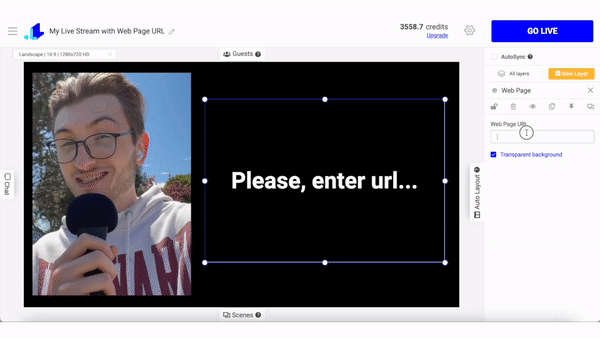 You can show different webpages during the live stream - it's just a matter of replacing the URL. You can also add a webpage in a scheduled stream - this is especially useful if the webpage is originally interactive and doesn't require scrolling or clicking.
---
Why Embed a Widget in Your Live Stream at all?
Embedding a live stream of a webpage on your channel gives viewers a peek into what you're sharing in real time.
Expand Your Content
By embedding a live webpage, you expand your content and keep viewers engaged for longer. Instead of just seeing you, they get to see the actual webpage or tool you're using. This helps demonstrate concepts or share resources in an interactive way.
Build Trust
Viewers can see exactly what you see on the screen. This builds trust and transparency since you're not hiding anything or switching between tabs. They know you're showing them the real deal.
Keep it Dynamic
A live embed makes your stream feel more dynamic and fast-paced. Viewers see webpages load, links clicked, and content scroll in real time along with your commentary. This keeps things interesting and gives a true live streaming experience.
Embedding a live webpage into your stream is a great way to boost viewer engagement and create an interactive experience. Your followers will appreciate the extra value and behind-the-scenes look into the content and tools you use. So, go ahead and share that live screen - your viewers will thank you for it!
Top Tips for Seamlessly Embedding a Widget in Your Live Stream
When embedding a widget in your live stream, there are a few tips to keep in mind for the best viewer experience.
First, choose a simple, uncluttered page. Select a webpage with a minimal design that is easy to see and read on screen. Too much text or busy graphics won't translate well to your viewers.
Second, check that the page is mobile-friendly. With many viewers watching on their phones, a mobile-optimized page will display properly no matter the screen size. If the page isn't mobile-friendly, your viewers may struggle to see and interact with the content.
Third, test the embed ahead of time. Try embedding the widget in your streaming software to ensure everything displays as expected with no broken links or images. This allows you to troubleshoot any issues and have confidence during your live stream.
Fourth, keep the embed visible. Position the embedded widget prominently on your stream layout so viewers can easily see and read it. You may need to resize or reposition other elements like your webcam to make room.
Finally, refer to and interact with the embed. Discuss the content, scroll through, and point out highlights to actively engage your viewers with the embedded page. Explain why you chose to share this particular webpage to provide context for your audience.
Following these useful tips will help you seamlessly embed a widget in your live stream for an optimal viewing experience. Your viewers will appreciate your thoughtful preparation and active engagement with the content.
Conclusion
So there you have it, embedding a widget into your live stream is actually pretty straightforward if you follow the right steps. By using a Web Page feature in LiveReacting and navigating to the page you want to feature, you've unlocked a simple but powerful way to engage with your viewers. Whether you want to do an interactive demo, share alerts or donations in real-time, or just give people a glimpse into what you're working on, embedding widgets is a great tool to have in your live streaming toolkit. Next time you go live, consider spicing up your stream with an embedded webpage - your viewers will thank you for it!
If you have any questions or need help embedding a widget or a webpage in your live stream, don't hesitate contacting us in the live chat on our website, and we'll assist you as soon as possible!
LiveReacting is a streaming platform for Content Creators, Digital agencies, brands, and influencers that helps to make any live stream interactive and get more engagement and views.
[email protected]