How to get 4K leads with Facebook Live: Use case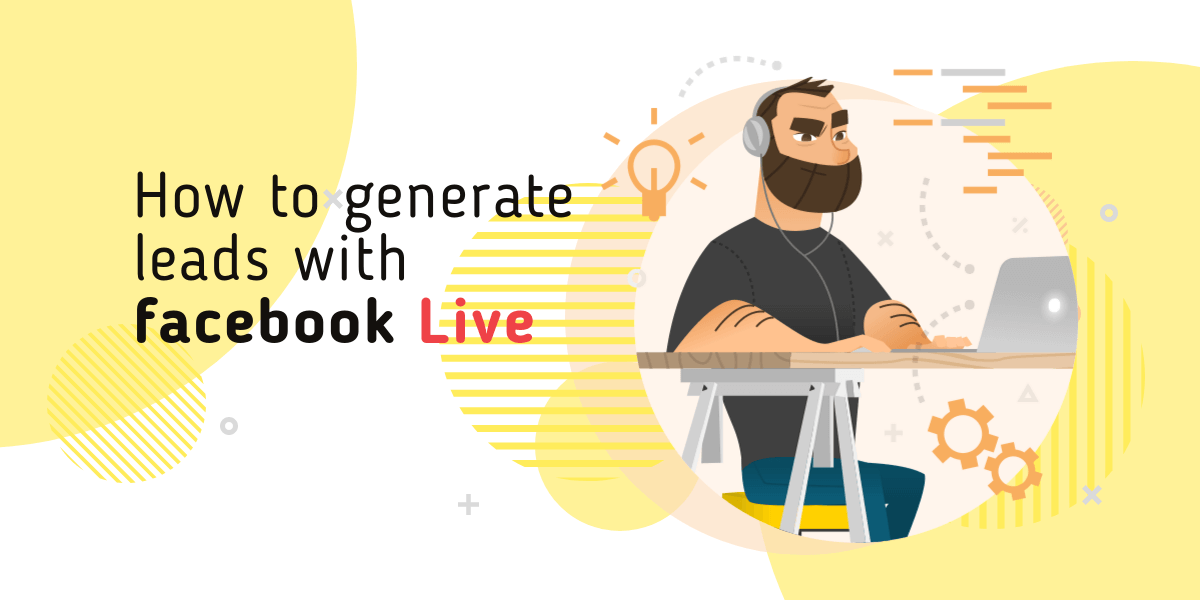 Do you want to get more leads and conversions from Facebook? Live streams are not only a great way to increase your brand awareness but also to generate qualified leads. In this post, I'll share a use case that generated more than 4K leads from the live stream and then cover the method step-by-step.
Why use Live streams to generate leads?
According to Facebook, live videos get 3X the engagement that traditional videos shared on the platforms. Needless to say about the reach of common text posts. That's why avoiding Live videos in your lead generation strategy results in a loss of a big amount of potential leads.
Another reason why Facebook Live is a great source to get leads is the simplicity of action. Let me explain. When people watch your live stream, it means that they are interested in the topic you cover. So you can ask them to comment on your video to opt in and get something related to the topic discussed. It could be some freebies, lead magnets or special limited deals. This is much easier than a classiс scheme when user has to visit the landing page, leave his/her email, kill the dragon and only then get something useful. After people commented on your video, you can go on with your lead nurturing strategy and convert them into buyers.
The Case
Trump & The Great America facebook page went live offering to get a patriotic hat in support of the current president. The viewers had to write the word "MAGA" in comments to get the one. More than 70K people watched this video and almost 4K of them left the comment. It means that this video generated almost 4K qualified leads interested in this offer. The only thing left was to contact them and offer the deal.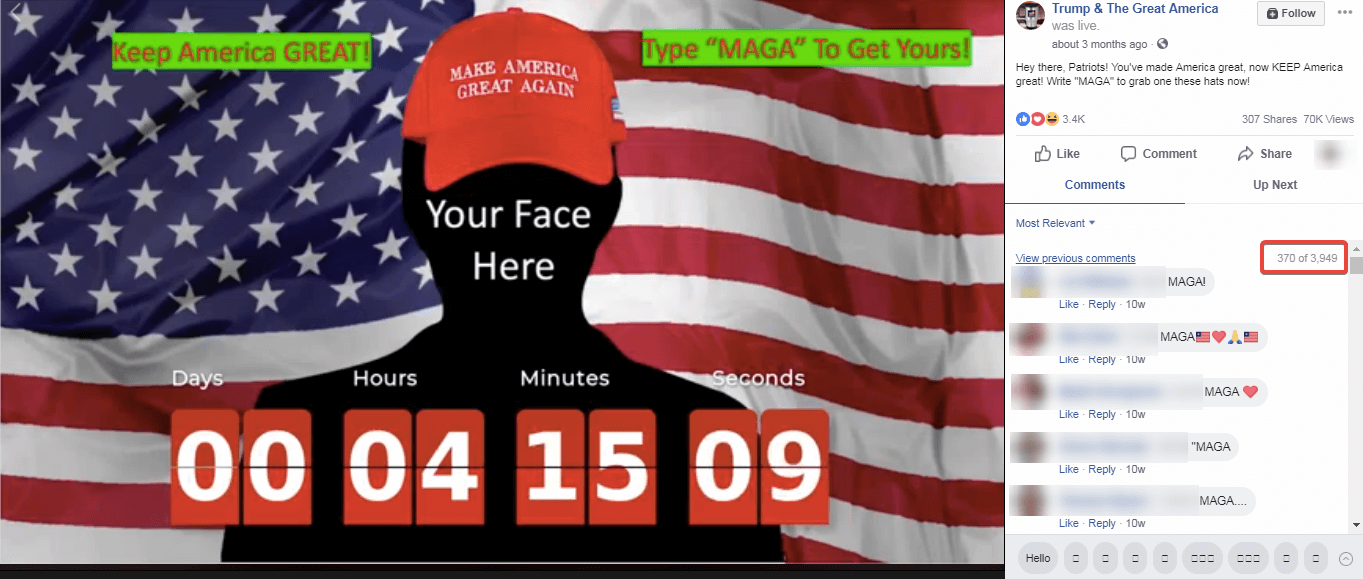 Now let's walk through this strategy step-by-step so that you can apply it for your business page.
Step 1. Decide on the strategy
First, you need to decide on the strategy of this lead generation campaign. Think of the offer that will attract your audience and prompt them to comment. You can offer your audience some lead magnet and ask for their email in Messenger to send it. Or share the promo code for some time-limited offer in Messenger and provide a link to the sales page. Offering some freebies or lead magnets increases engagement rate.
Ask your viewers to comment using specific word or phrase so that you can get that this user takes part in this campaign and isn't just commenting. You can ask to share their thoughts about something or answer some question.
Step 2. Go live with an engaging video that will prompt users to comment
Feel free to choose any form of live streaming you think will work best. In this use case, the Facebook page went live with our interactive countdown template. Time-limited deals always work better as people think that this is the only chance to get this deal and that's why the conversion rate is much higher. Using one of LiveReacting countdown templates you can set your custom background picture, music, time when your deal expires and schedule the live stream if needed.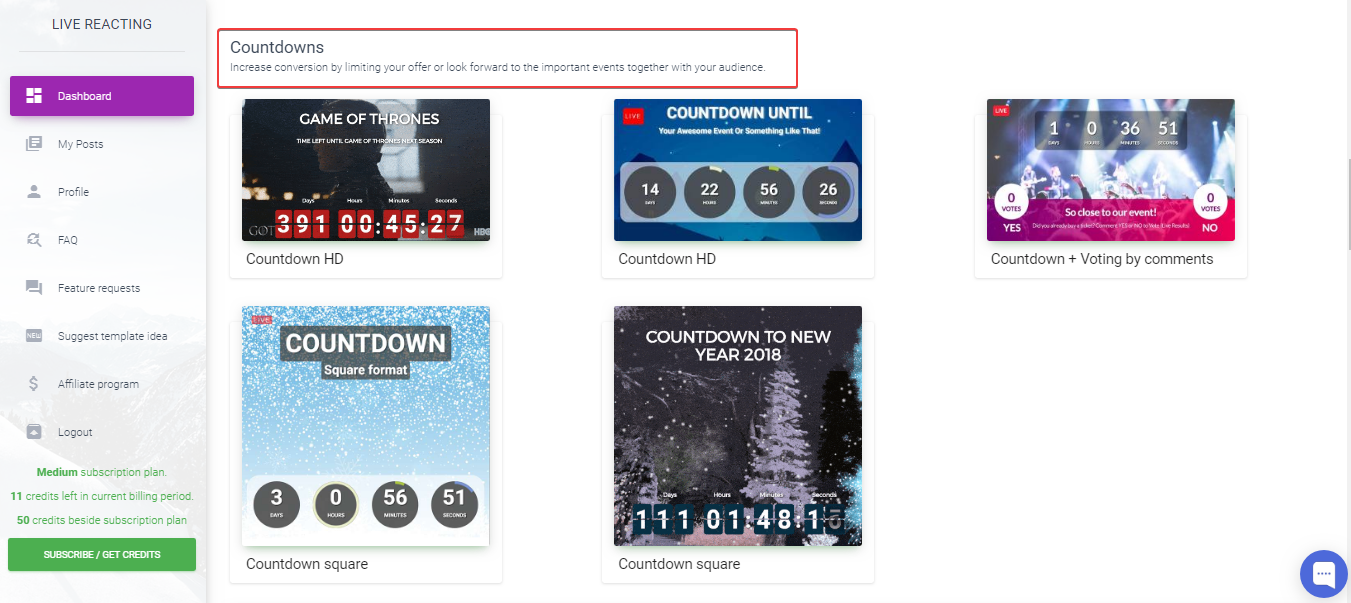 However, you can choose any format of live video you want. It could be some live webinar devoted to the particular topic or announce of the upcoming update. Using LiveReacting you can record your video in advance and then stream it as if it's live.
Step 3. Contact people who commented
When people commented on your video, you can answer them as a page. Ask them to confirm their interest by replying to your message and then provide them with a stuff you offered.
When you're managing a popular page and your offer causes lots of comments, it's unreal to answer all of them manually. To automate this process you can set up Facebook messenger bot using software like ManyChat or Chatfuel. You just need to connect it with your Facebook page and then connect your scheduled Facebook Live to your chatbot. So that when a person comments on your video, he/she automatically gets the pre-arranged answer. The crucial moment here is that you have to schedule your live stream to be able to connect the chatbot. To learn more about setting up chatbot, read this post.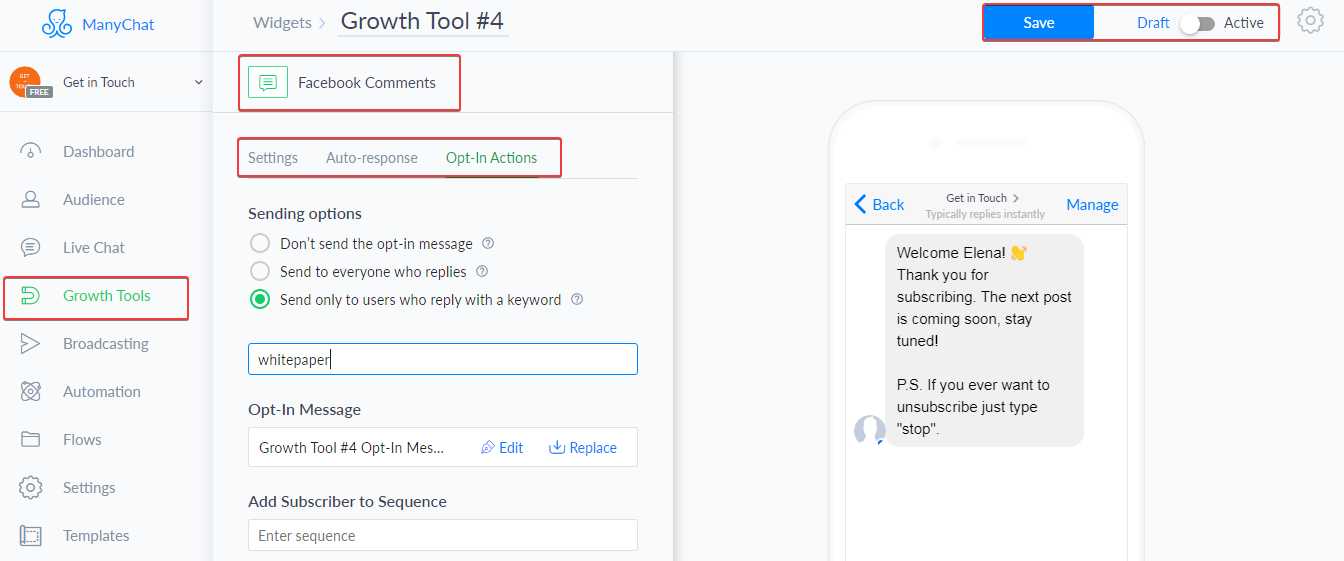 That's it. Have you already tried generating leads via Facebook Live? Share your strategies and results in comments.
---
If you want to try this strategy along with our templates for Facebook Live, feel free to choose the one and create your first post for free.