How to Run a Live Giveaway on YouTube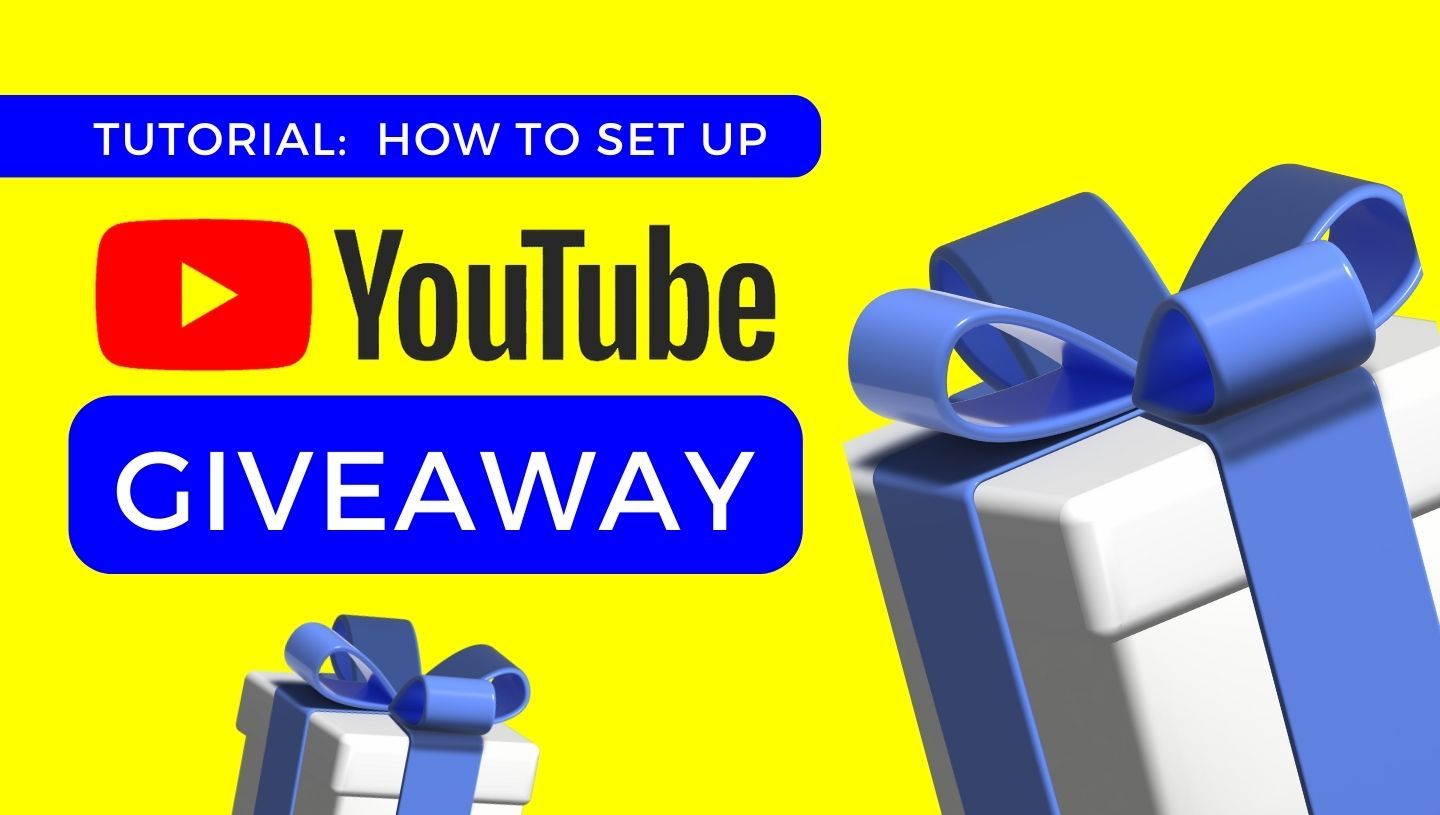 Planning a live giveaway on your YouTube channel to increase engagement and gain new subscribers, huh? Smart move. Giveaways are an easy way to spread the word about your channel and boost views. The good news is, it's really not that complicated to set one up. In just three easy steps, you can be announcing the winners of your first live YouTube giveaway. The keys are keeping it simple, building some hype, and making the giveaway fun and interactive. Follow these three steps and you'll be gaining new fans and making someone's day with a sweet prize in no time.f,
Why Add a Giveaway to Your YouTube Live Stream?
Adding a giveaway in YouTube live stream is a great way to increase viewer engagement and build your audience. Here are a few reasons why:
Increased Audience Participation
A giveaway encourages viewers to actively participate in the chat, ask questions, and engage with your content during the live stream. This boosts the overall experience for everyone watching and builds community.
Higher Viewer Retention
By announcing a giveaway, especially if it's a highly desirable prize, you'll keep more viewers watching your live stream for longer. They'll want to stick around to find out if they've won! This results in a higher average view duration and lower drop-off rate.
Channel Promotion
Promoting your giveaway on other social platforms in advance of your live stream will increase awareness of your channel and content. Some viewers may tune in for the chance to win but then become regular fans after experiencing your show.
Viewer Loyalty
Giving back to your viewers through giveaways, especially for loyal fans and regular commenters, shows you appreciate them. They'll feel a stronger connection to you and your channel, and keep coming back for more live streams and content.
By adding an exciting giveaway to your YouTube Live shows, you'll boost audience engagement, increase viewer duration, promote your channel to new potential fans, and build a loyal community of viewers. It's a win for everyone! With some planning, a giveaway can be an easy way to take your live streams to the next level.
Live Giveaway for Youtube: Mechanics Explained
You configure the Giveaway in LiveReacting and add it at any point of your Youtube live stream (step-by-step tutorial is below).
Youtube viewers comment the Entry Word (entry word is a comment that audience has to type to enter the giveaway), which you previously set.
When a Youtube viewer joins a giveaway by typing an Entry word, their profile pic and name is displayed right inside the live stream.
You can also set a countdown to let the system pick winner within a specific time frame. The system automatically announces the winner, displaying their name, profile photo, and fun 'congratulations' animation.
If you do not add a countdown, you can click the Draw Winner button to let the system randomly pick one. You can do it as many times as you want.
Tutorial: Set up a Live Giveaway on Youtube
We use LiveReacting to customize and integrate a giveaway in a live stream on Youtube. This type of giveaway is fully automated: all user entries are displayed inside of the stream together with their profile photos & name. The winner is also picked randomly and announced at the end of the live giveaway.
1. Open LiveReacting Studio and click New Project.

2. Navigate to the menu on the right side bar, click New Layer, and Giveaway.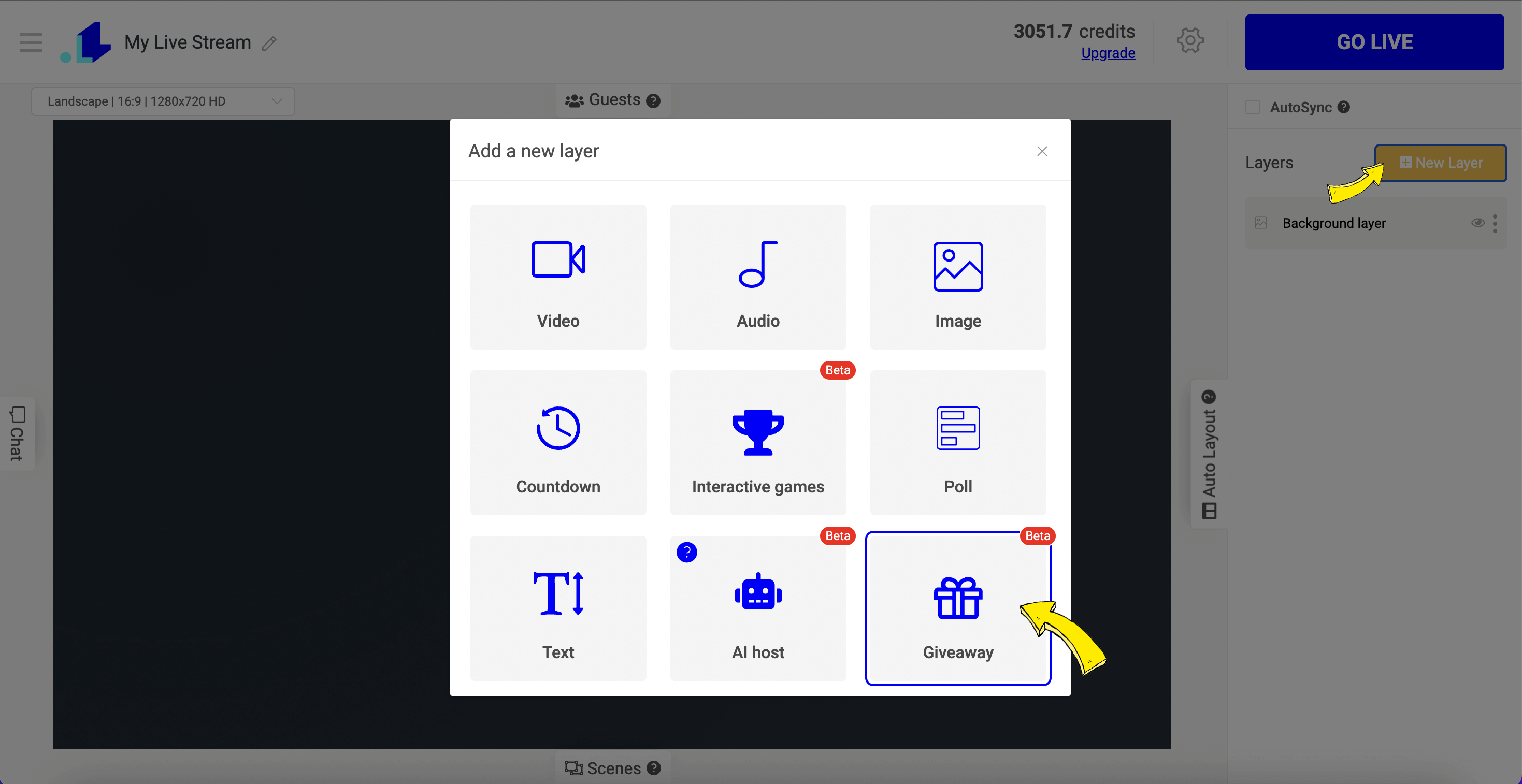 3. On the right side bar, click Configuration. Here you can adjust the rules of your giveaway: Entry Word, Countdown, photo of the giveaway, etc.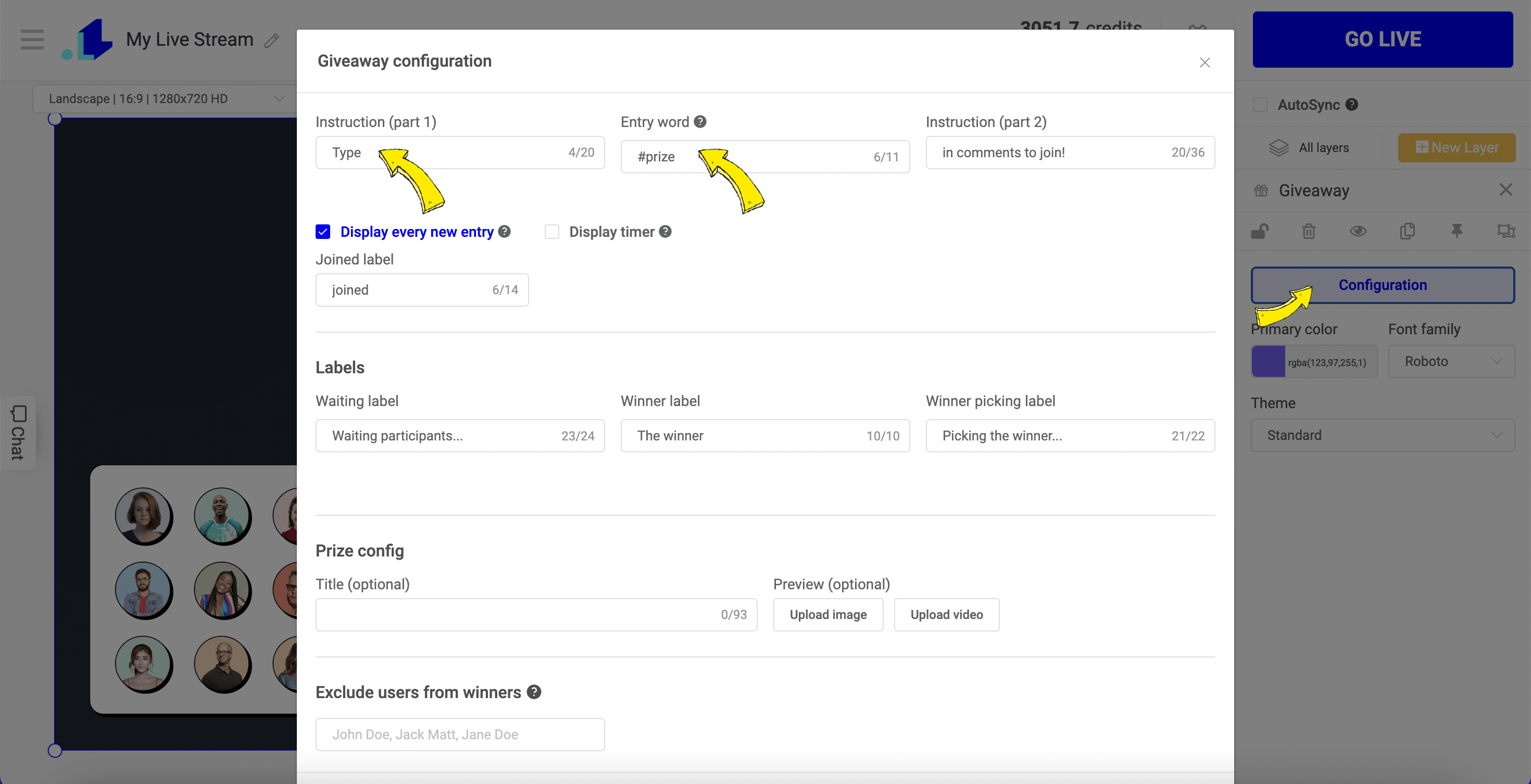 4. Click New Layer > Image if you want to add a static background to your giveaway. Choose Video, in case you want to stream a video from a web camera or a pre-recorded one on the background of your giveaway.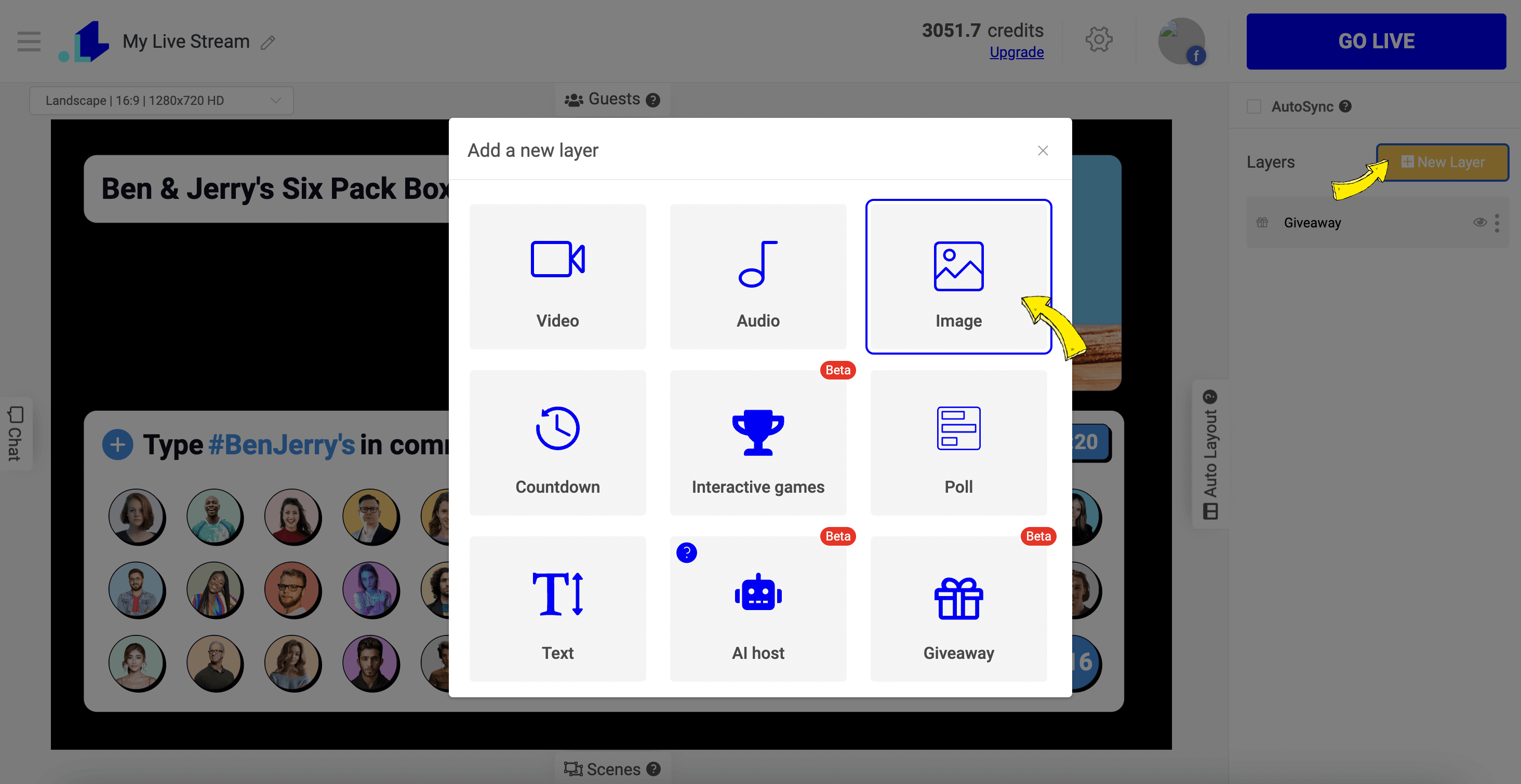 Here is a sample of how live giveaway may look on top of an image background, and on top of a video from the camera ⬇️

5. Now adjust the design of the giveaway: choose colour, font, and layout theme.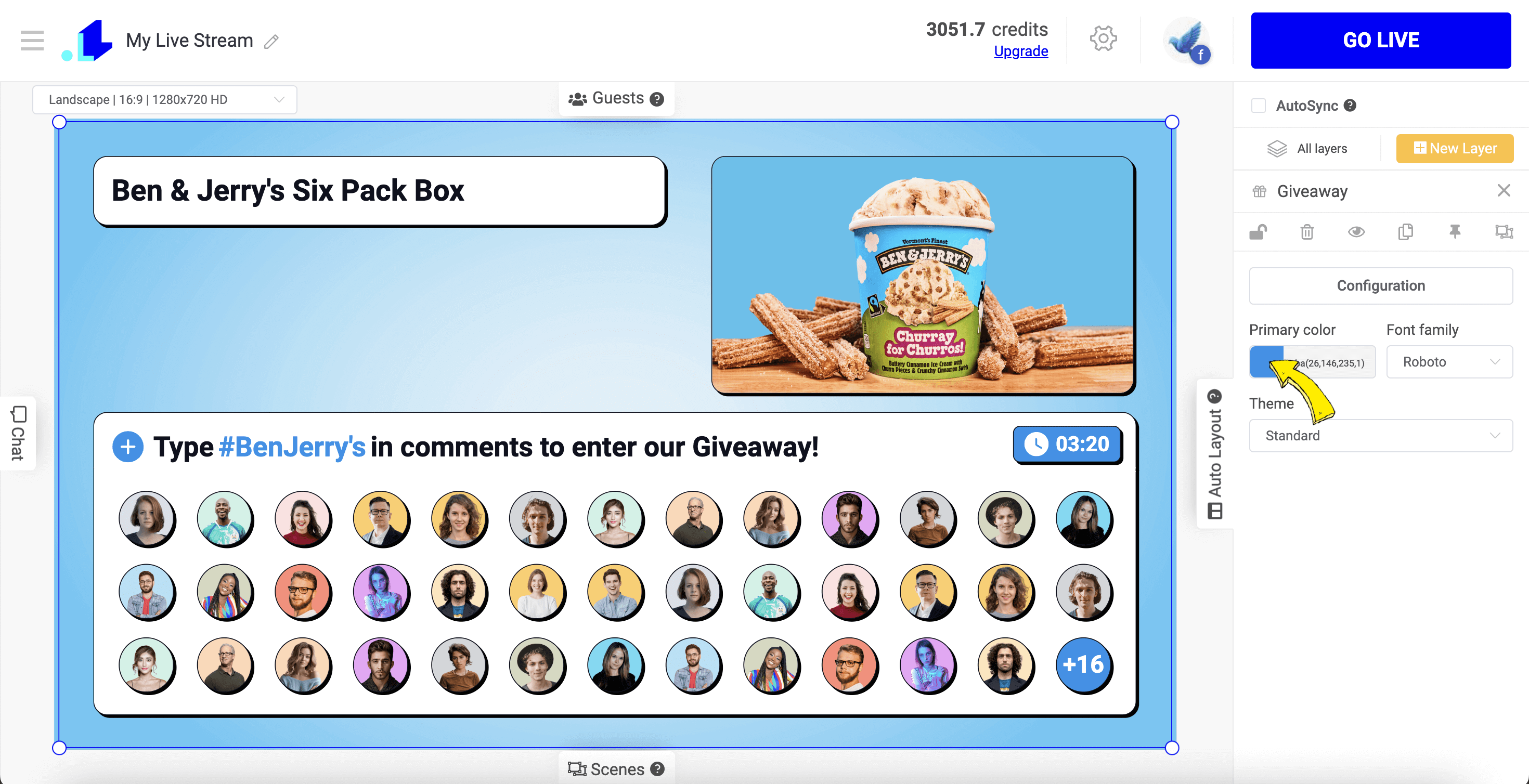 6. Press Settings, then click + Icon and connect your Youtube channel.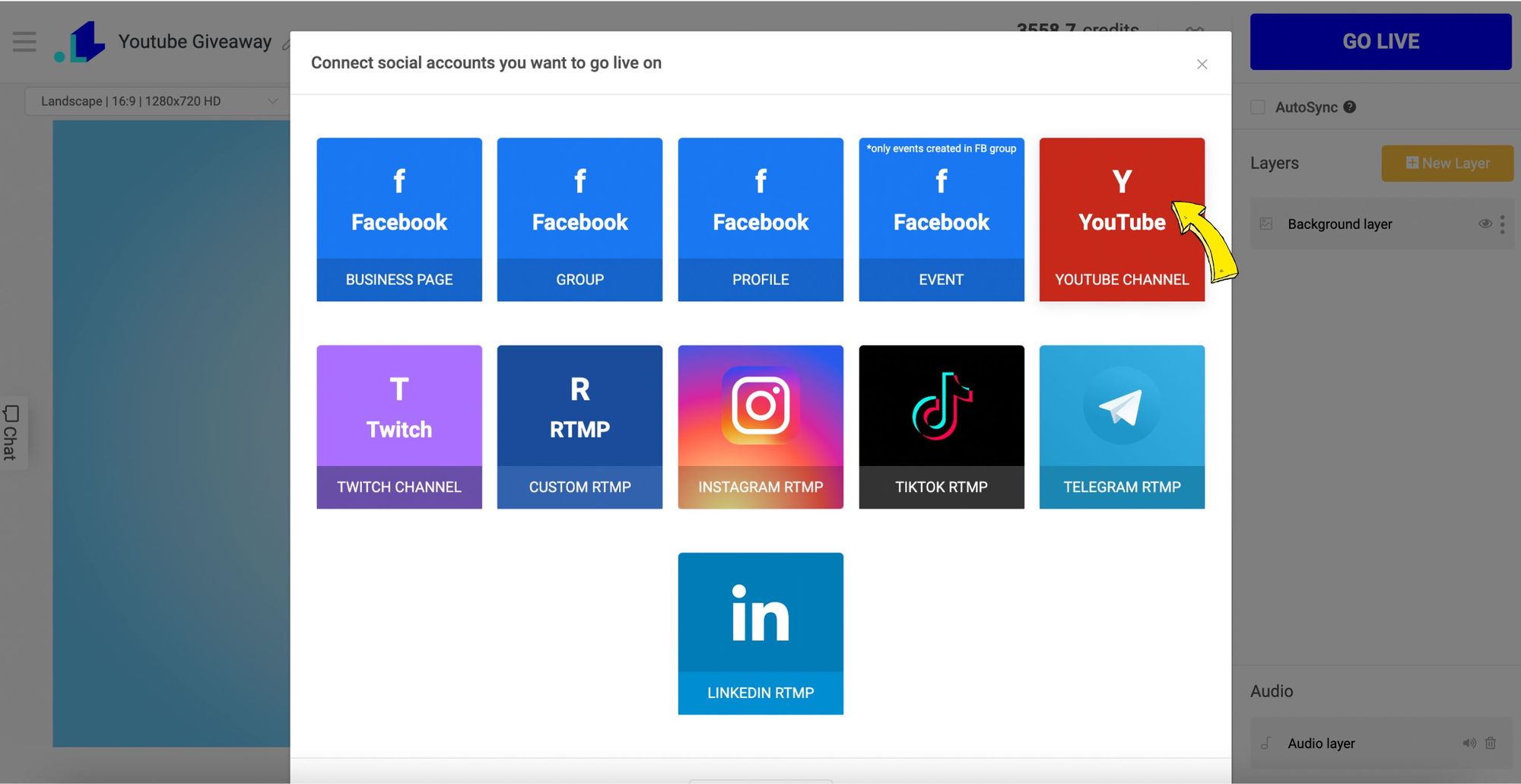 7. When you're ready to stream, press Go Live, and the stream will appear on your Youtube channel.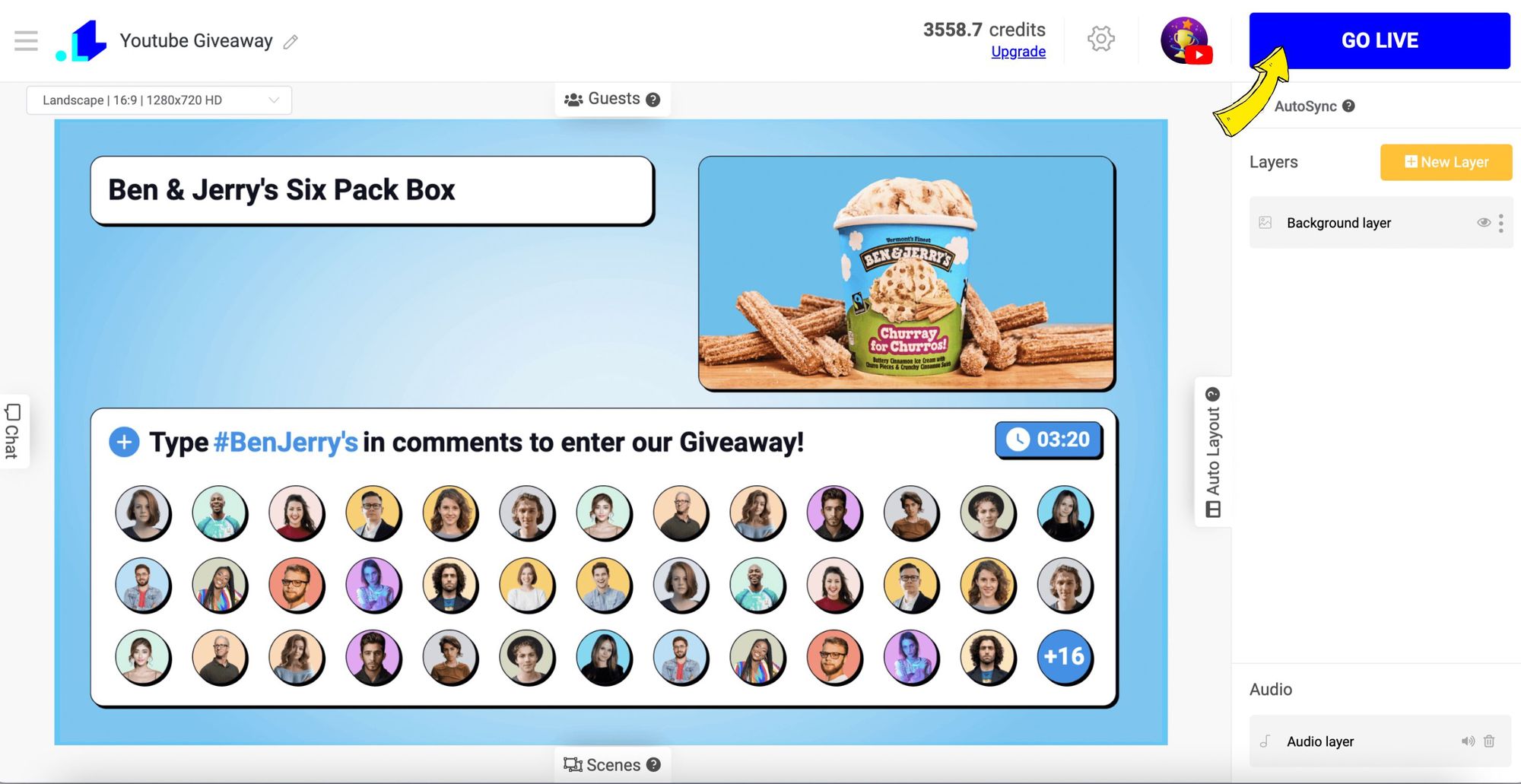 Pick & Announce Giveaway Winners
Once winners are picked, their usernames and profile photos will be automatically displayed on the live stream. Ask the winners to email you with their contact details so you can ship out their prizes.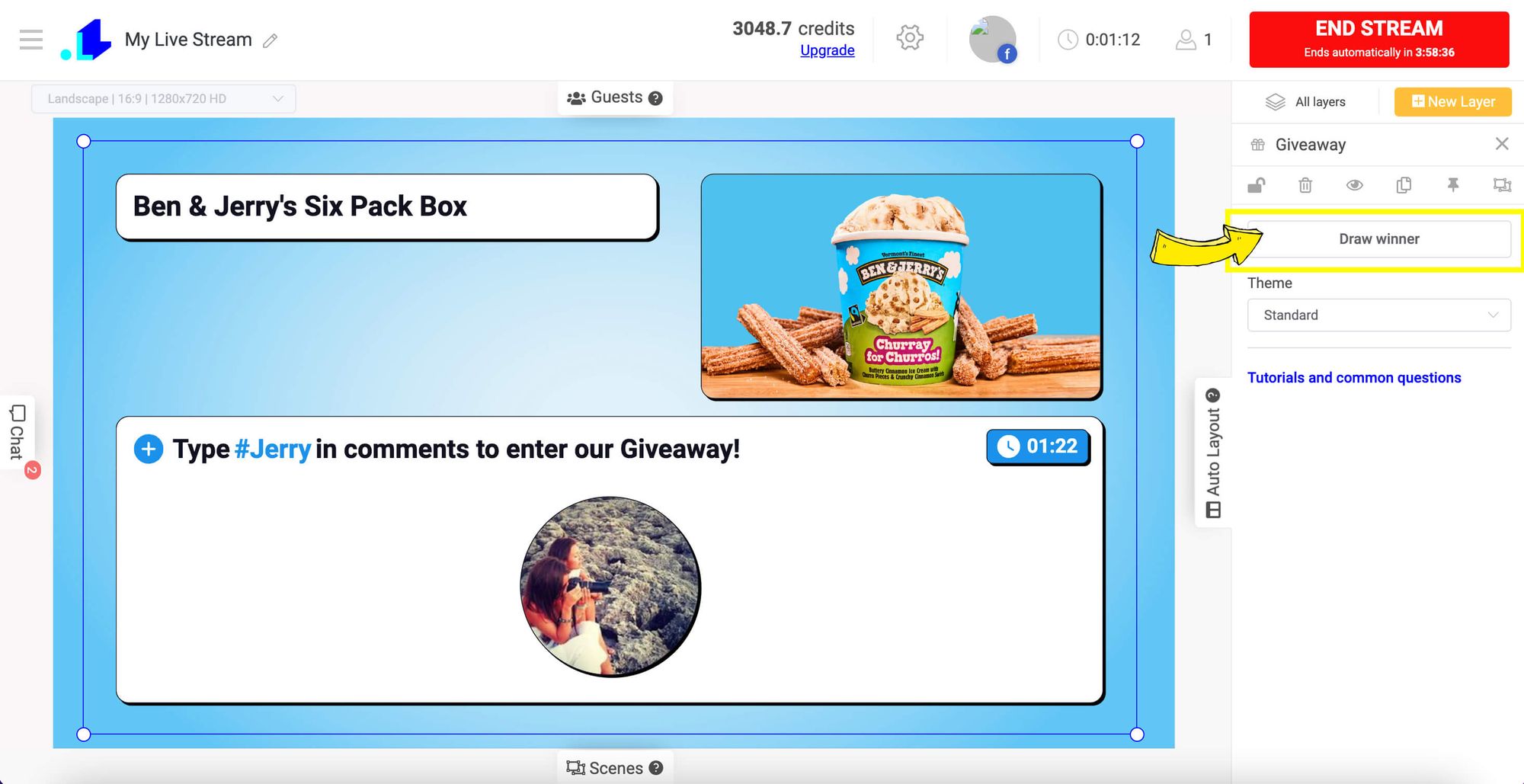 Thank everyone who participated in the giveaway and your live chat. Let them know you appreciate them and that more giveaways will be coming up on your channel soon! Offer a final call for any last questions or comments before ending your live stream.
Distributing the prizes promptly and ensuring winners receive their items helps build goodwill with your viewers and sponsors. Be sure to follow up with all involved parties to confirm prizes were received.
Before you go live with a Giveaway on Youtube
Promote Your Live Stream Giveaway!
Once you've set up your live stream, it's time to start promoting it so people will tune in for your giveaway. The more viewers, the more excitement and engagement you'll have during the live stream. Here are some tips to spread the word:
Announce the giveaway on your other social media channels
Post on Facebook, Instagram, and Twitter that you're hosting a live giveaway. Share the date, time, prize details, and how viewers can enter.
Cross-promote the giveaway across your social media profiles to reach more potential viewers. Mention the giveaway in your social media bios and profiles as the date gets closer.
Tease the giveaway in your regular YouTube videos
In the week leading up to the live stream, mention the giveaway in your regular uploaded videos. Build up excitement by revealing more details about the prize or entry process in each video.
Pin a comment about the giveaway to the top of your comments section so viewers see it first. Include the date, time, prize, and how to enter.
Engage with your viewers in the chat before the giveaway
Once your live stream starts, greet viewers as they join and start chatting with them. Build rapport and get them engaged with the conversation.
Explain the giveaway details again for any new viewers joining the stream. Let them know how they can enter and when the winner will be announced.
Do some shoutouts by name to viewers who are actively chatting. This makes them feel included and encourages others to participate in the conversation.
Promoting your live stream giveaway in advance and engaging with your viewers during the stream are key to its success. The more people you have watching and chatting, the more exciting the experience will be for everyone. Keep viewers engaged by being enthusiastic, sharing giveaway details, and interacting with the audience.
Giveaway for YouTube Live Stream FAQs
Once you've decided to run a giveaway during your YouTube live stream, you'll likely have some questions. Here are the most frequently asked questions about YouTube live giveaways and the answers you need to know.
How do I pick what to give away?
Choose an item related to your channel's topic or niche that appeals to your viewers. It could be a piece of tech, a subscription service, a useful tool, or a gift card. Keep the value between $25 to $200 for the best engagement.
How do I announce and promote the giveaway?
In the days leading up to your live stream, announce the giveaway on your other social media profiles like Twitter, Facebook, and Instagram. Post about it on your YouTube channel in a short video or community post. Build hype by describing the prize and how viewers can enter to win.
How do viewers enter the giveaway?
During your live stream, instruct viewers to enter the giveaway by commenting a specific word or phrase in the chat. For example, "comment ' Enter me!' to be entered to win the prize."
How do I pick and announce the winner?
When using LiveReacting for your live streams, the winner is picked and announced automatically.
Conclusion
So there you have it, 7 simple steps to run an engaging giveaway on your YouTube livestream. All it takes is a little planning, an exciting prize, and actively engaging with your viewers. Giveaways are a great way to increase viewership, gain new subscribers, and make your livestreams more fun and interactive. What are you waiting for? Pick a prize, set a date, spread the word, and go live! Your viewers will love the chance to win something and you'll love the boost in engagement. Giveaways are a win-win. Now get out there and start planning your next YouTube live giveaway!
If you have any questions or need help to stream a Giveaway on Youtube, don't hesitate contacting us in the live chat on our website, and we'll assist you as soon as possible!
LiveReacting is a streaming platform for Content Creators, Digital agencies, brands, and influencers that helps to make any live stream interactive and get more engagement and views.
[email protected]