7 Steps to Running a Seamless Facebook Live Giveaway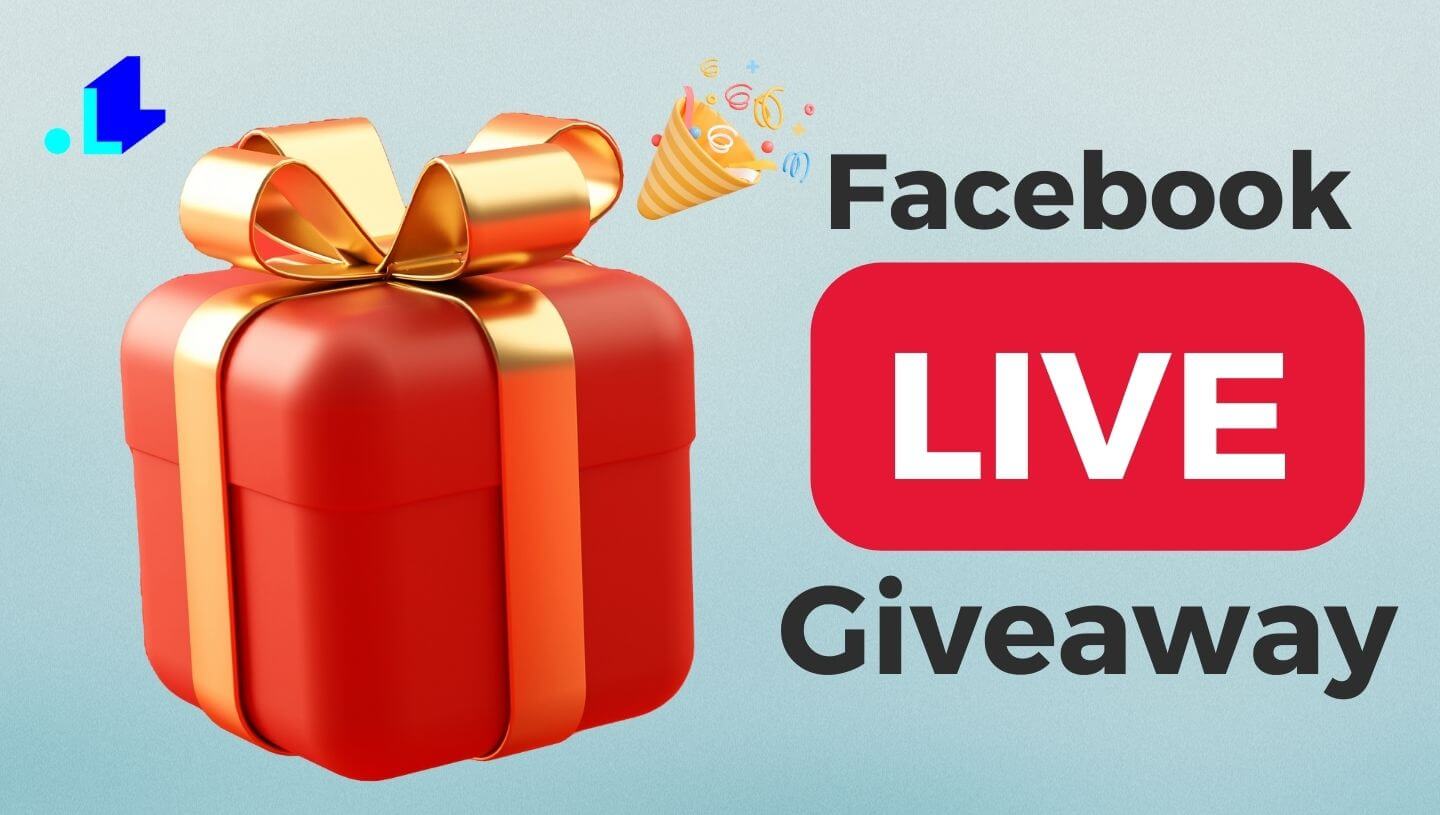 You've decided to spice up your Facebook Live broadcasts with a bit of giveaway action. Great idea! Giveaways are a fantastic way to increase engagement, gain new followers, and spread brand awareness. The thrill of possibly winning something for free is hard for most people to resist. But running a smooth giveaway on Facebook Live takes some planning and coordination. If you want your viewers to walk away with a great experience and spread the word about your business, follow these three steps to running a seamless Facebook Live giveaway. With some preparation and the right tools in place, your Facebook Live giveaway will be a hit and have your followers eagerly awaiting the next one.
Choose the Best Giveaway Software for Facebook Live
The key to streaming an outstanding Facebook Live giveaway is choosing the right software to help organize and run it. Here are some of the top options:
LiveReacting is a great choice if you want to get really creative with your giveaway. It offers eye-catching templates, feeds to display entries, and built-in mini-games and quizzes you can use to warm up a giveaway. LiveReacting offers a free trial, but may be worth the upgrade to a paid plan if you want to take your giveaway to the next level and use giveaway in OBS, StreamYard and other software that you like.
In the end, you need to weigh the options based on your needs and budget. But with the right giveaway software supporting you, running a successful Facebook Live contest for your followers can be a fun, engaging experience for everyone. Choose wisely and get ready to spread some joy!
Set Up Your Facebook Live Giveaway
To run a seamless Facebook Live giveaway, you need to plan ahead. First, determine what you want to give away. It should appeal to your audience and promote your business or brand. For example, if you sell a sport wear, you can give away a pair of leggings or a yoga mat.
This is how Live Giveaway works if streamed via LiveReacting:
You configure the Giveaway in LiveReacting and add it at any point of your Facebook live stream (full tutorial is below)
Facebook audience types the Entry Word (comment that audience has to type in order to enter), which you previously set.
When a Facebook user joins a giveaway, their profile photo appears in the live stream. You can also enable an animated notification for each new entry, so a popup notification box appears on the screen when every new Facebook user joins the Giveaway.
You can also set a timer to select a winner within a specific time frame automatically. The system automatically announces the winner, displaying their name, profile photo, and salutation animation.
If you decide not to add a timer, press the Draw Winner button to let the system randomly pick one. You can draw a winner multiple times — the system will choose a new winner every time.
Promote Your Facebook Live Giveaway
Promoting your Facebook Live giveaway is key to driving engagement and participation. Here are some tips to spread the word:
Build Hype
A few days before your giveaway, start building excitement. Post about the upcoming event on your Facebook Page and in any relevant Facebook Groups. Share some teasers to create a sense of mystery, like:
"We've got something BIG planned for this week...stay tuned!"
"Comment if you want to win free stuff!"
This builds anticipation and gets people looking forward to and sharing your Facebook Live video.
Invite Your Email Subscribers
Send an email to your newsletter subscribers with the details of the giveaway. Let them know when the Facebook Live will start, what prizes they can win, and how to enter. Many of your email subscribers likely also follow you on Facebook, so this is a great way to reach them on multiple channels.
Run a Lead Ad
If you have a Facebook Ads budget, create a lead ad to promote your Giveaway. Target the ad to people who like your page and their friends. The ad should contain:
An eye-catching image.
The giveaway details.
A call-to-action to comment on your Facebook Live video.
Run the ad for a few days before and during the livestream.
Engage with Viewers
Once your Facebook Live starts, be energetic and engaging. Welcome viewers as they join, ask them questions, and encourage them to comment to enter. Like and respond to as many comments as possible to keep the conversation going. The more viewers comment, the more chances they get to win and the higher your video will rank in Facebook's algorithm!
Following these promotional tips will help spread the word about your Facebook Live giveaway and drive participation. The more people who know about and engage with your video, the more successful your giveaway will be. Keep the conversation going, build hype, and have fun with it!
Tutorial: Go Live with a Giveaway on Facebook
Now it's time for the tutorial on how to add a giveaway in Facebook Live. We use LiveReacting to create and integrate a giveaway in a live stream on Facebook. It's important to mention, that this kind of giveaway is supported only on Facebook, Youtube and Twitch.
1. Go to the LiveReacting Studio and click New Project.

2. Create a New Layer, and choose Giveaway.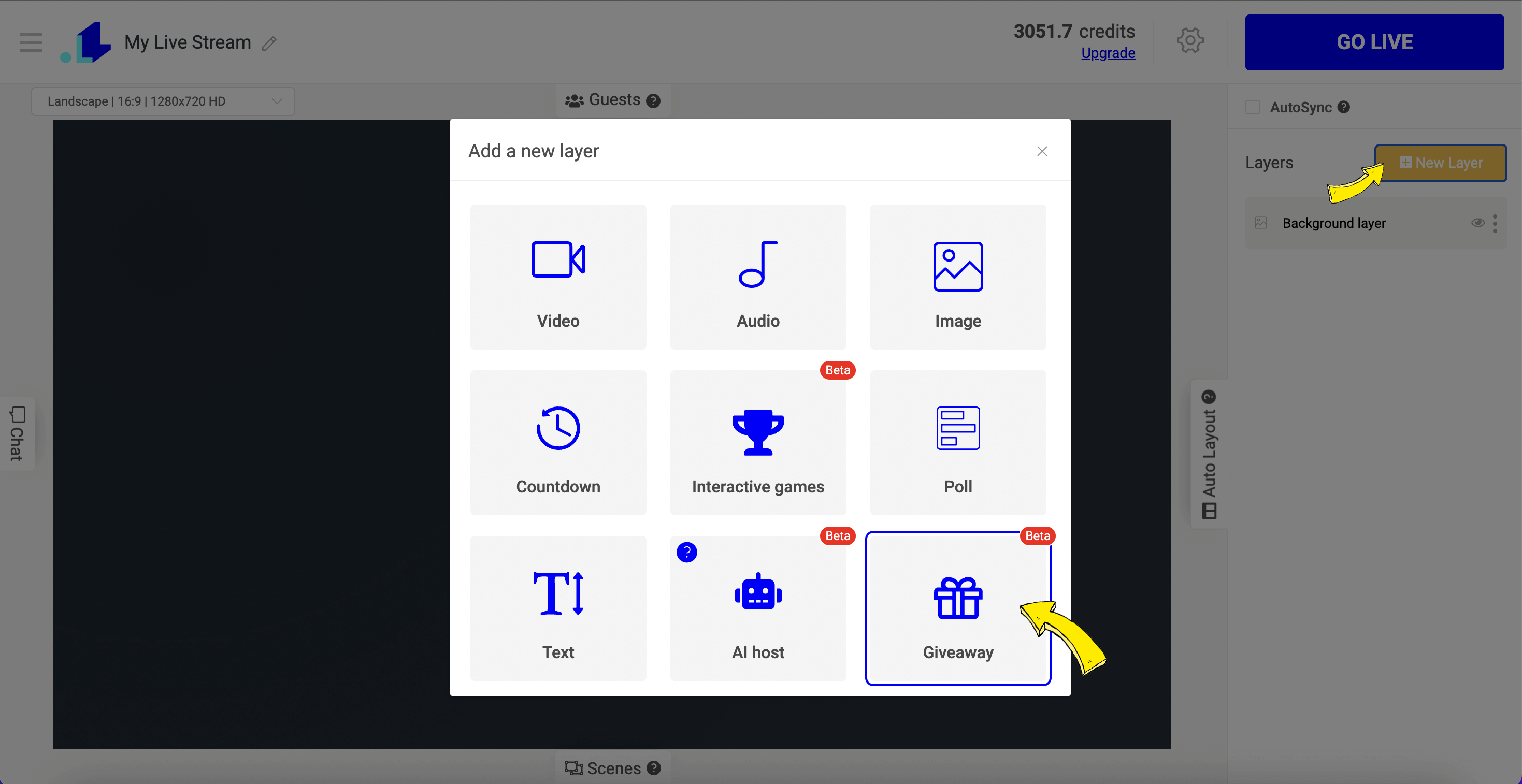 3. Click Configuration. Now set up the rules of your giveaway. For instance: how viewers can enter, photo of the prize, enable or disable a timer, and other settings.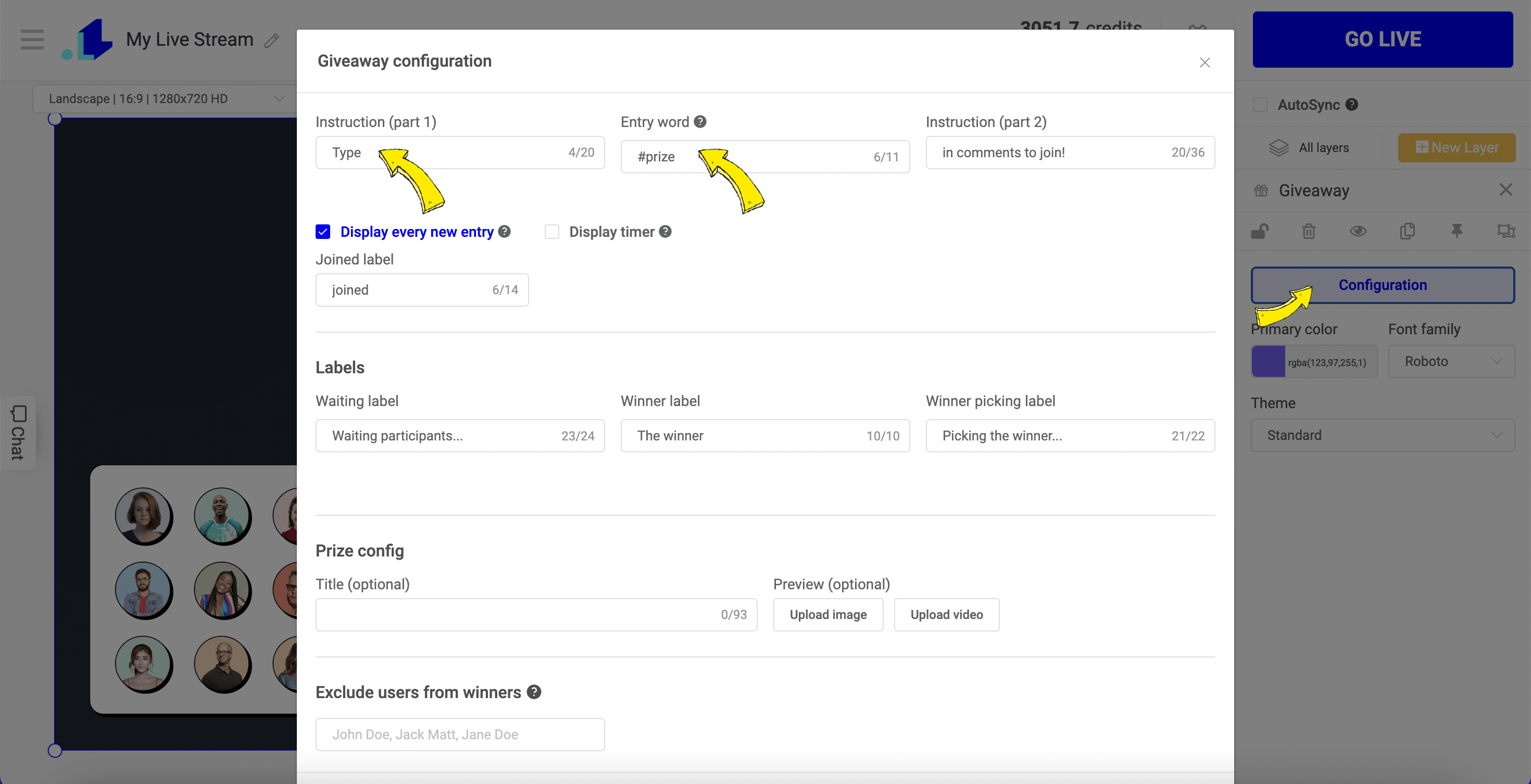 4. Click New Layer and choose an Image if you want to add a static background to your giveaway. If you want to stream a video from a web camera or a pre-recorded one, choose Video instead.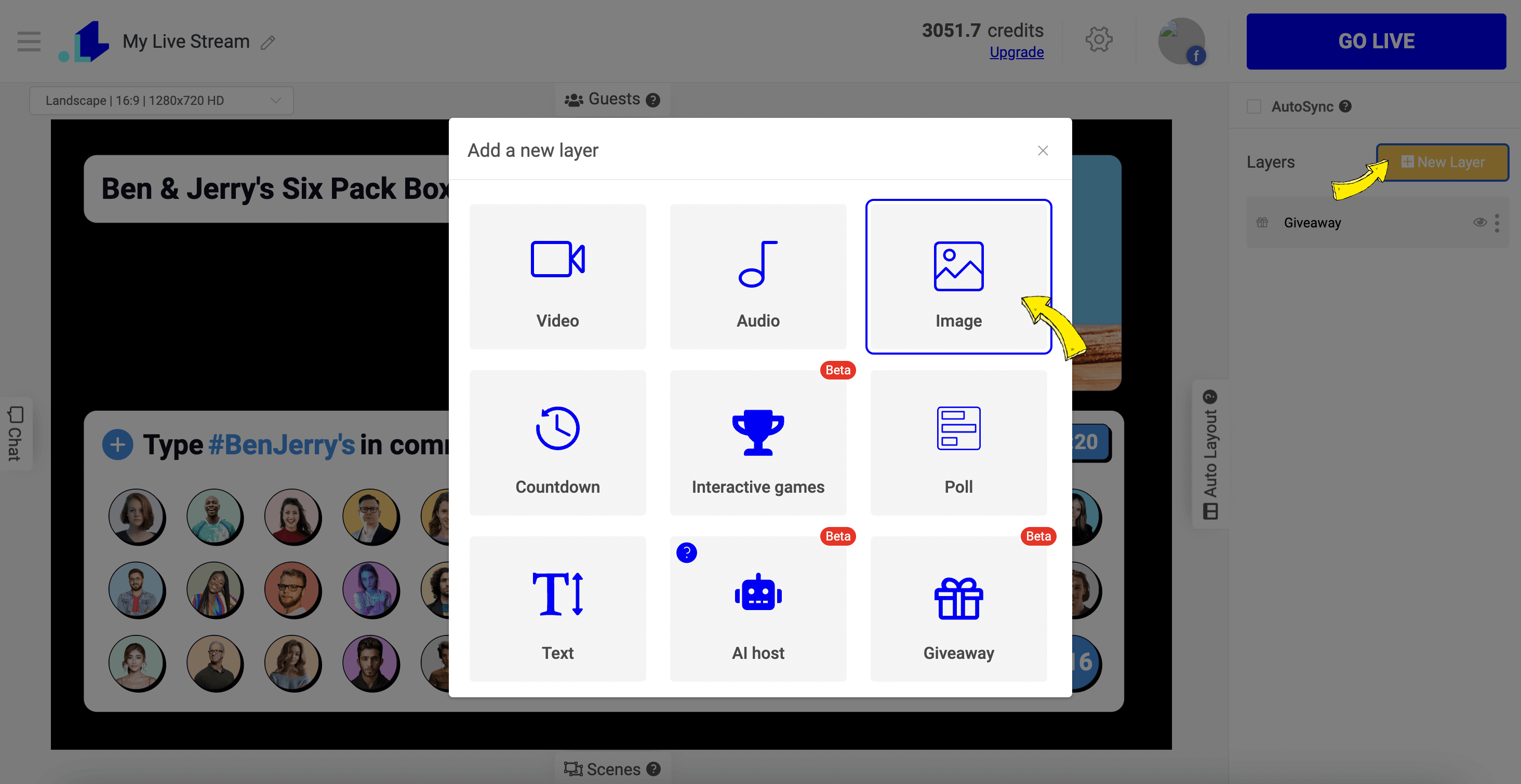 This is an example of how giveaway would look on top of a plain background, and on top of a web camera view ⬇️

5. Now select the colour, font family, and layout theme.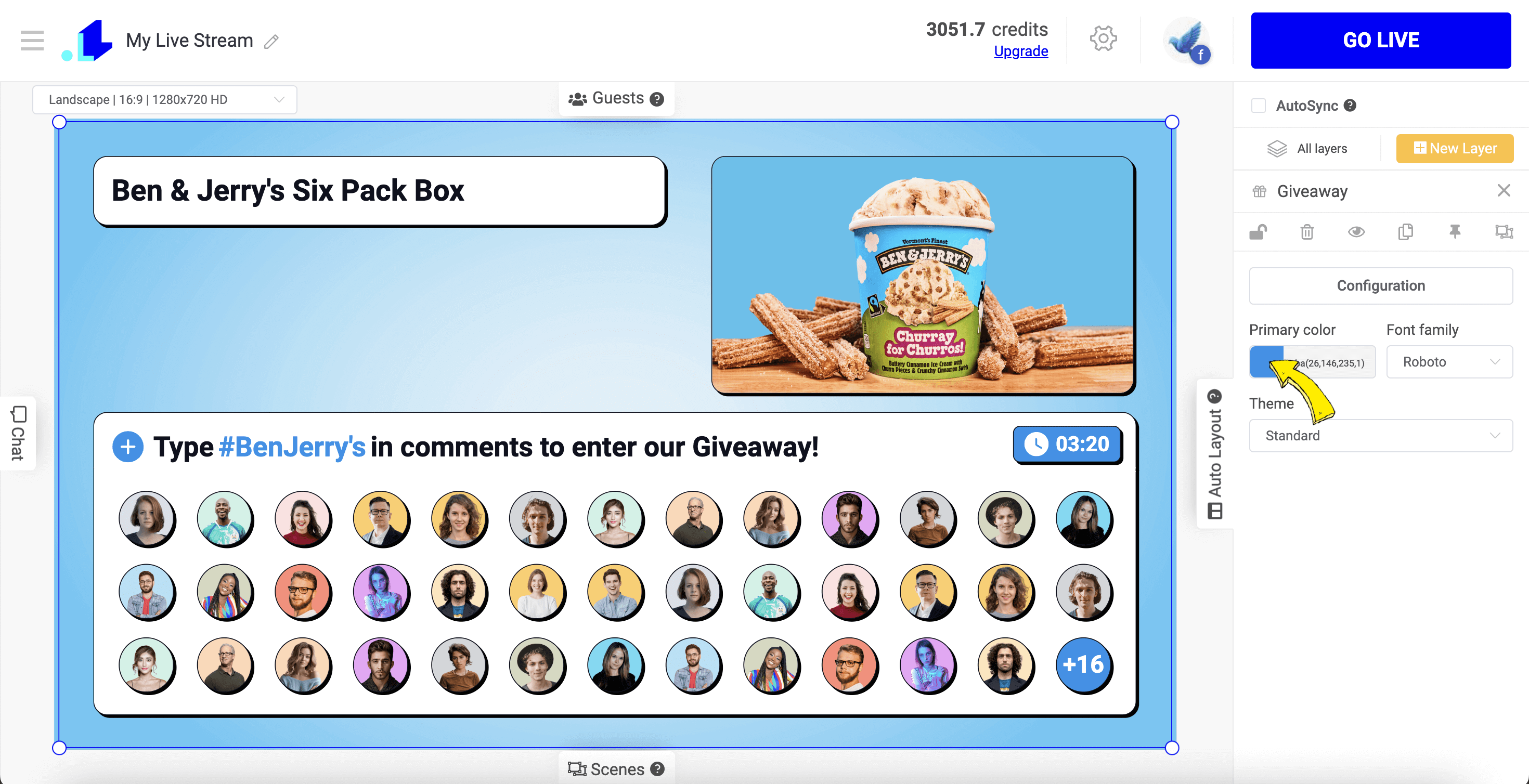 6. Click Settings (Gear Icon) on top bar, then + Icon and add your Facebook Business page.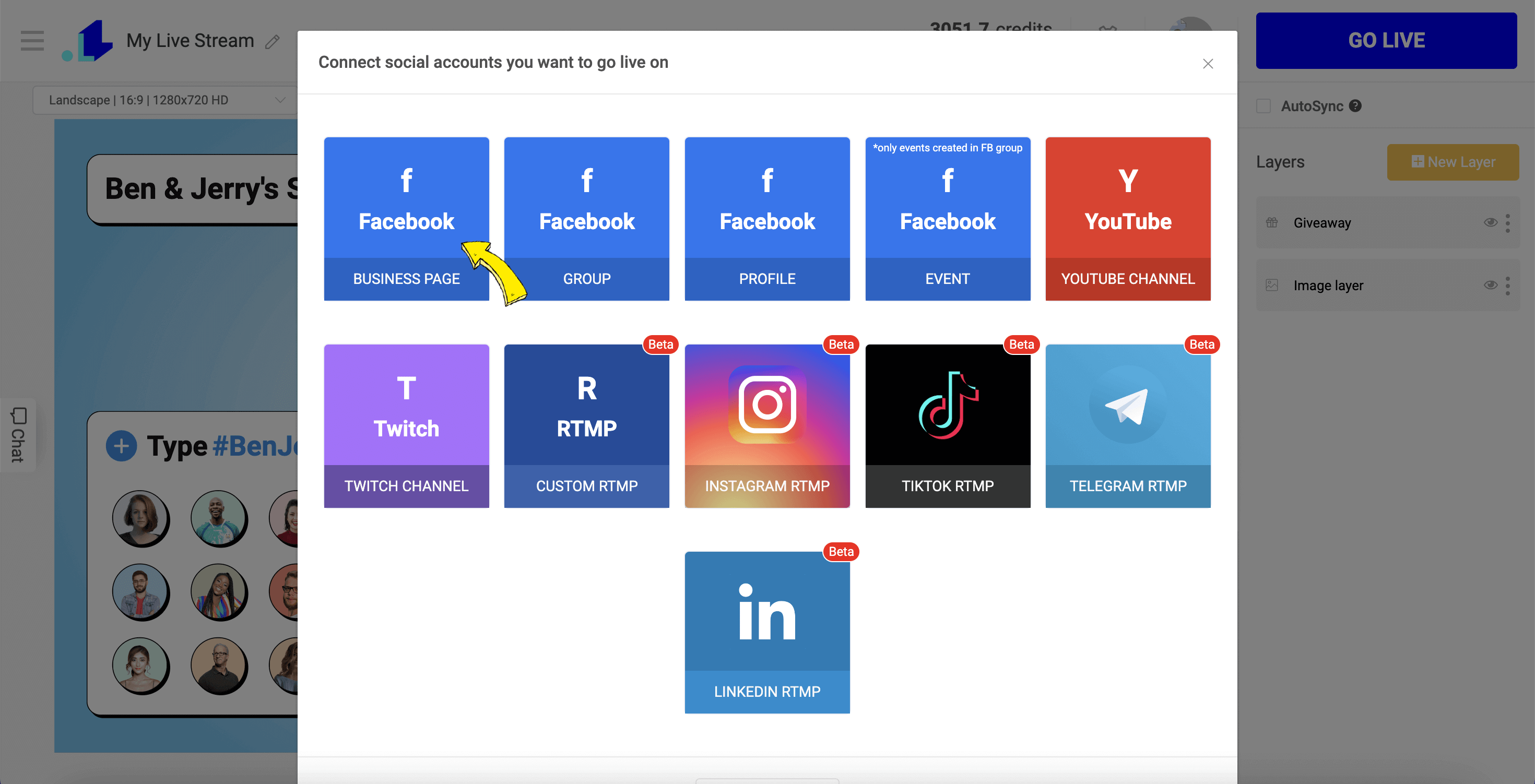 7. Click Go Live, and the stream will appear on selected page.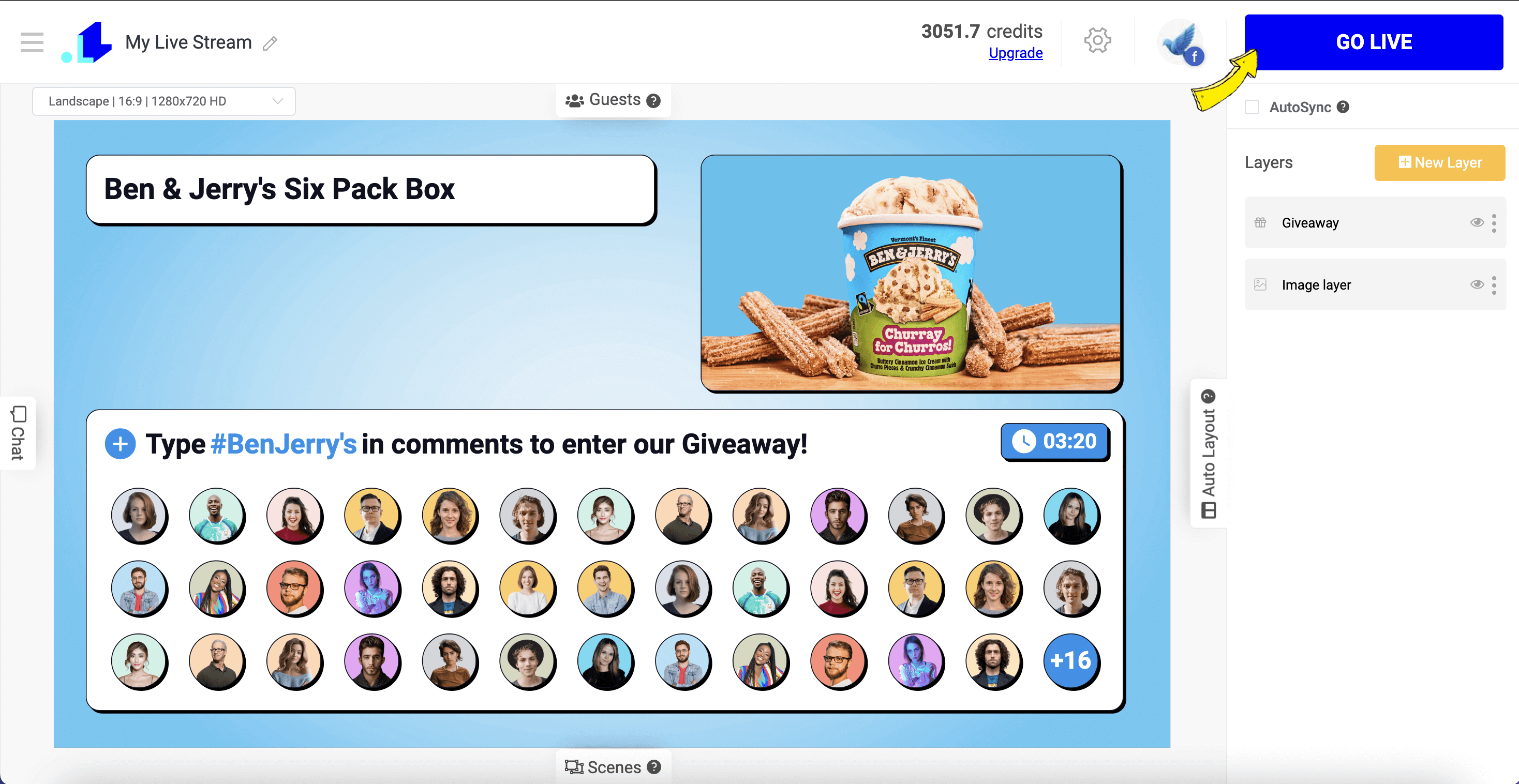 Announce the Winners
Now it's time for the fun part—selecting and announcing the winners of your giveaway live! This is where the excitement and engagement in the comments will go through the roof.
Once you draw the first winner, make an announcement. Say their name, what they've won, and ask them to claim their prize by messaging you within the next 48-72 hours. Offer a round of applause for the winner! Repeat this for any other winners you have.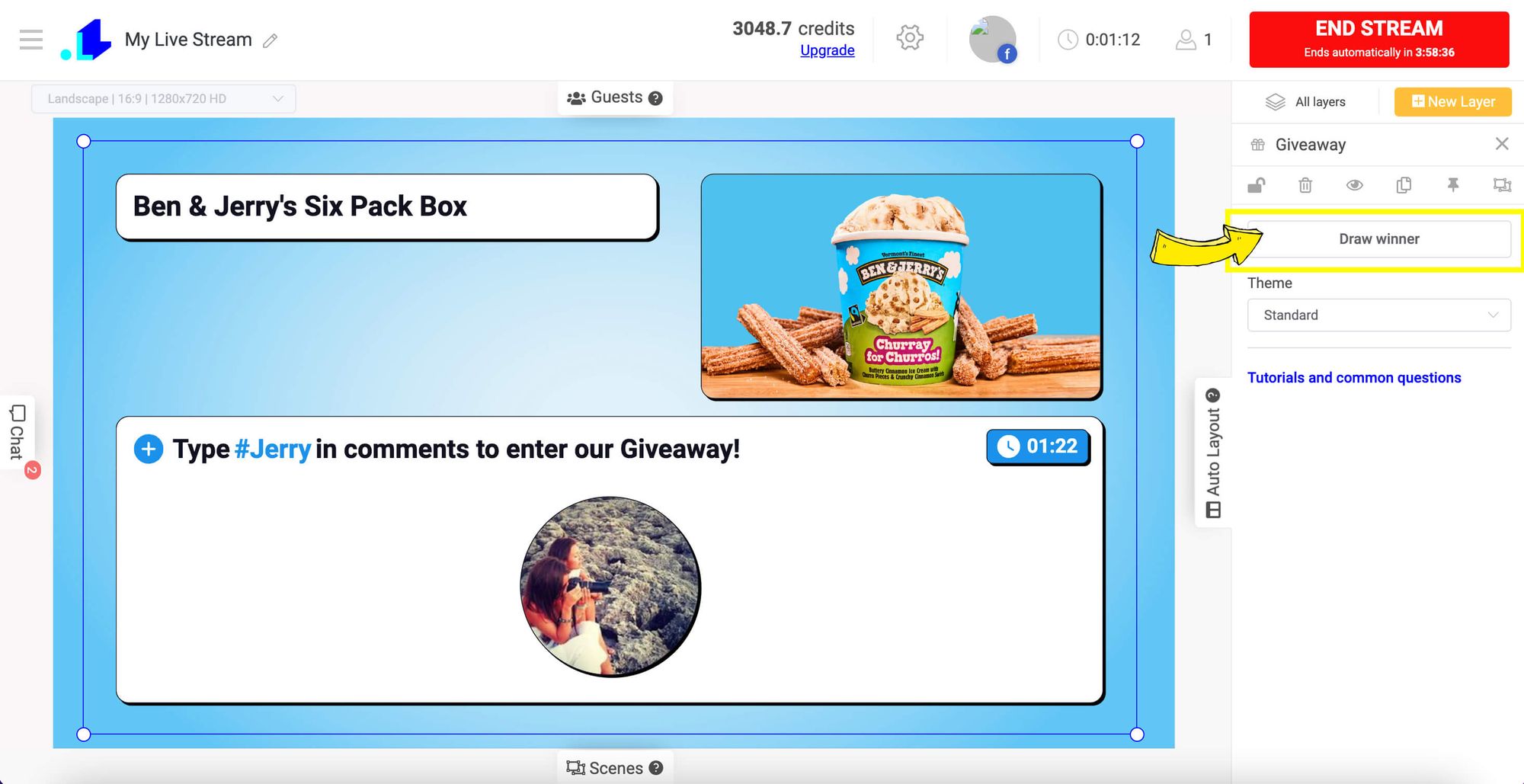 Follow Up
Be sure to follow up with your winners after the broadcast to get details for delivering their prizes. Let the other entrants know you appreciate them participating and to watch out for your next giveaway. Thank everyone for watching and participating to end your Facebook Live video on a high note.
Your viewers will love being part of your giveaway announcement. When done well with lots of interaction, announcing winners on Facebook Live is a win-win for boosting engagement and excitement around your brand! Run an irresistible giveaway and your followers will eagerly await the next one.
Follow Up With Your Viewers
Once your live video ends, the work isn't over. Follow up with your viewers and keep the conversation going to build brand loyalty and increase engagement.
Reach out to anyone who commented or asked a question during the broadcast. Thank them for their participation and provide an answer if they had a question you didn't get to. Mention them by name to make it personal. Viewers will appreciate your attentiveness and be more likely to tune in next time.
Share a replay of the video on your Facebook page and in any relevant Facebook Groups. Promote the giveaway winner announcement in the caption to drive more views and comments. Ask people what they thought of the live video and if they have any suggestions for future episodes.
Start planning your next Facebook Live giveaway to keep momentum going. Choose a theme or product related to the one you just gave away. For example, if you gave away a kitchen gadget, do a giveaway for a cookbook. Ask your followers what they might like to win next. People will eagerly await your next event.
Send an email newsletter highlighting your recent Facebook Live giveaway. Include photos from the video, announce the winner again, and briefly recap any important points or announcements from your broadcast. Let subscribers know when your next live giveaway will be so they can mark their calendars.
Engage with everyone who watches the replay or shares your follow-up posts. Like and reply to their comments, and encourage them to turn on notifications so they never miss one of your live videos or giveaways. Thank people again for their support and participation.
Keeping the conversation going after your Facebook Live giveaway is key to building an engaged community. Follow up promptly and personally, share the replay and promote future events, and continue interacting with all your viewers and followers. They'll become loyal fans eagerly waiting to join in on your next live broadcast.
Conclusion
Well there you have it, 3 easy steps to running an engaging Facebook Live giveaway that will boost your views and grow your audience. All it takes is some thoughtful planning, an eye-catching prize your fans will love, and keeping the energy high during your live video. Follow these tips and you'll be hosting a giveaway that keeps people watching until the very end. What are you waiting for? Start planning your next Facebook Live giveaway and spread the word - your fans will thank you for it! Engage with your viewers, have fun, and most importantly, keep practicing. The more you go live the more comfortable and skilled you'll get. Now get out there and start spreading the excitement with your very own seamless Facebook Live giveaway!
If you have any questions or need help to set up a Giveaway on Facebook Live, don't hesitate to drop a message in the live chat on our website, and we'll assist you as soon as possible!
LiveReacting is a streaming platform for Content Creators, Digital agencies, brands, and influencers that helps to make any live stream interactive and get more engagement and views.
[email protected]