Why Facebook Live Video Beats The Traditional Video in 2020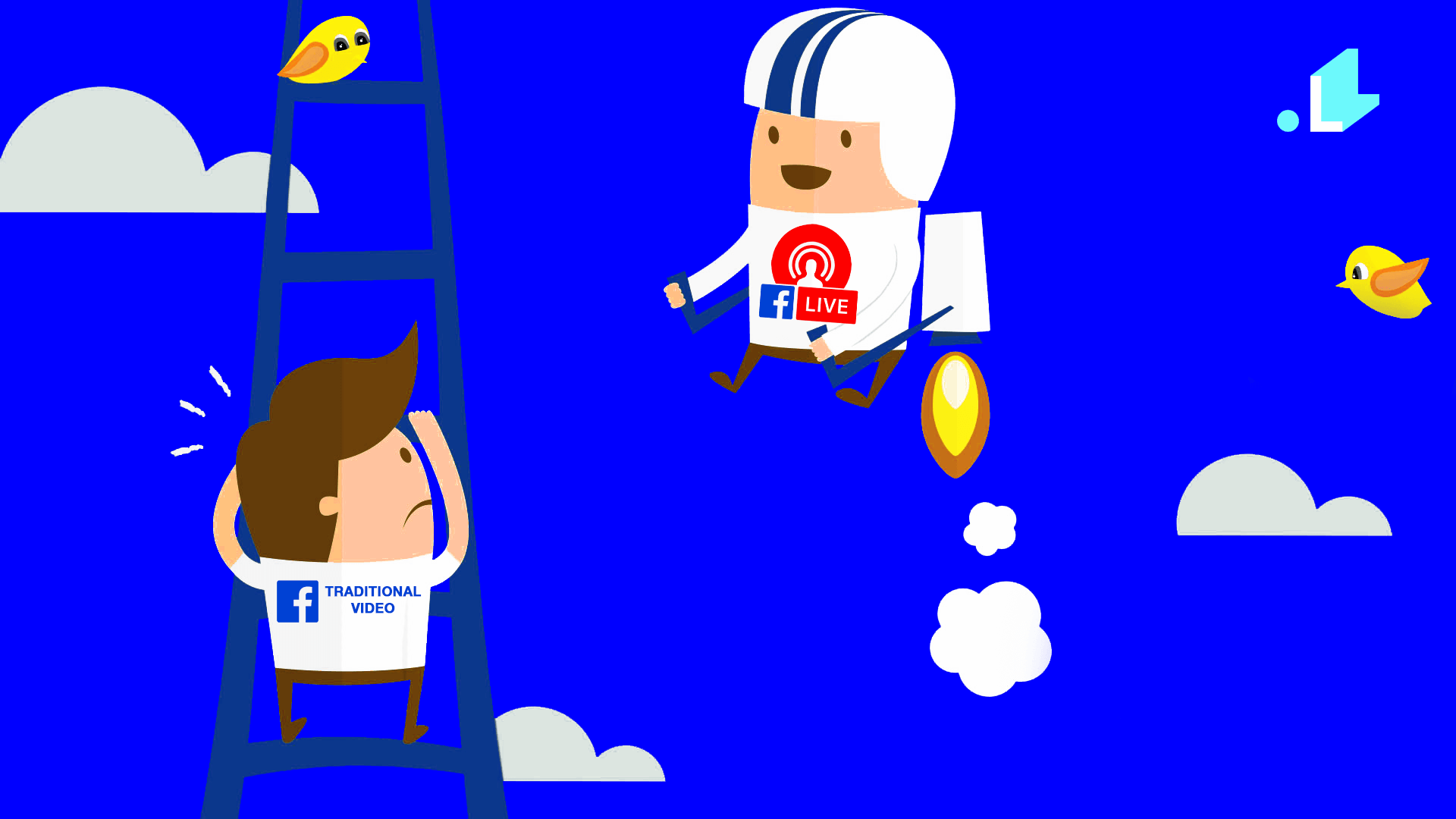 Benefits of Facebook Live
With so much noise on social media these days, one of the most powerful methods to break through and build your audience on Facebook is Live Streaming.
It does not necessarily mean that you have to stream actual "live" and entertain your audience in real-time. There is a range of options to automate this process. For instance, you can broadcast previously recorded videos as live. Platforms like LiveReacting make live streaming to Facebook a piece of cake: easy, effective, and engaging. You do not have to spend hours to launch a live stream; our research shows that, on average, it takes 2–3 minutes to set one. Sounds cool, huh?
Luckily, we do not end the investigation on this note and would like to share with you a few more exciting insights based on the real findings and some pulled stats from our customer base that reveal how live streaming takes over the traditional videos.
How Live Videos beat the Traditional Ones
Let's get some real stats on the table: live videos on average receive 3X higher engagement than uploaded videos. Besides that, the research shows that users comment on Facebook Live Videos 10X more than regular videos.
To test this, we took a few examples from our customer base to compare the performance of the live videos vs. traditional ones. The key points which we are going to compare are reactions, comments, and shares. We are not going to take into account "Reach", as it would not give us any meaningful insights and is not accessible anyways. In fact, the "Reach" means nothing when there is no engagement going on.
Let's take a look at the case from the Georgia Aquarium. Live streams on Facebook helped them to gain way more engagement than uploaded videos.
On the graph below, we can see an example of how both live stream and uploaded video perform.Taking a closer look at both videos, we can see that engagement on the broadcasted video is much higher (389 likes, 88 shares, and 82 comments) than on the uploaded video (94 likes, 12 shares and, 2 comments).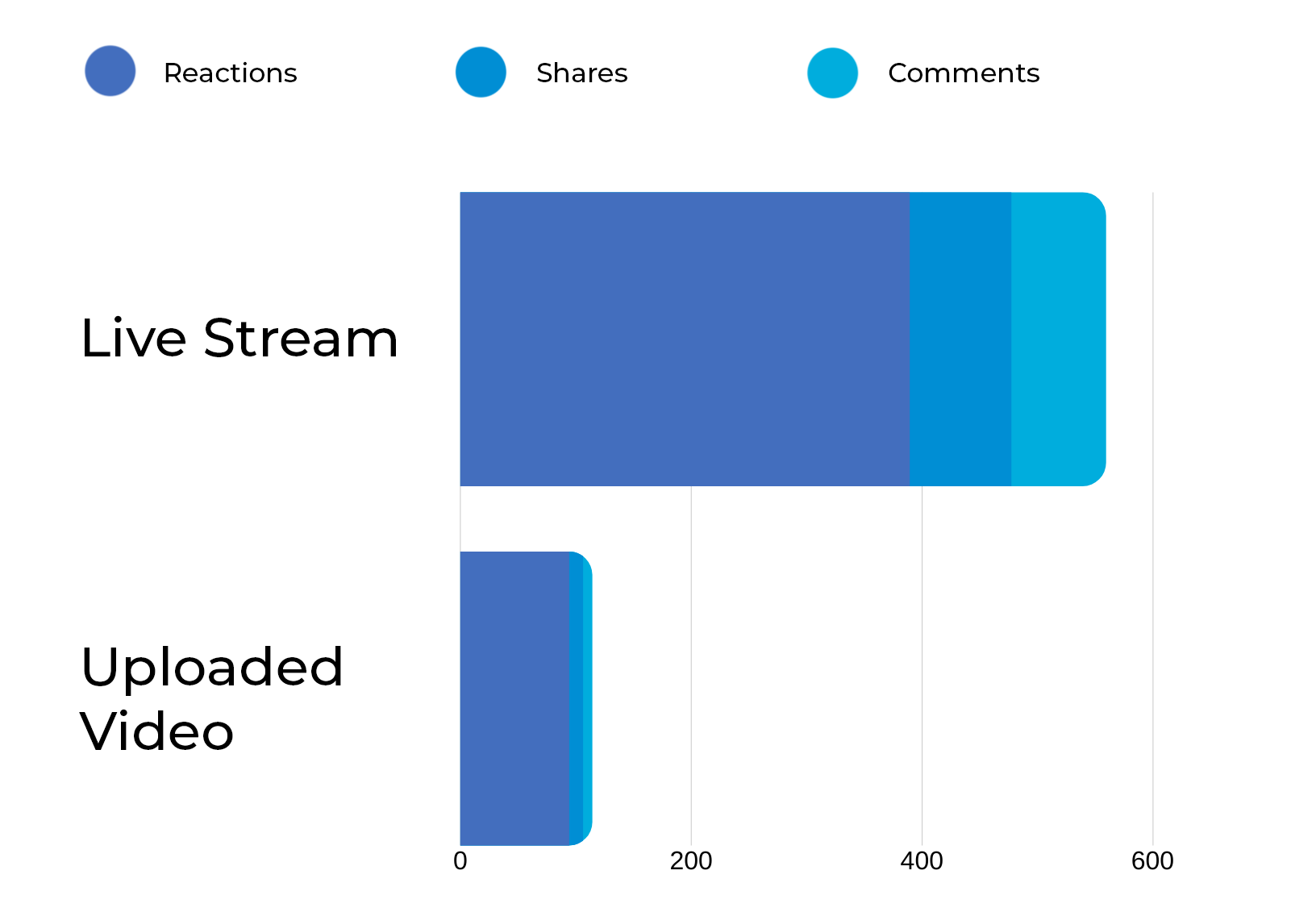 Live Stream (Georgia Aquarium)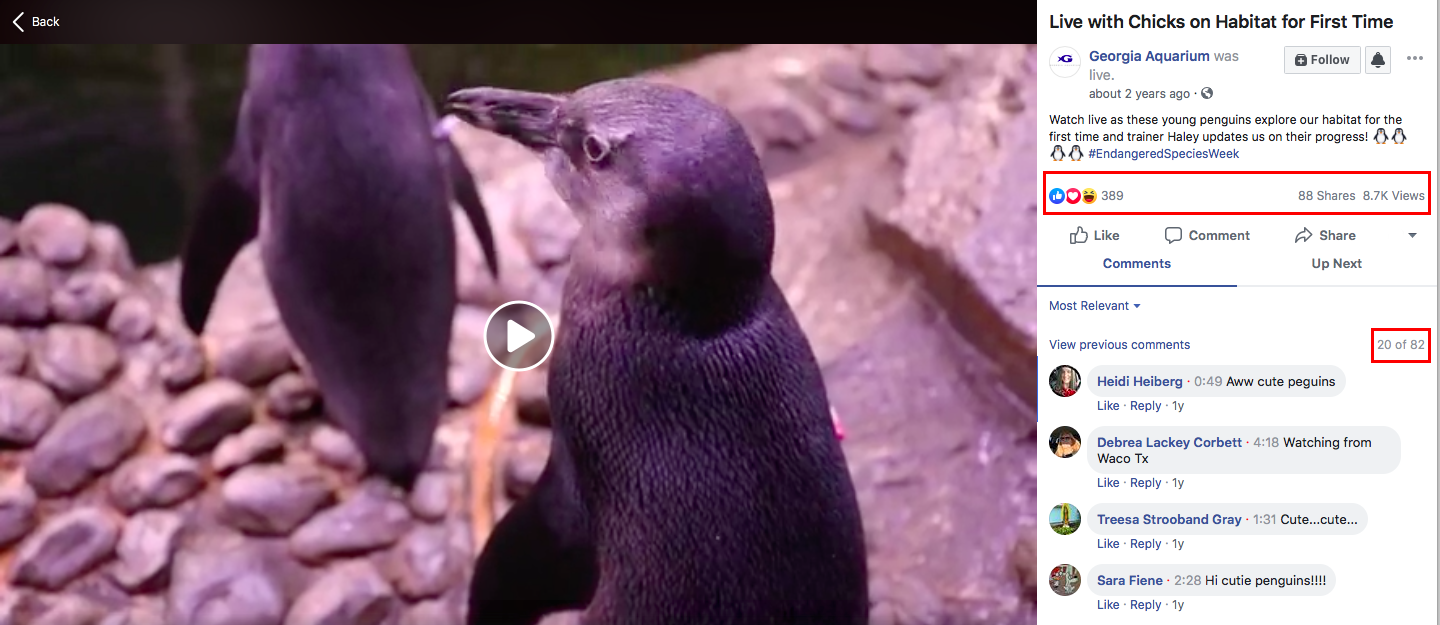 Uploaded Video (Georgia Aquarium)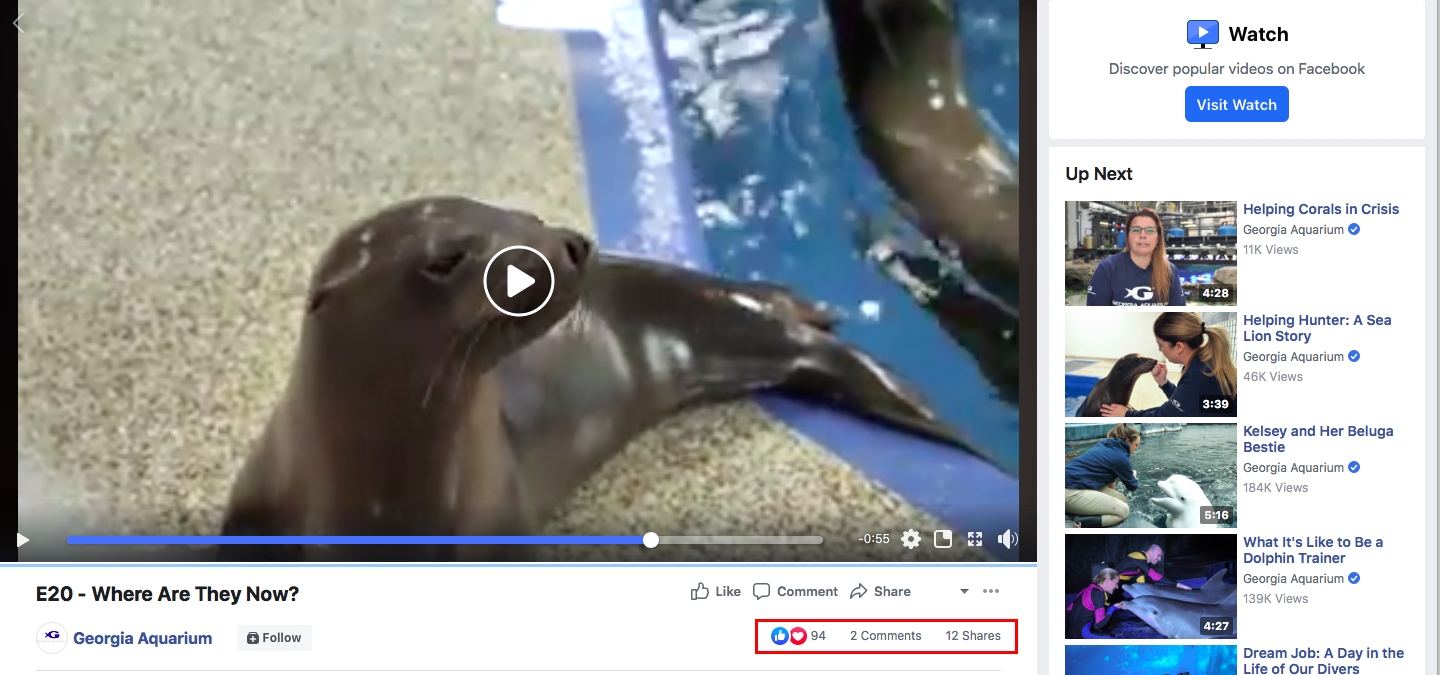 Another example is the BIG SALE campaign by AirAsia. They used both live streams and traditional videos to push sales.
The graph below shows how the performance of the live stream (585 likes, 59 shares, 6012 comments) exceeds the performance of the uploaded video (143 likes, 14 shares, 42 comments):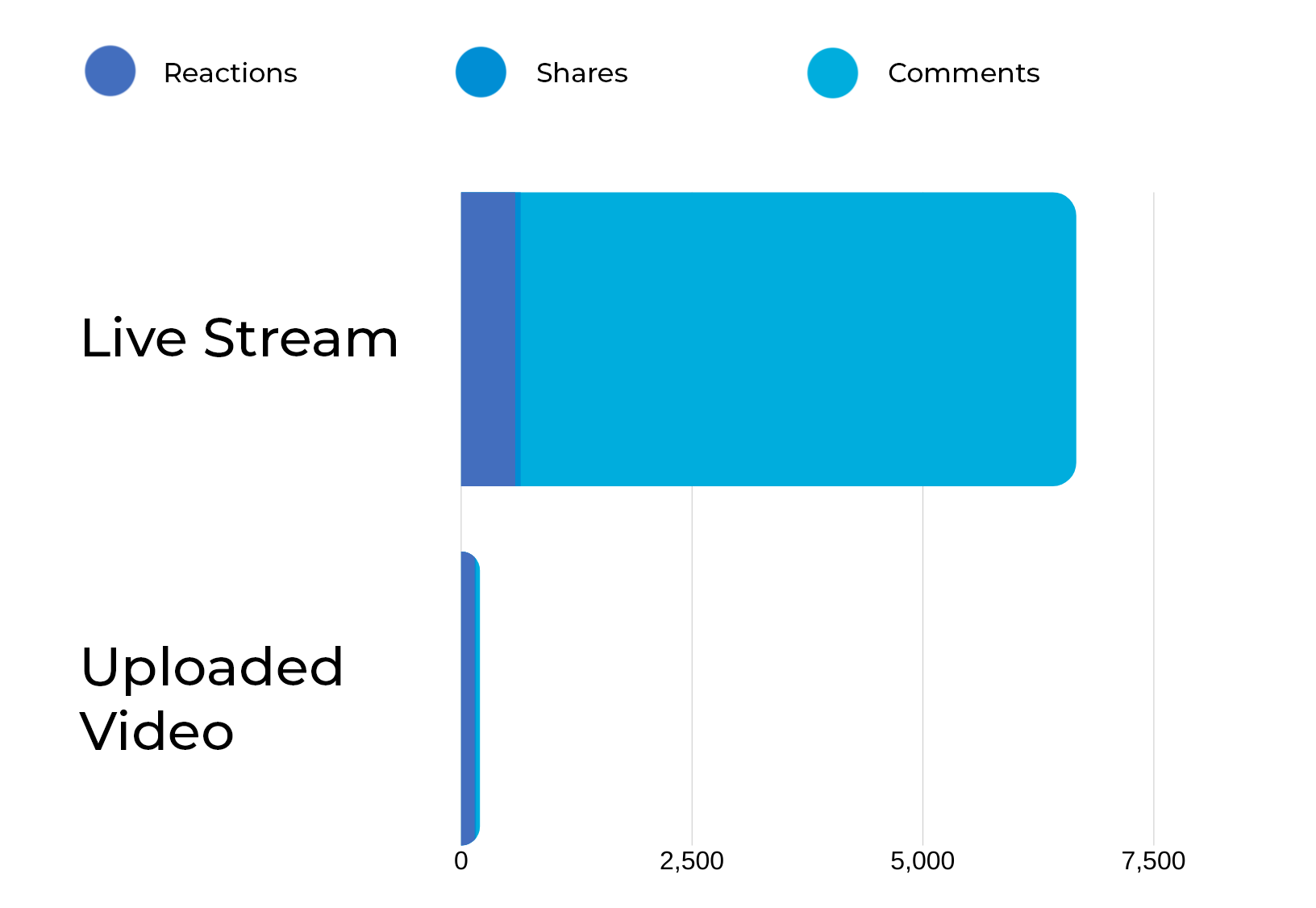 Live Stream (BIG SALE Campaign by Air Asia)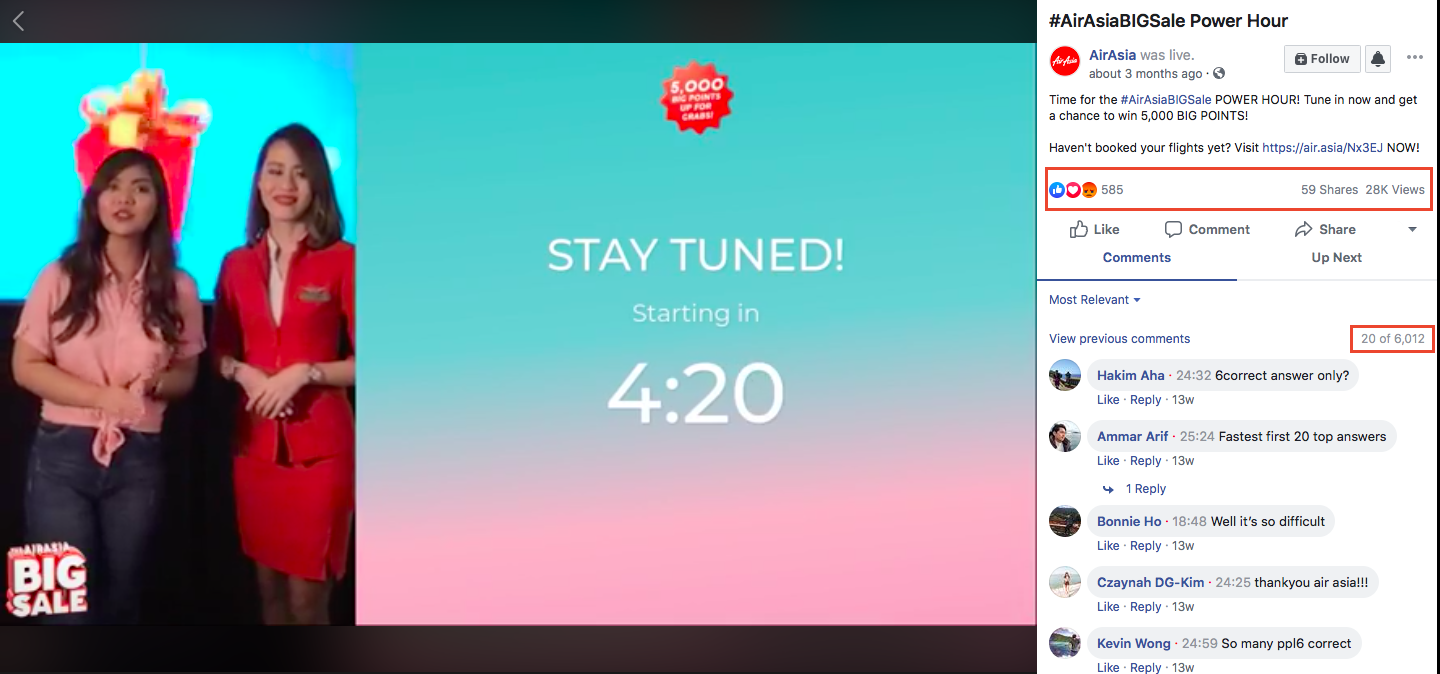 Traditional Video (BIG SALE Campaign by Air Asia)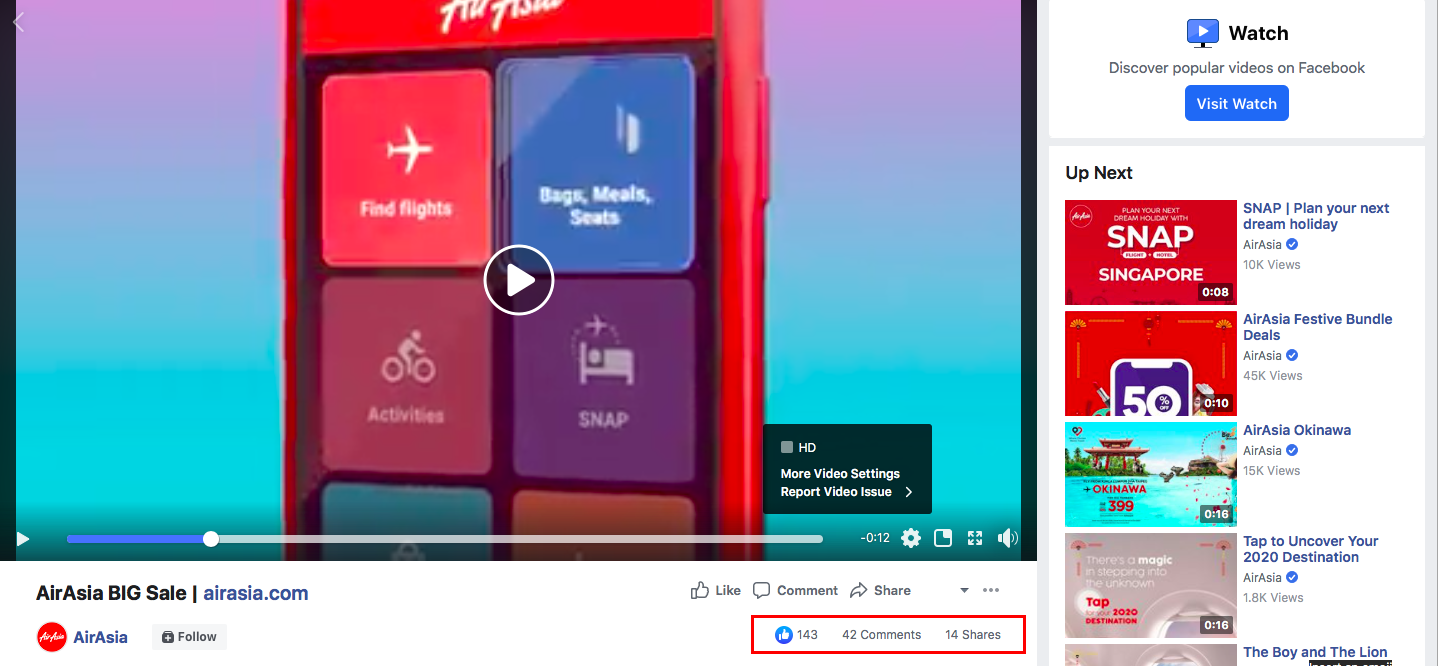 The explanation behind such performance of Live Streaming is simple:
• Facebook algorithm favors live broadcasts over uploaded videos, so more people are exposed to it.
• People love to be part of stories, and live stream gives them the feeling of being engaged way more than when they watch uploaded videos.
• Live videos create a sense of excitement for the viewers, as they can often participate in polls, ask questions, and socialize with other users. This way, the message of the video is delivered more effectively and has more power in building a community.
• Streaming gives meaningful real-time insights into what customers really want.
To sum up, every performance outcome favors Facebook Live Streaming, which gets way more engagement than uploaded one. And it is not just some "next big thing"; it is here to stay for quite a while and definitely grow further.
If you'd like to give it a GO, you can follow this step-by-step tutorial on how to stream pre-recorded video with LiveReacting. This option is especially useful if you don't want to be in front of your computer while live streaming, or if you're feeling nervous about doing it for the first time.